Press Release
•

Aug 1, 2023 17:00 EDT
Ritani, Leading Online Jeweler, Congratulates and Shares Insight on Tommy Fury and Molly-Mae Hague's Epic Love Island-Worthy Engagement, Featuring a Mesmerizing Oval-Cut Diamond Ring Estimated at 6 to 10 Carats, Cementing the Couple's Everlasting Love Story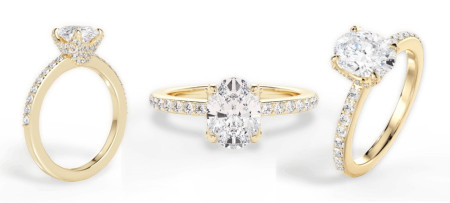 NEW YORK, August 1, 2023 (Newswire.com)
–
Ritani, the leading online seller of natural diamonds, lab-grown diamonds, and fine jewelry, asked Head of Customer Success Juliet Gomes for her expert opinion on Tommy Fury and Molly-Mae Hague's engagement ring. "The ring, estimated to be anywhere from 6 to 10 carats, boasts a thin yellow gold band coated in pavé diamonds. The slim band and minimalist setting enhance the diamond's apparent size and create a stunning contrast, setting the diamond apart," explained Gomes.
After four years together, professional boxer and reality TV star Tommy Fury recently proposed to his girlfriend, Molly-Mae Hague, in an epic Love Island-worthy engagement. A video capturing the heartwarming moment was shared via their Instagram accounts, featuring their adorable six-month-old daughter, Bambi. Molly-Mae proudly flaunted a stunning oval-cut diamond engagement ring, leaving fans and followers in awe.
The love story between Tommy Fury and Molly-Mae Hague began during Season 5 of the popular dating game show Love Island in 2019. Though they didn't win the competition, their romance blossomed, leading to a lasting relationship. Their journey took an exciting turn when Molly-Mae shared news of her pregnancy in September 2022, and in January of this year, they welcomed their beautiful baby girl, Bambi.
Tommy Fury orchestrated a picturesque cliffside proposal in Ibiza, sparing no expense with hundreds of roses and even a surprise appearance from Molly-Mae's favorite singer, RuthAnne. To keep everything a surprise, Tommy cleverly arranged a fake event, leading Molly-Mae to the stunning engagement destination.
In an emotional video, Molly-Mae, dressed in an elegant ivory jumpsuit, approached Tommy, who lovingly cradled their daughter, Bambi. As she watched, Tommy dropped to one knee and presented her with a dazzling oval-cut diamond engagement ring, sealing the moment with a heartfelt proposal.
Oval-cut diamond engagement rings have been a prominent trend among celebrities, including Kourtney Kardashian, Hailey Bieber, Blake Lively, and Simone Biles, capturing the hearts of admirers worldwide.
Ritani, as a leading online jeweler, congratulates Tommy Fury and Molly-Mae Hague on their beautiful engagement and wishes them a lifetime of happiness together. As a brand known for crafting exquisite jewelry, Ritani embraces the spirit of love and commitment that Tommy and Molly-Mae's engagement represents.
To read more about this celebrity engagement or to start building your version of this engagement ring, visit: https://www.ritani.com/blogs/news/love-island-stars-molly-mae-hague-and-tommy-fury-are-engaged-her-ring-may-be-worth-close-to-$1M!
Source: Ritani