Press Release
•

May 8, 2023 13:00 CDT
The IDPT Series Features ±0.25% or ±0.5% Full-Scale Accuracy and Ranges from 0 to 10 in w.c.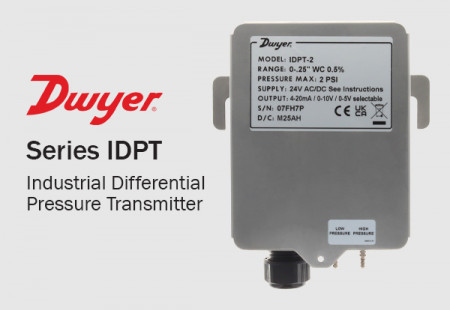 MICHIGAN CITY, Ind., May 8, 2023 (Newswire.com)
–
The Series IDPT industrial differential pressure transmitter from Dwyer features a rugged, water-resistant housing and offers highly stable accuracy for long service life in most industrial applications. This pressure transmitter utilizes a capacitive pressure sensor on ranges 0 to 0.25 in w.c. to 0 to 1 in w.c. and a piezo sensor on ranges 0 to 2.5 in w.c. to 0 to 10 in w.c., both of which offer accuracy options of 0.25% or 0.5% full-scale. The cap cell allows the IDPT to maintain critical processes in industrial applications. The series offers a 4-20 mA 2-wire version for a loop-powered current output as well as a 0-5 V/0-10 V selectable voltage output version.
Long-Term Stability
The Series IDPT features a stable accuracy even at low ranges, helping to maintain process quality and eliminate downtime. 
Minimal Maintenance 
With a long service life and robust stainless-steel housing, the Series IDPT reduces replacement costs – even in harsh conditions and environments.
Installation Flexibility 
A silicone-free option is available for low-range models, allowing for use in applications like paint booths where silicone would have a detrimental impact on the process.
How It Works
The industrial differential pressure transmitter, Series IDPT, supports accuracies of either 0.25% or 0.50% in either unidirectional or bidirectional ranges. The IDPT is a mounted device with a NEMA 2 stainless steel enclosure and barb fittings for easy connection to the process air, providing measurements from as low as 0.10 in w.c. (25 pascals) with accuracies of 0.25% to 0.50% depending on the range. Units are capable of both voltage and current outputs.
Product Applications
Semiconductor
Pharmaceutical
Laboratories
Fume Hoods
HVAC Pressure
Critical Measurement
High Purity
About Dwyer
Dwyer Instruments is a global leader in the design and manufacture of innovative sensors and instrumentation solutions for the indoor environmental quality, critical environments, and process automation markets. Since the company was founded in 1931, customers have come to recognize Dwyer Instruments to stand for quality, reliability, and readily available competitively priced products. To learn more about Dwyer Instruments, click here.
Source: Dwyer Instruments