Were growing our presence in Europe with an office in Dublin, Ireland.
WEBWIRE – Friday, September 15, 2023
At OpenAI, we believe artificial intelligence has the potential to create opportunities for people around the world. To support that, were growing our presence in Europe with our newest office in Dublin, Ireland. We plan to grow a team through this year in Ireland that will propel our operations, trust and safety, go-to-market, security engineering, and legal work as part of our ongoing commitment to better serve the European market.
Ireland blends a talented workforce with support for innovation and responsible business growth. Were excited for this partnership as we expand in Europe.
Sam Altman, CEO of OpenAI
The strength of Irelands tech and startup ecosystem across Dublin and cities like Cork, Galway, and Limerick has shown impressive growth and advancement. Were ready to collaborate with the government to support their National AI Strategy, as well as work with industry, startups and researchers to understand priorities and ideas for advancing AI development and deployment. Weve taken our first steps to provide access to our technology and offer mentorship to Irish youth accelerator Patch, a non-profit that supports exceptional 16-21 year olds by having them build and learn through their own entrepreneurial projects.
IDA Ireland welcomes the decision by OpenAI to establish a European presence in Dublin. Ireland is a recognized hub for administrative, regulatory, and innovation activities for the worlds leading digital companies. OpenAIs investment confirms this and endorses Irelands focus on building a flourishing AI ecosystem, said Michael Lohan, CEO of IDA Ireland.
In addition to Irelands vision for AI, weve seen how Irelands community works closely across the private sector, academia, government, and startups, and we sought their feedback to ensure we enter as a good partner to the region. This marks a significant milestone in our journey, enabling us to better understand, serve, and collaborate with our European partners, users, and customers.
In order for Ireland to benefit from AI, it is essential to ensure that we have a strong, supportive ecosystem in place and we believe that companies such as OpenAI operating in Ireland can help build on our foundation to support emerging AI research and innovation, and ensure our workforce is well prepared, said Simon Coveney, Minister for Enterprise, Trade, and Employment.
If you are interested in joining us, please check out the open positions in Ireland and the UK on our careers page.
For media, please reach out to us with any questions atpress@openai.com.

Evertwine was well received, not only by our community, but by everyone; from our partners, friends, content creators. Anyone who got in touch with the game, had nothing but positive words for it.

You guys were quite vocal about this. You appreciated and loved Evertwine more than any other aspect of our project, and we wan't to give you the game that you can truly enjoy. The game absolutely stood out above other aspects of the project in terms of development, so moving forward, our focus is clear: Evertwine will thrive as a phenomenal game first and foremost. While our journey with NFT projects showed promise, we recognized the undeniable magic that Evertwine holds.

Our mission is to deliver an unparalleled gaming experience that will transport you to new realms of excitement, adventure, and earning potential. Together, we can pave the way for an unforgettable gaming experience that you truly deserve. We plan to raise funds in a transparent manner by utilizing what NFTs & blockchain have to offer!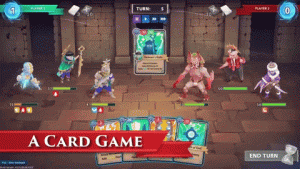 We have assured further funding for the development of the project!

But that's not all. We have secured a whopping $1.2 million investment for the ongoing development and growth of Evertwine. This means we can ensure a stable and exciting future for the game.

Join us on this remarkable journey as we breathe new life into Evertwine. Your continued support will be instrumental in shaping the future of this incredible project. Let's embark on this adventure together and redefine the gaming landscape in ways you've never imagined. Get ready for a gaming experience you truly deserve!

 The Custom Made Podcast proudly announces its debut, hosted by Kelly Helfman, a respected figure in the fashion industry, a skilled career juggler, and a dedicated advocate for self-care.

This podcast invites listeners to join Kelly on a transformative journey of self-discovery, empowerment, and personal growth. With a commitment to authenticity, Kelly shares her experiences and welcomes diverse guests to discuss the complexities of real-life challenges. "The Custom Made Podcast" embraces the raw and unfiltered realities of modern living, offering laughter and insight.

Guests include thought leaders, industry experts, and everyday heroes, providing inspiring perspectives.

In a world that often demands constant hustle, Kelly encourages self-care and self-discovery, highlighting their significance for personal growth and overall well-being. "Listeners will feel seen, heard, and empowered through every episode," says Kelly Helfman. "We're creating a space where you can laugh, learn, and find solace in knowing you're not alone."

Upcoming guests include celebrity entrepreneur and musician Nikki Lund and TV broadcaster Adrianna Costa, with additional experts in financial planning and energy clearing sharing practical tips and resources.

"The Custom Made Podcast" promises an authentic journey of personal evolution, serving as a reliable resource for navigating modern life.

The podcast is available on Apple, Spotify, Google, Amazon, and YouTube. Subscribe today.

For more information, visit www.kellyhelfman.com/podcast

Follow The Custom Made Podcast on social media:

Instagram: @thecustommadepodcast
TikTok: @thecustommadepodcast
Twitter (formerly X): @thecustommade
Facebook: thecustommadepodcast

About Kelly Helfman:
Kelly Helfman, a visionary leader, dedicated mother, and fashion industry expert, empowers and supports women to be their best selves. Through "The Custom Made Podcast," she offers valuable insights to help conquer life's challenges while embracing authenticity. Kelly aims to inspire and uplift, one candid conversation at a time.
YZE Agency
Derek Roberts
1-213-758-7821
yzeagency.com

Contact