The company also welcomes Dr. Brad Brown from AeroDPC as the new Medical Director


San Francisco, Calif. – WEBWIRE – Tuesday, November 1, 2022
"This acquisition will better enable Hint to fulfill our mission by providing practices who are getting started in Direct Primary Care with a simple, affordable, all-in-one solution designed specifically for the DPC community," said Hint Health CEO, Zak Holdsworth.
Hint Health, the company powering the direct primary care (DPC) movement, today announced the acquisition of AeroDPC, a practice management and Electronic Medical Record (EMR) designed for DPC clinics. This elevates Hint from being a trusted enrollment, membership management, and billing platform, to a comprehensive solution that provides everything a DPC doctor needs in one innovative platform.
The existing U.S. healthcare system, which operates on a fee-for-service insurance infrastructure, is leading to increased provider burnout, patient dissatisfaction, and ballooning costs. The broken system is accelerating the growth of DPC, which saw membership across the U.S. increase 241% from 2017 to 2021. In addition to providing doctors with relief from unnecessary administrative burden, patients are looking to DPC for higher quality healthcare with a transparent price tag.
HintOS is the leading platform designed for providers of any size to manage the unique complexities of a membership-based primary care model. The platform automates the enrollment, employee eligibility, membership management, billing, and network administration for DPC providers enabling them to focus on their practice, rather than on the administrative work of operating a business. With the acquisition of AeroDPC, the platform will become a fully integrated end-to-end solution for DPC practices.
"This acquisition will better enable Hint to fulfill our mission by providing practices who are getting started in Direct Primary Care with a simple, affordable, all-in-one solution designed specifically for the DPC community," said Hint Health CEO, Zak Holdsworth. "It will also serve as a blueprint for how we can further enhance new and existing partner integrations within the Hint ecosystem which is a strategic priority for Hint."
Immediately following the acquisition, AeroDPC will operate as an independent subsidiary of Hint Health and will continue to enhance their product to serve the DPC community without disruption to existing clients. In 2023, a new Hint product will be launched alongside HintOS combining the best features of AeroDPC and HintOS in one place, including membership management, billing, EMR, business management, patient communications and more.
Hint welcomes Dr. Brad Brown, Co-founder and Chief Medical Officer of AeroDPC, as the company's new Medical Director. "As a DPC physician myself, bringing Hint Health and AeroDPC together is extremely exciting and powerful for DPC as a whole" says Dr. Brown. "DPC is medicine how it used to be, just doctor and patient. Having an all-in-one solution allows doctors to take their eyes off the computer screen and focus solely on their patients. With this acquisition, doctors and patients alike will further benefit from the streamlined products, enabling us to better serve the DPC community."
AeroDPC is the second acquisition by Hint Health. In 2021, Hint acquired Equal Health, a DPC network and benefits provider. The acquisition of Equal was part of a broader strategy to launch a curated national network of independent Direct Primary Care providers called Hint Connect, improving access to primary care for employers and innovative health plans with a plug-and-play DPC solution.
About Hint Health

Hint Health is the leading digital health company dedicated to supporting the growth and success of the Direct Primary Care (DPC) movement. With a mission to power direct care and make it the new standard, the HintOS platform powers thousands of clinics and networks across the nation providing care for nearly a million members. Hint also produces Hint Summit, the leading DPC innovation conference and supports Hint Connect, a curated national network of independent DPC clinics. Founded in 2013 by Zak Holdsworth and Graham Melcher, the company is headquartered in San Francisco, CA. To learn more visit hint.com.
About AeroDPC

AeroDPC is a software company that supports everything a DPC doctor needs in one innovative platform, including Electronic Medical Record (EMR), business management and patient communication software. From charting to labs, AeroDPC's fully integrated system has been designed to solve the unique challenges of a DPC practice. AeroDPC's mission is to empower physicians by streamlining the rest.



Establishing a new milestone in the field of mental health on the occasion of World Mental Health Day, Tele Mental Health Assistance and Networking Across States (Tele-MANAS) initiative of Union Ministry of Health & Family Welfare was launched today virtually by Sh. Thawar Chand Gehlot, Hon'ble Governor of Karnataka at National Institute of Mental Health and Neurosciences (NIMHANS), Bengaluru, in the presence of Dr. K. Sudhakar, Minister for Health & Family Welfare and Medical Education, Karnataka & Vice-President, NIMHANS.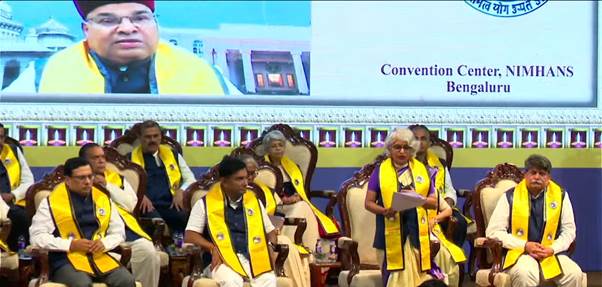 Acknowledging the mental health crisis in wake of the COVID-19 pandemic and an urgent need to establish a digital mental health network that will withstand the challenges amplified by the pandemic, Government of India announced National Tele Mental Health Programme (NTMHP) in the Union Budget 2022-23. Tele-MANAS aims to provide free tele-mental health services all over the country round the clock, particularly catering to people in remote or under-served areas. The programme includes a network of 23 tele-mental health centres of excellence, with NIMHANS being the nodal centre and International Institute of Information Technology-Bangalore (IIITB) providing technology support. Indian Institute of Technology (IIT) Bengaluru and National Health Systems Resource Centre (NHRSC) will provide the technical support.




The Union Government aims to open at least one Tele-MANAS Cell in each State/UT.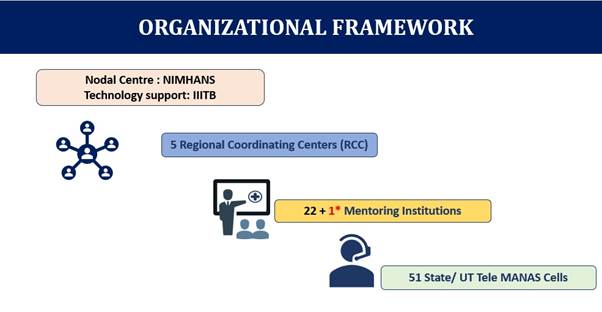 A toll-free, 24/7 helpline number (14416) has been set up across the country allowing callers to select the language of choice for availing services. Service is also accessible with 1-800-91-4416. The calls would be routed to Tele-MANAS cells in the respective state and union territory.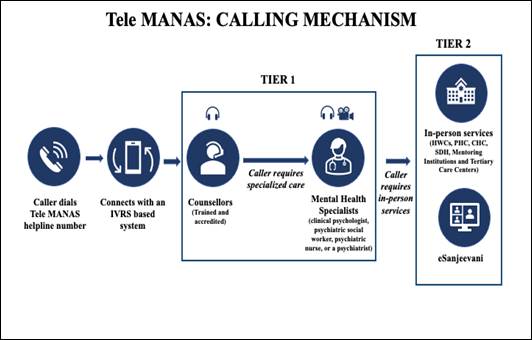 Tele-MANAS will be organised in two tier system; Tier 1 comprises of state Tele-MANAS cells which include trained counsellors and mental health specialists. Tier 2 will comprise of specialists at District Mental Health Programme (DMHP)/Medical College resources for physical consultation and/or e-Sanjeevani for audio visual consultation. Presently there are 5 regional coordination centres along with 51 State/UT Tele MANAS cells.




The initial rollout providing basic support and counselling through centralized Interactive Voice Response system (IVRS) is being customized for use across all States and UTs. This will not only help in providing immediate mental healthcare services, but also facilitate continuum of care. Specialised care is being envisioned through the programme by linking Tele-MANAS with other services like National tele-consultation service, e-Sanjeevani, Ayushman Bharat Digital Mission, mental health professionals, Ayushman Bharat health and wellness centres and emergency psychiatric facilities. Eventually, this will include the entire spectrum of mental wellness and illness, and integrate all systems that provide mental health care. NIMHANS has conducted training for 900 Tele MANAS counsellors from majority of States/UTs.




The mentoring institutes are as follows: AIIMS, Patna, AIIMS Raipur, CIP Ranchi, AIIMS Bhopal, AIIMS Kalyani, AIIMS Bhubaneshwar, PGIMER, Chandigarh, Hospital for Mental Health, Ahmedabad, Gujarat, Inst. of Psychiatry and Human Behaviour Bambolim Goa, AIIMS, Nagpur, AIIMS, Jodhpur, KGMU Lucknow, AIIMS Rishikesh, IHBAS, Delhi, IGMS, Shimla, Psychiatric Diseases Hospital, Govt. Medical College, Srinagar, LGBRIMH, Tezpur, NIMHANS, Bengaluru, IMHANS, Kozhikode, Kerala, IMH, Chennai, IMH, Hyderabad, JIPMER and AIIMS, Mangalagiri.




States/UTs launching Tele Mental Health Programme today include Andhra Pradesh, Assam, Andaman and Nicobar Islands, Chhattisgarh, Dadra Nagar Haveli and daman and Diu, Gujarat, Himachal Pradesh, Jammu and Kashmir, Karnataka, Kerala, Ladakh, Maharashtra, Madhya Pradesh, Odisha, Punjab, Rajasthan, Tamil Nadu, Telangana, Uttar Pradesh and West Bengal.




Dr. Pratima Murthy, Director, NIMHANS, Shri Vishal Chauhan, JS (MoHFW), students, faculties and other dignitaries along with the senior officials of the Ministry were present at the event.




*****






MV




HFW/ Tele-MANAS launch/10th Oct 2022/3






(Release ID: 1866498)
Visitor Counter : 815












Health risk category for Air Quality Health Index may reach "Serious" level
*************************************************************************************

     The Environmental Protection Department (EPD) has recorded higher than normal air pollution levels since September 10. According to the EPD's forecast, it is expected that the Air Quality Health Index (AQHI) at some monitoring stations may reach the "Serious" health risk category later today (September 13). The air pollution levels are expected to remain higher in the next few days.

 

     Under the influence of a dry continental airstream, the weather in Hong Kong today is fine and very hot, with light to moderate northerly winds, which is unfavourable for pollutant dispersion and results in a rising regional pollution level. The intense sunshine enhances photochemical smog activity leading to rapid formation of ozone and fine particulates in the Pearl River Delta region. The high ozone level also promotes the formation of nitrogen dioxide.

 

     According to the Hong Kong Observatory, the weather will remain very hot with light winds over the coast of Guangdong in the next few days (September 14 to 18). The EPD expects that the regional pollution level affecting Hong Kong will remain higher than normal until the advent of stronger wind.

 

     With a health risk category in the "Very High" or "Serious" levels, children, the elderly and persons with existing heart or respiratory illnesses are advised to reduce physical exertion and outdoor activities to a minimum or avoid such activities. The general public is advised to reduce, or reduce to a minimum, outdoor physical exertion, and to reduce time staying outdoors, especially in areas with heavy traffic. As health effects of air pollutants may vary for individuals, persons who are in doubt or experience discomfort should seek advice from health-care professionals. The public may visit the Centre for Health Protection's website (www.chp.gov.hk/en/content/9/460/3557.html) for more information on health effects of air pollution and relevant health advice.

 

     The Education Bureau (EDB) urges all schools to visit the EDB's website for appropriate measures to safeguard students' health and take note of changes in the index. The relevant hyperlink is as follows: www.edb.gov.hk/en/sch-admin/admin/about-activities/sch-activities-guidelines/index.html.

 

     When the AQHI is at the "Very High" level, employers of outdoor workers performing heavy manual work are advised to assess the risk of outdoor work and take appropriate preventive measures to protect the health of their employees, such as reducing outdoor physical exertion and the time of their stay outdoors, especially in areas with heavy traffic. At the "Serious" level, employers of all outdoor workers are advised to assess the risk of outdoor work and take appropriate preventive measures to protect the health of their employees.

 

     Members of the public can check the current AQHI readings at the EPD's website (www.aqhi.gov.hk/en.html) or by calling the hotline 2827 8541.

Kaiser Permanente will provide Project Access Northwest with specialty care funding to serve hundreds of Washington patients a year.
SEATTLE – WEBWIRE – Tuesday, September 6, 2022





More than 785,000 people in Washington were living in poverty and 428,000 did not have health insurance in 2021, according to Project Access Northwest. People with difficulty accessing specialty care may not receive equitable health care.




Kaiser Permanente in Washington is proud to partner with Project Access Northwest and announce $725,000 to support its Specialty Care Coordination Program, with funds to be distributed over a 3-year period.




Project Access Northwest collaborates with the health care community to provide medical care for individuals with low incomes or are uninsured and have limited access to care. Specialty care coordinators help patients navigate a sometimes-complex health care system and connect patients with compassionate doctors willing to provide the specialty services they need.




The organization coordinates specialty care for patients who are referred from primary care providers at Federally Qualified Health Centers (including Country Doctor Community Clinic, HealthPoint, International Community Health Services, Neighborcare Health, Sea Mar Community Health Center, and Seattle Indian Health Board in King County; Peninsula Community Health Services for Kitsap County; and Community Health Center of Snohomish County and Sea Mar Community Health Center for Snohomish County).




Project Access Northwest partners with all of the region's major health care systems and a network of more than 1,760 volunteer providers in King, Kitsap, and Snohomish counties to provide care in more than 50 specialties — all at no cost to the patient. Since 2006, the organization has provided specialty care access to more than 43,000 individuals with low incomes or who are uninsured, and living at or below 300% of the federal poverty level.




"Kaiser Permanente doctors and clinicians have donated their time to provide hundreds of visits for Project Access Northwest patients per year, including 197 in 2021," said Christine Pizzute, MD, senior director of specialty care at Kaiser Permanente in Washington. "We are proud that this funding will add more providers to the specialty care network each year for 3 years, adding hundreds of new appointments to serve patients and contribute to better health outcomes in these counties."




"With this 3-year grant, Kaiser Permanente has made a significant investment in the health of our community," said Gary Renville, executive director of Project Access Northwest. "We are proud to partner with Kaiser Permanente on the critically important work of improving health care access for the most vulnerable patients who so desperately need care."




Kaiser Permanente has provided more than $1.7 million in funding for Project Access Northwest since 2016, in support of its mission to improve community health by connecting those most vulnerable to vital health care services.

About Project Access Northwest


Project Access Northwest is a non-profit 501(c)3 formed in 2006 to improve access to specialty health care for the most vulnerable and uninsured patients. It matches volunteer specialty care providers and hospital partners with carefully pre-screened patients in need of care. Originally started in King County (Washington state), it has since expanded its service area to include Kitsap and Snohomish counties. Project Access Northwest also provides dental care in King County to qualifying Northwest Kidney Center patients. More than 1,760 licensed clinicians (physicians, physical therapists, nurse practitioners, physician assistants and others) have donated more than 62,000 patient appointment since 2006. For more information, go to projectaccessnw.org. Individuals interested in learning more about Project Access Northwest must be referred to the organization by their primary care or emergency room provider.

About Kaiser Permanente


Kaiser Permanente is committed to helping shape the future of health care. We are recognized as one of America's leading health care providers and not-for-profit health plans. Founded in 1945, Kaiser Permanente has a mission to provide high-quality, affordable health care services and to improve the health of our members and the communities we serve. We currently serve 12.6 million members in 8 states and the District of Columbia. Care for members and patients is focused on their total health and guided by their personal Permanente Medical Group physicians, specialists, and team of caregivers. Our expert and caring medical teams are empowered and supported by industry-leading technology advances and tools for health promotion, disease prevention, state-of-the-art care delivery, and world-class chronic disease management. Kaiser Permanente is dedicated to care innovations, clinical research, health education, and the support of community health.

Secretary for Health visits Department of Health (with photos)

**************************************************************


     The Secretary for Health, Professor Lo Chung-mau, visited the Department of Health (DH) today (August 3) to get a better grasp of the daily work of the department and the challenges arising from the COVID-19 epidemic.

 

     Professor Lo started the visit at the Centre for Health Protection (CHP) of the DH and met with the Director of Health, Dr Ronald Lam, and directorate staff. He received a briefing on the important functions of the department, including the regulation of public health-related services and law enforcement work, prevention and control of diseases, health promotion and healthcare services.

 

     Professor Lo then proceeded to the Contact Tracing Office located in Kowloon Bay to observe in person the work of tracing close contacts as carried out in recent months with a view to cutting the virus transmission chains as early as possible. He inspected the Emergency Hotline Centre afterwards and received a briefing by the frontline staff on how they handle public enquiries on COVID-19.

 

     Professor Lo said, "The COVID-19 pandemic, which has lasted for more than two and a half years, poses profound challenges to the global healthcare system and public health. It also substantially increased the pressure on public health departments and frontline healthcare staff. I express my gratitude to the colleagues of the DH for being committed to their duty all along and upholding their professionalism. Apart from continuously monitoring and assessing the local and global epidemic situation, and implementing various anti-epidemic measures, they strive to safeguard the health of all citizens in Hong Kong on various fronts, such as continuing to carry out their regulatory and law enforcement work, providing health promotion, disease prevention and healthcare services, as well as fostering community partnership and international collaboration."

 

     He anticipated that the staff members of the DH in different positions will continue to do their utmost for progress and shoulder responsibilities, as well as to serve the community with an attitude of striving for excellence, thereby endeavouring to work hand in hand in enhancing and protecting public health for a "Healthy Hong Kong" to be integrated into the national "Healthy China" initiative.