W. Clark Boutwells Exiles Escape, the award-winning second novel in the "Old Men and Infidels" series, gives readers a fascinating read.
San Diego, CA, USA – WEBWIRE – Saturday, January 28, 2023
Exiles Escape received the Pinnacle award in sci-fi in 2018 and an honorable mention in Readers Favorite awards for sci-fi in 2018.
Clark Boutwells political fiction book Exiles Escape: Book Two of Old Men and Infidels was successfully exhibited by self-publishing and book marketing company ReadersMagnet at the New York Library Association 2022 Annual Conference and Trade Show on November 34, 2022, at Saratoga Springs City Center, 522 Broadway, Saratoga Springs, NY 12866, and at the ReadersMagnet Book Confab on October 2830, 2022, at 72 Warren St., Tribeca, New York.
In Exiles Escape, Malila Chiu, an eighteen-year-old woman, must make a tough ethical decision. Malila and her best friend from childhood both long for the freedom of the frontier to escape the illusions of their culture and the moral muck that has taken root in their birthplace. Eventually, Malila sees the contrast between the lies of her homeland and the facts that Jesse Johnstone, who is both haughty and contradictory, has shown her.
After Malila becomes the Outland Exile, where does she go from there? Just what will she discover about her native land? All the information readers need to know about the political fiction series Old Men and Infidels can be found in Exiles Escape.
Order a copy of W. Clark Boutwells Exiles Escape: Book Two of Old Men and Infidels, available on Amazon or Barnes & Noble. Make sure to visit the authors website at https://www.oldmenandinfidels.com/.
Exiles Escape: Book Two of Old Men and Infidels
Author | W. Clark Boutwell
Genre | Political Science Fiction
Publisher | Indigo River Publishing
Published date | February 6, 2018
Author
Born in Chicago and raised outside Philadelphia, Clark, a physician, has taught and practiced intensive care for newborn infants on four continents and eight countries, retiring after more than forty years on the job in 2020. He has been an avid solo hiker, backpacker, and climber since he was a mere lad of eleven. Some of his stories are even true.
He has traveled extensively to Rwanda, Kenya, India, Ecuador, Zambia, and Ghana as a volunteer mission physician.
Outland Exile (iUniverse, Oct 2015), Exiles Escape (Indigo River, Feb 2018), and Malila of the Scorch are the trilogy centering on aging, medical care, drug use, cybernetics, society, and faith in a future dystopian America. A new trilogy is looking for an agent.
Ted W. Daniel, J.D.s book analyzes the obstacles that keep every branch of Americas government from functioning as the founders intended, and proposes dramatic, but practical reforms that will eliminate the obstacles to true progress.
San Diego, CA, USA – WEBWIRE – Saturday, January 14, 2023
Readers were enthralled by Ted W. Daniel, J.D.s book display at NYLA 2022 Annual Conference and Trade Show.
Ted W. Daniel, J.D.s political book Rise Up, Big Blue! Eliminating the Obstacles to Progress in America was successfully featured by ReadersMagnet at the New York Library Association 2022 Annual Conference and Trade Show on November 34, 2022, at the Saratoga Springs City Center, 522 Broadway, Saratoga Springs, NY 12866.

Big Blue, the authors term for the Democratic Party, usually receives more votes, nationwide, than any other party in America. But, too often, unable to break through the bottleneck that blocks progress, democrats find themselves feeling powerless to reach their most important goals. Being in the party that receives the most votes is not supposed to feel like this.

Taking a look at each major obstacle to progress, the author proposes reforms to each branch of government: all of them constitutional and practical. The proposed legislation will not only make the government work better, but will also protect democracy itself.

A few of the twenty-two proposed reforms include ways to solve the impasse in the Senate, to eliminate the unfairness of congressional districting, to eliminate the electoral advantage that less populous states have over larger states, to restore fairness to the process of presidential appointments, and to enact legislation that the Constitution has called for since the Reconstruction Era. Perhaps the most important reform changes the procedures for appointments to the Supreme Court, making the process fairer and more predictable.

Get a copy of Ted W. Daniel, J.D.s Rise Up, Big Blue!: Eliminating the Obstacles to Progress in America on Amazon.

Rise Up, Big Blue!: Eliminating the Obstacles to Progress in America
Author | Ted W. Daniel, J.D.
Genre | Politics
Publisher | Independently Published
Published Date | August 14, 2022

Author
Ted W. Daniel, J. D., who practiced law in Tennessee until he retired in 2007, is a direct descendant of one of the signatories to The Declaration of Independence.

Daniel received his Juris Doctor degree from Washington and Lee University School of Law in Lexington, Virginia, after having spent his third year of law school as a visiting student at Vanderbilt University Law School in Nashville. Previously, he had received B. S. degrees in Real Estate and Mathematics.

Prior to his legal career, Daniel was a Senior Actuarial Analyst in one of the worlds largest insurance brokerage companies.

Author
Mark McCullogh resides in the mountains of East Tennessee with his family and continues to write poetry and short stories and has a new book in the works to be published in late 2023. In his spare time, Mark is an oil painter, craft maker, and photographer.




The Telecom Regulatory Authority of India (TRAI) has organized a Conference on "Rating of Buildings or Areas for Digital Connectivity", here today. In the year 2022, when country is celebrating Azadi ka Amrit Mahotsav, TRAI has also completed 25-years of its existence. The Conference is organized as a part its year-long silver Jubilee celebration.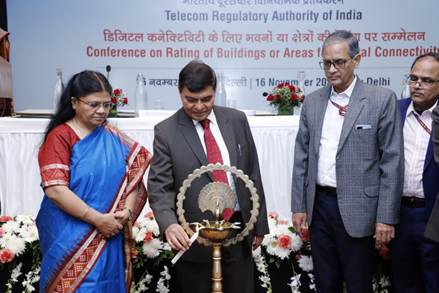 Chairman TRAI, Dr. P.D. Vaghela inaugurating the Conference




The Conference was inaugurated by the Chairman TRAI, Dr. P.D. Vaghela and the session was graced by the presence of Member Technology DCC DoT, Member TRAI and senior Officers from Ministry of Housing and Urban Affairs, Department of Telecommunication, Town and Country Planning Organisation, various State Governments, Development Authorities, NAREDCO, BIS, BEE, representative from telecom and real estate Industry etc.  




The conference was organised in the spirit of the proactive role of TRAI to work in collaboration with industry and other stakeholders and ensure good Quality Telecom Services are delivered to the consumers inside the building keeping pace with the new and emerging technologies. In this regard, TRAI had issued a consultation paper on Rating of Buildings or Areas for Digital Connectivity, on 25th March 2022, wherein extensive participation from various stakeholders is witnessed. The stakeholders submitted inputs and comments on the issues raised and also shared their thoughts in Open House Session.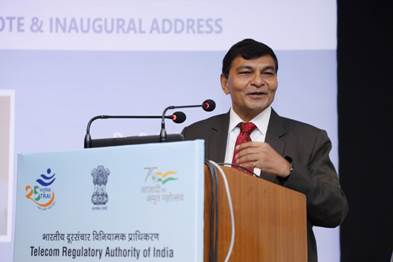 Chairman TRAI, Dr. P.D. Vaghela delivering his Keynote and Inaugural address






Chairman TRAI, Dr. P.D. Vaghela in his keynote and Inaugural address, put forth the background of the conference and underlined the importance of good digital connectivity, in present era. We all have adopted to this new norm of life of performing our day-to-day tasks through online mode and for this we require good digital connectivity in every nook and corner of the apartment. For providing digital connectivity in indoor areas, TSPs actions alone will not suffice rather close collaboration and coordination among multitude of agencies/ stakeholders from telecom side, real estate sector, permission granting authorities etc., is required for this new eco system to work effectively. Chairman TRAI, advocated for close coordination among various stakeholders for ensuring co-design and co-creation of Digital Connectivity Infrastructure along with building plan. There should be necessary provisions in Building bye-laws for co-creation of DCI and standards in the National Building Code of India. He urged all the three tiers of the Government i.e. Center, State and Local Governments, to update their bye-laws/ housing acts to make provision for robust, effective and efficient digital connectivity infrastructure for real delightful experience of end users.




Chairman TRAI also advocated to create a win-win situation to builder, telecom service providers and end users' experience, by creating a framework for benchmarking of buildings in terms of Digital Connectivity experience rating. The rating widely published shall attract buyers and thereby enable service providers and builders to add values to their services or properties.




The deliberations at the conference were held in three sessions. The first session focused on Quest for Good Digital Connectivity and the speakers from DoT, TCPO, BEE, UL Standards and Engagements Inc. and DIPA shared their views. The second session was on Digital tools and Platforms for DCI players wherein speakers from Telecom Industry, iBwave, Ericsson and Deloitte presented their thoughts on varied topics. The third session was dedicated to Panel Discussions in which apart from TRAI officers, experts from NAREDCO, TEC, NTIPRIT, TCPO, COAI, UL Standards, ISPAI etc., participated and deliberated on the issues.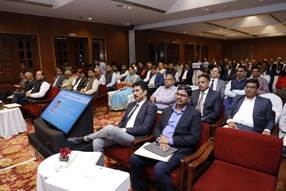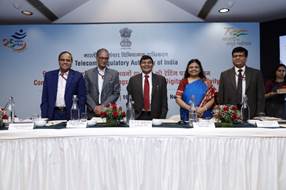 Invitees from various organization at the Conference




The conference was successful in getting quality inputs from the stakeholders of various organisations and TRAI shall consider these while finalising its recommendations on this topic.




For more information on this Conference, kindly contact Shri Anand Kumar Singh, Advisor (QoS), Telecom Regulatory Authority of India, on email: advqos[at]trai[dot]gov[dot]in. or may be contacted at Tel. No: +91-11-2323-0404, Fax: +91-11-2321-3036.






***




RKJ/BK






(Release ID: 1876464)
Visitor Counter : 170