Campesi's book, which is both wonderfully drawn and sure to pique children's interest, provides delight to the lives of young readers everywhere.
San Diego, California – WEBWIRE – Friday, May 20, 2022
"My children love reading the stories of the children in the book over and over again. It opens the door for us to talk about all the different languages and cultures around the world." – AB.
"I Am an English-Language Learner: The Real and Unique Stories of Immigrant children in America" by Melissa Campesi will be displayed at the American Library Association (ALA) Annual Conference and Exhibition on June 23-28, 2022, at the Walter E. Washington Convention Center, Washington DC, USA.


In "I Am an English-Language Learner," eight kids from various nations talk about how they are learning English in their new homes. They discuss the things that they miss most about their home countries, how they feel about now being in the United States, and the things that they aspire to achieve in the future.


This book shows that people around the world speak, read, and write in many different languages. Some languages use various alphabet systems, while others produce sounds that do not exist in the English language.


Not only do people speak a variety of languages, but they also dress, eat, and interact with one another in a variety of unique ways. Children who are relocated to the United States from other countries and have a requirement to acquire English language skills will be referred to as English language learners.


Everyone has a different background and experience, which contributes to the realization that gaining knowledge about one another is the most effective teaching method.


By telling the experiences of students who are acquiring English as a second language, this children's book introduces young readers to new traditions and cultures from throughout the world.


Curious to know more? Order a copy of Melissa Campesi's "I Am an English-Language Learner: The Real and Unique Stories of Immigrant children in America" at Amazon, and visit the upcoming ALA Annual Conference and Exhibition 2022.


"I Am an English-Language Learner: The Real and Unique Stories of Immigrant children in America"

Author | Melissa Campesi

Genre | Children's Non-Fiction

Publisher | Lulu Publishing Services

Published date | October 9, 2019

Book Retail | $15.60


Author


Melissa is certified as an ESL Educator in the state of New Jersey. In addition, she is a Children's Author and the Creator & Founder of the Cross-Cultural Storytelling Project. Her passion is to visit classrooms both in-person and virtually to promote the importance of learning and embracing cultural heritage. Melissa's goal for children is to develop positive identities within themselves, their peers, schools, communities, and beyond.


As a multicultural author and advocate, Melissa's mission is to foster cultural awareness in an educational setting. She is motivated to inspire children about culture through the power of storytelling because that ignites their curiosity about each other and the world around them.


"The best education comes from learning about one another." Melissa Campesi



The Annual Conference of Relief Commissioners and Secretaries of Departments of Disaster Management of States and Union Territories was inaugurated by the Union Home Secretary in New Delhi today. The two day Conference is being held to review the preparedness of States and Union Territories for dealing with any natural disasters that may occur during the coming South-West Monsoon season. This conference is being held in physical mode after a gap of two years due to the COVID-19 pandemic.




In his inaugural address, the Union Home Secretary asked officials from the State governments and the Central government to be better prepared, so that losses due to natural disasters such as floods, cyclones, landslides can be minimized. He stressed on the need for building up capacities and response reflexes to ensure 24×7 preparedness throughout the year. He referred to the Prime Minister, Shri Narendra Modi's vision to develop infrastructure for the long term, to prevent disasters not only for ourselves, but also for future generations.




The Union Home Secretary observed that through continued efforts over the last several years, the disaster management system has been able to reduce the impact of natural disasters on human lives. He observed that the Union Home Minister, Shri Amit Shah had said that after 2014, there has been a big change in the approach to disaster management as earlier the approach was only relief-centric, however now the approach of saving human lives has become an additional component of disaster management. The Union Home Minister has also emphasized that it should be ensured that lives as far as possible should not be lost in incidents such as heat waves and lightning. He underlined the importance of taking the right steps and investing resources in a timely manner to further reduce risks. Efforts should be made to increase efforts towards risk reduction and mitigation, with the aim to reduce loss of human life to near zero.




He called on the States to undertake capacity building of urban local bodies, their State Disaster Response Forces (SDRFs), Fire Service and Civil Defence since they are the first responders during a calamity. He also emphasised the importance of building capacities at the city and district levels and involving communities.




The Union Home Secretary said that besides floods, in recent years cyclonic storms, forest fires, heat wave conditions and lightning strikes have shown an increasing trend. He stressed that the key to effective disaster risk management is to build synergies and effective coordination amongst institutions. This could be ensured by preparing action plans at local, district and State levels.




During the conference, various States will share their preparedness and experience and best practices evolved for handling various calamities over the years. Representative of 27 States, 7 Union Territories, representatives of the National Disaster Management Authority (NDMA), the National Disaster Response Force (NDRF), Central Ministries, the Central Armed Police Forces (CAPFs), the India Meteorological Department (IMD), the Central Water Commission (CWC), the Indian Space Research Organisation (ISRO), the Defence Research & Development Organisation (DRDO), the Geological Survey of India (GSI) and other scientific organizations along with the Armed Forces are participating in the conference.




NW/RK/AY






(Release ID: 1826434)
Visitor Counter : 376












The Ministry of Culture, Confederation of Indian Industry (CII) and India@75 Foundation jointly organized Conference on Sankalp Se Siddhi with the theme New India. New Resolve at the Sushma Swaraj Bhawan, in New Delhi, today.
Held under the aegis of Azadi ka Amrit Mahotsav the conference had three sessions. The inaugural session with the theme 'Celebrating India@75 and making way for India@100' saw active participation from Smt. Meenakashi Lekhi, Minister of State for External Affairs and Culture; Shri Govind Mohan, Secretary, Ministry of Culture and Shri Sanjiv Bajaj, President Designate, CII.
On the occasion Smt. Meenakashi Lekhi said that no business can do well in vacuum; the right atmosphere and  the confidence needs to be created for it. She also added "We need to collaborate and work together and it's time to celebrate the contribution of freedom fighters, leaders as well as we can't ignore the contribution made by the industrial leaders. We take pride in all our industrial leaders as they played an important role in building India," she added.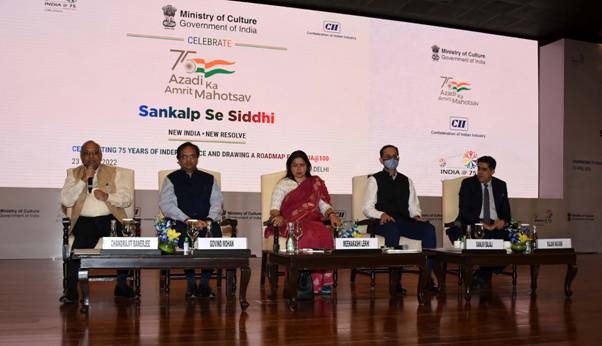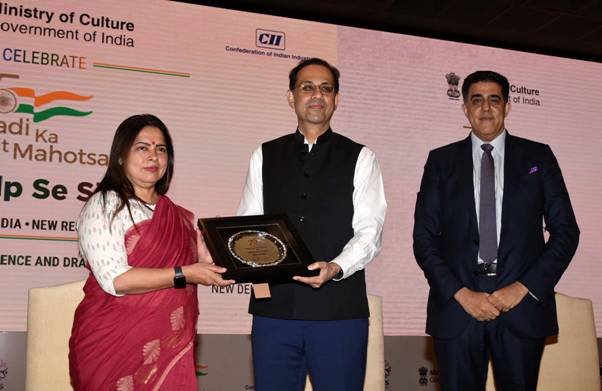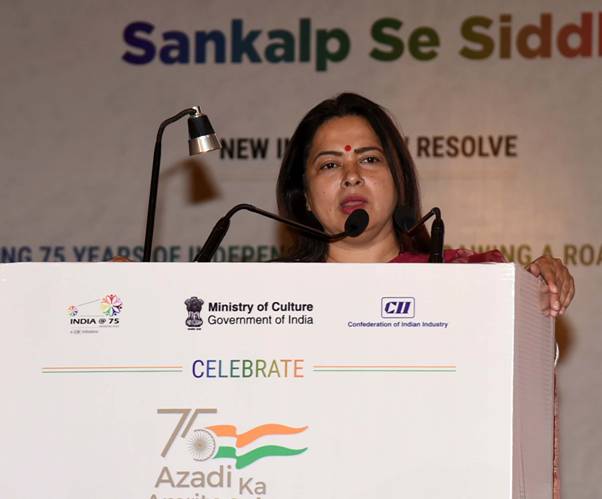 She also said "When everyone sings together, the symphony is created and our song is #AzadiKaAmritMahotsav. All our achievements – scientific, mathematical or cultural must be spoken about everywhere we go."
Smt Meenakashi Lekhi also added "Ancient India was high on skillsets, as was the richness of our culture. We lost our institutions owing to slavery."
In the second session Shri Ashwini Vaishnaw,  Minister of Railways, Communications, Electronics and Information Technology delivered a Keynote address on the session, 'Leveraging Digital Platforms to Build a Future-Ready India'. The session recognized digitalization as an indispensable tool in shaping an inclusive and fair nation and deliberated on measures that could speed up its adoption.
Addressing the session , Shri Ashiwni Vaishnaw highlighted the 5 themes/points that can add value to development efforts of the government and industry pertaining to digitisation. These included- Electronics and other kind of manufacturing, Lead in Semiconductor sector, Use of public digital platforms and convergence between telecom and Information Technology to reap benefits of digitisation.
People at the bottom of pyramid should be at the core of our digitisation programme,  the Minister urged. Reiterating the Antyodaya philosophy of the government, he said that everything that we do shall aim to provide benefits, a transformative force and a better environment for the marginal sections of the society.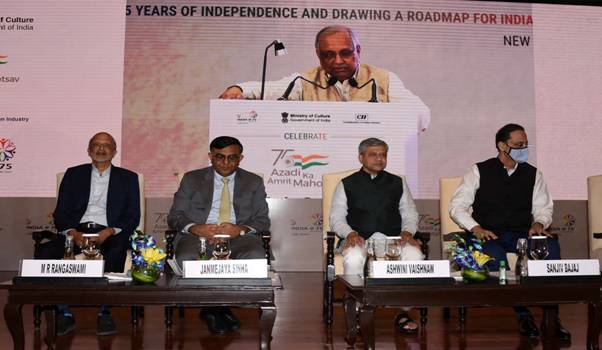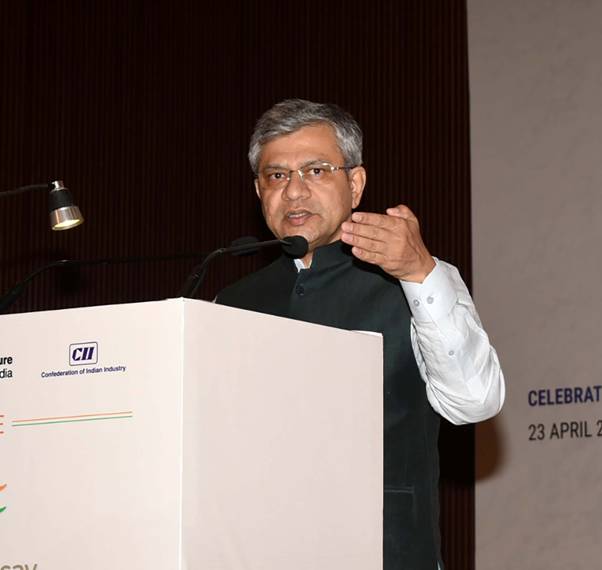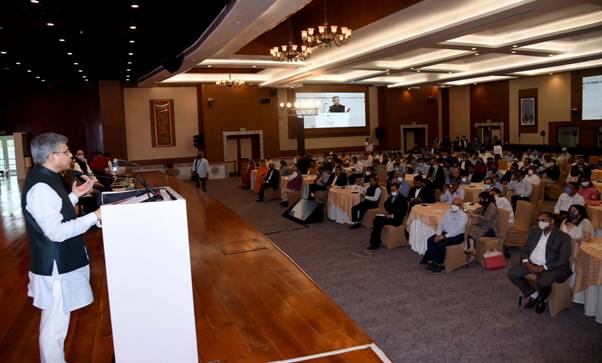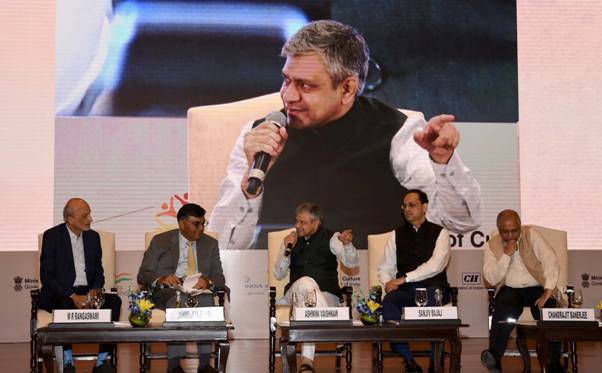 The last session 'Volunteer Engagement Strategy for India@100' was chaired by Shri Anurag Singh Thakur, Minister of  Youth Affairs & Sports and Information & Broadcasting and Mr Abheek Singhi, Managing Director & Senior Partner BCG-India along with members of the Industry and India@75 Foundation. The discussions touched on the need to institutionalise volunteering so that it could be elevated from a social practice to a nation building activity.
During his address,  Shri Anurag Thakur said that the pandemic made us rethink and reimagine how we have to live in a post pandemic era. When the whole country was under lockdown, it was this spirit of volunteerism that kept the poor fed – by delivering ration under PMGKY to the local areas and homes of the poor which was done by our youth volunteers across the nation by setting up temporary kitchens and delivering hot meals to the needy.
Talking about New India-New resolve Shri Thakur said that the nation can only be healthy if its young people participate and engage in development initiatives. "Youth must always remember the contribution and sacrifice made by the freedom fighters. You don't need to sacrifice but you have to contribute", Shri Thakur added. He said that millions are due to join India's workforce by 2030, hence there is a need to provide avenues for young people to take part in the process of nation-building while giving them opportunities as well as a platform to develop their skills. And if we go about it systematically, India can create the largest workforce in the world, the Minister explained. The Minister concluded by urging  the private sector to promote volunteerism by creating new avenues and coming up with unique ideas to engage the youth meaningfully.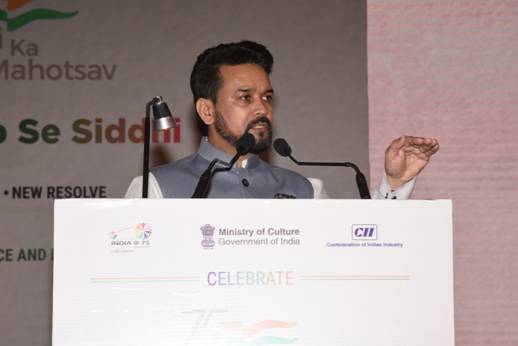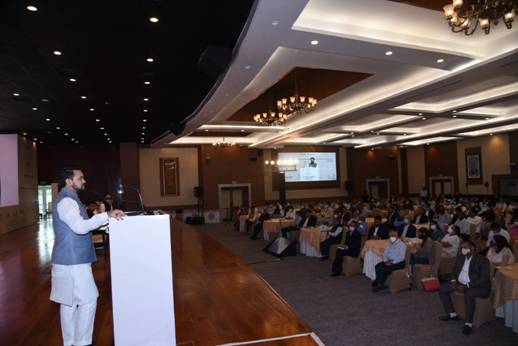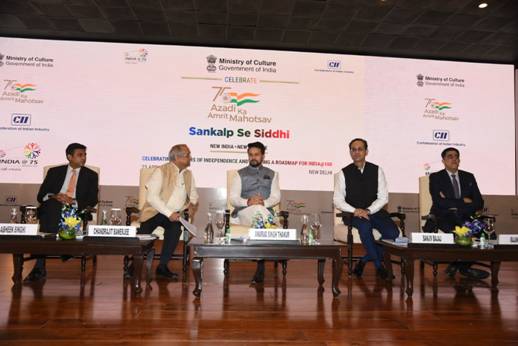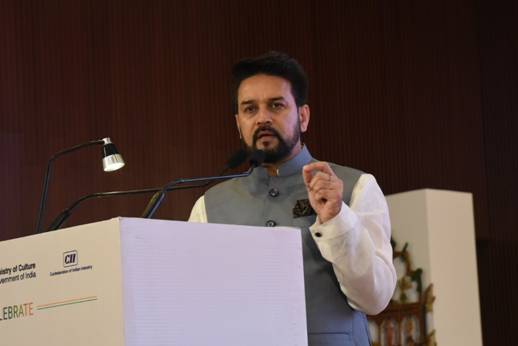 Sankalp Se Siddhi brought together eminent names from the government and industry to both celebrate India's sectoral achievements and draw a roadmap for India@100.
The conference witnessed the participation of the Key Industry leaders, Domain Experts, Academicians, Government dignitaries and NGOs.
****
NB/SK


(Release ID: 1819400)
Visitor Counter : 484



Read this release in:



Hindi