ElevateMeD Nonprofit Returns to Atlanta for Ignite Atlanta Scholarship Event on May 12th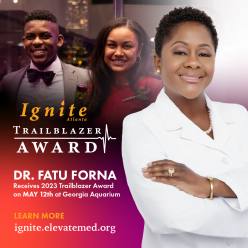 Dr. Fatu Forna, ElevateMeD Trailblazer Award
ATLANTA – April 25, 2023 – PRLog — Scottsdale-based nonprofit organization ElevateMeD is proud to announce its first Trailblazer Award recipient, Dr. Fatu Forna. The ElevateMeD Trailblazer Award is awarded to individuals who are making extraordinary contributions within the world of healthcare. The organization will present the award at its scholarship fundraising event Ignite Atlanta at the Georgia Aquarium on Friday, May 12, 2023.
Established in 2019, the organization determined it wanted to give recognition to community advocates who are also working tirelessly towards improving healthcare for all. The organization has presented two of its Breaking Barriers award to Dr. Dale Okorodudu and Dr. Wayne Franklin.
"Dr. Fatu Forna is well deserving of our trailblazer of the year award for her tireless efforts to shed light on the abysmal disparity that is black maternal mortality. She inspires us at ElevateMeD as she refuses to allow her work to be limited by continental borders, instead blazing a trail of global impact for young physicians to follow," shares Dr. Jeshenna Watkins, ElevateMeD Board Member and Ignite Atlanta Event Chair
Fatu Forna M.D., M.P.H. has served as an Obstetrician-Gynecologist and international maternal and child health expert for more than 20 years, impacting the lives of women, children and families across the globe. Dr. Forna has led and managed multiple clinical and technical teams and developed innovative programs to improve reproductive health, reduce maternal morbidity and mortality, and improve the quality of care provided to women. She has helped develop and served on numerous Maternal Mortality Review Committees in the United States and Sierra Leone and currently serves as an advisor to the World Health Organization on maternal and reproductive health issues. In addition, she is a sought-after speaker and author of reproductive books for children and adolescents.
In 2008, Dr. Forna became Co-Founder and Executive Director of The Mama-Pikin Foundation (https://www.mamapikinfoundation.org/), a non-profit organization that aims to improve the health of women and children in Sierra Leone, West Africa. Dr. Forna graduated from Duke University School of Medicine, then went on to complete her residency training at Emory School of Medicine. Additionally, she obtained her undergraduate degree at Florida A&M University, holds a Masters from the University of North Carolina School of Public Health and completed an Epidemic Intelligence Service Fellowship at the Centers for Disease Control and Prevention. She is a Fellow of the American College of Obstetricians and Gynecologists and a proud member of Alpha Kappa Alpha Sorority, Inc.
This year's Ignite Atlanta celebration will herald a memorable night featuring a live DJ, live and silent auction, an exclusive 'Battle for Bey' raffle,  pre-event networking hour with open bar, and dinner program featuring ElevateMeD Scholar Arrix Ryce, Emory School of Medicine '23 as the keynote speaker. Selected 2023-2024 Emory School of Medicine and Morehouse School of Medicine Scholars Program recipients will also be presented with their tuition-based scholarship award. Tickets and tables are available for purchase at ignite.elevatemed.org.