Los Angeles – WEBWIRE – Tuesday, May 24, 2022
The Black List is thrilled to announce that it has once again partnered with NRDC's (Natural Resources Defense Council) Rewrite the Future program, The Redford Center, and The CAA Foundation to launch a second iteration of the NRDC Climate Storytelling Fellowship.  
The Fellowship will grant $20,000 each to three writers whose feature screenplay or pilot script reflects the climate crisis in a compelling, realistic and thoughtful way. Writers are encouraged to submit work that depicts solutions or a more just and equitable future, helping expand our climate narrative beyond disaster and apocalypse. The Fellowship defines a climate story as one that engages with climate change in a meaningful way through events, actions, character, emotions, plot, and/or setting. 
The Fellowship will also connect the three writers with industry professionals who will provide creative feedback and support. At the conclusion of the Fellowship, revised scripts will be hosted on the Black List website and may be reviewed for development by prominent studios, agencies and/or production companies including Hyperobject Industries, Madica Productions, Participant, UTA and WME. Writers will retain all rights to their scripts. 
Writers can opt in for the 2022 NRDC Climate Storytelling Fellowship via the Black List website starting today. Applications will close on November 30, 2022. In addition to the $60,000 total Fellowship grant, NRDC will also cover one month of hosting and one evaluation fee for the first 400 submissions on the Black List website. An additional explanation of the Fellowship's climate storytelling parameters is detailed on the Black List website. The three fellowship recipients will be announced no later than February 15, 2023.
The Fellowship is part of NRDC's Rewrite the Future program which helps Hollywood tell stories about climate change and environmental justice in entertainment film & TV.
"The science is clear about the absolutely urgent need for climate solutions, and an important part of that process is transforming how we think and tell stories about climate around the world," said Black List founder Franklin Leonard. "We're overjoyed to be part of that work with the NRDC, The Redford Center, and the CAA Foundation. Even more so that it means granting substantial financial and mentorship support for writers doing work in that direction."
"The climate crisis is vast and overwhelming, but good storytelling can help us make sense of it, process our anxieties and fears and, most importantly, imagine a better future," said Katy Jacobs, Entertainment Partnership Director at NRDC. "We're excited to continue our partnership with The Black List, The Redford Center and CAA Foundation to support writers in telling compelling stories that reflect the challenges and solutions of our climate reality and inspire audiences to demand action."
"Mainstream media has a massive, and essential, role to play in solving the climate crisis. Every script, every storyline, every character, every prop, every line of dialogue, can be an onramp for viewers into the climate conversation, a way for people to feel less isolated and alone, and an opportunity to inspire engagement," said Jill Tidman, Executive Director of The Redford Center. "As an environmental storytelling organization focused on solutions, we know that mainstreaming the climate conversation is one of the biggest levers we can pull to ignite the public and political will to act. This is the aspiration of Climate Storytelling Fellowship, which The Redford Center is honored to continue to support alongside our colleagues at NRDC, The Black List, and the CAA Foundation."
"We recognize that the entertainment industry has a unique role to play in addressing the climate crisis," said CAA Foundation executive Adam Umhoefer. "Climate storytelling is a compelling method to spark meaningful action and envision a livable future on our planet.  It is vitally important to provide resources to creatives who are doing this work."
The inaugural 2021 Climate Storytelling Fellowship granted $15,000 each to Elise H. Greven (SILENT SPRING), Jonathan Brebner (THE DEMON), and Ellie Bambach Morello (AMERICAN REFUGEES). As part of the grant, these writers also received mentorship from Sarah Treem (THE AFFAIR, HOUSE OF CARDS, IN TREATMENT), Scott Z. Burns (AN INCONVENIENT TRUTH, CONTAGION, EXTRAPOLATIONS), and Naren Shankar (THE EXPANSE) on how to approach climate storytelling in a way that is both entertaining and impactful.
More information about the fellowship is available on the Black List website: https://blcklst.com/partnerships/
ABOUT THE BLACK LIST

The Black List, an annual survey of Hollywood executives' favorite unproduced screenplays, was founded in 2005. Since then, more than 400 Black List scripts have been produced, grossing over $29 billion in box office worldwide. Black List movies have won 54 Academy Awards from 267 nominations, including four of the last twelve Best Picture Oscars and eleven of the last 28 Best Screenplay Oscars.
In October of 2012, the Black List launched a unique online community where screenwriters make their work available to readers, buyers and employers. Since its inception, it has hosted more than 70,000 screenplays and teleplays and provided more than 120,000 script evaluations. As a direct result of introductions made on the Black List, dozens of writers have found representation at major talent agencies and management companies, as well as sold or optioned their screenplays. Several films have been produced from scripts showcased on the website including Golden Globe nominated NIGHTINGALE, starring David Oyelowo.
Currently, the Black List hosts over 5,000 by nearly 2,700 writer members, available for download by industry professionals ranging from agency assistants, to studio and network presidents, to A-list actors and directors.
The Black List's first feature production, COME AS YOU ARE, debuted at SXSW in 2019 and is Certified Fresh on Rotten Tomatoes. Its second feature, BREAKING NEWS IN YUBA COUNTY, directed by Oscar-nominated director Tate Taylor and starring Allison Janney, Mila Kunis, Regina Hall, Awkwafina, Wanda Sykes, and Juliette Lewis, was released in February 2021 by MGM's American International Pictures.
More information on the Black List is available at www.blcklst.com. For regular updates, join our mailing list or follow the Black List on Facebook, Twitter, and Instagram.
ABOUT NRDC

NRDC (Natural Resources Defense Council) is an international nonprofit environmental organization with more than 3 million members and online activists. Since 1970, our lawyers, scientists, and other environmental specialists have worked to protect the world's natural resources, public health, and the environment. NRDC has offices in New York City, Washington, D.C., Los Angeles, San Francisco, Chicago, Bozeman, MT, and Beijing. Visit us at www.nrdc.org and follow us on Twitter @NRDC.​
ABOUT THE REDFORD CENTER

Co-founded in 2005 by Robert Redford and his son James Redford, The Redford Center uses the power of storytelling to galvanize environmental justice and regeneration. Its cross-cutting programs support environmental storytellers and invest in impact-driven narrative strategies. By amplifying and changing the conversations around environmentalism, The Redford Center aims to engage a much broader and more diverse population in the movement. It has produced three award-winning feature documentaries and 30+ short films, supported more than 100 film and media projects with grants and other services, inspired 500 student films, and dispersed more than $10 million to fiscally sponsored projects. Redford Center film impact campaigns have halted the construction of dirty coal plants, reconnected the Colorado River to the Sea of Cortez, and helped accelerate the clean energy revolution in America. To learn more, visit RedfordCenter.org or follow The Redford Center on Facebook,  Instagram, Twitter, Vimeo and YouTube.
ABOUT CAA FOUNDATION

The CAA Foundation activates the power and reach of the entertainment, media, and sports industries to create systemic social change for a more equitable and optimistic future.  Its efforts are focused on public education, workforce development, civic engagement, and in times of critical need, mobilizing into action through crisis relief.  Since its launch in 1995, the CAA Foundation has served as the heart of the agency, investing in our communities and helping our clients achieve their humanitarian goals.
The industry-leading publication announces the top companies acknowledged for their continued support of Historically Black Colleges and Universities.
Topsupporters2022 Round Logo

BALTIMORE – May 9, 2022 – PRLog — US Black Engineer Magazine, published by Career Communications Group, Inc. (CCG) has released the 2022 Top Supporters of Historically Black Colleges and Universities (HBCU) Engineering List. This announcement immediately follows the publication's annual BEYA STEM DTX Conference that took place in a Digital twin environment this year.

Out of the many companies and corporations that were voted for based on their individual support to HBCUs, a select number of these companies topped the list in each category for their exceeding assistance towards strengthening the education to employment pipelines for black students in STEM. The full 2022 list of HBCU Top Supporters can be found at www.topsupporterslist.com.

Top 20 Industry Supporter

1.     Lockheed Martin Corporation

2.     IBM

3.     Microsoft

4.     The Boeing Company

5.     Raytheon Technologies Corporation

6.     Apple Inc.

7.     Amazon.com, Inc.

8.     Boston Scientific Corporation

9.     Google

10.  Northrop Grumman

11.  The MITRE Corporation

12.  Micron Technology, Inc.

13.  Abbott

14.  Oracle

15.  Dominion Energy

16.  Leidos

17.  JPMorgan Chase & Co

18.  Accenture

19.  Capital One

20.  General Motors

Top 20 Government/Non-Profit Supporter

1.     National Aeronautics and Space Administration (NASA)

2.     National Security Agency (NSA)

3.     Department of Energy (DOE)

4.     Naval Sea Systems Command (NAVSEA)

5.     Department of Transportation (DoT)

6.     National Science Foundation (NSF)

7.     Department of Defense (DoD)

8.     United States Army Corps of Engineers (USACE)

9.     Air Force Research Laboratory (AFRL)

10.  United States Army

11.  United States Intelligence Community

12.  Los Angeles Department of Power and Water

13.  United States Army Combat Capabilities Development Command (DEVCOM)

14.  United States Navy

15.  Sandia National Laboratories

16.  United States Air Force

17.  Maryland Department of Transportation

18.  Johns Hopkins Applied Research Labs

19.  National Geospatial-Intelligence Agency

20.  Northrop Grumman Foundation

Publisher's Choice

Booz Allen Hamilton Inc.

Ford Motor Company

The Goodyear Tire & Rubber Company

Johnson & Johnson Services, Inc.

L3Harris Technologies

McDonald's

Snap-on Incorporated

Southwest Airlines Co.

Walmart Inc.

World Wide Technology

"The past couple of years were critical when it came to underserved communities staying connected through STEM," said Tyrone Taborn, CEO of Career Communications Group, Inc. "These supporters have gone above and beyond to help solidify the school-to-career pipeline within the HBCUs and the companies that are seeking top talent."

This is one of the many examples of the importance of bridging the gap between HBCU students, deans, and companies. CCG has continued to push a number of workshops, career days, and webinars to provide access to resources. The STEM CITY HBCU Village (https://stemcityusa.com/educational-discovery-center-hbcu-village) is one of the spaces that was created to bring HBCUs and corporate leaders together.

Taborn said that the companies included in the 2022 survey range from Fortune 500 companies to smaller startups focused on the impact. The survey's methodology has been to ask HBCU Engineering deans which companies give the most support to their programs. The deans vote for their supporters, and members of the non-profit organization, Advancing Minorities' Interest in Engineering (AMIE) are also able to vote.

About US Black Engineer & Information Technology Magazine

US Black Engineer and Information Technology magazine is published by Career Communications Group, Inc. (CCG). CCG is dedicated to celebrating diversity and promoting equal opportunity for minorities and women in the fields of engineering, science, and information technology.

For more information and the full list of 2022 Top Supporters please visit, www.topsupporterslist.com

WEBWIRE – Thursday, May 5, 2022





Aotearoa eight-piece The Black Seeds have released their new heavy reggae single 'GameOver', accompanied by a dub-version. Also out today is a captivating video for 'GameOver' -set on the inside of a pinball machine.




Packed with muted guitar riffs, driving bass and drums, and an infectious horn section, 'GameOver'is a classic reggae track that showcases the band's iconic sound. Led from the front by vocalist Barnaby Weir, 'Game Over' tackles the challenging subjects of adversity, depression and the daily domestic grind."The lyrical content of this song describes some of the challenges and feelings of life as a musician and parent in this world,"says Weir. "It's about the struggle to be the best you can while maintaining relationships and careers as well as feeling like you're achieving something. It's definitely a feeling we all have at times."




The Black Seeds released their debut album KEEP ON PUSHING in 2001, which despite a minimal marketing budget, went on to reach platinum sales in New Zealand. The second album, 2004's ON THE SUN, added a heavy dose of funk and soul to their dub reggae sound. Third album IN TO THE DOJO, signaled the beginning of the band's introduction to the rest of the world. 2008's follow-up SOLID GROUND and 2012's DUST AND DIRT continued to build the band's global following after they were successfully released through trailblazing North American label Easy Star Records. Easy Star subsequently re-released the entire catalogue from the band in NorthAmerica. The critically-acclaimed album FABRIC was released in 2017. Consistent touring throughout Europe, North and South America, has led to over 80 million Spotify streams since 2015, as well as placings on the US Billboard Reggae chart, and the iTunes Reggae Charts in the United Kingdom and Germany. Their tracks have found placements on cable classics 'Breaking Bad'and'Weeds', as well on the big screen in movies like 'Eight Below'and 'The Inbetweeners II'. Highlights from two decades of international press have included The Huffington Post describing their sound as "thick, bottom-heavy, and melodic," and Clash Music deeming them"one of the best live reggae acts on the planet". The Blacks Seeds' new album, LOVE & FIRE, is released Friday June 17 and features new single 'Game Over', alongside the already-released singles 'It's So Real','Bring The Sun', and 'Let The Sunshine Through'.




The Black Seeds – Game Over




The Black Seeds Live are:




Barnaby Weir (Vocals/Guitar)




Daniel Weetman (Vocals/Percussion)




Jarney Murphy (Drums)




Nigel Patterson (Keyboard)




Ryan Prebble (Guitar)




Francis Harawira (Bass)




Barrett Hocking (Trumpet)




Matthew Benton (Saxophone)




Follow The Black Seeds:




Official Website / Facebook / Instagram / Twitter / YouTube

 Birthright, a podcast about joy and healing in Black birth, is preparing to host its first "Restoration" episode—where Black birthing people who have experienced trauma in their birth times are paired with a perinatal mental health therapist for a healing journey. The special episode will be a hybrid event, where host, Black maternal health tech founder, award-winning journalist, and author Kimberly Seals Allers and a therapist gather in-person, while two birthing people are streamed virtually. The session will be livestreamed on the Birthright Podcast YouTube page, where viewers can witness the possibilities for perinatal healing in Black birth.

Seals Allers leads The Fund to Heal Black Birth, a national fundraising campaign to raise $50,000 to offer therapy by trained perinatal mental health professionals of color to hundreds of Black birthing people. "We may not be able to prevent all of the harm to Black birthing people in the medical industrial complex, but we can support their healing. They are owed that much. That is their birthright," Seals Allers says.

In honor of Black Maternal Health Week 2022, Seals Allers hosted a special Twitter Spaces audio event, "Black Birthing Joy as Liberation," on Thursday, April 14 at 7 p.m. ET. The event explored the birthright of Black birthing people and how to move from surviving childbirth to thriving in childbirth. She was joined by guests from season one of Birthright, Whitney Robinson, who still found joy after her home birth turned into a hospital transfer, and Morine Cerbert Gators, a mother whose photo of her all-Black birth team went viral. Laurie Zephyrin, vice president for Advancing Health Equity at the Commonwealth Fund, and Rachel Nicks, founder of Birth Queen, were also a part of the conversation.

Season two of Birthright launched last month with an exploration of trans birth in the U.S with Kayden X Coleman, a trans dad of two; followed by new details from actor Christina Elmore's birth as she managed postpartum while playing Condola on Insecure; a birth experience in rural Georgia; and a look into the journey of donor insemination with more compelling stories on the way.

"We must never forget our joy. Finding moments of joy is how our ancestors survived and it is our birthright. Nor can we allow the only narrative in Black maternal health to be full of woes. We are aware, but not woeful," says Seals Allers, a former senior editor at Essence and founder of the Irth app for birthing without bias, who brings historical context and other expert voices to each birthing story. "Birthright reminds us that there are positive and joyful experiences out there and we must learn from those too." New episodes are released weekly on Wednesdays.

Coleman and four other Birthright guests from season one were featured in a photo essay by Well+Good, "Joy Is A Metric," where the Black parents reflected on how they found joy in birth and beyond.

Produced by Motor City Woman studios, a Black woman-owned audio production studio based in Detroit, Birthright is funded by the California Health Care Foundation and the Commonwealth Fund and is a project of Narrative Nation Inc. a Black-women owned, media and technology non-profit, based in New York City. Narrative Nation also created Irth, as in birth but without the B for bias, the first-of-its-kind review and rating app for Black and brown parents to find and leave reviews of maternity doctors and birthing hospitals. Learn more at www.BirthrightPodcast.com

Learn about Irth at www.IrthApp.com. Follow @iamKSealsAllers on Twitter, Facebook and Instagram and @TheIrthApp on Facebook and Instagram.

Narrative Nation, Inc.
Kimberly Seals Allers
631-455-7462
https://wewriteus.org

Contact


Categories
African American
Children & Youth
Family Medicine
Marriage & Relationships
Mental Health
OB/GYN
Parenting
Philanthropy & Non-profit
Radio
Women's Interest
This Easter, Black Spade Capital Limited ("Black Spade Capital") is giving the gift of wellbeing to its friends and business partners. This initiative also marks the first ever cross-over of the family office founded by Mr. Lawrence Ho with the leading French beauty and well-being house.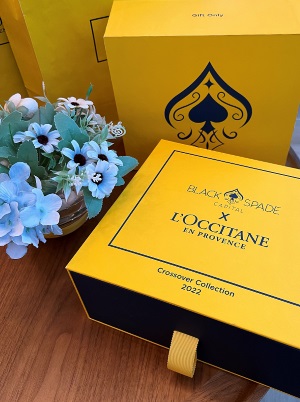 Black Spade X L'OCCITANE Gift Box

Mr. Dennis Tam, President and CEO of Black Spade Capital, said, "It was a rewarding experience to see this idea turn from concept to reality. Black Spade Capital has always had a keen focus on the lifestyle and leisure space. L'OCCITANE, whose wide range of signature products are loved by so many around the world, is undoubtedly one of the most iconic brands in this sector. We enjoyed every bit of the process, from curating this collection to designing the gift set artwork. We put a lot of thought into deciding the theme of the gift set – we are very pleased with the final result and adore the revitalizing scent of this collection which, in my opinion, is particularly fitting for springtime. We believe our exclusive collection, available only in a limited quantity of 250 boxes, will be equally enjoyed by its recipients."

"We are very excited about this idea and hope that this meticulously crafted gift set will send our best wishes to our friends and associates – at a time when personal well-being is more important than ever," added Mr. Tam.

About Black Spade Capital Limited
Black Spade Capital Limited ("Black Spade Capital") is an established family office managing the private investments of Mr. Lawrence Ho. Headquartered in Hong Kong, its global portfolio consists of a wide spectrum of cross-border investments as it consistently seeks to add new projects and opportunities to its investment mix. Black Spade Capital's investment strategy maximizes coverage of geographic regions and sectors whilst maintaining a portfolio of diversified asset classes, ranging from equity, fixed income, medical technology, leisure and culture, green energy, real estate to pre-IPO investments. In July 2021, Black Spade Acquisition Co (NYSE: BSAQ), a special purpose acquisition company of which a subsidiary of Black Spade Capital is sponsor, was listed on the New York Stock Exchange.

Media Enquiries:
Strategic Financial Relations Limited
Vicky Lee Tel: +852 2864 4834 Email: vicky.lee@sprg.com.hk
Christina Cheuk Tel: +852 2114 4979 Email: christina.cheuk@sprg.com.hk
Website: www.sprg.com.hk








Topic: Press release summary