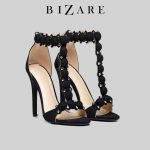 Most women consider footwear as the most essential part of their outfit, and no matter what they're wearing if they do not get a matching pair of shoes or sandals, they won't be satisfied with their look. Whether we're talking about a pair of casual shoes, a cute pair of sandals or a sexy, strappy set of high heels, the right shoes can truly pull an entire outfit together, and any fashion-forward woman knows this.
If you're fond of keeping your footwear collection updated according to the latest trends, and are planning to shop for some new ones too, then it's time to visit BIZARE!
An amazing online shop, Bizare specializes in women footwear, and they have a great variety of footwear for every occasion. Their collection is unique, trendy, and chic, and the best part is there's no compromise in comfort.
From leather high heels to lace up sandal heels to strap heeled sandals to pointed boots to ankle tie sandals and more, you can easily find it all on their online store. Their goal is to curate heels that represent the personality of the customer wherever they go.
The priority of Bizare is to provide the highest quality items and exceed customer's expectations in all possible ways. Their heels aren't just stylish and sophisticated, but are available at reasonable prices too.
Plus, they also have an ongoing sale with 15% off on selected items. What are you waiting for? Visit their store now, and grab the lovely pairs for your and your loved ones! For more information visit https://bizarecollection.com/.