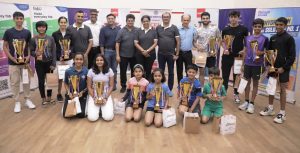 Maharashtra's Veer Chotrani and Delhi's Anahat Singh maintained their imperious form in the tournament, right till the end, lifting the men's and women's singles titles in the 6th Cello NSCI Open National Circuit squash tournament, hosted by NSCI at their glass backed squash courts, here, on Wednesday. The tournament is co-sponsored by Rubicon Consumer Healthcare and Hbits.
Chotrani, who didn't drop a game throughout the tournament was once again in total control of the title match against the second seed Suraj Chand. Chotrani, who is studying at Cornell University, does not play in National level tournaments throughout the year, which explains his relatively low ranking of  No.16 in the country. However, he possessed a wider repertoire of strokes, which he used to his benefit right from the start, putting pressure on the defensive game of Suraj. Suraj tried to engage Chotrani in long rallies, but Chotrani waited patiently to pounce on the first loose ball he got to always keep his neck ahead and prevail 11-9, 11-8, 11-6.
The women's final was also a one-sided affair with Anahat, the talented 15-year-old from Delhi, a part of the Indian Commonwealth squash team, never in trouble against the top seed Urwashi, winning  11-7, 11-8, 11-3.
Maharashtra's Akanksha Guta (3/4) pulled off an upset in the Girls U-17 final, beating top seed Navya Sundararajan  (UP) 11-9, 11-6, 11-8.
Results (finals):
Men's: Veer Chotrani (3/4) (MH) bt def. Suraj Chand  (2) MH 11-9, 11-8, 11-6.
Boy's U19: Yuvraj Wadhwani (2) (MH) bt Tavneet Singh Mundra (9/16) (MP) 11-5, 11-3, 11-8.
Boy's U17:Aryaveer Dewan (2) (DL) bt Priyaan Thakker (5/8) (MH) 11-6, 10-12, 11-2, 11-5.
Boy's U15: Purav Rambhia (3/4) (MH) bt Saharsh Shahra (3/4) (MP) 11-8, 11-3, 11-4.
Boy's U13: Aryaman Singh (1) (KA) bt Dhruv Bopana (2) (TN) 13-11, 11-7, 11-8.
Boy's U11: Prabhav Bajoria (1) (RJ) bt Aaditya Shah (3/4) (MH) 8-11, 11-3, 11-9, 11-9.
Women's: Anahat Singh (2) (DL) bt Urwashi Joshi (1) (MH) 11-7, 11-8, 11-3.
Girl's U17: Akanksha Gupta (3/4) (MH) bt Navya Sundararajan (1) (UP) 11-9, 11-6, 11-8.
Girl's U15: Diva Shah (1) (MH) bt Aelina Shah (MH) 9-11, 11-7, 11-8, 11-5.
Girl's U13: Vasundhara Nangare (9/16) (MH) bt Aroma (2) (UP) 11-6, 11-3, 13-11,
Girl's U11: Gargi Kadam (3/4) (MH) Sudhanjali Yadav (1) (MH) 11-9, 15-13, 8-11, 11-8.