EMSD establishes E&M Youth Development Committee (with photos)
**************************************************************

     The Electrical and Mechanical Services Department (EMSD) held the "Witty Bear Campus Tour – EMbrace Smart Living in Daily Life" graduation ceremony and the E&M Youth Development Committee launching ceremony today (July 6) at the EMSD Headquarters, Kowloon Bay, to promote youth development and harness the power of young people.
     The Permanent Secretary for Development (Works), Mr Ricky Lau, said at the launching ceremony that the E&M Youth Development Committee will organise different activities to strengthen communication with young people, help them cultivate positive thinking and deepen their understanding of the electrical and mechanical (E&M) engineering industry, so as to encourage more young people to join the industry, capitalise on their strengths and contribute to the society.
     The Director of Electrical and Mechanical Services, Mr Eric Pang, said that the EMSD has been sparing no effort in promoting public education and youth development. The EMSD has established the E&M Youth Development Committee to equip its young staff members to purse diversified development. At the same time, the EMSD has expanded the scope of the existing E&M Young Ambassador Programme to further promote the knowledge of E&M safety, energy efficiency, innovation and technology, and E&M industry among young people, enabling them to unleash their potential and achieve their goals.
     The graduation ceremony of a pilot STEM education programme, "Witty Bear Campus Tour – EMbrace Smart Living in Daily Life", launched by the EMSD in partnership with five secondary schools, was also held today. The eight-month pilot programme enabled students to experience the fun of science through a series of STEM teaching activities and workshops, enhanced their understanding of E&M engineering and smart technologies, and aroused their interest in joining the E&M and I&T industries in the future. The five schools have become the first batch of members of the E&M Young Ambassador Programme under the E&M Youth Development Committee. The EMSD will recruit all schools in Hong Kong to be members of the E&M Young Ambassador Programme, so as to jointly promote E&M safety, energy efficiency and the development of E&M industry.
Youth Development Commission convenes 13th meeting (with photos)

****************************************************************


     The Chief Secretary for Administration, Mr Chan Kwok-ki, chaired the 13th meeting of the Youth Development Commission (YDC) today (June 30). As the Chairperson of the YDC, Mr Chan welcomed members of the new term. He said that the current-term Government attaches great importance to youth development and he looks forward to working closely with the members to draw the community together to nurture a new generation of young people with an affection for the country and Hong Kong, and equipped with global perspective, an aspiring mind-set and positive thinking.
 
     At the meeting, members were briefed on the implementation progress of the Youth Development Blueprint (the Blueprint) promulgated by the Government in December last year. Members were pleased to note that policy bureaux and departments have been actively implementing more than 160 concrete actions and measures as stated in the Blueprint, covering various areas such as strengthening young people's national identity, enhancing life planning of youth, enabling young people's integration into the overall development of the country, supporting youth innovation and entrepreneurship, addressing young people's housing needs, nurturing young people's positive thinking, promoting sports, arts and culture, strengthening mental health support for youth, and enhancing youth participation in public affairs.
 
     Amongst them, the progress of the major youth development initiatives under the Home and Youth Affairs Bureau (HYAB) and the YDC is as follows:
 
(1) Following the full resumption of normal travel of people between Hong Kong and the Mainland as well as overseas regions, the HYAB has resumed various internship and exchange activities outside Hong Kong. In the year 2023-24, the HYAB's internship and exchange programmes outside Hong Kong will altogether provide more than 41 000 places. Young people who are interested in visiting the Mainland and overseas places this summer to broaden their horizons and achieve self-enhancement may visit the YDC website (www.ydc.gov.hk/en/programmes/introduction.html); 

(2) The second youth hostel project under the Youth Hostel Scheme commenced operation this May, providing 1 680 hostel places. Furthermore, the HYAB launched the Subsidy Scheme for Using Hotels and Guesthouses as Youth Hostels under the Youth Hostel Scheme this January and has approved two projects so far, providing around 400 hostel places in total; 

(3) The HYAB and YDC jointly launched the new Funding Scheme for Youth Positive Thinking Activities and the Funding Scheme for Youth Adventure Training Activities at the end of last year. About $51 million in total will be granted to 11 non-government organisations to organise activities promoting young people's positive thinking. Subject to the implementation of individual projects, it is expected that the sponsored organisations will start rolling out relevant activities from this summer for two years, benefiting around 29 000 participants in total; 

(4) Recruitment under the Member Self-recommendation Scheme for Youth Phase VI was conducted from end-May to end-June this year, covering multiple committees that are relevant to Hong Kong's strategic positioning of the "eight centres" as promulgated under the National 14th Five-Year Plan. Young people could nominate themselves as members. Over 1 800 applications were received under this phase, which is the highest ever number; and 

(5) The HYAB provides recurrent subvention to 12 youth uniformed groups in the community and enhances the national education promotion in youth uniformed groups through different measures, for example, jointly organising a total of four rounds of a Chinese Drill Instructors Workshop for youth uniformed groups this year together with the Hong Kong Police College and the Civil Aid Service. The first two rounds of the workshop have already been completed and around 100 instructors have been trained.   

     Mr Chan said, "Young people are the future and hope of Hong Kong. The current-term Government has formulated the Blueprint with the objectives of continuously promoting long-term youth development work and addressing the development needs of young people of different background and at different stages of life in a comprehensive manner. To strive for youth work, we must give full play to the synergies of cross-bureau and cross-sector collaboration, and pull together talent from different sectors to tap on their suggestions and advice and harness their collective wisdom and insights. Therefore, the co-ordination role of the YDC is crucial. I would like to express my heartfelt gratitude to the members for their staunch support of the Blueprint. I hope they will continue to work hand in hand with the Government in promoting and implementing various concrete actions and measures therein to support the comprehensive growth and development of young people."

Philly Youth Foundation Seeks to Raise Over 300K To Fund Programs and Initiatives Dedicated to Youth Development

PHILADELPHIA – March 31, 2023 – PRLog — Founded by Super Bowl LII Champion Rodney McLeod and Erika McLeod, the Change Our Future Foundation will host its annual Sneaker Ball fundraiser, Where Fashion Meets Philanthropy on Thursday, June 22nd from 8:00 p.m.-12:00 a.m. at Vie by Cescaphe located in the heart of Center City at 600 N Broad St, Philadelphia, PA 19130. Sponsored by Aetna, Titos Handmade Vodka, and Staples, with a sneaker heaven powered by Glausangeles, this highly anticipated upscale gala will provide youth with back-to-school supplies for the upcoming school year. All proceeds will support Change Our Future's 2024 programs and initiatives that directly impact youth and families in the community.

"Our annual sneaker ball fundraiser is an event we look forward to each year, says Erika McLeod, co- Founder of Change Our Future. "It is a night filled with excitement and love to share the passion behind our work in the community as well as engage with new and current supporters. It is without a doubt a party, to celebrate the success of our students, the future leaders of our nation, and encourage others to get behind our mission in helping us change the future. Laced with the vibes of the sneaker culture, mixed with the vibrancy and heart of the Metro Philadelphia community, this year's black-tie gala will feature an award ceremony, luxury sneaker vendors, fashion entertainment, a live and silent auction, gourmet hors d'oeuvres, celebratory cocktails, interactive activations, and the Taste of Philadelphia experience.

In partnership with Philadelphia Style Magazine, this year's event will feature a one-of-a-kind pop-up sneaker museum showcasing some of the rarest, classic, and excusive sneakers donated by local boutiques, this curated evening dedicated to supporting our youth through philanthropy, will raise funds to give the youth throughout Metro Philadelphia, the City of Indianapolis, and Prince Georgia County, Maryland a promising future and a strong foundation for future success.

Last year Change Our Future's 2nd Annual Sneaker Ball raised over $150,000 and donated more than 200 sneakers and school supplies to Blue Babes Foundation, and the Philadelphia Police Department. "We are proud of the foundation's significant growth over the past three years," says Rodney McLeod, Founder of Change Our Future. "Our goal to expand the foundation's presence and its programs remains on the forefront. We recognize the issues plaguing our youth extend beyond our local communities and now more than ever our kids need us! With the help of our supporters we can continue to spread the mission and make change across our nation."

Past attendees include Philadelphia Eagles Jalen Hurts, Jordan Mailata, Darius Slay, Miles Sanders, Jason Avant, Connor Barwin, and Brian Westbrook, Pennsylvania Senator, Anthony Williams Hughes, and Councilmember Isaiah Thomas, City of Philadelphia.

Attendees are asked to bring a new or gently used pair of sneakers and school supplies. Change Our Future will distribute these donated items to several schools and organizations in Philadelphia. To date, Change Our Future has served thousands of youth in the Philadelphia, Indianapolis, and Prince George County Maryland area through various initiatives including youth development, education, health and wellness, and community development.

For additional information and to purchase tickets to the 3rd Annual Sneaker Ball, Where Fashion Meets Philanthropy, visit Changeourfuture.org. For sponsorship inquires, email sneakerball@changeourfuture.org. For press inquiries contact Katrina Highsmith at Katrina@thehighsmithgroup.com, or call 678-373- 9279. Follow the conversation on social media using #COFSneakerBall23.

Home and Youth Affairs Bureau and Women's Commission celebrate International Women's Day 2023 (with photos)

******************************************************************************************


     The Chief Executive, Mr John Lee, and his wife, Mrs Janet Lee, today (March 8) officiated at a reception to celebrate International Women's Day 2023 hosted by the Home and Youth Affairs Bureau (HYAB) and the Women's Commission (WoC).
 
     The reception was attended by members of the WoC, and representatives from women's groups, non-governmental organisations and the business sector. Thematic panels were set up at the reception this year to showcase the work done by the Government and the WoC on promoting women's development.
 
     Speaking at the reception, Mr Lee said that women play a leading role in all walks of life in Hong Kong. Among the 26 Principal Officials of the current-term Government, six of them are women, accounting for nearly a quarter of the team, which is the highest among all previous terms of Government. Among the 18 Permanent Secretaries, which are the highest echelons of the civil service, more than 60 per cent of them are females. Women now account for 36 per cent of the non-official members of government-appointed advisory and statutory bodies, which is 10 per cent higher than 20 years ago. This marks the significant contribution that Hong Kong women have made to social development.

     He said, "Promotion of women's development is an important task. In the future, the Government and the Women's Commission will continue their concerted efforts in promoting women's rights in various fronts."
 
     The Secretary for Home and Youth Affairs, Miss Alice Mak, said at the reception that the Government will, as always, contribute more to women's development. The HYAB will set up the Women Empowerment Fund as announced in the Chief Executive's Policy Address this year. From 2023-24, the funding will be increased to $20 million a year to strengthen the support for women's development and the related tasks.
 
     She said, "The HYAB will continue to work with members of the community, making ways for Hong Kong women to unleash their full potential in different roles of the community and live a happy life."

     Also officiating at the reception were Deputy Director of the Liaison Office of the Central People's Government in the Hong Kong Special Administrative Region (HKSAR) Ms Lu Xinning; Deputy Director General of the Office for Safeguarding National Security of the Central People's Government in the HKSAR Mr Wang Wenxian; Deputy Director of the Political Department of the Chinese People's Liberation Army Hong Kong Garrison Senior Colonel Wang Zhixue; the Chief Secretary for Administration, Mr Chan Kwok-ki; the Financial Secretary, Mr Paul Chan; the President of the Legislative Council, Mr Andrew Leung; the Convenor of the Non-official Members of the Executive Council, Mrs Regina Ip; and the Permanent Secretary for Home and Youth Affairs, Ms Shirley Lam.

Ocean Partnership for Children's youth groups are busy spending the holiday season giving back to their fellow youth in Ocean County.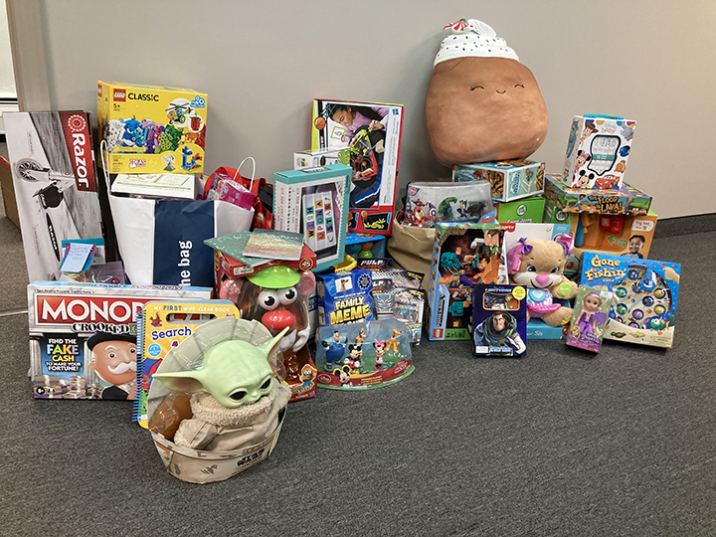 OPC's Game Changers collects toys for families.

TOMS RIVER, N.J. – Dec. 21, 2022 – PRLog — This holiday season, the youth groups of Ocean Partnership for Children (OPC) are doing whatever they can to make a difference in the lives of their fellow youth in and around Ocean County. From OPC's YAS (Your Authentic Self) teen group creating a panel for the National AIDS Memorial Quilt in honor of AIDS Awareness Month to OPC's Game Changers collecting toys for Ocean County families in need, OPC is making a huge impact in the community.

"As a nonprofit that provides care management services to Ocean County youth up to 21 years old with mental health, substance use, intellectual, and developmental needs and their families, it is so incredible to watch our own youth go out and make such a huge impact in the community around us," said Mary Jo Buchanan, Executive Director of OPC. "

AIDS Awareness Month

AIDS Awareness Month and World Aids Day (remembered each year on December 1st) are dedicated to raising awareness of the AIDS pandemic caused by the spread of HIV infection and mourning those who have died from the disease. The AIDS pandemic has historically impacted the LGBTQ+ community at a higher rate, according to Kaitlin Lord, Community Resource/Social Media Specialist at OPC.

"In collaboration with the OPC Diversity, Equity and Inclusion (DEI) Committee and Nicole Young, one of OPC's Administrative Assistants, we decided to have our YAS teen members create a panel for the National AIDS Memorial Quilt," Lord said. "The Quilt is an ever-growing memorial for those that are living with and have died due to AIDS related complications. The Quilt travels for many national displays and is housed in San Francisco, California. To date, the Quilt has over 50,000 panels and is dedicated to more than 110,000 individuals."

"The YAS facilitators (Liz Menges, Assistant Director of Clinical Operations; Tara Boyle, Case Manager Supervisor; Justin Montefusco, Care Manager and myself) are truly so proud of the dedication and hard work that all of the youth showed in creating this quilt and honoring our community and all victims of the AIDS pandemic," said Lord. "It is so important for us to continue to discuss the importance of LGBTQ+ history with our YAS members."

OPC runs its YAS Too (8-12 years old) and YAS Teen (13+) meetings (open social support groups for LGBTQ+ youth and their allies) on the first Wednesday of every month. Please visit www.oceanpartnership.org to learn more.

OPC's Game Changers collects toys

In collaboration with the Ocean County Youth Center, who partnered with PBA 258 (Corrections) and Juvenile Services, OPC's Game Changers collected new and unwrapped toys for the Ocean County Board of Commissioners to distribute to Ocean County families in need.

Randy Orlowsky and Sean Giarratana, OPC Care Manager Supervisors and facilitators for the Game Changers are leading the charge. "It has been a great experience allowing us to strengthen our bonds with other community supports/partners, as well as give back to the community directly," said Orlowsky. "We also came up with creative prizes for staff engagement."

Game Changers is a boys' social emotional learning group for ages 11-14 years old. The group is free and confidential. To register, click here: https://bit.ly/3hDTZep.

About Ocean Partnership for Children Inc.

Founded in 2005, Ocean Partnership for Children (OPC) is Ocean County's Care
Management Organization (CMO). Its mission is to enhance the well-being of youth and
their families through natural and community supports. OPC provides care management
services for Ocean County youth up to the age of 21 years who have mental health,
substance use, intellectual and developmental challenges.  OPC strives to keep children and adolescents at home, in school, and in the community by connecting
them to resources that meet their unique needs and help them achieve their goals.

Ocean Partnership for Children is a non-profit organization available at no cost
to all youth and families in Ocean County who meet the eligibility criteria
of the New Jersey Children's System of Care. To learn more, visit www.oceanpartnership.org or https://www.oceanresourcenet.org.