DUBAI, UAE, Nov 22, 2023 – (ACN Newswire) – Verofax a compliance and commerce SaaS solution provider has been selected among the top Future50 climate tech start-ups by PwC Middle East to help enterprises' accelerate on their path to Net Zero.
PWC had scoured the region and short-listed from 500 businesses across 11 categories of impact. Verofax was selected among top 6 Climate Change Management and Report (CCMR) startups for its sustainable traceability solution to help decarbonize industries and enable validated exports in line with recent regulations like EU's Carbon Border Tax (CBAM).
PwC Middle East revealed the 50 pioneering start-ups in the Middle East at Net Zero Future50′ launch event highlighting the groundbreaking technologies and achievements in climate management and carbon emissions reporting, in addition to opportunities and challenges in growing and scaling climate tech businesses.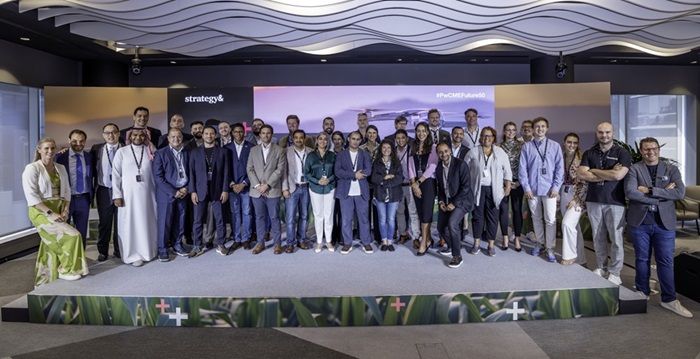 Dr Yahya Anouti, Partner at Strategy& and Sustainability Leader at PwC Middle East, said: "Climate tech innovation in the Middle East is being driven by some of the most dynamic entrepreneurs in our region, championing new technologies to accelerate the path to net zero. As we stand just days away from the world's most important climate conference — COP28, taking place here in the United Arab Emirates, we are excited to shine a light on regional innovators whose organisations, we feel, are making the biggest difference in reducing emissions and accelerating decarbonisation in our region. The PwC Net Zero Future50 – Middle
East report identifies leading organisations in this space, and discusses the challenges they face in their ambition to grow and scale. Their range and diversity highlights the vibrancy of the start-up and small companies scene in the region. "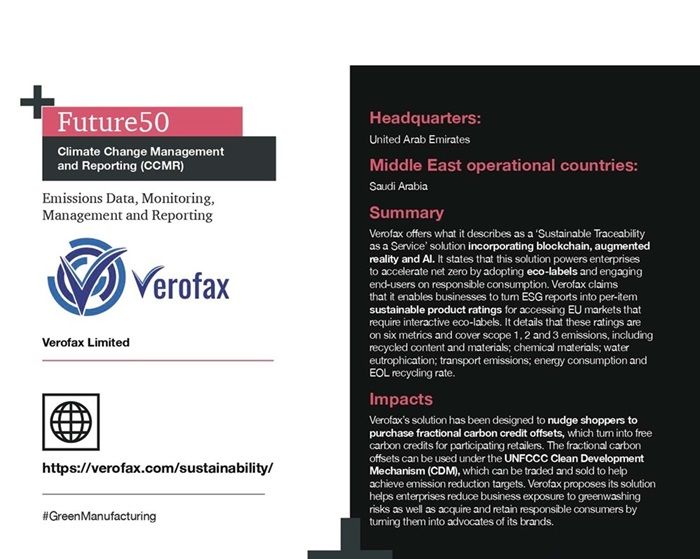 Verofax's automates compliance, traceability and verification
As more countries are looking to decarbonize their economy, the EU and US have recently introduced regulations to curb imports of high-emission commodities such as steel, Aluminum, cement, fertilizers, chemicals and energy. The EU Carbon Border Tax regulation came into effect on August 17 and reporting became mandatory for exporters on October 1st. Existing ERP systems are not built to aggregate data across supply chain and prevent double counting. Thus compliance with operational standards for measuring and reporting in accordance with ISO 14064 standards becomes an unsurmountable challenge for exporters needing to have their multi-tier supply chain comply with such operating procedures, which increases cost significantly. Not complying is also not an option with up to 35% of revenue in tariffs levied at
European Union border customs. The problem necessitates commodity passporting and emissions tracking without the risk of double counting.
Wassim Merheby, CEO of Verofax, said, "Existing ERP systems are siloed by design, which hinders the capability of having immutable data and certifications verified on interoperable system for all stakeholders from material collectors to recyclers, exporters, customs and clients. Verofax offers an award-winning Digital Passporting and traceability solution for multi-tier supply chain verification, enabling seamless compliance and verification of Carbon emissions. The Gulf region trails behind India and other markets that recycle up to 80% of targeted commodities. Recycling can reduce emissions by up to 95%, thus markets with lower recycling threshold are at risk of being priced out of the EU market. The UAE for example, exports $1.5B to the EU mainly Aluminum, and recycles under 10% to date. With Verofax emission verification and commodity passporting, exporters have a great opportunity to trail a path towards export growth."
Patricia Keating, Scale Lead at PwC Middle East, mentioned "In our analyses of the Middle East climate technology landscape, we see the founders of climate tech companies driving innovation that's helping to reduce emissions and accelerate decarbonisation. We found that the largest share of our NetZero Future50 companies are working ontechnologies within the sectors responsible for most GHG emissions: With Industry, Manufacturing and Resource Management contributing 29% of Middle East GHG emissions and Energy at 46%."
Verofax Digital passporting & Traceability solution for compliance verification automation ensures the validation of commodities emissions, commodity provenance, prevent recycling double counting, across tiered supply chain. By calculating and verifying low carbon emissions from mining or waste material collection, Recycling, repurposing and transportation, exporters will lower their costs and increase market access to EU & US in compliance with regulations.
About PwC
At PwC, our purpose is to build trust in society and solve important problems. We're a network of firms in 152 countries with nearly 328,000 people who are committed to delivering quality in assurance, advisory and tax services. Find out more and tell us what matters to you by visiting us at www.pwc.com.
Established in the Middle East for 40 years, PwC Middle East has 30 offices across 12 countries in the region with around 10,000 people. (www.pwc.com/me)
PwC refers to the PwC network and/or one or more of its member firms, each of which is a separate legal entity. Please see www.pwc.com/structure for further details.
About Verofax
Verofax is a compliance and commerce SaaS solution provider, validated by Microsoft and holding PCT patents on Digital passporting, computer vision and AI analytics that enable intelligent supply chain and operations. Fortune 100 enterprises across 50 markets have adopted Verofax solutions for securing their supply chain and connecting directly to customers. Verofax is committed to achieving Net Zero by 2025 and promotes global offset and community relief projects across the globe. Visit https://verofax.com.
For media inquiries, please contact: Wassim Merheby, CEO, Verofax Email: info@verofax.com 

Topic: Press release summary
Mitsubishi Heavy Industries, Ltd. (MHI) has been selected as licensor of CO2 capture technology for the project known as EET Industrial Carbon Capture which is underway at the Stanlow Refinery, owned and operated by Essar Oil UK Limited in Cheshire County in northwest England. Essar Oil UK is the UK arm of the Essar Group, a multinational conglomerate based in India.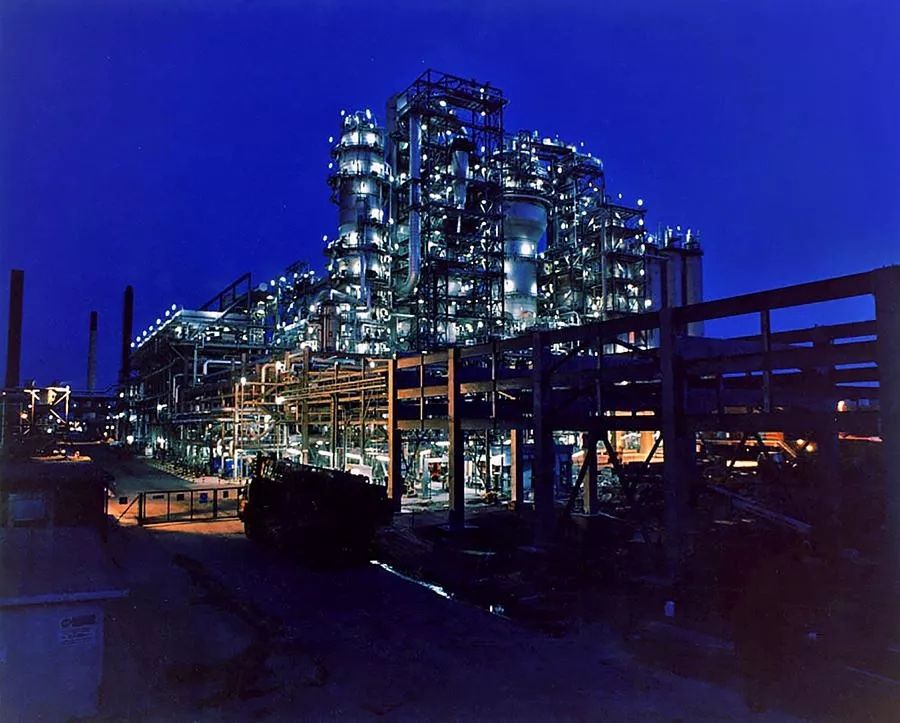 The project at Stanlow will capture CO2 emissions from the fluid catalytic cracker in the refinery process. This contributes to Stanlow becoming the UK's first low-carbon refinery. Once it is built, it will capture approximately 860,000 tons of CO2 per year. The project is supported by HyNet, the carbon capture, utilization and storage (CCUS) cluster in northwest England. The captured CO2 will be permanently sequestered into depleted gas fields under the sea in Liverpool Bay.
MHI, as a licensor of the project's CO2 capture technology, will support the project by providing the basic engineering design package (BEDP) applying its "Advanced KM CDR Process™," CO2 capture technology jointly developed with The Kansai Electric Power Co., Inc.
The British Government has set a target to achieve net zero carbon emissions by 2050. In line with this initiative, the requisite infrastructure, including formation of CCUS clusters, is being developed to carry out all related processes – from CO2 capture to transportation and storage – at each of the country's targeted industrial zones.
In October 2021, then the Department for Business, Energy and Industrial Strategy (BEIS) designated two CCUS clusters, HyNet and East Coast. This is still being supported by the subsequent new department, the Department for Energy Security and Net Zero (DESNZ). The project at Stanlow targets 2028 as the start of operations of EET Industrial Carbon Capture.
Essar Oil UK is actively advancing the decarbonization of its refinery and putting it at the forefront of UK's energy transition. In order to commit this, the company is investing US$1.2 billion over the next five years to lower emissions from the refinery.
MHI Group has formally declared its intent to achieve carbon neutrality by 2040, and the Company is now working strategically to decarbonize both the energy demand and supply sides. A core element of the Company's "Energy Transition," which targets decarbonization on the energy supply side, is the development of a CO2 solutions ecosystem integrating diverse sources of carbon emissions with modes for carbon storage and utilization. Through provision of the carbon capture technology at Stanlow, the Company will contribute to execution of the project and realization of the UK's first CO2 capture for a refinery, and thereby boost its presence within the UK's CCUS market. Going forward, MHI Group will continue to respond to the decarbonization needs of diverse industrial sectors.
About MHI Group's CO2 capture technologies
MHI Group has been developing the KM CDR Process™ (Kansai Mitsubishi Carbon Dioxide Recovery Process) and the Advanced KM CDR Process™ in collaboration with The Kansai Electric Power Co., Inc. since 1990. As of November 2023, the Company has delivered 16 plants adopting the KM CDR Process™, and two more are currently under construction. The Advanced KM CDR Process™ adopts the KS-21™ solvent, which incorporates technological improvements over the amine-based KS-1™ adopted at all 16 of the commercial CO2 capture plants delivered to date. The advanced version offers superior regeneration efficiency and lower deterioration than the KS-1™, and it has been verified to provide excellent energy saving performance, reduce operation costs, and result in low amine emissions.
For further information on MHI Group's CO2 capture plants: www.mhi.com/products/engineering/co2plants.html
About MHI Group
Mitsubishi Heavy Industries (MHI) Group is one of the world's leading industrial groups, spanning energy, smart infrastructure, industrial machinery, aerospace and defense. MHI Group combines cutting-edge technology with deep experience to deliver innovative, integrated solutions that help to realize a carbon neutral world, improve the quality of life and ensure a safer world. For more information, please visit www.mhi.com or follow our insights and stories on spectra.mhi.com.
Copyright ©2023 JCN Newswire. All rights reserved. A division of Japan Corporate News Network.