WEBWIRE – Thursday, May 12, 2022
AECOM (NYSE: ACM), the world's trusted infrastructure consulting firm, announced its Resolution Consultants joint venture with EnSafe has been awarded a single-award, indefinite-delivery, indefinite-quantity (IDIQ) contract by the Naval Facilities Engineering Systems Command (NAVFAC) Atlantic to deliver architecture and engineering services for the Comprehensive Long-Term Environmental Action Navy (CLEAN) program. Under the contract with a $400 million ceiling, the joint venture will perform environmental studies, investigations, and designs that address pressing environmental challenges.
"As we continue to advance our Sustainable Legacies strategy, we remain committed to executing projects using a framework of responsible practices that set new standards for technical excellence and help our clients tackle their toughest challenges," said Frank Sweet, chief executive of AECOM's global Environment business. "We're proud to apply sound science, innovative restoration strategies, and a safety-first culture to assist our clients in achieving their environmental goals."
The joint venture will provide program management and technical environmental services that address critical issues such as per- and polyfluoroalkyl substances (PFAS) and other emerging contaminants, vapor intrusion, sediments, munitions and radiological assessment, and hazardous substances. This work will support compliance with environmental restoration programs such as the Comprehensive Environmental Response, Compensation, and Liability Act (CERCLA) and the Resource Conservation and Recovery Act (RCRA).
"Our team of passionate environmental experts share a common vision of outstanding project performance as we support the CLEAN program in this role," said Karl Jensen, executive vice president of AECOM's National Governments business. "Our world-class specialists consistently perform high-quality, cost-effective environmental services that drive innovation and advance regulatory partnerships. We're honored to provide our clients with an established team that has the proven ability to deliver vital environmental programs."
The joint venture's scope includes assessments, studies, investigations, and remedial designs; management and community relations plans; human and ecological risk assessments; feasibility, treatability, and corrective measures studies; interim response and remedial action requirements for emerging contaminants; geographical information system development and maintenance; and expediated response actions.
—–
About AECOM 
AECOM (NYSE: ACM) is the world's trusted infrastructure consulting firm, delivering professional services throughout the project lifecycle – from planning, design and engineering to program and construction management. On projects spanning transportation, buildings, water, new energy, and the environment, our public- and private-sector clients trust us to solve their most complex challenges. Our teams are driven by a common purpose to deliver a better world through our unrivaled technical expertise and innovation, a culture of equity, diversity and inclusion, and a commitment to environmental, social and governance priorities. AECOM is a Fortune 500 firm and its Professional Services business had revenue of $13.3 billion in fiscal year 2021. See how we are delivering sustainable legacies for generations to come at aecom.com 
Forward-Looking Statements
All statements in this communication other than statements of historical fact are "forward-looking statements" for purposes of federal and state securities laws, including any statements of the plans, strategies and objectives for future operations, profitability, strategic value creation, coronavirus impacts, risk profile and investment strategies, and any statements regarding future economic conditions or performance, and the expected financial and operational results of AECOM. Although we believe that the expectations reflected in our forward-looking statements are reasonable, actual results could differ materially from those projected or assumed in any of our forward-looking statements. Important factors that could cause our actual results, performance and achievements, or industry results to differ materially from estimates or projections contained in our forward-looking statements include, but are not limited to, the following: our business is cyclical and vulnerable to economic downturns and client spending reductions; impacts caused by the coronavirus and the related economic instability and market volatility, including the reaction of governments to the coronavirus, including any prolonged period of travel, commercial or other similar restrictions, the delay in commencement, or temporary or permanent halting of construction, infrastructure or other projects, requirements that we remove our employees or personnel from the field for their protection, and delays or reductions in planned initiatives by our governmental or commercial clients or potential clients; losses under fixed-price contracts; limited control over operations run through our joint venture entities; liability for misconduct by our employees or consultants; failure to comply with laws or regulations applicable to our business; maintaining adequate surety and financial capacity; potential high leverage and inability to service our debt and guarantees; ability to continue payment of dividends; exposure to political and economic risks in different countries, including tariffs; currency exchange rate and interest fluctuations; retaining and recruiting key technical and management personnel; legal claims; inadequate insurance coverage; environmental law compliance and adequate nuclear indemnification; unexpected adjustments and cancellations related to our backlog; partners and third parties who may fail to satisfy their legal obligations; AECOM Capital real estate development projects; managing pension cost; cybersecurity issues, IT outages and data privacy; risks associated with the benefits and costs of various dispositions such as the sale of our Management Services, self-perform at-risk civil infrastructure power construction, and oil and gas construction businesses, including the risk that purchase price adjustments, if any, from those transactions could be unfavorable and any future proceeds owed to us as part of those transactions could be lower than we expect; as well as other additional risks and factors that could cause actual results to differ materially from our forward-looking statements set forth in our reports filed with the Securities and Exchange Commission. Any forward-looking statements are made as of the date hereof. We do not intend, and undertake no obligation, to update any forward-looking statement.
Canada and Sweden share a close relationship with extensive cooperation based on shared values and priorities. As two likeminded countries, we affirm our strong commitment to democratic principles and will work closely together to stand up for the rules-based world order and multilateralism, support the rule of law, safeguard democracy, protect and promote human rights, and advance gender equality.

May 5, 2022 – Ottawa, Ontario

The Honourable Mélanie Joly, Minister of Foreign Affairs, and Ann Linde, Minister for Foreign Affairs of Sweden, issued the following joint statement:

"Canada and Sweden share a close relationship with extensive cooperation based on shared values and priorities. As two likeminded countries, we affirm our strong commitment to democratic principles and will work closely together to stand up for the rules-based world order and multilateralism, support the rule of law, safeguard democracy, protect and promote human rights, and advance gender equality. On the occasion of the visit to Ottawa of Sweden's Minister for Foreign Affairs, Ann Linde, Canada and Sweden commit to further enhancing our deep partnership and to continue working together in support of peace and prosperity all across the world.

"We reaffirm our support for Ukraine's independence, sovereignty and territorial integrity. President Putin's unprovoked and unjustifiable aggression against Ukraine is not only an attack on Ukraine's sovereignty and right to decide their own future, but also an attack on democracy and a violation of international law, including the Charter of the United Nations. Canada and Sweden agree on the need to ensure accountability for the international crimes committed by Russia in Ukraine. We stand firm in our continued support for Ukraine and its people and strongly condemn Russia's actions, including its targeting of civilians.

"Our joint responses to Russia's aggression against Ukraine have demonstrated the importance of transatlantic unity and cooperation. As close transatlantic partners and friends, Canada and Sweden are committed to strengthening our transatlantic relations further, as well as strengthening EU-NATO cooperation, which is key to our collective security and prosperity.

"We are committed to increasing our cooperation to safeguard and advance democracy whenever it is threatened or undermined, support civil society and democratic processes, and to counter the growing threat of disinformation. In doing so, we reaffirm our commitment and support to the International IDEA [Institute for Democracy and Electoral Assistance] and the Community of Democracies, and commit to working closely together in these fora to promote and protect democracy globally. Through the Freedom Online Coalition, Canada and Sweden will work together to advance human rights and fundamental freedoms, as well as gender equality, both online and offline as well as digital inclusion. We will further strengthen our cooperation to counter foreign threats to democracy including disinformation through the G7 Rapid Response Mechanism. We stress the importance of freedom of expression and of free and independent media, and will together advocate for the full enjoyment of human rights of journalists and other media workers through the Media Freedom Coalition.

"As Arctic countries and founding members of the Arctic Council, Canada and Sweden collaborate closely to promote circumpolar cooperation in the Arctic region. Sweden's strategy for the Arctic and Canada's Arctic and Northern Policy Framework recognise both the challenges and opportunities facing the Arctic. We are committed to a peaceful and stable Arctic that addresses the serious problem of climate change and encourages sustainable economic and social development with and for northerners, including Indigenous Peoples. We commit to enhancing our cooperation in the areas of polar research, environmental protection, innovation and Indigenous reconciliation.

"As close partner countries in championing feminist foreign policy, Canada and Sweden reaffirm our commitment to advancing feminist approaches, eliminating structural and indirect barriers for all women, girls and marginalized people, and to integrate gender perspectives in all our shared priorities. Our two countries are committed to supporting women's rights organizations and are collaborating on the development of the Global Alliance for Sustainable Feminist Movements. In addressing the ongoing crisis in Ukraine, both our countries are leading in highlighting the importance of a gender perspective in all our efforts, including the adoption of gender-responsive budgeting, and are committed to supporting the inclusion of women in decision making and mediation processes and the full implementation of the Women, Peace and Security Agenda. We will continue to advocate for feminist approaches for a more effective, fair, relevant and accountable United Nations in support of the Sustainable Development Goals.

"We reaffirm our commitment to hold Iran accountable for the actions and omissions of its civil and military officials that led to the illegal downing of Flight PS752 by ensuring that Iran makes full reparations for its violations of international law, and we reaffirm our commitment to working with partners within the International Coordination and Response Group in pursuit of transparency, accountability and justice for the victims of Flight PS752.

"In addressing the most challenging crisis of our time, Canada and Sweden are committed to take urgent action to address climate change and mitigate its consequences, including by recognizing the link between climate, gender and security. We are committed to achieving carbon neutrality and will promote trade and investment in clean technologies and promote green transition. We are committed to push for bold and transformative action, including through the UN Stockholm+50 conference hosted by Sweden in Stockholm in June, and where Canada will also co-host the 6th Ministerial on Climate Action to advance implementation of the Paris Agreement.

"We look forward to our increased cooperation in the years to come."




Initiatives have been taken between India and Germany on agro-ecology and sustainable management of natural resources. In this regard, the Union Minister of Agriculture and Farmers Welfare Shri Narendra Singh Tomar and Germany's Minister of Economic Cooperation and Development Ms. Svenja Schulze signed the declaration in a virtual meeting today.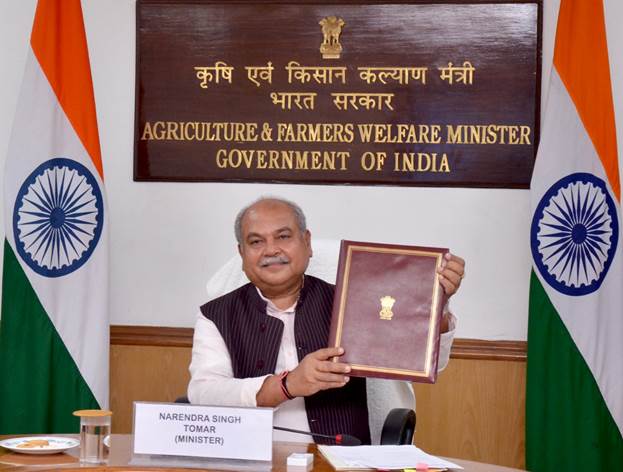 Through this, joint research, knowledge sharing and innovation will be promoted between academic institutions of both countries and practitioners including farmers. The transfer of technology and scientific knowledge will be promoted by encouraging exchanges, partnerships and research collaboration with the private sector. Germany's Federal Ministry of Economic Cooperation and Development intends to provide up to 300 million euros by the year 2025 for financial and technical cooperation for projects under this initiative.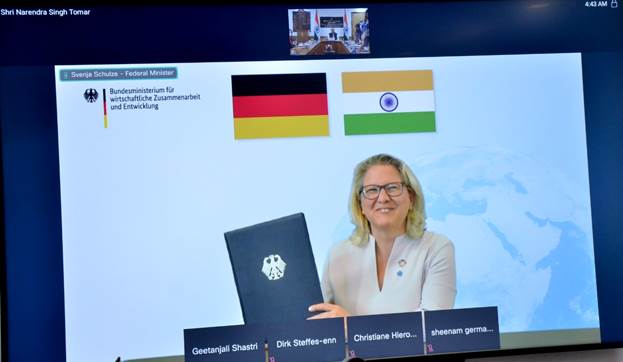 Germany will provide coordinated support for this lighthouse initiative, supporting the agro-ecological transformation process in India through the Technical Cooperation Project. For the changing agenda of agroecology, the two countries envisage the establishment of a joint research center supported by financial cooperation to develop and share cutting edge knowledge with practitioners from India, Germany and other countries, while facilitating value-added technology and scientific transfer.




To oversee the implementation, a working group will be set up with the concerned Ministries, namely, Ministry of Environment, Forest and Climate Change, Ministry of Fisheries, Animal Husbandry and Dairying and NITI Aayog.




*******




APS/JK






(Release ID: 1822090)
Visitor Counter : 600












ENEOS Corporation and Mitsubishi Corporation have agreed to undertake a joint feasibility study aimed at commercializing Sustainable Aviation Fuel (SAF) and other next-generation fuels in Japan.
This study aims to build a supply chain for SAF, which requires cross-industrial collaboration, by leveraging both companies' respective strengths. These include ENEOS' manufacturing technologies and distribution networks, together with MC's global expertise in raw material sourcing and marketing capabilities.
After formulating a basic strategy that takes into account the maturity of various SAF manufacturing technologies and the necessary time for commercialization, ENEOS and MC will proceed with the study based on the following three approaches:
(1) Developing sustainable feedstock derived from bio-based raw materials
(2) Producing SAF with newly emerging techniques
(3) Building a supply chain for next generation fuels, with a focus on SAF
In the aviation industry, there is growing momentum towards the adoption of SAF in Europe and North America in order to align with CORSIA*, Carbon Offsetting and Reduction Scheme for International Aviation that will commence in 2027. This would drive the growth of the SAF market on a global scale going forward.
In addition, the Japanese government has proposed a target to replace 10 percent of the jet fuels consumed by Japanese airlines with SAF by 2030. This makes establishing a SAF supply chain in Japan an urgent issue.
ENEOS and MC put a high priority on addressing climate change issues, and both companies are actively promoting initiatives to reduce CO2 emissions with the aim of helping to achieve a decarbonized, circular society.
By proceeding with this study as part of the above efforts, ENEOS and MC will be steadily contributing toward the early establishment of a supply chain for next-generation fuels.
*An environmental measure in the aviation industry: In 2016, the International Civil Aviation Organization (ICAO) adopted at its annual meeting the Carbon Offsetting and Reduction Scheme for International Aviation (CORSIA) aiming to achieve international aviation growth without increasing CO2 emissions from 2021.
Inquiry Recipient:
Mitsubishi Corporation
Telephone:+81-3-3210-2171
Facsimile:+81-3-5252-7705


Topic: Press release summary


"Every spring, the re-opening of schools in Afghanistan comes along with great hopes and expectations of millions of students: to meet classmates and friends again, to resume learning and training, and to take another step forward in life.
Statement by the Foreign Ministers of Albania, Andorra, Australia, Belgium, Bosnia and Herzegovina, Canada, Estonia, Germany, Iceland, Indonesia, Kosovo, Malawi, Mongolia, New Zealand, Norway, Sweden, Tonga and the United Kingdom
March 25, 2022 – Ottawa, Ontario
"Every spring, the re-opening of schools in Afghanistan comes along with great hopes and expectations of millions of students: to meet classmates and friends again, to resume learning and training, and to take another step forward in life.
"As women and as foreign ministers, we are deeply disappointed and concerned that girls in Afghanistan are being denied access to secondary schools this spring. The Taliban's decision to suspend secondary classes until further notice is particularly disturbing as we repeatedly heard their commitments to open all schools for all children.
"We urge the Taliban to live up to their commitments to the Afghan people and to adhere to the international conventions that Afghanistan has subscribed to. We call upon the Taliban to reverse their recent decision and to grant equal access to all levels of education, in all provinces of the country. Practical difficulties in implementing a non-discriminatory educational policy must be overcome.
"We will watch closely whether the Taliban deliver on their assurances. We will measure them by their actions, not by their words. The scope and extent of our countries' engagement in Afghanistan beyond humanitarian assistance will be tied to achievements in this regard. 
"Access to education is a human right to which every woman and every girl is entitled. Individually, girls' education and women's empowerment lead to a better life, help to alleviate economic challenges for their families, and are the basis for exercising social rights and political representation. Collectively, girls and women contribute with their education to the country's development and welfare, and to peace, security and social justice. No country can afford to not take advantage of the potential and talent of its entire people.
"The undeniable rights and opportunities achieved for – and by – girls and women in Afghanistan in recent decades must be preserved and expanded. Let their hopes and expectations flourish, as truly equal members of Afghan society."