SCST congratulates women's ice hockey team on winning champion
**************************************************************

     ​The Secretary for Culture, Sports and Tourism, Mr Kevin Yeung, today (April 10) congratulated the Hong Kong women's ice hockey team on winning the champion in Ice Hockey Women's World Championship Division III – Group A event, which is the first time ever in Hong Kong's history.
     Mr Yeung said, "With its excellent performance, the Hong Kong women's ice hockey team outperformed its best results in the past and reached new heights. We would like to send the team our congratulations."
     The Hong Kong Special Administrative Region Government has been supporting Hong Kong sports development with different measures over the years, with an aim to boost elite sports, promote sports in the community and maintain Hong Kong as a hub for major international sports events. It is encouraging to see Hong Kong athletes achieving outstanding results in various international competitions in recent years.
"Super talented vocalist that effortlessly bridges jazz, soul, and even bits of Afro Caribbean music" -NPR
Jessica Medina

LOS ANGELES – March 21, 2023 – PRLog — Singer-songwriter Jessica Medina celebrates both Women's History Month and the beginning of spring with the release of her bachata-ballad "Morir Soñando".

"Morir Soñando", which happens to be a refreshing drink traditionally from the Dominican Republic made of milk and orange juice (similar to an orange creamsicle), was written by Jessica Medina and Leon Yamil.  The song, which was produced and arranged by Latin Grammy-winner Janina Rosado, connects all our senses to the flavors, aromas and emotions of returning to Medina's ancestral lands.

"Morir soñando" will be included on Jessica Medina's upcoming EP Rosa, which is set to be released next month.

"As a mother and woman in the music industry, it is very important for me to build a community, to hold a space for healing, creativity and expression. That's why it was essential for me to work with women in this EP," comments Medina.

Last month, Jessica Medina released "Locura", the first single of Rosa. With this EP, she dives deeper into her Dominican and Puerto Rican roots as well as different types of love from a woman's perspective. Rosa also features women in all aspects, from its composition and musicians to its graphics, musical arrangements and production.

"Locura" was composed by the award-winning composer Alex Cuba and was recorded in Santo Domingo, Dominican Republic.

Watch trailer "Locura" https://youtu.be/cKnm5Asi6_g

About Jessica Medina:
Born in New York City to a Dominican mother and Puerto Rican father, whose voices were the soundtrack of her formative years, Jessica Medina absorbed a lifetime of musical roots from an early age. Medina studied jazz at Hunter College in New York City.

Jessica Medina broke barriers with her previous single "Back to Black". Medina approaches this emblematic song by Amy Winehouse from a completely new perspective.

Constantly taking risks and breaking barriers that the music industry imposes on language, Medina offers bilingual lyrics while attracting a new generation of "Latinx" fans.

Follow Jessica Medina on social media:
@jessicamedinamusic

Radio Free Brooklyn Playlist (02/18/2023)
https://spinitron.com/RFB/pl/17022929/A-New-Latin-World?s…

World Café – Essential and Emerging Artists -World Café Latinx Playlist  (02/17/2023)
https://www.npr.org/sections/world-cafe/2020/11/09/933028374/world-cafes-best-new-latinx-playlist

Latin Alternative Playlist 88.5 HD3 (02/17/2023)
https://www.instagram.com/p/CowPVv6rhTt/?utm_source=ig_web_copy_link

NPR Warm Up Your Winter With New Songs ( 02/14/2021)
https://www.npr.org/2021/02/08/965586201/warm-up-your-winter-with-new-songs

NPR New Latin Music: Rosalía, J Balvin, Cuco And Jessica Medina – (04/13/2019) https://www.npr.org/sections/altlatino/2019/04/03/709186933/tomar-vuelo-con-altura-our-favorite-latin-songs-this-week

Jessica Medina feat. Jorge Glem "Si Tu Te Vas" homenaje a Juan Luis Guerra
https://www.youtube.com/watch?v=9ZEGxFNvx4U

Jessica Medina "Libre" feat. Mireya Ramos  (Flor de Toloache)
https://www.youtube.com/watch?v=PfkQnuV_hYo

Women Singer-Songwriters tribute to SELENA (Como la flor /Amor Prohibido / Bidi Bidi Bom Bom): Detras de Camara- Video Oficial

Jessica Medina, Nora Gonzalez, Carmen Ruiz, Julie Acosta (Flor de toloache), Nancy Sanchez, Stephanie Bergara (Bidibidibanda), Mai-Elka Prado, Olympia Tril y Jackie Coleman.
https://www.youtube.com/watch?v=oIKDK5ywhHA

Home and Youth Affairs Bureau and Women's Commission celebrate International Women's Day 2023 (with photos)

******************************************************************************************


     The Chief Executive, Mr John Lee, and his wife, Mrs Janet Lee, today (March 8) officiated at a reception to celebrate International Women's Day 2023 hosted by the Home and Youth Affairs Bureau (HYAB) and the Women's Commission (WoC).
 
     The reception was attended by members of the WoC, and representatives from women's groups, non-governmental organisations and the business sector. Thematic panels were set up at the reception this year to showcase the work done by the Government and the WoC on promoting women's development.
 
     Speaking at the reception, Mr Lee said that women play a leading role in all walks of life in Hong Kong. Among the 26 Principal Officials of the current-term Government, six of them are women, accounting for nearly a quarter of the team, which is the highest among all previous terms of Government. Among the 18 Permanent Secretaries, which are the highest echelons of the civil service, more than 60 per cent of them are females. Women now account for 36 per cent of the non-official members of government-appointed advisory and statutory bodies, which is 10 per cent higher than 20 years ago. This marks the significant contribution that Hong Kong women have made to social development.

     He said, "Promotion of women's development is an important task. In the future, the Government and the Women's Commission will continue their concerted efforts in promoting women's rights in various fronts."
 
     The Secretary for Home and Youth Affairs, Miss Alice Mak, said at the reception that the Government will, as always, contribute more to women's development. The HYAB will set up the Women Empowerment Fund as announced in the Chief Executive's Policy Address this year. From 2023-24, the funding will be increased to $20 million a year to strengthen the support for women's development and the related tasks.
 
     She said, "The HYAB will continue to work with members of the community, making ways for Hong Kong women to unleash their full potential in different roles of the community and live a happy life."

     Also officiating at the reception were Deputy Director of the Liaison Office of the Central People's Government in the Hong Kong Special Administrative Region (HKSAR) Ms Lu Xinning; Deputy Director General of the Office for Safeguarding National Security of the Central People's Government in the HKSAR Mr Wang Wenxian; Deputy Director of the Political Department of the Chinese People's Liberation Army Hong Kong Garrison Senior Colonel Wang Zhixue; the Chief Secretary for Administration, Mr Chan Kwok-ki; the Financial Secretary, Mr Paul Chan; the President of the Legislative Council, Mr Andrew Leung; the Convenor of the Non-official Members of the Executive Council, Mrs Regina Ip; and the Permanent Secretary for Home and Youth Affairs, Ms Shirley Lam.

Chairpersons of Women's Commission and Family Council appeal to elderly and children to receive COVID-19 vaccination

******************************************************************************************


The following is issued on behalf of the Women's Commission and the Family Council:

 

     The Chairperson of the Women's Commission, Ms Chan Yuen-han, and the Chairperson of the Family Council, Ms Melissa Pang, today (August 6) appealed to members of the public, in a short video, to make reservation for the COVID-19 vaccination for the elderly and children in their families in order to protect their health and help Hong Kong emerge from the epidemic.



     Ms Chan reminded people to register for the free door-to-door vaccination service via the Home Vaccination Service for their unvaccinated elderly family members aged 70 or above. Ms Pang encouraged people to bring the elderly and children to receive vaccinations to build a protective barrier for themselves and family members.



     In the short video, Ms Chan and Ms Pang called on the public to "Protect the young and old – get vaccinated". The video has been uploaded to the webpages of the Home and Youth Affairs Bureau, Women's Commission and Family Council.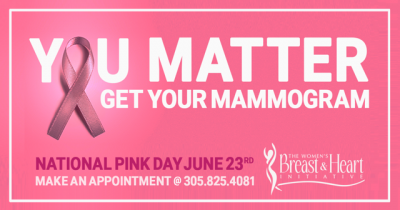 You Matter. Get Your Mammogram.

MIAMI – June 21, 2022 – PRLog —
Fresco y Más, Jackson Health System and Other Partners Offering Mammogram Screenings and Prevention Education
Miami Dade College Freedom Tower and FTX Arena Light Up Pink for Awareness and Remembrance
Make a Difference and Join the Movement with #WBHI Pink Day to Help Transform and Save Lives
MIAMI, Fla., June 21, 2022 –The Women's Breast & Heart Initiative (WBHI)—a leader in disease prevention & early detection community outreach— reminds women on National Pink Day, June 23rd, that 'You Matter, Get Your Mammogram', ensuring self-care this summer with timely breast and heart screenings.

With pink being the color representing breast cancer, WBHI's 8th Annual Summer Breast Cancer Awareness Day provides women with critical resources to help beat the odds of breast cancer. Through its community partnerships, WBHI offers mammograms for early detection, health education, care coordination and patient navigation year-round and on June 23rd under the umbrella theme, #WBHIPinkDay, engaging with the South Florida community and national audiences.

Bringing critical preventative care services to the community, WBHI partners with Fresco y Más in Hialeah on National Pink Day, June 23rd offering mammogram screenings at no cost and by appointment only. Women can contact WBHI to schedule their mammogram at 305-825-4081. Valued partner Jackson Health System will also be providing heart screenings, presenting a more comprehensive preventive care approach. Macy's adds some glamour to the day with a raffle for fragrance gift bags. while supporting good health for all women. Lucky winners will also receive a $100 gift card for grocery items at Fresco y Más, while everyone who participates in the mammogram screening receives life-saving disease prevention and early detection education packages.

"Our summer breast cancer campaign on National Pink Day reminds women that 'You Matter. Get Your Mammogram', and practice disease prevention and early detection," states Andrea Ivory, WBHI's founder and executive director. "Breast cancer is diagnosed year-round, but the good news is that early detection and disease deterrent lifestyles transforms and save lives."

1 in 8 women will be diagnosed with breast cancer over their lifetime; and the death rate has increased. Delayed, or missed cancer screenings could mean diagnosis at a later stage with a poorer prognosis. In addition, WBHI will present risk reduction strategies for heart disease which is the leading cause of death for women.

The #WBHIPinkDay campaign includes in-store activities throughout Misha's Cupcakes locations with a specially designed, fundraising pink cupcake, and participating Starbucks offering breast cancer educational 'pink packs' with free coffee during select times. Committed partnership with COX Media Group and Clear Channel Outdoor amplify summer breast cancer awareness messaging. Additionally, Miami Dade College Freedom Tower and FTX Arena light up pink at sunset for community awareness and remembrance.

Everyone near and far is invited to support the initiative on social media with pink inspired images and messages, and the hashtag #WBHIPinkDay and tagging Facebook @TheWBHI and Instagram @WBHI.

A leader in fostering healthy communities, WBHI was recently designated the first official Florida license plate designed to support Disease Prevention & Early Detection. Pre-sale vouchers are available at flbreasthealth.com/licenseplate to provide increased education and awareness relating to early detection, prevention, and screening of breast and heart issues.

For more information about The Women's Breast & Heart Initiative, visit https://flbreasthealth.com/.