The Ministry of Skill Development and Entrepreneurship (MSDE) organised a special event today on International Women's Day 2022, recognizing the accomplishments made by women in the skill ecosystem and honoring them for their active participation in augmenting India's economic growth. The women of our country have truly combated stereotypes and eliminated inequalities by coming at the forefront and standing shoulder to shoulder with men in every field. Since the inception of Skill India Mission, there has been an evident increase in the participation of women in non- conventional job-roles like plumbing, welding, and driving among others.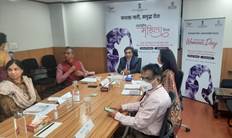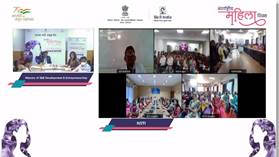 The event was graced by the presence of esteemed dignitaries from the ministry and partner ecosystem of Skill India Mission. Over 100 women were felicitated today on this occasion – these are amongst state level champions in IndiaSkills, Craftsmen Training Scheme and others. In addition, the inauguration of 21 National Institutes for Entrepreneurship and Small Business Development (NIESBUD) extension centres in National Skill Training Institutes (NSTI) took place to promote entrepreneurship across the country. NIESBUD will also conduct entrepreneurship awareness programme followed by entrepreneurship development programme for the NSTI trainees to inculcate entrepreneurial competencies to create future entrepreneurs.
The government is accelerating its focus towards skill development and vocational training for all citizens including women. MSDE has rolled out several schemes and programmes to increase the participation of women in the workforce.  There has been increased focus on skill development of women in new age job roles aligned to Industry 4.0, Artificial Intelligence, 3D Printing, Data Analytics etc. and across conventional skills like welding, automobile mechanics etc.
Expressing his views during the event, Shri Rajesh Aggarwal, Secretary, MSDE  extended his  gratitude to all towards women for being the pillars on which the edifice of Aatmanirbhar Bharat will rest. The women of our country have truly broken the barriers of inequalities and exclusion, have come forward to fulfill their aspirations, strengthened their support towards society, and have been strongly involved in augmenting the country's economic growth, he added. He stressed that women to come at the forefront by combating the stereotypes, eliminating inequalities and exclusion, this is true Nari Shakti. He further said that with the ecosystem evolving, mindsets are also changing and we should pledge to empower our women to shoulder the demand of the Naya Bharat and contribute to its growth.
Gayathri Vasudevan, Chief Impact officer, Sambhav Foundation & Chairperson, LabourNet Services India laid stress on encouraging women to take up skilling courses and explained how skilling should not be seen as gender based. She added that participation of women in the labour force is low and necessary steps must be taken to create a secure ecosystem for women and devise a robust policy framework that ensures that women are bought in the forefront.
The Ministry has launched several initiatives to encourage women to not only take up wage-employment in industry, but also become self-reliant through entrepreneurship. MSDE's flagship scheme Pradhan Mantri Kaushal Vikas Yojana (PMKVY) strives to promote increased participation of women in the workforce through appropriate skilling and gender mainstreaming of skills. Under PMKVY, over 40 lakh women have been certified which constitutes more than 40% of the total certified. Recognition of Prior Learning (RPL), a skill certification programe under PMKVY scheme enables Indian youth to take on industry relevant skill certification, upskilled and certified more than 23 lakh women. This includes Bru Tribe in Manipur, Rug Weavers in Rajasthan, Namda art in Jammu & Kashmir and Bamboo craft in Nagaland.
Women are also receiving vocational training at 14,000+ Industrial Training Institutes spread across the country. ITIs have witnessed nearly 100% jump in women registrations from year 2014 till date. Jan Siksha Sansthans has over 85% women trainees across the country. There are 18 women-only National Skill Training Institutes across the country.
In addition, initiatives like IndiaSkills 2021 Competition, witnessed over 110% increase in women participation as compared to the previous edition which was held in 2018. Some of the trades such as Plumbing & Heating, Welding, Additive Manufacturing, Industry 4.0 witnessed participation of female candidate for the first time..
With India on a trajectory to becoming the skill capital of the world, gender equality can enhance economic productivity and improve development outcomes. The use of technology, funding opportunities and upskilling programmes would nudge women to participate in the ongoing transition.
*****
MJPS/AK


(Release ID: 1804089)
Visitor Counter : 216