PALO ALTO, CA / ACN Newswire / September 19, 2023 / Dazz, the global leader in cloud security remediation, announced today that the Dazz Remediation Cloud is now available on Google Cloud Marketplace, enabling Google Cloud customers to easily acquire and deploy the company's solution as part of their strategy to safely modernize development and scale cloud operations.
The Dazz platform uniquely allows customers to graph their code-to-cloud environment for visibility into the entire software development lifecycle and across all security controls. The company's patented AI, automation, data correlation, and root cause analysis technology helps security and engineering teams rapidly discover, prioritize and fix misconfigurations, vulnerabilities, API insecurities, and secrets in code – all in a developer-friendly workflow. Since a typical enterprise has more than 70 security controls that are each capable of producing thousands of alerts daily, Dazz is a game changer for resource-constrained security teams, who can use the platform to slash the time it takes to investigate and fix issues from days to hours by eliminating manual, time-consuming processes.
"Security is top-of-mind for enterprises moving to the cloud, and we're thrilled to be working with Google Cloud to help customers reduce the risks of modern application development," said Merav Bahat, Dazz's co-founder and CEO. "Security and cloud engineering teams can now easily add Dazz to their tech stack via the Google Cloud Marketplace and accelerate digital transformation knowing they will be able to rapidly and permanently fix the issues that matter most to the business."
Since coming out of stealth in December 2021, Dazz holds the industry's highest mileage in investigating and pinpointing root causes in hundreds of millions of security issues across dozens of customers, many in the Fortune 500. Customers experience significant business and security benefits. According to a recent IDC research paper, Dazz customers:
Spend 44% less time identifying root causes

Spend 38% less time researching issues

Are 21% quicker to fix issues
"As a part of their digital transformation strategies, many enterprises are seeking solutions that help them better identify and address security threats," says Dai Vu, Managing Director, Cloud Marketplace & ISV GTM Programs, Google Cloud. "Now available on Google Cloud Marketplace, Dazz is helping to accelerate security cloud remediation for security and engineering teams."
About Dazz
Dazz accelerates cloud remediation for security and engineering teams. The Dazz Remediation Cloud maps your code-to-cloud pipelines, reduces your security alerts to their key root causes, and remediates issues right in the developer's workflow. With Dazz, you gain full pipeline visibility, cut through alert noise, increase the value of existing tools, and shrink your risk window by reducing time to remediate. Visit us at dazz.io and follow us on Twitter at @dazz_io and LinkedIn at dazz-io.
Contact Information
Tamar Harel
Head of US Office, STLV
tamar@shalomtelaviv.com
+972508879311

Topic: Press release summary
Security Bureau youth group's study tour to Shaanxi and Beijing continues visit to Beijing (with photos)
******************************************************************************************

     Led by the Secretary for Security, Mr Tang Ping-keung, members of the Security Bureau (SB) Youth Uniformed Group Leaders Forum continued their second-day visit to Beijing today (August 20) to learn about the country's history, culture and development in various fields.
 
     In the early morning, the study tour members watched the flag-raising ceremony at Tiananmen Square to feel the affection for home and country. As it was the first time for many of the youth members to watch the flag-raising ceremony at Tiananmen Square in person, they said they were particularly excited and deeply moved by its solemnity. They were also proud of the country's remarkable achievements after a long period of struggles.
 
     The study tour members then visited the Palace Museum to appreciate precious artefacts and the unique architecture. In the afternoon, the group toured the Yuanmingyuan Park to view relics including the Dashuifa at Haiyantang as well as its East-meets-West gardening landscape and learnt about the painful history of the invasion of foreign powers and the destruction of the Summer Palace by fire, noting that a country has to give full play to the spirit of self-enhancement and struggle to be strong.
 
     The group also visited Tsinghua University to tour its campus and History Museum in the afternoon and was briefed on the paths to further studies. Mr Tang met with the Secretary of the CPC Tsinghua University Committee, Professor Qiu Yong, and visited the School of Public Policy and Management. Mr Tang expressed his gratitude to the university for its support to the youth work and disciplined services of the SB, which helps nurture distinguished public administration talent for the disciplinary forces. Mr Tang returned to Hong Kong this evening.
 
     The study tour members yesterday (August 19) visited the headquarters of Weibo Corporation to learn about the development of the social media and public opinion platform that has nearly six hundred million of users, as well as its situation in Hong Kong. The group also visited Sino Biopharmaceutical Limited of the CP Group to understand more about their pharmaceutical research and innovation development.
 
     The study tour members tomorrow (August 21) will conclude their eight-day visit to Xi'an, Yan'an and Beijing after going to the Beijing Police Dog Base to learn about police dog breeding and training work on the Mainland.
Dazz, the global leader in cloud security remediation, announced today that it was selected to join Amazon Web Services' Independent Software Vendors Accelerator program for its seamless integration with AWS, enabling customers to quickly adopt and scale cloud computing while improving the process of discovering, reducing, and fixing security issues. The ISV Accelerate program helps independent software vendors (ISVs) like Dazz accelerate their growth and success in the cloud computing market through close collaboration with the AWS Sales team. The new partnership builds on the existing relationship between Dazz and AWS, which includes the Dazz Remediation Cloud being available for purchase in the AWS Marketplace, as well as Dazz's recognition as an APN Global Startup.
Dazz empowers businesses to embrace modern development and a rapid shift to the cloud-including greater utilization of containers and adoption of serverless architectures-all with complete code-to-cloud visibility of their environments.

It's a challenge that daunts many enterprises in doing business online: cyberattacks can happen in minutes, but discovering and fixing cloud application vulnerabilities and misconfigurations can take weeks. Dazz enables cloud security and engineering teams to quickly take action by automatically prioritizing critical issues, reducing alert noise, and fixing issues at root causes all in a developer-friendly workflow. Through Dazz, AWS customers will be able to significantly reduce the mean-time it takes to remediate security risks, as well as gain full pipeline visibility into the cloud infrastructure and software development life cycle.

"When customers deploy on AWS, they are able to scale development rapidly," said Merav Bahat, Dazz's co-founder and CEO. "Security teams need a way to keep up and scale their visibility into potential gaps or vulnerabilities across all code, containers, and infrastructure. We are proud to extend our partnership with AWS and empower security and engineering teams to collaborate more efficiently on fixing critical issues, so more time can be spent on building, innovating, and accelerating the business."

About Dazz

Dazz accelerates cloud remediation for security and engineering teams. The Dazz Remediation Cloud maps your code-to-cloud pipelines, reduces your security alerts to their key root causes, and remediates issues right in the developer's workflow. With Dazz, you gain full pipeline visibility, cut through alert noise, increase the value of existing tools, and shrink your risk window by reducing time to remediate. Visit us at dazz.io and follow us on Twitter at @dazz_io and LinkedIn at dazz-io.

Contact Information
Tamar Harel
Head of US Office, STLV
tamar@shalomtelaviv.com
+972508879311


Topic: Press release summary

The 43rd ASEAN Food Security Reserve Board (AFSRB) meeting hosted by Indonesia on June 7-8, 2023, has discussed food security as one of the concerns of Southeast Asian countries since the world is facing the threat of a global food crisis due to climate change, El Nino phenomenon, and geopolitical conflicts.

(AFSRB) meeting in Bogor, West Java, on Wednesday (June 7, 2023). (ANTARA/HO-Bapanas/FR)">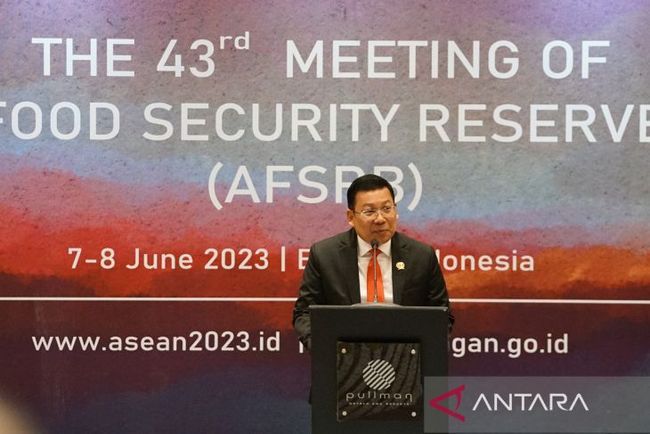 National Food Agency (Bapanas) Head Arief Prasetyo Adi during the ASEAN Food Security Reserve Board
(AFSRB) meeting in Bogor, West Java, on Wednesday (June 7, 2023). (ANTARA/HO-Bapanas/FR)

The 43rd AFSRB meeting, held in Bogor District, West Java Province, was attended by representatives of all ASEAN member countries, the ASEAN Secretariat, the AFSRB Secretariat, the ASEAN Plus Three Emergency Rice Reserve (APTERR) Secretariat, and the ASEAN Food Security Information System (AFSIS) Secretariat.

"We have to take concrete action to address the potential global food crisis, including various other risks threatening the food system," the Head of Indonesia's National Food Agency (NFA) Arief Prasetyo Adi said. Therefore, it is important to ensure the stability, availability, accessibility, and wise utilization of the food stocks in the region.

One of the attempts to address food and nutrition security dynamics is by strengthening the commitment of ASEAN member countries through the establishment of an ASEAN Leaders' Declaration regarding food security. It is expected to be endorsed by the leaders of ASEAN member countries at the 43rd ASEAN Summit scheduled to be held in Jakarta in September 2023.

The ASEAN Leaders' Declaration on Strengthening Food Security and Nutrition in Time of Crises is one of the Priority Economic Deliverables (PEDs) of Indonesia's chairmanship in ASEAN 2023 as well as the topics in the 43rd AFSRB meeting.

The document will encourage the establishment of a cooperation mechanism among various domestic institutions of ASEAN member countries in the agriculture, trade, finance, and transportation sectors to strengthen food security in the region. The cooperation mechanism also aims to bolster regional supply chains and sustainable farming.

Apart from the declaration, the meeting also brought attention to the recent food issues in each member country, so that problems can be solved through regional cooperation. Representatives of each Southeast Asian country would report on food commodity availability, and the forum would determine which and how much food resource should be reserved.

As quoted from the Indonesian Foreign Affairs Ministry's website, the ongoing Russia-Ukraine conflict had disrupted the global supply chain, resulting in an increase in food prices by up to 30 percent. The condition also affects ASEAN member countries. The average inflation rate in the countries reached 15 percent in 2023 so far.

The NFA, as a governmental institution responsible for maintaining food security in Indonesia, developed a national food reserve and distribution system to anticipate the global food crisis potential. The agency develops collaboration with related ministries and institutions, State-owned Enterprises, universities, non-governmental organizations, agricultural and farmer associations, and the private sector as well as international stakeholders.

Kuntum Khaira R, Fadhli Ruhman, Editor: Azis Kurmala (c) ANTARA 2023


Topic: Disaster effects and responses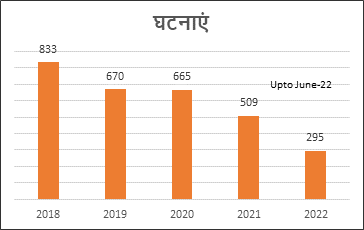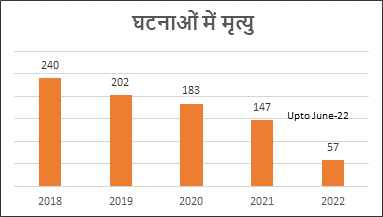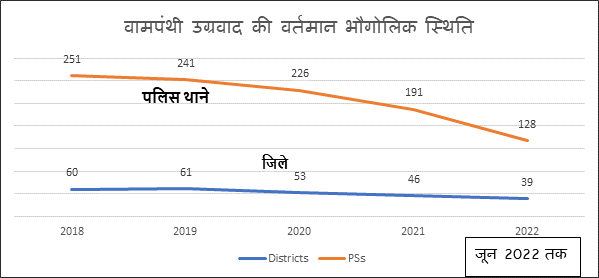 Fulfilling Prime Minister Narendra Modi's vision of Left Wing Extremism Free India and Union Home Minister Shri Amit Shah's zero tolerance policy against extremism, the Ministry of Home Affairs has reached the final stage of decisive battle against Left Wing Extremism across the country. The security forces today achieved a decisive victory in the ongoing fight against Left Wing Extremism.




As a result of Prime Minister Shri Narendra Modi's zero tolerance policy against Left Wing Extremism, for the first time by entering the 'Budhapahad' situated at  the border of Chhattisgarh and Jharkhand and the extremely inaccessible areas of Chakrabandha and Bhimabandh of Bihar and successfully ousting the Maoists from their strongholds, permanent security forces camps have been set up. All these areas were strongholds of top Maoists and a huge quantity of arms, ammunition, foreign grenades, Aero Bombs and IEDs were recovered by the security forces at these places.




A special strategy is being adopted against Left Wing Extremism from the year 2019. The coordinated efforts and campaigns of Central and State Security Forces and related agencies have led to unprecedented success in the fight against Left Wing Extremism.




On this decisive success, the Union Home Minister Shri Amit Shah congratulated the CRPF and the State Security Forces and said that the Ministry of Home Affairs under the leadership of Prime Minister Shri Narendra Modi will continue the zero tolerance policy against Left Wing Extremism and Terrorism and this fight will be further intensified.




In 2022, the security forces have achieved unprecedented success in Operation Octopus, Operation Double Bull, Operation Chakrabandha in the fight against Left Wing Extremists. 7 Maoists were killed and 436 arrested/surrendered in Chhattisgarh/ 4 Maoists killed in Jharkhand and 120 arrested/surrendered. 36 Maoists arrested/surrendered in Bihar. Similarly, in Madhya Pradesh, 3 Maoists have been killed by security forces. This success becomes even more important because many of these Maoists killed had bounties of lakhs and crores of Rupees on their heads like Mithilesh Mahto had a reward of Rs. 1 crore.




As a result of the efforts of the Union Home Ministry to expedite these operations, success has been achieved in eliminating the security vacuum from Bihar. In Jharkhand and Odisha, to a great extent success has been achieved in eliminating the security vacuum and in these states the security vacuum will be filled completely by destroying the strongholds of the Left Wing Extremists. Following this strategy, there is an action plan to fill the security vacuum in other states. There has been a steady decline in both the incidence of violence and its geographical spread. This campaign/fight reaching its final stage is proven by the fact that in 2022 in comparison to 2018, there has been a 39% reduction in the incidents of Left Wing Extremism related violence, 26% reduction in the number of sacrifices made by the security forces, the civilian casualties has reduced by 44%, the number of districts reporting violence has decreased by 24% and the number of these districts has been reduced to just 39 in 2022.




Compared to before 2014,   incidents of Left Wing Extremism violence have come down by 77 percent. Incidents of violence have come down from the highest level of 2258 in 2009 to 509 in 2021. The death rate due to violence has also come down by 85 percent. In the year 2010, death toll was at highest level of 1005 which has come down to 147 in the year 2021 and their sphere of influence has decreased significantly. Simultaneously, the area of ​​influence of Maoists has also reduced significantly and the influence of Maoists has reduced from 96 districts in the year 2010 to only 39 districts in 2022.




Detailed information on operations of security forces against Left Wing Extremism




***






NW/RK/AY/RR






(Release ID: 1861264)
Visitor Counter : 1271