Scheme for Admission of Hong Kong Students to Mainland Higher Education Institutions for 2023/24 academic year enters admission stage
******************************************************************************************

     The Education Bureau (EDB) today (July 27) reminded students who have completed online application and verification for the Scheme for Admission of Hong Kong Students to Mainland Higher Education Institutions (the Admission Scheme) that they should log on to the designated website from July 27 to August 5 to check their admission results, as well as submitting and checking supplementary enrolment results.
      
     The students concerned should log on to the admission system of the Admission Scheme under the website of the Education Examinations Authority of Guangdong Province (eeagd.edu.cn/hkmslq/ks/login.jsp) (Chinese version only) to check admission results. Institutions will release first-round admission results in batches in order of priority as follows:
First priority admission results – 9am on July 27 (Thursday) onwards
Second priority admission results – 9am on July 29 (Saturday) onwards
Third priority admission results – 9am on July 30 (Sunday) onwards
Fourth priority admission results – 9am on July 31 (Monday) onwards
     Students who meet the minimum entrance requirements (i.e. attainment of Level 3 or above for Chinese Language and English Language and Level 2 or above for Mathematics and Liberal Studies in the Hong Kong Diploma of Secondary Education Examination) but are not admitted in the first round can complete their supplementary enrolment through the admission system from 4pm on July 31 (Monday) to 4pm on August 2 (Wednesday). During the supplementary enrolment stage, students can choose two institutions and, for each institution, make four programme choices. Institutions will release supplementary enrolment results in batches in order of priority as follows:
First priority supplementary enrolment results – 9am on August 4 (Friday) onwards
Second priority supplementary enrolment results – 9am on August 5 (Saturday) onwards
     Students who have been admitted during the first round or supplementary enrolment stage will receive the acceptance letter from their respective institutions by post or electronically in due course. Students may contact the institutions directly if necessary. Contact information of the student admission offices of institutions is included in the programme directory of the Admission Scheme for the 2023/24 academic year (Chinese version only) provided on the EDB's website (edb.gov.hk/admissionscheme). 
Placement scheme proves a win-win

*********************************


     The Youth Start-up Internship Programme 2023 concludes next month, wrapping up its first year of being regularised. The programme gives young people valuable work experience, and start-ups a pipeline of fresh talent.
     ​
     The Under Secretary for Home and Youth Affairs, Mr Clarence Leung, spoke to news.gov.hk about the programme's benefits, while an intern and her employer reflected on their participation.
      
     The story is available at www.news.gov.hk/eng/feature today (July 23) in text and video format.

The Government has taken various steps to ensure empowerment of women and girls through their educational, social, economic and political uplifting through various schematic interventions. The Government has also taken several initiatives for digital literacy of citizen including women and girls so that they are able to operate digital devices (like computers, smart phones etc.) and work on it for various purposes including for educational, commercial and digital transaction purposes. One such initiative is 'Pradhan Mantri Gramin Digital Saksharta Abhiyan (PMGDISHA)' under Digital India programme. It aims to bridge the digital divide specially targeting rural population including the marginalised sections of society, women and girls by covering 6 crore rural households. As on 08.12.2022, the percentage of women benefited under PMGDISHA is over 53% of total enrolled, over 54% of total trained and over 56% of total certified.

In addition, Department of Higher Education, Ministry of Education is administering 'National Mission on Education through Information and Communication Technology' (NMEICT) Scheme, SWAYAM (Study Webs of Active Learning for Young Aspiring Minds), SWAYAM PRABHA, National Digital Library (NDL), Virtual Lab, e-Yantra, NEAT (National Education Alliance for Technology) etc. to ensure quality education through e-learning to students across the country.

Ministry of Women and Child Development has taken a number of initiatives to empower women through the schemes and programmes implemented in the country. The Ministry has formulated 'Mission Shakti', an Integrated Women Empowerment Programme, as Umbrella Scheme for the Safety, Security and Empowerment of Women for implementation during the 15th Finance Commission period. It aims at strengthening interventions for safety, security and empowerment of women in a mission mode through institutional and convergence mechanism for greater efficiency, effectiveness and financial prudence.

The Umbrella Scheme of Mission Shakti has two sub-schemes namely "Sambal" for safety and security of women and "Samarthya" for empowerment of women. Under 'Samarthya' sub- scheme, a new component i.e. Hub for Empowerment of Women (HEW) has been included with the aim to facilitate inter-sectoral convergence of schemes and programs meant for women at the Central, State/ UT and District levels for creating an environment in which women are able to realize their full potential. The support under the HEW provides for guiding, linking and hand holding women to various institutional and schematic set ups for their empowerment and development including access to healthcare, quality education, career and vocational counseling/ training, financial inclusion, entrepreneurship, backward and forward linkages, health and safety for workers, social security and digital literacy at districts/ Blocks/ Gram Panchayats level across the country.

This information was given by the Union Minister for Women & Child Development, Smt. Smriti Zubin Irani in a written reply in the Lok Sabha today.

****

SS/TFK

(Release ID: 1882218)
Visitor Counter : 460






As part of Azadi Ka Amrit Mahotsav, Union Minister Shri Narendra Singh Tomar and Shri Pashupati Kumar Paras today launched the convergence module between the Agriculture Infrastructure Fund (AIF) scheme of the Ministry of Agriculture and Farmers Welfare, Pradhan Mantri Micro Food Enterprises Upgradation Scheme (PMFME) and Pradhan Mantri Kisan Sampada Yojana (PMKSY) of the Ministry of Food Processing Industries. Speaking on the occasion, Shri Tomar said that Prime Minister Shri Narendra Modi's vision of running the government collectively for the welfare of the people is being realized through such initiatives. He said that this will benefit different sections of the country, including farmers and Small scale entrepreneurs of processing industry. Union Minister of Food Processing Industries, Shri Paras said that this new initiative is beneficial and inspiring for the agriculture and food processing sector.




Shri Tomar further said that according to the spirit of the Prime Minister, the convergence module has been launched through cooperation in various ministries with the aim of taking the benefits of the schemes of the government to the people. He said, Prime Minister Shri Modi has been saying that all the ministries should work in tandem with each other and not work in silos, so that people can get the benefits of various schemes. This initiative will contribute to the realization of Atma Nirbhar Bharat campaign and take forward the projects of public welfare by increasing the power of marginalised section and contribute in the building of the New India.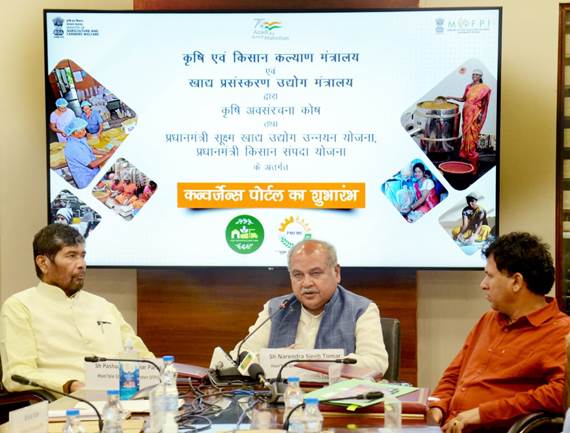 Shri Tomar said that while employment opportunities have increased, farmers and entrepreneurs are getting continuous benefits through various schemes of the Ministry of Agriculture and Farmers Welfare and Ministry of Food Processing Industries.  Shri Tomar said that through various schemes of the Ministry of Agriculture and Farmers Welfare and Ministry of Food Processing Industries, farmers and entrepreneurs are getting continuous benefits, while employment opportunities have also increased.




Shri Tomar said that due to the initiative of Prime Minister Shri Modi, many schemes have been launched in the last eight years. It is the good fortune of the country that we have got an experienced and visionary Prime Minister in Shri Narendra Modi. It is his constant endeavour to empower weaker sections and fill the gap in various fields to benefit the people. In this view, the country benefited a lot due to the achievements of the agriculture sector at the time of Covid-19. He said that the Prime Minister spoke about the Vocal for Local and Atma Nirbhar Bharat campaign and announced a special package of Rs 1,50,000 crore for sectors allied to agriculture including the Agriculture Infra Fund of Rs 1,00,000 crore. Benefit of all these schemes are reaching in to the grass root level.




Agriculture Infra Fund (AIF) is a financing facility launched on 8th July 2020 under the guidance of Prime Minister Shri Narendra Modi, for creation of post-harvest management infrastructure and community farm assets, with benefits including 3% interest subvention and credit guarantee support. Under this, Rs 1 lakh crore from 2020-21 to 2025-26 provision of funds has been made and interest subvention and credit guarantee assistance will be given till the year 2032-33.  AIF scheme has the facility of convergence with any other scheme of State or Central Government, therefore in order to optimize the benefits of multiple government schemes for a particular project, these are being integrated with multiple external systems/portals for convergence of schemes on a large scale.  Convergence of AIF has already been done for commercial horticulture development and cold storage development schemes of National Horticulture Board under INM Division of Ministry of Agriculture.




Shri Paras said that this launch will play an important role in making successful food processing enterprises, especially micro entrepreneurs processing agricultural products, which will act as an inspiration for the agriculture and food processing sector. The Ministry of Food Processing Industries has launched the Pradhan Mantri Micro Food Industry Upgradation Scheme on 29th June, 2020 under the Atma Nirbhar Bharat Campaign to enhance the competitiveness of individual micro enterprises, which will provide financial, technical and commercial assistance for up-gradation of micro food processing enterprises in the country. All the States/UTs have appointed nodal agencies for its implementation. Applications for credit-linked subsidies for individual enterprises are approved at the district level, while applications for clusters are approved at the state level/ MoFPI. Under PMFME scheme, 35% credit linked subsidy will be provided for setting up of micro food processing unit with a maximum subsidy limit of Rs 10 lakh and common infrastructure with a maximum subsidy of Rs 3 crore. So far about 62,000 beneficiaries engaged in food processing activities have been benefitted by this scheme. Around 7,300 loans have been sanctioned under the scheme for setting up new micro food enterprises or for upgrading existing units. Out of these, about 60% eligible beneficiaries are engaged in primary agricultural produce and can avail direct benefit through this convergence by availing additional interest subvention of 3% at the rate of interest charged by the banks. The pace of loan approvals is expected to increase by 50% in the third quarter of 2022-23.




Pradhan Mantri Kisan Sampada Yojana, a Central Sector Scheme of the Ministry of Food Processing Industries, is envisaged as a comprehensive package, which will result in creation of modern infrastructure with efficient supply chain management from farm gate to retail outlet. It is an umbrella scheme consisting of sub-schemes. Through this convergence, eligible beneficiaries receiving credit-linked subsidy under PMFME and PMKSY schemes can avail interest subvention at the rate of interest charged by the banks. The eligible AIF beneficiaries under PMFME can get the benefit of subsidy by applying in PMFME MIS portal. The process of obtaining 3% interest subvention has been made very simple, wherein the beneficiary can apply on the portal using the already approved DPR and acceptance letter under PMFME and PMKSY. The ultimate objective of the Ministry of Food Processing Industries and the Ministry of Agriculture and Farmers Welfare is the sustainable development of farmers and food processing entrepreneurs in rural areas and increasing their income. The goal of this initiative is to make the benefits of the schemes reach all the beneficiaries and empower them financially, technically and professionally. Shri Paras expressed hope that this partnership will prove to be a milestone in building a self-reliant India, taking the Prime Minister's slogan 'Vocal for Local' to newer heights.




A Standard Operating Procedure (SOP) was also issued with the objective of providing maximum benefits to the beneficiaries under AIF, PMFME and PMKSY. The SOP will be available on the websites of the scheme.




The Union Minister of State for Agriculture and Farmers Welfare, Shri Kailash Chaudhary was present in the program. Food Processing Industries Secretary Smt. Anita Praveen, Agriculture and Farmers Welfare Secretary Shri Manoj Ahuja and officers of both the Ministries and related institutions were also present. Shri Minhaj Alam, Additional Secretary, Ministry of Food Processing Industries delivered the welcome address. Shri Samuel Praveen Kumar, Joint Secretary, Ministry of Agriculture and Farmers Welfare proposed vote of thanks.




**** 




SNC/PK/MS






(Release ID: 1861268)
Visitor Counter : 683