Tender results of 1-year HONIA-indexed Floating Rate Notes under Institutional Bond Issuance Programme
******************************************************************************************

The following is issued on behalf of the Hong Kong Monetary Authority:
 
     The Hong Kong Monetary Authority, as representative of the Hong Kong Special Administrative Region Government (HKSAR Government), announced that a tender of 1-year HONIA-indexed Floating Rate Notes (issue number 01GH2408) under the Institutional Bond Issuance Programme was held today (August 16).
      
     A total of HK$1.5 billion 1-year HONIA-indexed Floating Rate Notes were allocated today. A total of HK$5.825 billion tender applications were received. The bid-to-cover ratio, i.e. the ratio of notes applied for to notes issued, is 3.88. The highest spread accepted is 0.38 per cent. 
      
HKSAR Government Institutional Bond Issuance Programme Government Bond tender results
——————————————————————————————————–
     Tender results of 1-year HONIA-indexed Floating Rate Notes under the Institutional Bond Issuance Programme:
 
| | | |
| --- | --- | --- |
| Tender Date  | : | August 16, 2023 |
| Issue Number  | : | 01GH2408 |
| Stock Code  | : | 4272 (HKGB FRN 2408) |
| Issue and Settlement Date  | : | August 17, 2023 |
| Tenor  | : | 1-year |
| Maturity Date | : | August 19, 2024 |
|   |   |   |
| Amount Applied  | : | HK$5.825 billion |
| Amount Allotted  | : | HK$1.5 billion |
| Bid-to-Cover Ratio*  | : | 3.88 |
| Highest Spread Accepted  | : | 0.38% |
| Average Spread Accepted  | : | 0.31% |
| Pro-rata Ratio | : | About 50%  |
| Average Tender Spread | : | 0.53% |
 
* Calculated as the amount of notes applied for over the amount of notes issued.
WEBWIRE – Friday, July 21, 2023
Q2 revenue was SEK 102.2 bn (SEK 71.3 bn in Q2 2022)
Q2 EBIT (excluding JVs and associates) was SEK 6.4 bn (SEK 4.6 bn in Q2 2022)
Q2 EBIT was SEK 5.0 bn (SEK 10.8 bn in Q2 2022)
Q2 EBIT margin, excluding JVs and associates and without non-recurring items, was 7.2 per cent
Q2 EBIT margin (excluding JVs and associates) was 6.3 per cent (6.5 per cent in Q2 2022)
Q2 EBIT margin was 4.9 per cent (15.1 per cent in Q2 2022)
Q2 basic earnings per share was SEK 1.12 (SEK 3.00 in Q2 2022)
Q2 fully electric car sales share at 16 per cent (7 per cent in Q2 2022)
Volvo Cars today reports a 39 per cent increase in operating profits, excluding joint ventures and associates, to SEK 6.4 bn and a corresponding EBIT margin of 6.3 per cent for the second quarter of 2023. The result came despite a SEK 0.9 bn, non-recurring item related to the redundancy programme announced in May, part of securing a more efficient and sustainable cost base for the future. Without this item, the underlying EBIT margin, excluding joint ventures and associates, was 7.2 per cent in the second quarter. This illustrates that the solid underlying performance momentum from the first three months of the year continued during this past quarter.

The companys EBIT including joint ventures and associates reached SEK 5 bn, which was lower compared to the corresponding period last year. This is mainly because group EBIT for the second quarter of 2022 was positively influenced by the one-time, non-recurring accounting effects of Polestars listing on the Nasdaq stock exchange in New York. The interim report for the second quarter of 2023 can be found here.

The second quarter of 2023 shows that the year is shaping up as planned, said Jim Rowan, president and chief executive. In these past three months we have continued to deliver on our ambitious transformation goals and made steady progress. At the same time, we also achieved a solid underlying business performance with increased sales and revenues. We are performing and transforming, while navigating the external challenges that have come our way.

During the quarter, the company reported a continued strong sales performance in electric cars. Sales of fully electric Volvo car models increased by 178 per cent year-on-year during the quarter and accounted for 16 per cent of its total share. The companys newly launched fully electric cars the Volvo EX90 and EX30 SUV models are not yet in production and have so far not contributed to the companys 2023 performance. Once these new cars hit the roads, they will further boost fully electric car sales towards Volvo Cars ambitious goal to sell only fully electric cars by 2030.

While it delivered a higher percentage of fully electric cars during the quarter, the companys margins on fully electric cars were impacted in this period because the lithium used in these cars was sourced when prices peaked during late 2022.

Additionally, as it introduced new model year 2024 fully electric cars with a considerably better range than existing models, Volvo Cars proactively shifted out the inventory of model year 2023 cars.

As the company enters the second half of 2023 this dynamic will change, since it will not only benefit from lower lithium prices, but also realise the effects of increased pricing on MY2024 fully electric cars. Therefore, margins on fully electric cars are expected to improve in the coming quarters.

Last month, Volvo Cars also revealed the fully electric EX30, its first ever small SUV. With this car, the company enters an important new segment and customer demographic and one that it expects to grow rapidly in the coming years. The EX30 will also boost the companys profitable growth in fully electric cars, with expected gross margins on the car in the range of 15 to 20 per cent. Both the EX30 and the larger EX90 are exciting steps into the future and clearly demonstrate Volvo Cars course going forward: premium electric cars, built on next-generation electric architectures with advanced battery and computing technology, as well as next-level passive and active safety features.

Volvo Cars continued its commercial transformation this past quarter. In June, it reached another key milestone when the United Kingdom became its first market to fully transform from a traditional wholesale business to a direct consumer model that is designed around flexibility for the customer. The knowledge it gains from the UK commercial transformation will be crucial as the company plans to make more markets fully direct in the coming years, together with its trusted retail partners. This will both improve the overall customer experience and make its commercial network more efficient, transparent and cost-effective.

In May, Volvo Cars also increased the focus on the global cost optimisation and resource efficiency initiative it launched late last year. This included a global redundancy programme including around 1,300 office-based positions in Sweden, as part of efforts to reduce costs and drive efficiencies across its global operations. The aim is to establish a more efficient and sustainable cost base for the future, by restructuring and changing ways of working in parts of the organisation, as well as focusing even more on securing the relevant skills it needs to be successful.

Q2 operating and financial performance

In terms of its operational performance during the second quarter, Volvo Cars recorded revenues of SEK 102.2 billion, an increase of 43 per cent versus the same period in 2022. It also saw a solid global sales increase of 25 per cent to 178,800 cars sold, a strong performance in electrified car sales, as well as continued premium pricing in many markets.

The sales performance was helped by improved production output in the companys factories. During the second quarter, it produced 50 per cent more cars than in the same period last year. This is a validation of the steps the company introduced to make its supply chain more resilient, such as broadening its supplier base, improving performance and delivery from its suppliers, developing direct relationships with key semi-conductor companies and foundries, and creating more transparency in the overall value chain.

Second-quarter EBIT excluding joint ventures and associates was weighed down by a non-recurring item of about SEK 0.9 billion, but still came in at SEK 6.4 billion, an increase of 39 per cent year-on-year. This cost was related to the redundancy programme that was part of the enhanced cost efficiency initiative announced in May.

Efforts to reduce the companys CO2 footprint per car also continued to progress. During the second quarter of the year, overall CO2 emissions per car were 18.8 per cent lower compared with its 2018 benchmark, supporting its mid-decade ambition of a 40 per cent CO2 reduction per car.

Looking ahead to the rest of the year

2023 remains a crucial year in Volvo Cars transformation. With more new electric cars on the way and work ongoing on a new battery plant in Sweden and its planned new electric car factory in Slovakia, the company is putting in place important building blocks for its next growth phase.

It has opened a new Tech Hub in Krakow, Poland, which will complement existing ones in Stockholm and Lund in Sweden, and Bangalore in India. These Tech Hubs and its other R&D centers will help Volvo Cars deliver on its ambition to become a leader in future mobility, by creating a global powerhouse of next generation technology. The company will also continue its commercial transformation towards more direct business and a constantly improving customer experience.

More broadly speaking, the company sees supply and demand continue to normalise in the wider market, which brings some additional pricing pressure as price levels have also started to normalise in several markets. Yet while rising interest rates in some of its largest markets put pressure on the consumer and the overall market, demand for Volvo cars continues to be healthy.

Assuming there are no further unexpected supply chain disruptions, Volvo Cars expects a solid double-digit growth in retail sales for the full year. It also expects the share of fully electric car sales to come in even higher than last years full-year share of 11 per cent.

Were staying the course and continue to make progress towards our ambition to be a leader in next-generation mobility, said Jim Rowan. The proof of a real transformation is in its execution and that is where our focus continues to be as we head into the second half of 2023.

Note to editors

Jim Rowan and chief financial officer Johan Ekdahl will host a livestream on Volvo Cars Q2 2023 results for media, investors and analysts at 09:30 CET today. The presentations will be held in English and followed by a Q&A session.

Link for livestream: https://live.volvocars.com

China-only link for livestream: https://live.volvocars.com.cn

It will be possible to ask questions during the Q&A session following the main presentation. To participate, you can either use the chat function online to type your question or you can call in. To call in, participants need to register via the link below and will then receive the dial-in details and individual PIN.

Link to register

This disclosure contains information that Volvo Car AB (publ) is obliged to make public pursuant to the EU Market Abuse Regulation (EU nr 596/2014) and the Swedish Securities Markets Act (2007:528). The information was submitted for publication, through the agency of the contact person, on 20-07-2023 07:00 CET.

Descriptions and facts in this press material relate to Volvo Cars international car range. Described features might be optional. Vehicle specifications may vary from one country to another and may be altered without prior notification.To view the full copyright information click here


Hong Kong, 21st April 2023, ZEX PR WIRE, The success of the IKA Block Hong Kong Web3 Demo Day marks the thriving development of innovative projects in the blockchain and cryptocurrency realms. As more similar events take place worldwide, these projects bring new possibilities to the Web3 ecosystem, driving innovation in finance, gaming, and blockchain infrastructure and continuing to make significant breakthroughs in the Web3 space. It presents an excellent opportunity for investors, developers, and users to jointly promote the application and development of blockchain technology across various industries.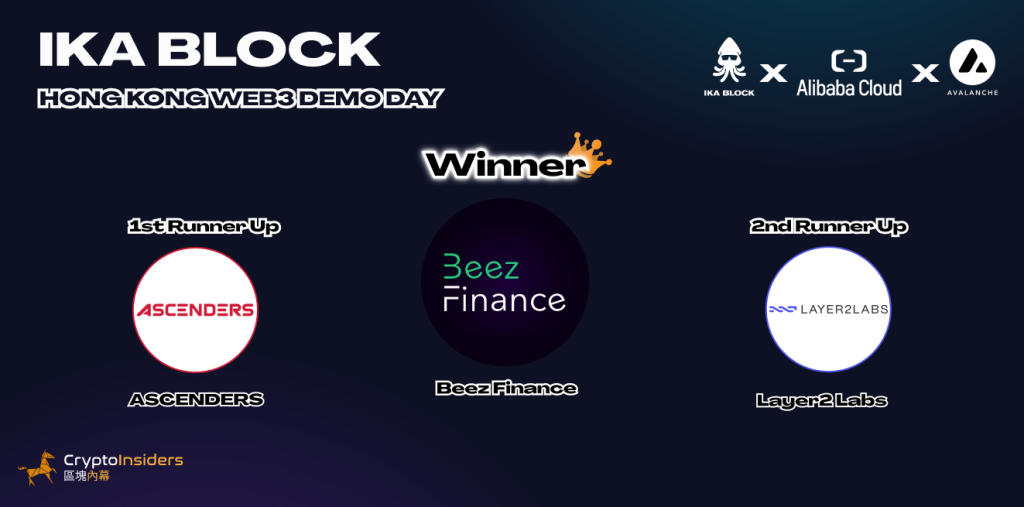 IKA Block Hong Kong Web3 Demo Day

Winner: BeezFinance

BeezFinance emerged as the champion project at the Demo Day. The platform aims to provide a compliance framework for the financial processes within the Web3 ecosystem, helping individuals and organizations better utilize cryptocurrencies for direct consumption and payments. Some key features of BeezFinance include:
Direct payments using crypto wallets without worrying about KYC verification.
Paying bills through crypto wallets.
Expense management and accounting.
BeezFinance's innovative approach to simplifying the use of cryptocurrencies in daily transactions showcases the potential of Web3 technology in revolutionizing the financial industry.

Runner-up: Ascenders

Ascenders secured the first runner-up position with its game finance metaverse project. The platform combines the action-adventure game "The Legend of Zelda: Breath of the Wild" with the player-driven economy of "Eve Online." This unique blend of gaming and blockchain technology offers users an immersive, decentralized virtual world experience.

2nd Runner-up: LayerTwo Labs

Founded by Paul Sztorc, LayerTwo Labs focuses on bringing Drivechain (BIP300/301 upgrade) to Bitcoin, enabling BTC to support sidechains and achieve unlimited scalability, privacy, diverse user experiences, and infinite use cases. LayerTwo Labs will launch a secretive proof-of-work project this summer to promote the widespread adoption of Drivechain.

About IKA Block

IKA Block offers a one-stop Web3 solution, aiming to help Web2 companies succeed in the blockchain industry. Our services include technical support, marketing promotion strategies, and incubation advice. Leveraging our expertise and VC resources, IKA Block empowers blockchain projects to expand rapidly.

Crypto Insiders Official Announcement here.

Media Contact:

Crypto Insiders

English Website:https://cryptoinsiders.net/

Chinese Website:https://cryptoinsiders.online/

PR Contact:

ZEX PR WIRE
[email protected]

Results of ACCOMPANY – Design Competition for the Reconstruction of the Public Toilet and Refreshment Kiosk within Aberdeen Country Park P.H.A.B. Barbecue Site announced (with photos)

******************************************************************************************


     The Agriculture, Fisheries and Conservation Department (AFCD) announced today (March 25) results of ACCOMPANY – Design Competition for the Reconstruction of the Public Toilet and Refreshment Kiosk within Aberdeen Country Park P.H.A.B. (Physically Handicapped and Able-Bodied) Barbecue Site. A prize award ceremony was held at the City Gallery, Central.   

     The design competition, organised by the AFCD together with the Architectural Services Department, aimed to call for people-oriented design ideas and concepts to enhance public toilet facilities and the refreshment kiosk in Aberdeen Country Park P.H.A.B. Barbecue Site. The Under Secretary for Environment and Ecology, Miss Diane Wong; the Director of Agriculture, Fisheries and Conservation, Dr Leung Siu Fai; the Director of Architectural Services, Mr Edward Tse; and a juror, Mr Lam Leung Ming, representative of the Hong Kong Society for Rehabilitation, presented the awards to the winners.

     Speaking at the ceremony, Miss Wong said that the Government is committed to enhancing toilet facilities within country parks to meet demands of visitors as far as possible, and has set aside $500 million in the 2021-22 Budget to carry out enhancement works including improving toilet facilities in some country parks. The Government is implementing improvements in phases, to construct and reconstruct public toilets in popular countryside spots. The public toilet in Aberdeen Country Park P.H.A.B. Barbecue Site is one of the chosen sites. Through organising the design competition, the Government encourages creativity on the design of barrier-free and inclusive facilities, and selected an outstanding entry which is innovative, harmonious with the natural environment and sustainable, for reference or adoption for the reconstruction of the toilet and the refreshment kiosk.

     The competition received 35 entries in total from local architects. Winning entries, including the first prize, second prize and third prize, as well as two commendation entries were selected by the jury panel. The awarded entries offer inclusive designs which enable visitors of different ages and abilities to enjoy the P.H.A.B. Barbecue Site and are in harmony with the natural environment of country parks for a better visitor experience.

     Members of the public can view the winning entry list and all competition entries at www.accompanyacpdesigncompetition.hk.

Results of Pharmacist Registration Examinations December 2022 announced

***********************************************************************


The following is issued on behalf of the Pharmacy and Poisons Board of Hong Kong:

     The Pharmacy and Poisons Board of Hong Kong announced today (March 3) the results of the Pharmacist Registration Examinations held in December 2022.

     There were 34, 52 and 38 candidates sitting for examinations in pharmacy legislation in Hong Kong, pharmacy practice and pharmacology respectively, with corresponding passing rates of 58.82 per cent, 7.69 per cent and 39.47 per cent.

     Apart from meeting other requirements prescribed by the Board, any pharmacy graduate outside Hong Kong intending to be registered as a pharmacist in Hong Kong is required to pass the above three subjects.

     The Board conducts its Registration Examinations twice a year, normally in June and December.