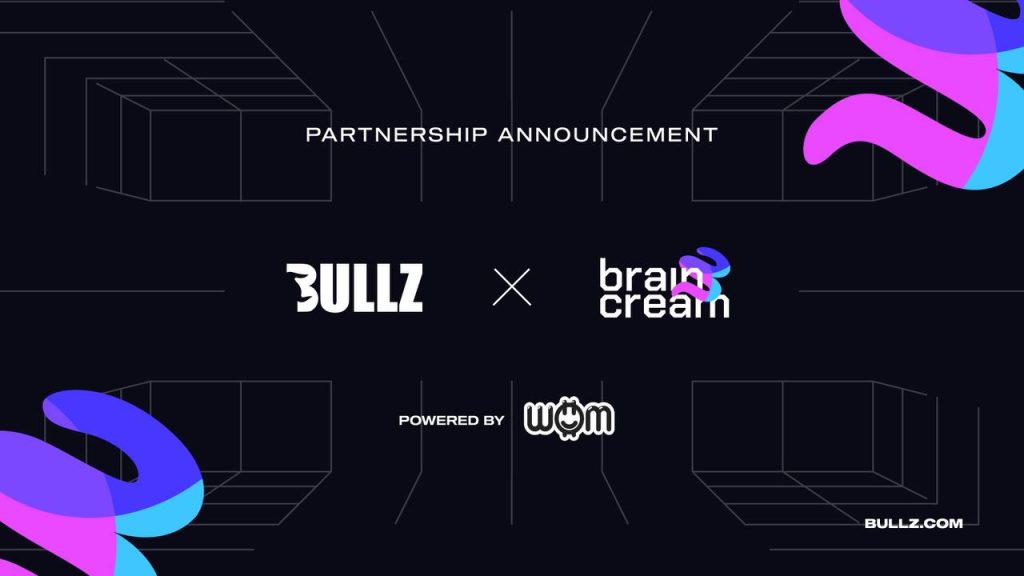 BULLZ, a leading Web3 social platform with a rapidly growing user base of more than 60k+ creators, has joined forces with Brain Cream, a cutting-edge Web3 growth agency specializing in providing go-to-market guidance for upcoming projects. This strategic partnership aims to foster greater collaboration by connecting Brain Cream's impressive portfolio of clients with BULLZ's extensive creator network, as well as introducing Brain Cream's network of more than 400+ KOLs to BULLZ's Web3 MarTech tools for monetizing content.
BULLZ is a leading Web3 social platform that empowers creators to get rewarded for video recommendations about Web3, blockchain, NFTs, DeFi, and DAO projects. Successful campaigns have already been run with brands including Monkey League, Youmeme, Safe ZK, and 8 Finance, just to name a few.
Since its launch in late 2021, the platform has accumulated more than 96k+ videos. Each video is peer-reviewed on average by more than 400+ authenticators, who act like content nodes to bring trust into content. The platform's integrated WOM Protocol automatically rewards creators for their content and authenticators for their peer-review.
Brain Cream will help its clients plan and develop dedicated marketing campaigns to launch onto the BULLZ app using the BULLZ Campaign Manager. Creators can then discover the projects, see the details and decide whether to support them by creating a video in order to earn rewards. Using the BULLZ Agent feature Brain Cream will also refer and onboard its own creative network onto the BULLZ app.
Brain Cream is a leading Web3 agency guiding various AI powered, GameFi, and DeFi projects with build-to-market strategy, and having access to over 600+ VCs, 400+ Tier-1 & Tier-2 KOLs, launchpads (e.g. Seedify, DAO Maker, Enjinstarter, BullPerks, Equinox, etc.) including various incubators and solution providers all focused on scaling its Web3 based clients. With a team of experienced developers and industry experts, Brain Cream is at the forefront of blockchain innovation, constantly exploring new use cases and applications. Its services include: project packaging, legal guidance, tech audit support, marketing, tokenomics, and fundraising. Its innovative approach to project development has earned it a reputation as a trusted partner in the Web3 ecosystem.
This partnership marks another great milestone for BULLZ as it continues to expand the Web3 content creator network and provide value to its users. In addition it's an opportunity for both companies, as well as Brain Cream's clients, to drive the growth of the Web3 ecosystem forward by leveraging the BULLZ Campaign Manager to launch content campaigns to reach, engage and onboard more Web3 users.
Co-Founder of Brain Cream, Sergei Rusak, said: "At Brain Cream, we're always looking for innovative ways to accelerate the adoption of our clients. We know that content creators play a crucial role in driving communication, awareness and education of Web3 technology. Our partnership with BULLZ is a great addition to our solutions network to launch campaigns and shape the future of Web3 storytelling."
Melanie Mohr, CEO & Founder of BULLZ, said: "We believe that collaboration is key to advancing the Web3 ecosystem. Our partnership with Brain Cream is a great opportunity to expand the creator network with Brain Cream's amazing KOL network, as well as onboard more Web3 projects to utilize creator-driven marketing. We're excited to see what we can achieve together in terms of community growth and adoption."
About the WOM Protocol
WOM (word-of-mouth) Protocol is a blockchain-based protocol that gives brands, content creators, publishers, and social networks a way to monetize word-of-mouth recommendations on any website, app or platform. WOM is backed by dozens of seasoned investors from around the globe. For more info about WOM: https://womprotocol.io
About BULLZ
BULLZ is a dedicated platform for discovering authentic blockchain and crypto-related recommendations. Users can find trending projects, discuss them together with other crypto enthusiasts and experts and can get rewarded for sharing their own videos about the projects and companies they love. With the "create to earn" model, users are rewarded with WOM Tokens for their recommendations directly within the app. For more information about BULLZ: https://bullz.com
About Brain Cream
Brain Cream is a leading Web3 agency that provides comprehensive solutions for Web3 projects, including project packaging, legal guidance, tech audit support, marketing, tokenomics, and fundraising. With a commitment to accelerating the adoption of blockchain technology, Brain Cream leverages its extensive network of over 600+ VCs, 400+ KOLs, 20+ Launchpads, 30+ solution providers, and 10+ incubators to provide clients with unparalleled access to resources and expertise. For more information about Brain Cream: https://braincream.io/