WEBWIRE – Tuesday, August 30, 2022



14 women referees, 28 women assistant referees, three support referees and 16 video match officials appointed




VAR technology to be used for the first time at a U-17 FIFA women's youth competition




Match officials appointed for India also to be candidates for the FIFA Women's World Cup Australia & New Zealand 2023™
The FIFA Referees Committee officially announced the lists of the match officials who have been appointed to officiate at the forthcoming FIFA U-17 Women's World Cup India 2022™. A total of 14 women referees, 28 women assistant referees, three support referees and 16 video match officials will take charge of the matches.
"We are delighted that the FIFA U-17 Women's World Cup is returning after a four-year hiatus caused by the COVID-19 pandemic. We are really looking forward to this important competition in India taking place in October. For the match officials, of course, it's another big stage in the preparation of the potential candidates for the FIFA Women's World Cup Australia & New Zealand 2023," said the chairman of the FIFA's Referees Committee, Pierluigi Collina.
"As already mentioned on several occasions and following appointments of referees for other FIFA competitions, we've always worked aiming for uniformity and consistency in decision-making. We are convinced that the appointed match officials can gain useful experience with a view to the biggest women's football competition in the world, the FIFA Women's World Cup Australia & New Zealand next year," he added.
"The FIFA U-17 Women's World Cup will give us important and significant insights into the qualities of the match officials who have been appointed. We are very happy that, also for the first time, VAR technology will be used at a FIFA U-17 Women's World Cup. This event will be another great opportunity to showcase the skills of the appointed VARs and continue the development of our female VARs as part of the Road to Australia/New Zealand 2023 project," said FIFA's Head of Refereeing, Women, Kari Seitz.
The FIFA U-17 Women's World Cup India 2022 will take place in Bhubaneswar, Goa and Navi Mumbai.
The competition will be played between 11 and 30 October 2022, with the D Y Patil Stadium in Navi Mumbai hosting the final.
For more information about the FIFA U-17 Women's World Cup India 2022, please check FIFA+.
List of appointed match officials.



The Directorate of Goods and Service Tax Intelligence, Ghaziabad Regional Unit has busted a syndicate involved in creating and controlling fake firms and issuing of bills by these fake firms without supply any Goods or Services and encashment of GST refund.




After developing precise Intelligence, two office premises were searched from where various incriminating documents/things pertaining to more than 200 fake firms were recovered  i.e.  mobile phones, digital signatures, debit cards, PAN cards, Aadhaar cards, photos of persons, rent agreements,  laptops,  pen drives, rubber stamps, keys of offices, SIM cards, cheque books and some Kuccha records.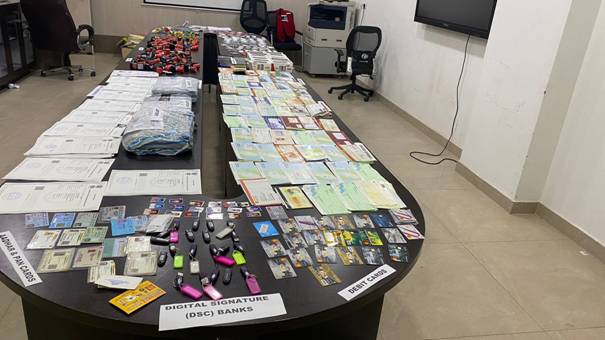 Further, in-depth investigation was conducted which revealed that the data of this network is being compiled and used from the cloud. After analysis of the evidences and data, it was revealed that this network consists of 275 bogus firms which exist only on paper. These firms have issued fake invoices having total value of Rs 3,189 crore involving total GST evasion of Rs 362 crore.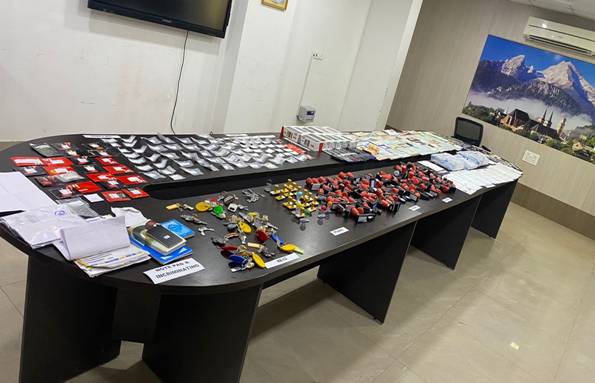 One of the key persons who was instrumental in collection of identities of individuals for creation of fake firms namely Sh. Tinku Yadav was arrested earlier. Based on the information given by Sh. Tinku Yadav  and analysis of IP addresses, the actual masterminds of the network namely Sh. Vipin Kumar Gupta alias Nikku, and Sh. Yogesh Mittal have been apprehended and arrested. It has been learnt that both Sh. Vipin Kumar Gupta and Shri Yogesh Mittal are habitual offenders. Both the offenders have been arrested by Directorate of Revenue Intelligence (DRI) and Enforcement Directorate (ED) earlier.






****




RM/KMN






(Release ID: 1793099)
Visitor Counter : 146














Prime Minister Shri Narendra Modi interacted with PMO officials on the occasion of 'Diwali Milan', organised at PM's residence at Lok Kalyan Marg today. He extended warm Diwali greetings to everyone on the occasion.
Prime Minister discussed the country's battle against the pandemic. He underlined how the country has displayed unity and brotherhood in fighting the common faceless enemy. He also talked about the positive changes that have come about in society and governance as a result of the pandemic, adding that these changes have made societies more resilient.
Prime Minister highlighted how difficult times often lead to realization of inherent potential among people, processes and institutions. He exhorted PMO officials to draw inspiration from this spirit.
Highlighting the significance of this decade towards laying a strong foundation for the nation for 2047 and beyond, Prime Minister said that all of us in PMO must work together to our fullest potential and help the nation attain greater heights.
****
 DS/AKJ
(Release ID: 1771316)
Visitor Counter : 683