From the start of the summer schedule, the KLM route network will comprise 165 destinations 96 European and 69 intercontinental. The airline is expanding its Asian network, doubling the number of KLM flights to Asia compared with 2022. KLMs new Premium Comfort class will be increasingly available on intercontinental flights.
Amstelveen – WEBWIRE – Friday, March 24, 2023
Europe
Following the success of the Nantes route last winter, KLM is adding this city to its summer schedule. Nantes will be served by three daily flights. A daily service will operate to Rennes, the regional capital of Brittany, from the start of the summer schedule.
Asia
KLM is further expanding its route network in Asia, following disruptions caused by Covid-19. KLM will operate services to 16 Asian destinations in summer 2023, doubling the number of flights to the region compared with 2022. KLM operates daily services to Beijing and Shanghai. The airline also is once more operating services three times a week to Hong Kong and twice a week to Taipei via Incheon (South Korea).
In Japan, KLM operates a twice weekly service to Osaka via Incheon (South Korea), as well as three weekly flights to Tokyos Narita Airport, also via Incheon. Additionally, there is a direct service twice a week to Tokyo. The frequency on this route will increase in September to five direct flights a week to Tokyo.
KLM also serves the Indonesian destinations of Denpasar and Jakarta via Singapore.
Manila (Philippines) is served five times a week via Kuala Lumpur (Malaysia).
In India, there is a daily service to Delhi and Mumbai, and five weekly flights to Bangalore.
North America
KLM operates services to 18 North American destinations. In the USA, these include New York, Atlanta, Austin, Washington, Las Vegas, San Francisco and Los Angeles.
The route network is expanding this summer to include 13 flights a week to Toronto in Canada, compared with 10 flights in 2022. KLM also operates services to the Canadian cities of Edmonton, Montreal and Vancouver.
KLMs new Premium Comfort class is available on flights to New York, Los Angeles, Austin, Toronto and Calgary.
Middle East
A daily service will operate to Dubai and Tel Aviv (Israel). Tel Aviv will be operated with the widebody Boeing 777.
KLM also operates a daily service to Kuwait, four times a week in combination with Bahrain and three times a week in combination with Muscat.
Caribbeanand Suriname
KLM is operating daily services to Curaao this summer. During the high season, in July and August, there will be as many as 10 flights a week to the island. There will also be a daily service to the islands of Aruba and Bonaire.
Paramaribo will be served by six weekly flights and KLM will also operate three weekly services to Port of Spain and Sint Maarten.
South America
KLM is operating services to 10 destinations in South America this summer, including daily services to Sao Paulo (Brazil), Buenos Aires (Argentina) and Panama City (Panama). Flights to Costa Rica will operate according to the winter schedule until mid May, with three weekly flights to San Jos in combination with Liberia (Costa Rica).
Africa
Passengers will be able to fly KLM to 10 African destinations this summer. Tropical Zanzibar will be served by two weekly flights in combination with Dar es Salaam in Tanzania. And daily services will operate to Nairobi, Cape Town and Johannesburg.
James Batiste, creator of "A Stranger's Story," led the cast & crew of the award-winning film in conversation with Jackie Wright of W.E. Community Spotlight in advance of The Denton International Film Festival, January 25-29, 2023.
Film Also Screens at Frigid New York 12/29/22

DALLAS – Dec. 28, 2022 – PRLog — Posted Courtesy of Wright Enterprises Spotlight San Francisco~Dallas~~~

NOLA's Royal Family of Music, The Batistes, Have their Say at the Denton Black Film Festival,January 29-February 5, 2023 with film "A Stranger's Story,  Brainchild of Producer James Batiste

Multi-talented members of the cast and crew of "A Stranger's Story," the video memoirs of John J.J. Batiste Sr.,  spoke with San Francisco Black Film Festival and Oakland International Film Festival publicist, journalist, and media expert, Jackie Wright to talk about their role and experience in the development of the film produced by James Batiste, the sixth son of  John J.J. Batiste Sr., the patriarch of NOLA's Royal Family of Music, the Batistes.  The treasure of their talent and sheer number of Grammy-winning and Grammy-nominated musicians resulted in their moniker, "NOLA's Royal Family of Music."

Family patriarch John J.J. Batiste and his wife Estelle raised seven sons:  John Batiste Jr.; David Batiste, Sr.; Paul Batiste; Michael Batiste; Peter Batiste; James Batiste; and Thomas Batiste (musicians, engineers and bankers).  The Batistes' talent resulted in Louisiana Hall of Famer, David Batiste Sr. and the Gladiators paving the way for numerous relatives including Damon Batiste, who has extended the Batiste musical acumen and New Orleans cultural footprint to France as affirmed by the President Emmanuel Macron and First Lady Brigitte Macron's recent visit to New Orleans as well as over 80 arts, culture and trade missions to Africa with his company NOSACONN (New Orleans South Africa Connection) and Jon Batiste, the 2022 winner of five Grammy Awards from fourteen nominations and 2020 Oscar for his original score of the Disney-Pixar film "Soul."

As James Batiste (Executive Producer), Alonzo Waller (Director/Screenwriter), Emerald Khan (Lola), Dr. Cinetrea Grace-Williams (Ms. Red), Chris Ford (John J.J. Batiste Sr), and Charles W. Bush (Producer) chatted it was very evident that the film production was fueled by relationships of family and friends.

"I'm thankful to God for this great opportunity to share my father's story with such a great team of gifted people," said Executive Producer, James Batiste.

From the 40-year friendship between James Batiste, who conceived the idea of the film and Alonzo Waller the director and screenwriter who co-wrote the screenplay with co-writer and actress Tanya Gray to Dr. Cinetrea Grace-Williams, who plays the mysterious Ms. Red and her nephew Chris Ford, a Dallas-Metroplex entrepreneur, who landed the lead of John J.J. Batiste, Sr., the creative foundation of "A Stranger's Story",  is embedded with life stories that intertwine to spin a compelling narrative about the power of telling one's truth in the midst of the tension between desire and doing the right thing.

"We have over fourteen awards for 'A Stranger's Story' and that has been encouraging to me as I prepare to write a feature film based on this compelling story," said screenwriter Alonzo Waller.

Emerald Khan shared how the role of Lola Beaulieu inspires her as she sings at local clubs in Dallas and across the nation. "I have always loved the era of this film and to get to use my talents to bring to life what it was like to sing in a cabaret and wear vintage clothes of the era is a dream come true."

One of the fascinating points of the production was explained by Charles W. Bush. He talked about the ease of the complicated logistics of filming on a train thanks to the advance work of James Batiste and Alonzo Waller.  "Thanks to their great work, I was able to create the redundancies necessary to create a great shoot."  The filming was expected to take seven days, but the team of "A Stranger's Story" completed the filming in three days in Austin and Fort Worth.

Black resilience and Black joy radiate through the conversation with its universal theme that will appeal to everyone as individuals struggle to make the right choice when challenged by personal desire and the moral imperative to do what is right in the moment.  Click here to listen in:

Click Here to See the Interview: https://youtu.be/HHoXFFTghBk.

Bill Haas, who plays the devil in the film, was slated to be a part of the interview.  Others given a shout out by their congenial cast members included: musicians Linny Nance and the Networks: actress Brandie Riggs (Estelle Batiste); and actor Gerald Pennington (Jonas Bridges).

Check out the social media handles of the cast members to find out interesting highlights such as Chris Ford and wife Crystal, a real estate agent who will soon be releasing their financial literacy board game, "Workpreneur;" Dr. Cinetrea Grace-Williams' 619 Productions that gave a workforce development experience on the film for youth; Emerald Khan's line up of appearances at local Dallas night clubs and Charles W. Bush's upcoming January 2023 Pureflix debut of "Guardians (https://www.youtube.com/watch?v=ej28DneGY1E)."  In the five-episode series written by Chason Laing and produced by Bush, the main character, Jack, has been 'called by God' into the business of showing up; people find themselves in dire situations and God sends Jack and his team show up to rescue them.

Filled with drama and music with a salute to the African tradition of storytelling around the baobab tree, "A Stranger's Story," the winner of over 14 festival awards, can be seen at the Denton Black Film Festival, January 25-29, 2023 in person and virtually January 29-February 5, 2023.  Visit https://dentonbff.com/ for festival details.  To find out more about the film visit:

https://AStrangersStory.Film/.

###

Editors Note: Film Screens 12/29/2022 at Frigid New York Festival: https://www.frigid.nyc/event/6897:17/

Guests' & Host Social Media Contact Info:

James Batiste:

https://www.instagram.com/astrangersstoryshortfilm/

https://twitter.com/story_strangers

https://www.facebook.com/profile.php?id=100083241166674

https://www.youtube.com/channel/UC_JyvgMCz1SWWnmX7MY6eDw

Alonzo Waller: zowaller1@gmail.com

Emerald Khan: @musicalemerald  Instagram; Facebook & Twitter; musicalemerald@gmail.com

Dr. Cinetria Grace-Williams: your619productions@yahoo.com

Chris Ford: cldnetwerk@gmail.com; https://www.instagram.com/whoischrisford/?hl=en

Crystal Ford: crystalford1031@gmail.com;

https://www.instagram.com/socrys__/?hl=en

Charles W. Bush: charleswbush@hotmail.com; https://www.instagram.com/charleswbush/; https://twitter.com/charleswbush/;
https://www.facebook.com/producer.charleswbush

Jackie Wright:

https://www.linkedin.com/in/wrightenterprises/
https://twitter.com/wrightenternow
https://www.instagram.com/1jackiewright/
UNESCO and Royal Enfield recently forged a unique partnership to identify, document, preserve and promote the Intangible Cultural Heritage (ICH) of India, beginning with 100 unique practices in the Eastern Himalayas
WEBWIRE – Tuesday, September 27, 2022





UNESCO (United Nations Educational, Scientific and Cultural Organisation) and Royal Enfield, the world's oldest motorcycle brand in continuous production since 1901, flagged-off 'The Great Himalayan Exploration' ride at the iconic Victoria Memorial in Kolkata. This unique partnership aims to contribute to the documentation, preservation and promotion of the Intangible Cultural Heritage of India.




The ceremonial flag-off was led by Eric Falt, Director and UNESCO Representative to Bhutan, India, the Maldives and Sri Lanka,  Major General Sandeep Singh Kahlon, Vishist Seva Medal, General Officer Commanding Bengal Sub Area and Bidisha Dey, Executive Director, Eicher Group Foundation, the CSR arm of Royal Enfield.




"India possesses a multitude of undiscovered cultural heritage practices that are passed down from generation to generation. With our partnership with Royal Enfield we want to contribute to the collective knowledge to inventory all these Intangible Cultural Heritage practices." – Eric Falt, Director, UNESCO New Delhi, at the Flag-off ceremony




"As part of our social mission, Royal Enfield aims to partner with 100 Himalayan communities to build resilience and drive long lasting change. We also intend to catalyse a global movement of 1 million riders who can actively partner with us in our endeavour. Through this unique partnership with UNESCO, we are connecting our rider community with the Himalayan communities in a bid to actively identify and preserve their living heritage." – Bidisha Dey, Executive Director, Eicher Group Foundation




As part of the capacity building, the riders, including a team of more than 20 rider-researchers, began a first journey to Pattachitra Gram (Village of the Scroll Painters) in Pingla Block – a UNESCO ICH showcase, over 100 kms away in the West Medinipur District. At Pattachitra Gram, the riders were welcomed by the chitrakar community with a richly decorated atmosphere, laden with Pattachitra art and garlanded in the traditional welcome of the Chitrakar community.




As part of the experience, the team were given a tour of the village and the resource centre where the artists showcased the techniques they use to create the dyes and paint, as well as the end purpose of Pattachitra, which is its use as a prop and a backdrop in folk songs. Recognised as one of the oldest art forms in the world, the art of Pattachitra is documented by UNESCO and is handed down through generations.




After the flag-off and the ride to Pattachitra Gram, the rider-researchers will split into four groups and head towards Meghalaya, Assam and Ziro in Arunachal Pradesh. Drawn from all over the Indian motorcycle-riding community, these riders will spend two weeks documenting specific Intangible Cultural Heritage practices that have been identified by a research team in collaboration with UNESCO. This will be followed by a series of research-based rides across the Himalayan region in the next few months to document these practices




This undertaking, as part of the unique partnership between UNESCO and Royal Enfield, which was announced recently, is an attempt to document the Intangible Cultural Heritage practices of India, beginning with the Himalayas. The goal is to create a digital repository of the wealth of information that the rider-researchers will collect. Additionally, we will also use this activity as a stepping stone to Royal Enfield's larger goal of partnering with 100 communities across the Himalayas to drive one toward a sustainable future.




With several projects focused on sustainable living practices, ongoing in the Himalayas, Royal Enfield is focused on enabling 1 million members of its global motorcycling community to act as agents of change and to take action to help regenerate iconic landscapes like the Himalayas and the communities within them. With a vision to collaborate with Himalayan communities to adopt sustainable living practices by 2030, the brand provides a platform for riders from all walks of life to unleash their true potential and act as agents of change to help regenerate iconic landscapes like the Himalayas and the communities within them.




UNESCO recently inscribed 'Durga Puja in Kolkata' on its prestigious Representative List of the Intangible Cultural Heritage of Humanity. Known for its celebration of feminine divinity, Durga Puja is also an embodiment of inclusive festivity. A consummate expression of dance, music, crafts, rituals, culinary and cultural aspects, the festival transcends social boundaries and brings people together in celebration.




********




About UNESCO 

UNESCO is the United Nations Educational, Scientific and Cultural Organization. It seeks to build peace through international cooperation in Education, the Sciences and Culture. UNESCO's programmes contribute to the achievement of the Sustainable Development Goals defined in Agenda 2030, adopted by the UN General Assembly in 2015.  UNESCO established its Lists of Intangible Cultural Heritage with the aim of ensuring better protection of important intangible cultural heritages worldwide and the awareness of their significance. This list is published by the Intergovernmental Committee for the Safeguarding of Intangible Cultural Heritage, the members of which are elected by State Parties meeting in a General Assembly. Through a compendium of the different oral and intangible treasures of humankind worldwide, the programme aims to draw attention to the importance of safeguarding intangible heritage, which UNESCO has identified as an essential component and as a repository of cultural diversity and of creative expression.




About Royal Enfield

The oldest motorcycle brand in continuous production, Royal Enfield has created beautifully crafted motorcycles since 1901. From its British roots, a manufacturing plant was established in Madras in 1955, a foothold from which Royal Enfield spearheaded the growth of India's mid-sized two-wheeler segment. Riders and a passionate community are fostered with a rich profusion of events at a local, regional and international level. Most notable are Rider Mania, an annual gathering of thousands of Royal Enfield enthusiasts in Goa, and Himalayan Odyssey, a yearly pilgrimage over some of the toughest terrain and highest mountain passes.




A division of Eicher Motors Limited, Royal Enfield operates through more than 2100 stores across all major cities and towns in India and through nearly 850 stores in more than 65 countries around the globe. Royal Enfield also has two world-class technical centres, in Bruntingthorpe, UK, and in Chennai, India. With more than 37% CAGR for the last 5 years and a 108% growth in international market sales in 2021-22, Royal Enfield is the leader in the global mid-size motorcycle market. 




The Royal Society of Chemistry and the Council for Industry and Scientific Research (CSIR) have partnered to support an outreach programme designed to promote the chemical sciences in schools and universities.




About 2000 students across the country participated in RSC's Global Coin experiment organised across over 30 CSIR laboratories.




The two organisations have signed a Memorandum of Understanding (MoU), committing to work together on the CSIR's Jigyasa programme – an India-wide outreach programme aimed at school children and researchers. The MoU will be a non-financial one and will be time-bound for at least three years with an option of renewal.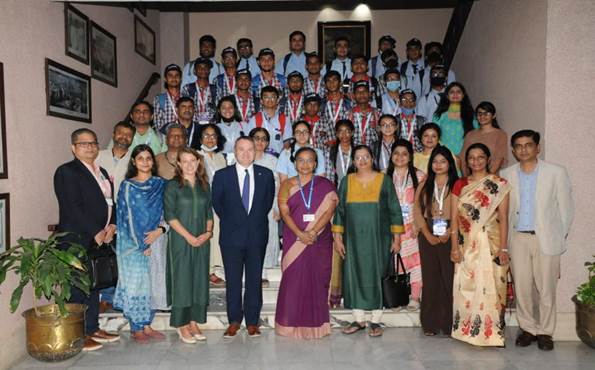 The CSIR is dedicated to research and development across the spectrum of science and technology – from oceanography and mining to chemicals and nanotechnology. The organisation owns a network of laboratories and outreach centres across India.




The Jigyasa programme will complement existing educational programmes in India. For example, the RSC-Jigyasa partnership will help to expand the RSC's existing teacher training programme and Chemistry Camps, and will be launching several online education initiatives.




As part of the launch event for the Jigyasa programme, the collaboration is organising a Global Experiment including all the CSIR's laboratories. At least 2,000 schoolchildren, 150 teachers, and 350 volunteers took part in the 'RSC's Global Coin experiment organised across over 30 CSIR laboratories, in which participants are asked to compare batteries made from different types of coins. The participants will then be able to compare their data with that of participants from around the globe.




The MoU was signed by both organisations at a ceremony on 22 September. It was signed by Dr. Geetha Vani Rayasam from the CSIR and Paul Lewis, Chief Operating Officer, RSC in the presence of Dr N Kalaiselvi, Director General of the CSIR and Dr Venugopal Achanta, Director of National Physical Laboratory (CSIR-NPL).










Paul Lewis, Chief Operating Officer of the RSC, said: "Collaboration is at the heart of everything the Royal Society of Chemistry does, which is why I've travelled to Delhi to sign this agreement with CSIR providing a basis for us to work together to promote the chemical sciences across India for many years to come".




Speaking on the occasion Dr. Kalaiselvi, DG, CSIR, highlighted that S&T is a crucial as India aims for self-reliance and sustainable development not only for the country but the world. She delivered a popular science lecture "Insights into future of battery technology" and emphasized that the partnership with RSC will help in dissemination of science among students and motivate them to be future scientists.




Ajit Sharma, Manager Director, RSC India, added: "We are excited to have the opportunity to collaborate with the Jigyasa programme, which will bring together the considerable expertise and resources of both the RSC and the CSIR to help to provide enhanced learning opportunities for those studying the chemical sciences in India. Our young people will be solving the global challenges of the future, which is why it's so important to provide them with a solid grounding and practical experience in the sciences."




Royal Society of Chemistry




We are an international organisation connecting chemical scientists with each other, with other scientists, and with society as a whole. Founded in 1841 and based in London, UK, we have an international membership of over 50,000. We use the surplus from our global publishing and knowledge business to give thousands of chemical scientists the support and resources required to make vital advances in chemical knowledge. We develop, recognise and celebrate professional capabilities, and we bring people together to spark new ideas and new partnerships. We support teachers to inspire future generations of scientists, and we speak up to influence the people making decisions that affect us all. We are a catalyst for the chemistry that enriches our world.




Council for Industry and Scientific Research (CSIR)




CSIR, established in 1942, is an autonomous society known for its cutting-edge R&D knowledgebase in diverse Science & Technology areas. CSIR is a contemporary Research, Development & Engineering organization having Pan-India presence with a dynamic network of 37 national laboratories. CSIR's R&D expertise and experience is embodied in its 7000 scientific and technical personnel. CSIR today is amongst the foremost and is one of the largest publicly funded scientific and industrial organizations in the world.






<><><><><>




SNC/RR






(Release ID: 1861673)
Visitor Counter : 555













The Royal Canadian Navy's (RCN) Great Lakes Deployment (GLD) 2022 will soon be underway with planned visits to communities along the St. Lawrence Seaway and the Great Lakes, with Her Majesty's Canadian Ships (HMCS) Oriole (May 14 to August 31) and Glace Bay (June 24 to July 29) being this year's GLD ambassadors.

May 13, 2022 – Ottawa – National Defence / Canadian Armed Forces

The Royal Canadian Navy's (RCN) Great Lakes Deployment (GLD) 2022 will soon be underway with planned visits to communities along the St. Lawrence Seaway and the Great Lakes, with Her Majesty's Canadian Ships (HMCS) Oriole (May 14 to August 31) and Glace Bay (June 24 to July 29) being this year's GLD ambassadors.

GLD provides Canadians with a unique opportunity to tour one of Canada's naval ships and to learn about life in the RCN from our sailors. Canadians will be encouraged to stop by, say hello, and speak to our sailors about their experiences on domestic and international operations.

It also provides a learning opportunity about the different trades available in the RCN and hear stories and anecdotes directly from sailors who have chosen the challenge of a career at sea.

If you want to learn more about the Navy, come and see for yourself this summer.

All Great Lakes Deployment activities will strictly follow COVID-19 protocols and public health guidelines.

Visit dates and locations
Visit HMCS Oriole, the Royal Canadian Navy's longest-serving vessel, in one of the following cities:*

Charlottetown, PEI (May 14-15)
Tadoussac, QC (May 19)
Quebec City, QC (May 22-23)
Montreal, QC (May 25)
Brockville, ON (May 28-29)
Kingston, ON ( May 31-June 1)
Hamilton, ON (June 9)
Toronto, ON (June 11-12)
Niagara-on-the-Lake, ON (June 18-19)
Sarnia, ON (June 25-26)
Sault Ste Marie, ON (July 1-3)
Thessalon, ON (July 5)
Little Current, ON (July 7) 
Parry Sound, ON (July 10)
Collingwood ON (July  16-17)
Tobermory, ON  (July 20)
Midland Tall Ships Festival  (July 23-24)
Port Colborne. ON (July 30 – Aug 1)
Kingston, ON (August 8-12)
Oshawa, ON (August 18)
Queenston, ON (August 20)
Charlottetown, PEI (August 30-31)

Visit HMCS Glace Bay in the following cities*:

 Hamilton, ON (June 24 – 29)
 Toronto, ON (June 29 – July 10)
  Oshawa, ON (July 10 – 12)
 Kingston, ON (July 12- 14)
  Montreal, QC (July 15 – 20)
 Quebec City, QC (July 21 – 24)
 Rimouski, QC (July 25 – 29)

Note: *Port dates and locations subject to change

Social Media
Visit our social media channels to plan your visit closer to the date @RoyalCanNavy

Media Relations
Department of National Defence
Phone: 613-904-3333
Email: mlo-blm@forces.gc.ca