WEBWIRE – Wednesday, September 6, 2023
Preliminary second quarter fiscal year 2024 revenue for BlackBerry is estimated to be approximately $132 million

IoT business unit revenue expected to be approximately $49 million, representing 9% sequential growth

Cybersecurity business unit revenue expected to be approximately $80 million, lower than expected, primarily due to certain large government deals not closing in the quarter

Licensing and Other business unit revenue expected to be approximately $3 million

Full-year revenue outlook for Cybersecurity and Licensing reiterated, IoT outlook adjusted to reflect factors including revised production schedules at certain automakers
BlackBerry Limited (NYSE: BB; TSX: BB) today provided a business update and announced selected, unaudited preliminary financial results for the three months ended August 31, 2023 (all figures in U.S. dollars and U.S. GAAP, except where otherwise indicated).
Like many software companies, our Cybersecurity business has experienced elongated sales cycles, particularly in BlackBerrys core government vertical, where we have a strong market position. Given the product mix, delays inclosing certain large deals are expected to impact revenue recognized in the quarter. However, we expect to close these deals this fiscal year and are therefore reiterating the full-year outlook for the Cybersecurity business unitgiven previously, said John Chen, Executive Chair & CEO, BlackBerry. Our IoT business unit continues tocapitalize on its large market opportunity and multi-year secular tailwinds by securing new design wins at a strong rate. However, in the short term we are seeing some automakers shift the start of software development programs, as well as production schedules, and therefore weve revised our current year revenue outlook, but not our long- term targets.
Preliminary Second Quarter Fiscal 2024 Financial Results:
Total company revenue expected to be approximately $132 million.
IoT revenue expected to be approximately $49 million.
Cybersecurity revenue expected to be approximately $80 million.
Licensing and Other revenue expected to be approximately $3 million.
Outlook:
BlackBerry reiterates its full-year revenue guidance for both Cybersecurity and Licensing and Other.
Given the potential impact of factors that include, rescheduling of software development programs and production schedules at certain large automakers and uncertainty in the macroeconomic environment, the full-year revenue outlook for the IoT business unit is now expected to be in the range of $225M to $240M.
Preliminary Financial Results:
The preliminary financial results for the second quarter ended August 31, 2023, are unaudited estimates, and are based on information available to management as of the date of this release and are subject to potential further material changes upon completion of the Companys standard quarter-end closing procedures. In preparing this information, management has made subjective estimates about the appropriateness of certain reported amounts and disclosures. BlackBerrys actual financial results for the three months ended August 31, 2023, have not yet been finalized and remain subject to the completion of managements final review and our other closing procedures.
These preliminary estimated results do not represent a comprehensive statement of all financial results for the three months ended August 31, 2023.
Earnings Conference Call and Webcast:
A conference call and live webcast will be held on Thursday, September 28, 2023 beginning at 5:30 p.m. ET, which can be accessed using the following link (here) or through the Companys investor webpage (BlackBerry.com/Investors) or by dialing toll free +1 (877) 270-2148 and entering Elite Entry Number 6312676.
A replay of the conference call will be available at approximately 8:30 p.m. ET on Thursday, September 28, 2023, using the same webcast link (here) or by dialing Canada toll free +1 (855) 669-9658 or US toll free +1 (877) 344- 7529 and entering Replay Access Code 4522458.
About BlackBerry
BlackBerry (NYSE: BB; TSX: BB) provides intelligent security software and services to enterprises and governments around the world. The company secures more than 500M endpoints including over 235M vehicles. Based in Waterloo, Ontario, the company leverages AI and machine learning to deliver innovative solutions in the areas of cybersecurity, safety and data privacy solutions, and is a leader in the areas of endpoint management, endpoint security, encryption, and embedded systems. BlackBerrys vision is clear – to secure a connected future you can trust.
BlackBerry. Intelligent Security. Everywhere.
For more information, visit BlackBerry.com and follow @BlackBerry.
Investor Contact:
BlackBerry Investor Relations
+1 (519) 888-7465
investorrelations@blackberry.com
This news release contains forward-looking statements within the meaning of certain securities laws, including under the U.S. Private Securities Litigation Reform Act of 1995 and applicable Canadian securities laws, including statements regarding BlackBerrys plans, strategies and objectives including its expectations with respect to its second quarter and full fiscal year 2024 financial results, and the timing, structure and financial impacts of certain contracts under negotiation.
The words expect, anticipate, estimate, may, will, should, could, intend, believe, target, plan and similar expressions are intended to identify these forward-looking statements. Forward-looking statements are based on estimates and assumptions made by BlackBerry in light of its experience and its perception of historical trends, current conditions and expected future developments, as well as other factors that BlackBerry believes are appropriate in the circumstances, including but not limited to, the matters noted above under preliminary financial results, BlackBerrys expectations regarding its business, strategy, opportunities and prospects, the launch of new products and services, general economic conditions, competition, and BlackBerrys expectations regarding its financial performance. Many factors could cause BlackBerrys actual results, performance or achievements to differ materially from those expressed or implied by the forward-looking statements, including, without limitation, risks related to the following factors: BlackBerrys strategic review of its businesses, including risk related to BlackBerrys ability to realize the benefits of any strategic alternatives being explored and risk that uncertainty relating to the review may adversely impact the Companys business and relationships with its partners, customers and employees; BlackBerrys ability to enhance, develop, introduce or monetize products and services for the enterprise market in a timely manner with competitive pricing, features and performance; BlackBerrys ability to maintain or expand its customer base for its software and services offerings to grow revenue or achieve sustained profitability; the intense competition faced by BlackBerry; the occurrence or perception of a breach of BlackBerrys network cybersecurity measures, or an inappropriate disclosure of confidential or personal information; the failure or perceived failure of BlackBerrys solutions to detect or prevent security vulnerabilities; BlackBerrys continuing ability to attract new personnel, retain existing key personnel and manage its staffing effectively; litigation against BlackBerry; BlackBerrys dependence on its relationships with resellers and channel partners; acquisitions, divestitures and other business initiatives; the impact of the COVID-19 pandemic; network disruptions or other business interruptions; BlackBerrys ability to foster an ecosystem of third-party application developers; BlackBerrys products and services being dependent upon interoperability with rapidly changing systems provided by third parties; BlackBerrys ability to obtain rights to use third-party software and its use of open source software; failure to protect BlackBerrys intellectual property and to earn expected revenues from intellectual property rights; BlackBerry being found to have infringed on the intellectual property rights of others; the substantial asset risk faced by BlackBerry, including the potential for charges related to its long-lived assets and goodwill; BlackBerrys indebtedness; tax provision changes, the adoption of new tax legislation or exposure to additional tax liabilities; the use and management of user data and personal information; government regulations applicable to BlackBerrys products and services, including products containing encryption capabilities; environmental, social and governance expectations and standards; the failure of BlackBerrys suppliers, subcontractors, channel partners and representatives to use acceptable ethical business practices or comply with applicable laws; regulations regarding health and safety, hazardous materials usage and conflict minerals; foreign operations, including fluctuations in foreign currencies; adverse economic, geopolitical and environmental conditions; the fluctuation of BlackBerrys quarterly revenue and operating results; the volatility of the market price of BlackBerrys common shares; and rising inflation.
These risk factors and others relating to BlackBerry are discussed in greater detail in BlackBerrys Annual Report on Form 10-K and the Cautionary Note Regarding Forward-Looking Statements section of BlackBerrys MD&A (copies of which filings may be obtained at www.sedar.com or www.sec.gov). All of these factors should be considered carefully, and readers should not place undue reliance on BlackBerrys forward-looking statements. Any statements that are forward-looking statements are intended to enable BlackBerrys shareholders to view the anticipated performance and prospects of BlackBerry from managements perspective at the time such statements are made, and they are subject to the risks that are inherent in all forward-looking statements, as described above, as well as difficulties in forecasting BlackBerrys financial results and performance for future periods, particularly over longer periods, given changes in technology and BlackBerrys business strategy, evolving industry standards, intense competition and short product life cycles that characterize the industries in which BlackBerry operates. Any forward-looking statements are made only as of today and the company has no intention and undertakes no obligation to update or revise any of them, except as required by law.
Investigation reports on four incidents involving Boeing 787 passenger aircraft published

*****************************************************************************************


     The Air Accident Investigation Authority (AAIA) today (August 11) published the investigation reports (3/2023 to 6/2023) on the investigations into four incidents involving Boeing 787 passenger aircraft which deviated from their courses while approaching Hong Kong International Airport (HKIA) between July and October 2019.

     In the four incidents, the aircraft deviated from the localizer courses during Instrument Landing System approaches to landing at HKIA. The pilots then assumed manual control of the aircraft which landed safely afterwards. None of the aircraft was damaged and no one was injured in the incidents.

     The investigation concluded that the incidents were caused by a software issue in the Autopilot Flight Director System of the aircraft. The investigation team has made one safety recommendation and the aircraft manufacturer has taken relevant action.

     The investigation team also identified an audio quality issue during a review of audio recording of a cockpit voice recorder in one of the incidents. The investigation team has made one safety recommendation based on which the aircraft manufacturer is reviewing the necessary actions.

     The investigation was conducted by a team of professional investigators in strict adherence to international standards established by the International Civil Aviation Organization (ICAO). "The objective of the investigation was to identify the circumstances and causes of the incidents with a view to preventing a recurrence," an AAIA spokesperson said.

     Throughout the investigation, all parties concerned were properly consulted on the reports. The reports are available for download on the AAIA webpage (www.tlb.gov.hk/aaia/eng/investigation_reports/index.html). 

     The AAIA is an independent investigation authority responsible for the investigation of civil aircraft accidents and serious incidents in accordance with the Hong Kong Civil Aviation (Investigation of Accidents) Regulations (Cap. 448B) and with reference to the ICAO's standards.

Sewio, a UWB-based real-time location system (RTLS) vendor, announces an exceptional 71% annual billing growth for FY 2022, showcasing its accelerated adoption and recognition as first-time-right technology for Industrial RTLS.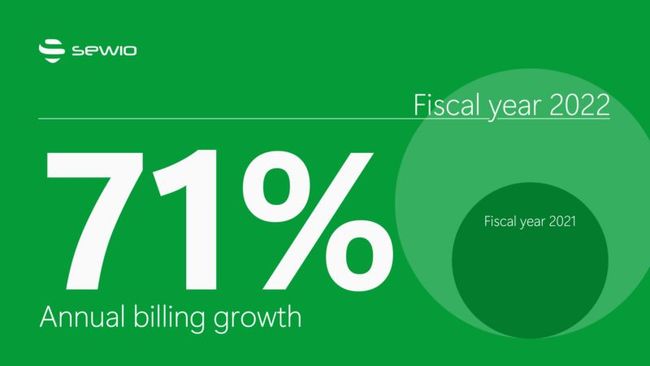 Sewio Record Fiscal Year

Sewio's remarkable fiscal year witnessed a significant global expansion, with services now available in 15 additional countries, making for a total presence in 45 countries worldwide. This expanded footprint underscores Sewio's adaptability to various market needs and reinforces the company's viability as a leader in the RTLS industry.

The company's solutions have been chosen by several industry giants, with names such as Denso, Volvo, Hyundai, KIA, Witte, Arconic, Engel, and Scania among its valued customers. Furthermore, Sewio's RTLS technology has been deployed across 1,672,000 square meters of industrial shop floors in FY2022, marking a significant milestone towards the company's ambitious vision to transform 10,000,000 m2 by 2028.

"Sewio's unprecedented growth in fiscal year 2022 signifies a pivotal moment in our journey," said Milan Simek, CEO and Co-founder of Sewio "Our steadfast dedication to providing cutting-edge RTLS solutions has enabled us to enter new markets and strengthen our relationships with both our partners and industry leaders. We remain committed to our mission to create the most efficient and safe environments possible and look forward to another year of innovation and growth."

Additionally, Sewio has further expanded the world's largest RTLS partner network, welcoming 20 new partners and increasing the total to 112 with a strong presence of 78 in Europe and 17 in the USA. It remains committed to its customer-centric approach, with the broad partner network allowing clients to select from a pool of unique expertise.

Looking forward, Sewio aims to continue its momentum into its 10th year in the market, focusing on further innovation, growth, and success. The upcoming annual Sewio Summit, scheduled to take place in Prague, Czech Republic this September, will be an exciting platform to explore the future of RTLS and celebrate the company's achievements.

For more information about Sewio and its suite of RTLS solutions, please visit: https://www.sewio.net/sewios-record-breaking-fiscal-year-7-aspects-of-remarkable-growth-in-fy-2022/

About Sewio Networks

Sewio Networks is a manufacturer of a real-time location system (RTLS) that drives business results for manufacturers, warehouses, distribution centers, OEMs, and more. The Sewio system is built on ultra-wideband technology (UWB) and delivered with RTLS Studio, remote management and visualization software.

By giving partners and customers a precise, easy-to-integrate, reliable and fully scalable IoT solution for indoor location tracking, this enables companies to achieve greater efficiency, profitability and safety. Founded in 2014, Sewio has offices in the USA, UK, Germany and the Czech Republic. Sewio has 100+ system integration partners and powers customers in 45 countries. Sewio customers include Volkswagen, Toyota, Budweiser Budvar, TPCA, Skoda and ENEL. All product and company names herein are trademarks of their respective owners.

Contact Information
Petr Passinger
CMO
petr.passinger@sewio.net
+420777144172


Topic: Press release summary

Hypebeast Limited (Stock Code: 0150.HK) is the global leading platform for contemporary culture and lifestyle, and a premier destination for editorially-driven news and commerce. The Group announced its annual results for the year ended 31 March 2023 ("FY2023"). The Group recorded revenue growth in FY2023 with revenue amounted to HK$960 million, up from HK$895.6 million in FY2022, representing an increase of HK$64.3 million or 7.2%. Eliminating an one-off professional fee related to the planned merger (the "Merger"), and non-cash operating expenses such as impairment of assets and change in fair value of financial assets at fair value through profit and loss ("FVTPL"), the Group would record adjusted EBITDA of HK$93.1 million and adjusted net profit of HK$27.9 million.

— The Group recorded revenue growth in FY2023, with revenue amounted to HK$960 million, up from HK$895.6 million in FY2022, representing an increase of HK$64.3 million or 7.2%.

— 12-month average website monthly unique visitors (number of users who request webpages across Hypebeast, Hypebae and Popbee platforms in a month) amounted to 18.8 million, representing a 14.6% increase over FY2022.

— Aggregated social media following (defined as the total number of followers on all third-party social media platforms, including but not limited to Facebook, Instagram, Twitter and TikTok) increased by 4.9%, from 32.4 million as at 31 March 2022 to 34.0 million as at 31 March 2023.

Positive forecast on the Media Segment over the long term
Under the Media Segment, the Group noted consistent demand for event production and offline partnerships, particularly in Europe and North America. Although the Media Segment in the Asia Pacific region was impacted by COVID-19 related policies in FY2023, with the pandemic and related restrictions drawing to a close, management believes demand in the region will resume growth amongst broader increases in consumer spending and increased demand for media and agency services.

After COVID-19, the Group has identified new ways to connect with niche audiences. The digitalization of advertising has accelerated, resulting in global brands shifting marketing dollars from traditional channels to digital channels. As a result, the Group forecasts a positive effect on the Media Segment with an increase in the number and size of media contracts over the long term, and the future of brand activations to incorporate both live experiences and digital interactions.

The Group has proactively adjusted to the new macroeconomic environment and industry dynamics in the post-COVID era. Our value proposition, centered around immersive media campaigns that blend real-life experiences, omnichannel engagement and digital amplification, remains attractive to global brand partners. The Group continues to see sales growth and new opportunities with clients in expanding categories like alcohol, automobiles, travel, and financial services.

A broadened reach: Expanding user-customer base and footprint
In aim to attract and reach a wider user-customer base, the Group continued to develop new editorial properties, particularly into adjacencies such as golf, arts and entertainment, and other content that appeals to our audience. The Group further expanded its regional footprint globally by presenting the cultural festival, BRED Abu Dhabi, which offered fully immersive experiences ranging from fashion and music to art across the site as well as an exclusive retail space. In terms of digital presence, the Group launched Hypebeast Latin America and Hypebeast Africa, where the platforms offered quality contents tailored to the unique interests and preferences of the new regions. To drive the Group's brand awareness and increase engagement with wider and new users and customers, the Group will continue to explore similar opportunities by curating region specific content, and establishing various offline channels and touchpoints.

The New York Flagship Building: An intersection of Commerce and Media
In June 2022, the Group opened its flagship building at 41 Division Street in Manhattan, New York. The flagship location hosts the Group's HBX retail store, a Hypebeans cafe and multifunctional spaces for cultural activations, events and Media Segment sales campaigns. The space will be a strong accelerator for the Group's growth in North America and core point of marketing for the E-commerce and Retail Segment, and an attractive venue for Media brand partnership executions. Several high profile sales campaigns and cultural events were hosted at the space during FY2023, and the Group continues to realize its strategy of omnichannel and immersive experiences with retail execution at the New York flagship location.

By integrating its E-commerce and Retail Segment services directly with the compelling and engaging content produced from the Group's media platforms and its loyal and engaged follower community, the Group continues its cadence in monetizing its wide-reaching and ever-growing follower base by encouraging user conversion. With the ultimate aim to allow the Group's loyal community of readers to enjoy a seamless shopping experience on an integrated site and mobile app, the Group continued to upgrade and invest on the HBX platform and various back-end platforms to enhance its user journey. The Group remains focused on value-added, return-on-investment driven upgrades to its E-commerce capabilities on broadening its reach and base of customers and enhancing revenue and margin over time.

Hypebeast Ltd. is geographically and strategically well-positioned to capture significant growth opportunities in both its Media, and E-commerce and Retail Segments in its key operating regions, through leveraging the Group's brand popularity and high-profile networks, particularly, in the U.S., United Kingdom, Mainland China, South Korea, Japan and Southeast Asia.

For further details on the Annual Results performance, visit the Group's corporate website to view the full results announcement.
https://hypebeast.ltd/investors

For investor inquiries, please contact:
investors@hypebeast.com

For more information, please contact:
media@hypebeast.com

About Hypebeast Ltd.
Hypebeast is a leading global platform for contemporary culture and lifestyle, and a premier destination for editorially-driven news and commerce. Founded in 2005, it became a publicly listed media company in 2016, and today boasts a global readership across North America, Asia Pacific, Europe and more. The Group has expanded its publishing brands to a wider scope, encompassing Hypebeast and its multiple content distribution platforms, creative agency Hypemaker, and e-commerce and retail platform HBX. For more information, visit https://hypebeast.ltd/investors.


Topic: Press release summary

HTSC (stock code: 6886.HK ; "the Company"), a leading global financial services provider, is pleased to announce the Company's annual results for the year ended December 31, 2022.

— Revenue for the year was RMB 46.82 billion
— Profit attributable to shareholders amounted to RMB 11.05 billion
— Total equity attributable to shareholders of the Company grew 11.23% year-on-year to RMB 165.09 billion.
— The Company proposed a final dividend of RMB 0.45 per share

The wealth management business reported a revenue of RMB 23.48 billion and continued to account for the majority of the Company's total revenue of 50.15%. Revenues from the institutional services business and investment management business were RMB 8.13 billion and RMB 2.27 billion, accounting for 17.37% and 4.85%, respectively, of the Company's total.

The international business segment posted a record revenue of RMB 9.41 billion despite global economic challenges, growing by 19.28% year-on-year and accounting for 20.10% of the Company's total. During the year, the Company was ranked second as a sponsor amongst Chinese securities companies in Hong Kong by amount.

HTSC's US subsidiary AssetMark – a leading US turnkey asset management platform (TAMP), with total assets under management of USD 91.47 billion as of December 31, 2022, continued to provide a stable stream of revenue for the Company's international business. As of the end of the third quarter 2022, AssetMark's market share in the US TAMP industry was 11.2%, ranking third in the industry. In addition, Huatai International applied to establish a wholly-owned subsidiary in Singapore and received a "no-objection" letter from the China Securities Regulatory Commission (CSRC) in September 2022.

The trading volume of stocks and funds in 2022 amounted to RMB 38.76 trillion, as the Company retained the top spot in the industry. Equity and mixed mutual funds and non-money-market mutual funds sold by HTSC amounted to RMB 122.6 billion and RMB 136.7 billion, respectively, both ranking second in the securities industry. HTSC's fund advisory service platform had approximately 617,600 users, with the size of authorized assets reaching RMB 13.91 billion. As of the end of 2022, the balance of the margin financing and securities lending business was RMB 112.35 billion, maintaining a market share of 7.29%. "ZhangLe Wealth", HTSC's wealth management app, remained the top brokerage app in China with 9.27 million monthly active users in average.

In 2022, the Company completed 81 equity underwriting deals, with principal underwriting for equities amounting to RMB 155.37 billion, ranking fourth in the industry for both the number and volume of transactions. Principal underwriting for bonds amounted to RMB 980.40 billion, as the Company retained the third rank in the industry. The Company advised on nine M&A and restructuring projects that were approved by the CSRC, with a total transaction volume of RMB 165.07 billion, ranking second in the industry for both the number of approved transactions and total transaction volume.

The Company continued to advance its ESG initiatives, taking into consideration the needs of all stakeholders within HTSC's ecosystem. Last year, the Company received an A rating for ESG from MSCI for the second year in a row, ranking top among Chinese securities companies. In March 2022, the Company, through Huatai Foundation, launched two philanthropic funds totaling RMB 30 million to support rural revitalization and environmental conservation projects, making positive social impact by giving back to the community and promoting sustainable development.

For enquiries, please contact:
Citigate Dewe Rogerson
Benny Liu
Tel: +86 10 6567 5056
Linda Pui
Tel: +852 3103 0118
Email: HTSC@citigatedewerogerson.com


Topic: Press release summary