NEW YORK, NY, Dec 7, 2022 – (ACN Newswire) – Nonfinite is proud to announce that Nonfinite will be using Binance as one of their liquidity partner for the BTC/USDT spot trading via Binance, Kucoin, and Bitfinex Instituional. Nonfinite will allow their users to deposit and withdraw to their Binance, Kucoin, and Bitfinex wallet address instantly without fees.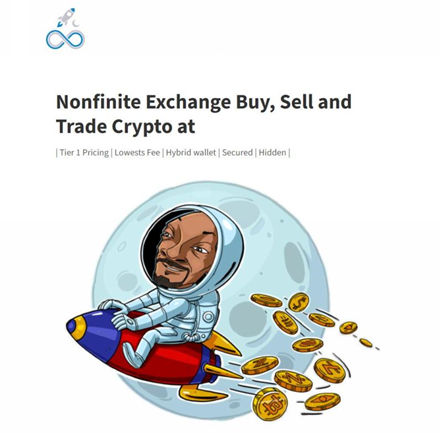 Oh Shen King, CEO of Nonfinite labels this as the swap transaction optimization. Nonfinite users can save gas fees. At the same time, they are able save the energy consumption on blockchain mining. Currently the declared blockchain mining consumption is taking up as much 150 terawatt-hours of electricity annually.
Nonfinite runs crypto business for years, but they care about solutions to minimize carbon neutrality footprint. Nonfinite also provide their users with a new feature, they call it as Checker.
Nonfinite CEO says, "Checker allows our users to identify or check their incoming transaction address sources are reputable or flagged addresses. Sometimes, an address could be link to multiple transaction which involve illegal issues or money laundry. Checker can provide a good solution for a more secure trading environment."
Nonfinite CEO adds, "We don't want our big whales, wallet address link to all those activity, we doing our best to serve our whales and traders. With this feature Nonfinite user able to verify the sender address first before accept the crypto from the sender, as well as their receiver address is in good standing before sending them crypto. We will do our best to serve big whales and traders. With Checker's solution, all users are able to verify the sender's address before accepting crypto payment. Also they can make it clear if the recipient address in good condition before sending the crypto to them."
Nonfinite is also currently in progress to join Blockchain.info Kucoin, and Coinbase's institutional partner program.
Social Links
Instagram: https://www.instagram.com/nonfinite.ex
Media Contact
Media team, Nonfinite
Email: admin@nonfinite.com
Website: https://nonfinite.com
SOURCE: Nonfinite


Topic: Press release summary



Glassnode, the global leader in on-chain and market data intelligence, has acquired the popular crypto tax and portfolio tracking platform Accointing.com. This acquisition combines the services provided by both companies bringing users more value than ever before.
Glassnode provides digital asset traders and investors with a comprehensive market intelligence suite, encompassing cutting-edge metrics across on-chain and crypto-financial data, delivered through intelligible and actionable charts. Glassnode's intelligence and insights are utilized by hundreds of thousands of investors daily, helping them navigate the intricate complexities of the crypto space. Glassnode's ultimate mission – to build crypto's leading market and portfolio intelligence platform that empowers investors to compound and protect their digital assets – is now one significant step closer to fruition thanks to the recent acquisition of Accointing.com. Glassnode users can now take advantage of Accointing.com's conveniently contextualized, holistic view of their portfolio assets across wallets and exchanges, as well as Accointing.com's automated crypto tax compliance and reporting features.
"Accointing.com is one of the industry's leading tax and portfolio tracking platforms with hundreds of thousands of users on web and mobile. Its precise tracking and tax reporting capabilities across decentralized and centralized services have made it a perfect companion for our path forward," said the Glassnode Team.
With the integration of Accointing.com, users now have the ability to track their portfolio in a single holistic view, empowering investors to understand tradeoffs between new profitable opportunities, existing portfolio positions, and tax-optimized trades. Integrating Accointing.com's product lines with Glassnode will ultimately unlock the true value of market intelligence by contextualizing insights to users' portfolios and helping them maximize their ROI.
In the coming months, Glassnode will combine the entire user journey – from market intelligence over portfolio management to tax-reporting compliance – in a single platform. While currently, the portfolio tracking features are free for all users for unlimited transactions, the integration of the two platforms will eventually allow Glassnode users to create a personalized view of the market with respect to their specific investment strategies and portfolio holdings.
As of now, every user can access both platforms using the same login, making it easier to navigate seamlessly between products. This way, Glassnode users can enjoy free access to valuable features such as portfolio tracking and tax reporting, including Accointing.com's unique Trading Tax Optimizer that helps preserve capital and minimize potential losses during the current crypto bear market.
To learn more about Accointing by Glassnode visit www.glassnode.com/accointing. For more information on Glassnode's Market Intelligence, visit www.glassnode.com.
About Glassnode
Glassnode is the industry's leading blockchain data and intelligence platform. We equip investors with the most comprehensive library of on-chain and financial metrics to help them make better investment and trading decisions.
About Accointing.com
Accointing.com is a crypto portfolio tracking and crypto tax report generation software. We make tracking your crypto net worth easier and streamline the creation of crypto tax reports that abide by country-specific legislation.
NEW YORK, NY, Aug 8, 2022 – (ACN Newswire) – JPEX, a centralized crypto exchange platform, has announced the launch of its native token, JPC. With over a hundred million users and multiple crypto support, JPEX's decision to launch a token aligns with the team's goal to continually integrate wholesome, advanced, and cutting-edge features into the ecosystem. And as a token, JPC will contribute immensely to the growth of JPEX and add liquidity to the centralized exchange platform.
JPEX, through JPC, aims to improve the market capitalization of exchange-backed tokens, setting the nascent crypto trend on a unique path.
JPC will launch officially on Monday, August 8th, 2022, at expressly 22:00 [GMT] on the JPEX platform.
How JPC Will Impact JPEX and the Crypto Market
As the NFT wave continues to attract more collectors and brands, various centralized crypto exchanges such as Binance, Crypto.com, and Coinbase have launched marketplaces, simplifying the NFT buying and selling process for users. JPEX, backed by a team of innovative, vibrant, and committed individuals, has its eyes set on the NFT space and could enter the market soon. The eventual entry into the NFT space will see JPC become the primary digital asset for transactions on the JPEX NFT marketplace. Thus, opening up more opportunities for digital art collectors.
With JPEX currently offering several earning options for users, the launch of JPC further provides the centralized exchange an opportunity to introduce staking, widening the reward gap for existing and potential users. JPC could serve as a reward token for users keen on committing a percentage of their holdings to the platform.
JPC possesses all of the pivotal characteristics of money—scarcity, durability, legitimacy, utility, transferable, and divisibility. These indispensable facets make it an ideal token with the potential of gaining mainstream adoption and acceptance as a transactional currency.
The JPC Lottery
Set to launch on Monday, August 8th, 2022, JPC will be available for trading on the JPEX exchange. To celebrate the token launch, JPEX will host a JPC Lottery where users can win 20 million JPC tokens.
The lottery will run from July 27th to August 3rd with a fixed price of 200 USDT. In an unprecedented fashion, JPEX will return the lottery fee – 200 USDT – to non-winners.
JPC is the second token to launch on the JPEX launchpad, LPG the first. However, it has managed to rake in more users and the number of tokens bought than the latter. JPC's first presale saw over 20,000 users and more than 20 million tokens purchased compared to LPG's 8,000 users. Notwithstanding, LPG experienced an over 70% surge in price immediately after launch, and with JPC more widely received, the price surge could be double or triple of the former's.
As an ERC-20 token, JPC will offer a ton of benefits, ranging from JPEX voting rights to Friend Promise rewards, metaverse and NFT trade discounts, an increase in asset insurance, and benefits from pledging a specific amount of tokens.
About JPEX
JPEX is one of the most accessible centralized exchanges for quick, transparent, and legitimate buying and selling of cryptocurrencies. With millions of users, the launch of JPC as a native token will further cement the platform's stance as one of the market leaders. JPC will introduce essential features to the exchange, attracting more users and retaining existing customers.
Social Contact
Twitter: https://twitter.com/ExchangeJpex
Instagram: https://www.instagram.com/jpex_official/
Telegram: https://t.me/jpexannouncement
Facebook: https://www.facebook.com/JPEX-Exchange-100535999063470
Discord: https://discord.gg/3CZmeZ9m
Media Contact
Media team, JPEX
Email: marketing@jp-ex.io
Website: https://jp-ex.io/
SOURCE: JPEX


Topic: Press release summary


 Crypto is seen as everything from the currency of the future to a very risky investment. Over the past few years, crypto has started to change the way we look at money.
Different payment methods for buying crypto have started to surface, with over 130 shown at Crypto Lists' overview of deposit methods.
The co-founder of Crypto Lists Ltd, Markus Jalmerot, says: "Depositing into a crypto exchange should be quick and simple. That's why Crypto Lists feature the most trusted exchanges and platforms available to get started with from 100s of different deposit methods."
One of the most rapidly growing and globally used crypto deposit methods is e-wallets, available in over 180 nations. While being available from almost every country, there are many country-specific funding methods in the top list.
For those looking for cash payment and anonymity, there are also lots of options. For some of them, visiting a nearby local post office or corner shop could be enough.
Crypto investors looking for minimal fees often consider the peer-to-peer (P2P) deposit option, but even if this alternative is attractive in terms of low charges, the risk is higher for scams compared to more established methods. With peer-to-peer payments, crypto sites anonymously pair buyers and sellers and assist in every step of the transaction.
In volatile market conditions, many crypto investors prefer doing deposits in the most popular stablecoins. Some of the newest stablecoins are now denominated in Euro or GBP, giving a different currency exposure compared to the USD.
As the cryptocurrency movement grows, so too will the choice of payment methods as more organizations see the benefit of getting involved. The methods shown above are just some of the newer and more different ways to deposit fiat funds for the purchase and trade of cryptocurrencies. Crypto Lists estimates that an increasing amount of country-specific funding options will come to market in the next few years. While e-wallets is the second most popular deposit method after debit cards, it's likely that cryptocurrencies will become the most common deposit option over time.
Note: The crypto market is very volatile, and cryptocurrencies are risky investments. Historical returns in the market are no guarantee of future returns.
Crypto Lists Limited
Markus Jalmerot
+351911065323
https://www.cryptolists.com

Contact

Categories
Banking & Financial Services
Cryptocurrency
Finance
SEATTLE – June 14, 2022 – PRLog — Crypto Chicks, a generative NFT art collection featuring women of diverse backgrounds, has announced today that it has reached an amicable resolution with artist Amanda Costa. In early 2022, an allegation surfaced that an image from the "OG" collection launched by the Crypto Chick's founding team was similar to a piece of Costa's work titled "Karma". It sparked an immediate internal inquiry, which resulted in the full departure of the founding team. As the new leadership team took the reigns, they kicked off a series of proactive improvement efforts, including the recent resolution with Costa as the original artist of "Karma".
"It was shocking and devastating to learn of the allegation with the original collection as it directly contrasts with our ethos and values at Crypto Chicks," said newly appointed Crypto Chicks CEO Elissa Maercklein. "While we were not involved in the collection's creation, finding a resolution was important to us and our community. We are thrilled to have an amicable conclusion."
"Our mission and goal at Crypto Chicks is to elevate and support women in Web3," added Madeline Lieber, new COO at Crypto Chicks. "From the moment we learned about the issue with the original collection, we took action. We are happy that we've reached a solution with Amanda and are excited about what's next together and for our communities."
As a women-led, generative NFT collection, Crypto Chicks is dedicated to building a global brand and community that empowers women in web3 under its new leadership team. The organization manages a number of programs that support women artists financially, provide skillset development opportunities for designers, and create productive spaces for women in the industry to connect – both across industry events and Metaverse pop ups.
In addition to resolution with the artist and leadership change, a USA-based entity was created by the new team. The organization has also established processes to help prevent and address future issues with creators and collections, including a community council, advisory board and other efforts. The resolution includes funds from the Crypto Chicks team and community to help support Costa's future career, as well as advocacy for her upcoming Fenix project.
"This has been very difficult for me, but I'm appreciative that the new Crypto Chicks leadership team acknowledged my misfortune in this space and chose to support me ," Costa said. "This has brought me to the NFT space to meet some incredible people, and I am very excited to launch my new project, Fenix, which will be meaningful in changing my life and financially supporting me as an artist."
"Art and business integrity concerns have been prevalent in Web3 as organizations and creators navigate this new and nascent space," added Maercklein. "We hope that our experience can serve as guidance to further our industry's, and creators', growth and success."
For more information about Crypto Chicks, visit https://www.cryptochicks.app/
For more information about Amanda Costa's upcoming collection Fênix, visit https://illustramanda.com/