Washington, D.C. – WEBWIRE – Wednesday, May 10, 2023
The Biden administrations ban on asylum, announced today, undermines therights and safety of hundreds of thousands of migrant children and families, most of whom are fleeing unimaginable violence and disasters. Save the Children strongly opposes this ban, and haslong urgedthe Biden administration not to enact such devastating restrictions.This ban will go into effect tomorrow, whenTitle 42ends.
In barring asylum, the United States government is subjecting asylum-seeking families and children to moreand unnecessarydanger and violence, said Janti Soeripto, President and CEO of Save the Children.
The asylum ban will cause family separations and force children and families to seek refuge in countries in which asylum protections are lacking or non-existent. The United States must be committed to protecting human rights and providing a safe haven for those in need. As weve said time and time again, while we understand the complexities of rebuilding a broken immigration system, policies that put children and families in danger are not the solutiontheyre unacceptable, morally and legally.
Victoria Ward, Regional Director for Save the Children in Latin America and the Caribbean, said:
While we welcome the potential for simpler asylum processing, some of the new measures in this policy could increase the dangers facing migrant children and their families. We also worry that more children will travel unaccompanied. Other potential threats to children and families under this new policy are an increased risk of deportation from countries throughout the region once they leave their nation of origin. It is also possible that across the Americas we will see increases and xenophobia and discrimination against migrants and higher rates of sexual exploitation, violence from gangs, and organized traffickers.
The organization also notes that the new policy does not address childrens unique needs. We are concerned about how rapid expulsions and asylum applications could affect children and adolescents, especially those who are unaccompanied, said Ward.
In Latin America and the Caribbean, Save the Children is assessing the situation in the countries that will be the most impacted by the changes that these measures could cause. Guatemala and Colombia are a particular focus, as they will host regional centers announced by the US administration. One of the organizations concerns is the lack of information about how children and families on the move to the US should proceed when the new policy goes into effect.
In the United States, Save the Childrentogether with its US political advocacy arm,Save the Children Action Networkwill continue to advocate on behalf of children and families to ensure their rights are upheld, and that they are treated legally and humanely, with dignity and respect. And, in partnership with a network of shelters and social service agencies across the length of the U.S.-southern border, Save the Children stands ready to welcome migrants and support any increased humanitarian needs that may arise.
###
Save the Childrenbelieves every child deserves a future. Since our founding more than 100 years ago, weve changed the lives of more than 1 billion children. In the United States and around the world, we give children a healthy start in life, the opportunity to learn and protection from harm. We do whatever it takes for children every day and in times of crisis transforming their lives and the future we share.
Children celebrate Christmas in hospitals (with photos)

*******************************************************


The following is issued on behalf of the Hospital Authority:

     Christmas is a time for celebration. The Duchess of Kent Children's Hospital at Sandy Bay (DKCH) and Hong Kong Children's Hospital (HKCH) arranged various Christmas activities for paediatric patients so that they can still enjoy the happiness of festive season while staying in the hospital.

     It is a tradition for Santa Claus to visit DKCH on Christmas day. This year, our healthcare staff dressed up as Santa Claus and different cartoon characters to visit the children in the hospital, presenting gifts and Christmas meals, bringing the children a joyful festive season.

     HKCH also arranged activities to celebrate Christmas with patients and relatives. Hospital staff visited the wards to present children with gifts and play fun games with them. They also sang Christmas carols to spread joy and blessings, enjoying the festive season together.

     We wish the children a peaceful and joyful Christmas and a speedy recovery.

Commission on Children convenes 15th meeting

********************************************


     The Chief Secretary for Administration, Mr Chan Kwok-ki, today (November 21) chaired the 15th meeting of the Commission on Children.



     At the meeting, the Government briefed members on the progress of the Pilot Project on Tier 1 Support Services in Kindergartens (KGs)/KG-cum-Child Care Centres (CCCs) implemented since August 2020. Under the Project, the Social Welfare Department has commissioned non-governmental organisations to run project teams to provide early intervention services for over 2 400 Tier 1 children awaiting assessment by Child Assessment Centres under the Department of Health, or assessed by the Centres to have borderline developmental problems, in about 80 KGs or KG-cum-CCCs that participate in the On-site Pre-school Rehabilitation Services. Members noted the preliminary findings of the evaluative study, which showed that about 70 per cent of the participating children had achieved progress in a number of areas such as cognition, language development and social/self-care skills; parents considered the relevant training useful in fostering positive parenting and reducing stress; and schools found a classroom setting flexible and non-labelling. Members heeded the synergy achieved by having the same service provider serve children with different levels of special needs in the same KGs or KG-cum-CCCs.



     Members noted the health status of children in Hong Kong during the COVID-19 epidemic and discussed the impact of the epidemic on the physical, mental and social well-being of children. Members expressed concern about children's lifestyle during the epidemic having resulted in increased overweight, vision and mental health problems. Members offered views on how to address children's needs when social activities are being resumed, and improve their physical and mental health. Suggestions included strengthening the promotion of early and timely COVID-19 vaccination for children and adolescents; providing health-related information for parents and students; encouraging students to develop a healthy lifestyle and participate in physical activities; and enhancing training for teachers and school personnel in order for them to identify early, and then cater for, students' mental health needs. The Commission will conduct a stakeholder engagement session in December 2022 to gather views of professionals, parents and children on how to strengthen support for the mental health of children with specific needs.



     Members were updated on the follow-up actions on the recommendations in the Review Report of the Residential Child Care and Related Services. Members noted that the Government had identified areas requiring focused efforts for improvement, including service monitoring and supervision, service quality and service planning. The Social Welfare Department has started following up the recommendations. Actions taken included, in particular, strengthening inspection and enforcement efforts, and setting up service quality groups comprising Justices of the Peace and independent persons from different backgrounds of the community to conduct unannounced inspections at residential child care centres.



     In addition, members noted that the Government had completed the stakeholder engagement exercise on the legislative proposal on the mandatory reporting requirement for suspected child abuse cases and reported on the outcome to the Panel on Welfare Services of the Legislative Council on November 14. Members also noted the stakeholders' support in general for the legislative proposal and their offering of views on implementation details, including reporting criteria, obligations and safeguarding provisions of making reports, resources and supporting measures, as well as public education and promotional work. The Government aims to introduce a bill into the Legislative Council in the first half of 2023.

The Community Arts and Music Programs (CAMP) is one of the many programs at the Jay and Linda Grunin Center for the Arts that has helped transform arts engagement in Ocean County.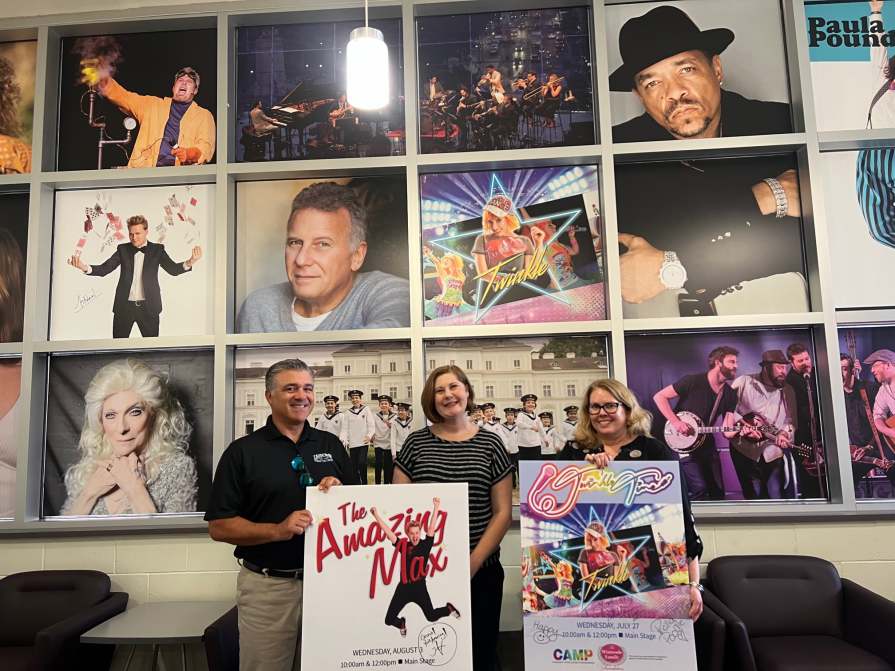 The Community Arts and Music Programs (CAMP)

TOMS RIVER, N.J. – Sept. 29, 2022 – PRLog — "The coolest thing just happened in this room… and everybody saw it," said the Amazing Max Darwin. "If you [the audience] just saw a beautiful young lady floating in the air, please raise your hand [hands go up all around the theatre]. You were FLOATING [pointing to Catherine]. Look… everybody saw it. So now your name is not Catherine. You are Catherine the floating girl."

With her eyes wide and mind bewildered, Catherine was in awe that she was part of something that could only be described as one thing – magical. It was a moment that she will remember forever.

Experiences like this happen regularly at the Jay and Linda Grunin Center for the Arts at Ocean County College.

The Amazing Max was a part of the 2022 Community Arts and Music Programs (CAMP) available at Grunin Center over the summer months.

CAMP was started in 2017 after David C. Wintrode, President of Causeway Family of Dealerships/Causeway CARes, had an idea to create a series of performances for the community that would focus on things that are really fun, but also educational.

"Many children never have the opportunity to see live shows,"http://www.prlog.org/" said Wintrode.

"These programs would give school-aged children and individuals with special needs the opportunity to engage with the arts."

Heidi M. Sheridan, Interim Executive and Artistic Director for the Jay and Linda Grunin Center for the Arts, also notes that many places are eliminating music and arts from their programming. "We are stepping into make sure that children have these collective, shared experiences," she said. "We really want children to feel like anything is possible."

"This year, thanks to the generous support of the Wintrode Family Foundation and the Ocean County College Foundation, we hosted five artists for CAMP performances," said Jaclyn Wood, Assitant Director, Education & Community Engagement at the Jay and Linda Grunin Center for the Arts. "All the CAMP events were fully funded by these organizations and free for attendees."

When it comes to selecting entertainers, it is a collaborative effort. "I will talk to different agents and artists and even see them perform," said Wood. "I am looking for artists who are not just good at what they do, but they give these children an experience they will never forget."

Once Wood has a list of vetted performers, Mr. Wintrode, alongside a committee, will select the talent.

This year's programming included Jeff Boyer's Big Bubble Bonanza, Doktor Kaboom's Look Out- Science is Coming!, Twinkle Time, The Amazing Max and Christopher Agostino's Storyfaces.

"The CAMP series has a lot of heart because it started in a very pure way," said Wood. "The goal has always been to give kids the opportunity to be more involved with the arts."

This summer, the CAMP series saw 2,880 attendees with both The Amazing Max and Storyfaces being filled to capacity.

Information about these shows was sent directly to camp leaders, as well as shared on the Grunin Center website and Facebook page and in the Grunin Center season brochure. In addition to camps and community groups, families and homeschool groups came to performances.

"We were pleased to welcome back groups who had attended these performances in the past, as well as some new groups," Wood added.

Past participants who were in attendance this year included: Ocean County YMCA, YMCA Camp Zehnder, Point Pleasant Recreation, Little Egg Harbor's Summer Splash, Lacey Schools Extended School Year (ESY) Program and Prime Time Center. New groups included: Red Bank YMCA, Freehold YMCA, Innovate Kids Club, My Jacob's Ladder and Community Options.

Groups were extremely excited to be back, but perhaps the biggest challenge this year was getting them to the venue.

"Transportation was often an issue, with groups not having the funding to pay for a bus to bring them to the Grunin Center, but this year was especially challenging because of a bus driver shortage," said Wood.

That's when the Wintrode Family Foundation and the Ocean County College Foundation stepped in to help.

"Thanks to additional support from these organizations, we were able to bring 756 campers and camp leaders to the shows who wouldn't have been able to attend otherwise by booking charter buses to transport them," said Wood. "I am so thankful for the support of these two organizations because without them these programs would not be possible."

Looking back, perhaps the best part of the CAMP series is watching kids come into the lobby and you can see that they are just so excited to be there, according to Wood. "Everyone feels a sense of wonder and that anything is possible," she said. "You can come here and have an experience that you will remember for the rest of your life."

To learn more about the CAMP series or to reserve your group for a future event, please email Jaclyn Wood at jwood@ocean.edu.

For the full list of event dates and tickets, visit grunincenter.org.

Calgary – WEBWIRE – Monday, August 29, 2022





Record attendance and incredible performances during the CP Women's Open helped Canadian Pacific (CP) raise $2.5 million to support the Children's Hospital of Eastern Ontario (CHEO) Foundation and $510,000 for Perth & Smiths Falls District Hospital Foundation.




Paula Reto finished the week at 19 under par to take home her first LPGA Tour win and the $352,500 winner's share of the $2.35 USD million purse, one of the largest for a non-major on the LPGA Tour.




"The CP Women's Open returned to Ottawa with great fanfare and the best golfers in the world so that CP could raise funds to support CHEO's important work and continue the legacy of giving to the communities where our employees live and work," said Keith Creel, CP President and CEO. "The Ottawa community and the world's best golfers did not disappoint, and we are proud to be a part of this world-class tournament."




"We congratulate Paula Reto on her masterful play to win the CP Women's Open," added Creel. "It was a tremendous week of golf, but more importantly, together we have made a significant contribution to CHEO Foundation and to eastern Ontario, a key province in our network. CP is proud to continue to make a difference in communities across Canada through CP Has Heart, our community investment program supporting heart health initiatives." 




The total donation is the result of several fundraising efforts of the CP Has Heart campaign. Through CP Birdies for Heart, CP contributed for each birdie made by Ottawa Hunt and Golf Club members prior to the tournament and for each birdie made by LPGA players on the 15th hole during tournament play. CP also matched all donations made during a CHEO campaign online during February, which is heart month.




"This eagerly anticipated week was beyond anything we imagined," said Steve Read, Acting President and CEO, CHEO Foundation. "When Golf Canada and the LPGA brought this world-class golf tournament to the historic Ottawa Hunt and Golf Club it was an exciting moment for everyone involved. When the generosity of this community, led by CP, turned enthusiasm and elite sport into care for young cardiology patients at CHEO, it became an inspiring reflection of what we can do when we work together. My special thanks to Lorie Kane and Brooke Henderson who showed such kindness to CHEO patient Aurora Amos as she represented all CHEO cardiology patients this week."




Perth & Smiths Falls District Hospital Foundation was the 2022 CP Women's Open community partner.




"The Foundation would like to thank CP for their support, which helped raise $510,000 for cardiac care at our hospital," said Kristine Fair, PSFDH Foundation Chair. "Overwhelming community support paired with the matching initiative that CP provided has created double the impact for our hospital. Funds raised through this partnership will allow us to purchase essential cardiac equipment that our healthcare team needs to provide the quality care our community deserves."




"CP's continued commitment to leave a meaningful legacy in the name of the CP Women's Open has been extraordinary," said Golf Canada CEO Laurence Applebaum. "We are so proud to experience the special impact of CP on the lives of countless Canadians, and we are thrilled that the CHEO Foundation, the Perth & Smiths Falls District Hospital Foundation, and the eastern Ontario community at large will benefit from their incredible generosity."




On Friday, CP celebrated Lorie Kane's remarkable golf career as she finished her 30th and final CP Women's Open.




"Lorie has made outstanding contributions to women's golf and the community, including as a CP Ambassador," said Keith Creel, CP President and CEO. "We cherish Lorie for her contributions as a CP Ambassador since 2014, and I look forward to her continuing as a significant member of the CP team promoting CP Has Heart in the community."




About Canadian Pacific




Canadian Pacific is a transcontinental railway in Canada and the United States with direct links to major ports on the west and east coasts. CP provides North American customers a competitive rail service with access to key markets in every corner of the globe. CP is growing with its customers, offering a suite of freight transportation services, logistics solutions and supply chain expertise. Visit cpr.ca to see the rail advantages of CP.




About CP Has Heart




At CP, we know that a railroad may serve as the arteries of a nation, but at its heart is community. CP Has Heart focuses on improving people's heart health across North America through partnerships, sponsorships, activities and contributions that fund cardiovascular research and the best equipment and care for cardiac patients. Since 2014, CP Has Heart has committed more than $29 million to heart health initiatives in communities across North America. And along the way, we're showing heart whenever we can. Find out more on cpr.ca.




About CHEO




Dedicated to the best life for every child and youth, CHEO is a global leader in pediatric health care and research. Based in Ottawa, CHEO includes a hospital, children's treatment centre, school and research institute, with satellite services located throughout Eastern Ontario. CHEO provides excellence in complex pediatric care, research and education. We are committed to partnering with families and the community to provide exceptional care — where, when and how it's needed. CHEO is a partner of the Kids Come First Health Team, a network of partners in Eastern Ontario working to create a high quality, standardized and coordinated system for pediatric health care that is centred around children, youth and their families. Every year, CHEO helps more than 500,000 children and youth from Eastern Ontario, western Quebec, Nunavut and Northern Ontario.




About Perth & Smiths Falls District Hospital Foundation




The Perth and Smiths Falls District Hospital Foundation is a charitable organization that works as the fundraising arm for the Perth and Smiths Falls District Hospital. Serving more than 60,000 residents within the tri-county region of Lanark, Leeds and Grenville. It is our mission to work with our community to raise and steward funds for projects and services for health care at our hospital.




—–




IMAGE CAPTION:




CP presents CHEO Foundation with a cheque for $2.5 million. Pictured (left to right) are Steve Read, Acting President and CEO, CHEO; Dr. Jane Lougheed, Chief of Cardiology, CHEO Hospital; CP Ambassador, Lorie Kane; Aurora Amos, CP Child Ambassador for 2022 CP Women's Open; James Clements, CP Senior Vice-President Strategic Planning & Technology Transformation; Laurence Applebaum, CEO Golf Canada; and CHEO bear.