Bali, ID, Sept 22, 2023 – (ACN Newswire) – The HUB.ID Summit, a keynote event in the HUB.ID program for Indonesian start-ups, was held in Nusa Dua, Bali on September 15-16, bringing 80 digital startups and 80 global venture capitals together with the aim of matching investors with early-stage digital startups. HUB.ID is a Kominfo (Ministry of Communication & Informatics) program which focuses on startups in fintech, agritech/fisheries, healthtech, SME enablement and logistics, and ESG-related sectors.
More than 500 people attended the HUB.ID Summit 2023, which included panel discussions, 1-on-1 business matchmaking, and a Networking Gala Dinner. Investors hailed not only from Indonesia, but from countries such as Japan, Singapore, South Korea, India, Germany, the UK, and US. Over 1,500 business meetings were scheduled during the 2-day event, demonstrating a positive trend in investment potential for digital startups in Indonesia.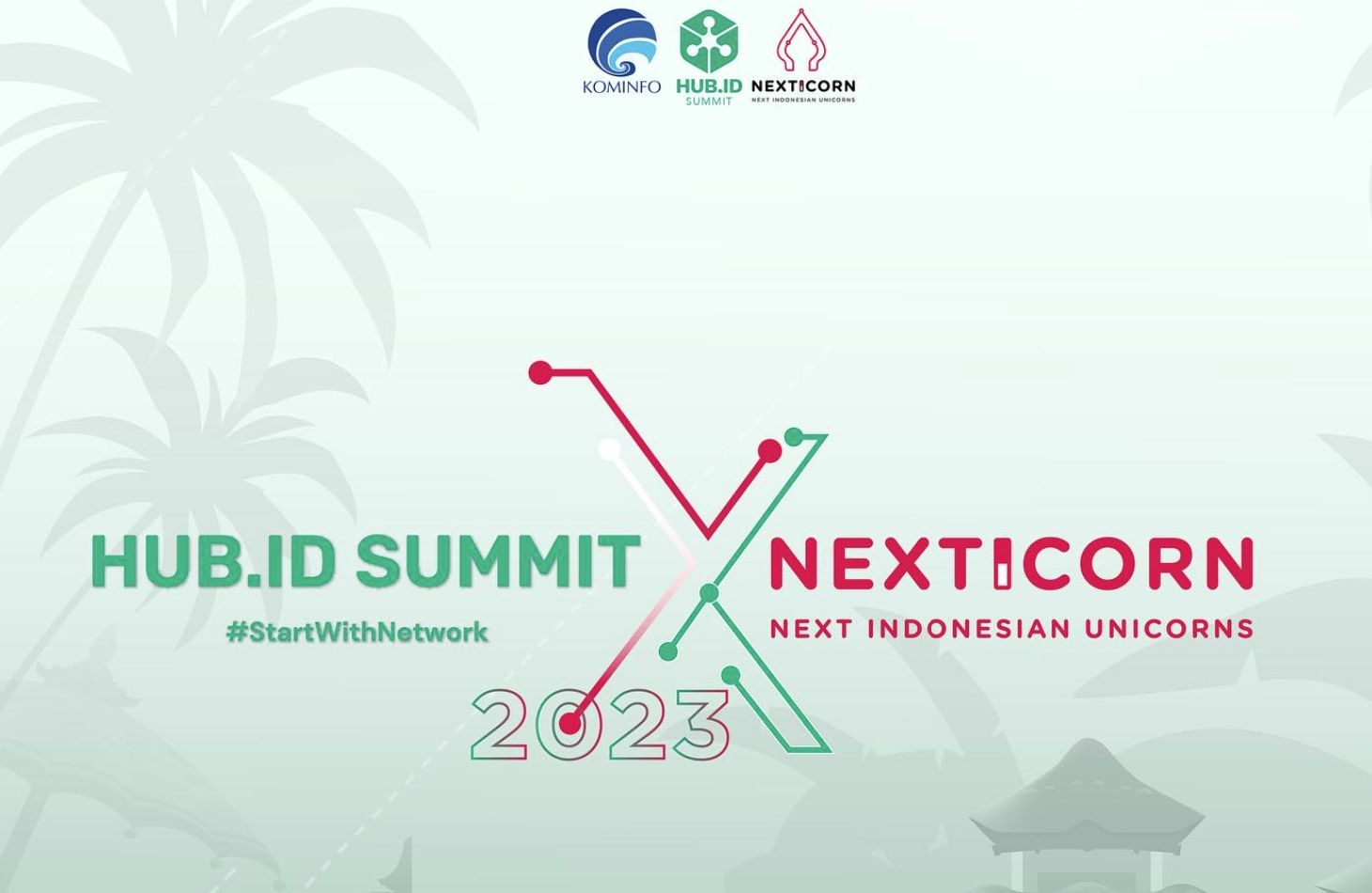 This year, HUB.ID Summit collaborated with the Nexticorn Foundation to facilitate more business meetings between startups and venture capital firms. HUB.ID Summit x Nexticorn 2023 is a collaborative effort between the Ministry of Communication and Informatics and the Nexticorn Foundation to support the digital startup ecosystem, foster partnerships, and networks between early-, growth-, and later-stage startups with global venture capitals.
This year's Summit adopted the theme "Recalibrating the Industry: Indonesia's Tech Investment Moving Forward," aiming to analyze changes in market behavior post-pandemic and the tech winter, which have affected the focus of digital startups on product development and venture capital investments. These changes are recalibrating market strategies for growth in Indonesia's digital startup ecosystem.
Over two days, the early-stage digital startups and venture capitals participated in various events, including panel discussions featuring renowned speakers and business matchmaking sessions, expected to foster collaborations and investments after the Summit concludes. On day one, the panel featured Christopher Madiam (CEO & Co-founder of Sociolla), Hero Choudhary (Managing Partner of Beenext), Yoshua Tanu (Jago Coffee Founder) and was moderated by Willis Wee (CEO & Co-founder of Tech in Asia).
On the second day, the panel discussion included Eddy Danusaputro (Chairman of AMVESINDO), Ankur Vohra (Vice President L Catterton Asia), moderated by Donald Wihardja (Nexticorn Board). Later, Kevin Sugiarto (Senior Vice President Product Privy), Ardhanti Nurwidya (Head Public Policy and Government Relation GOTO), Doddi Priyambodo (Solutions Consultant at Google/Cloudmile) and Edy Sulistyo (CEO Everywhere.id) were moderated by Anugrah Pratama (Partner at EY-Parthenon Indonesia).
I Nyoman Adiarna (Director of Digital Economy, Directorate General of Informatics Application, Kominfo) stated, "The technology startup landscape in Indonesia has seen rapid and exciting developments in recent years. Indonesia now boasts hundreds of startups across various sectors, including e-commerce, fintech, edtech, healthtech, and agritech, among others. The ministry continues to support startups to grow and access funding, including through events like HUB.ID Summit."
About HUB.ID
HUB.ID includes the HUB.ID Accelerator, the HUB.ID Summit, and the HUB.ID Ecosystem. HUB.ID is organized by the Indonesian Ministry of Communication and Informatics (KOMINFO), focusing on enabling post-seed local Indonesian startups to scale regionally by leveraging KOMINFO's vast network of corporate & governmental partners. Learn more at https://hub.id/.
For more information, visit: HUB.ID, or email: asksummit@hub.id.

Topic: Trade Show or Conference
Indonesia identified cooperation projects worth US$32 billion through business matching activities carried out during the ASEAN-Indo-Pacific Forum (AIPF), held on September 5-6. As the organizer of the AIPF, which is the flagship event of the 43rd ASEAN Summit, Indonesia is also seeking cooperation for projects from other countries with a total value of US$810 million.
Vice Minister of Foreign Affairs Pahala Nugraha Mansury shared a presentation on the Indonesia's Plan to Develop Green Infrastructure on the second day of ASEAN-Indo-Pacific Forum (AIPF) at Mulia Hotel, Wednesday (6/9/2023). [Image: Media Center KTT ASEAN 2023/Galih Pradipta/aww.]
"Although those (cooperation projects) had not been able to be finalized at today's meeting, we hope the business matching will be able to boost cooperation and real understanding of the investment needs expected by each country," Vice Minister of Foreign Affairs Pahala Mansury said in a press conference about the AIPF in Jakarta on Wednesday (6 September 2023).
The business matching activities involved around 185 domestic and international investors, including PT Bank Mandiri Tbk, Bank Permata, Bank SBI Indonesia, Bank CCB Indonesia, PT Bank Jawa Barat, PT Astra Infrastruktur, PT Amman Mineral Tbk, Dian Swastatika Sentosa, AIIB, Standard Chartered, Sumitomo (SMBC), Commerzbank, ACWA (Saudi Arabia), EDF Energy (France), KEPCO (South Korea), IGNIS (Spain), China Railway Corporation, Sinohydro, China State Construction Engineering, Siemens (Germany), Inpex Geothermal (Japan), British Columbia (Canada) and Actis (the UK).
The business sectors promoted through the AIPF included the development of new and renewable energy, hydrogen, ammonia, alumina refinery, battery supply chains, toll road infrastructure, and ports.
Indonesia put more focus on cooperation with international partners for strategic projects in the fields of energy and oil and gas (five projects), toll-road (nine projects), ports (five projects), health (six projects), fertilizer (three projects), infrastructure (ten projects), tourism (nine projects) and electric vehicle battery ecosystem and supply chains (three projects).
According to Vice Minister of State-Owned Enterprises (SOEs) Rosan Roeslani, the sectors that attracted many investors' interest are green energy and electric vehicle battery ecosystem.
"There were also many who wanted to participate in the digitalization sector because they could see that there is a lot of our people's potential that has not been reached by formal financing," he said. He mentioned that some of the largest SOEs in Indonesia, such as Pertamina, Pupuk Indonesia, PLN, Pelindo, Jasa Marga, MIND ID, and Injourney also participated in the AIPF.
Also participated The National Development Planning Agency (Bappenas), which could become a platform to support the acceleration of investment for several infrastructure projects such as Demak-Tuban, Tuban-Gresik, Tasikmalaya-Gedebage-Ciamis toll roads and the Jatiluhur Drinking Water Supply System.
ASEAN member states such as Brunei, Myanmar, Thailand, Malaysia, and the Philippines presented potential projects in the telecommunications and infrastructure sectors.
ASEAN state members' leaders, namely President of the Philippines Ferdinand Marcos Jr., the Prime Minister of Singapore Lee Hsien Loong, the Head of Delegation of the Kingdom of Thailand Sarun Charoensuwan, the Prime Minister of Viet Nam Pham Minh Chinh, the Prime Minister of Lao PDR Sonexay Siphandone, the Sultan of Brunei Darussalam Hassanal Bolkiah, the Prime Minister of Cambodia Hun Manet, the Prime Minister of Malaysia Dato' Seri Anwar Ibrahim, and the Prime Minister of Timor Leste Xanana Gusmao were also present.
Three world leaders were also present as keynote speakers in the leaders talk session, namely Japanese Prime Minister Fumio Kishida, Australian Prime Minister Anthony Albanese, and Canadian Prime Minister Justin Trudeau.
Mansury said that those world leaders emphasized that the priority going forward for the strategic partnership with ASEAN will focus on sustainable cooperation sectors, such as the development of clean energy, innovative and sustainable financing, and the development of green infrastructure.
Mansury said that those leaders emphasized that the priority going forward for the strategic partnership with ASEAN will focus on sustainable cooperation sectors, such as the development of clean energy, innovative and sustainable financing, and the development of green infrastructure.
For more information, please contact:
Usman Kansong,
Director General of Information and Public Communication
Ministry of Communication and Information, Indonesia

Topic: Press release summary