National Film Board of Canada (NFB)
Halifax – WEBWIRE – Monday, May 16, 2022
Starting May 16, Canadian educators will have a brand new online workshop to teach students ages 13 to 18 how to use photos, voiceover and music to create engaging short digital stories. Media School is an online program that teaches students the fundamental and technical skills of digital storytelling—and it's coming to the National Film Board of Canada's education portal, CAMPUS, just in time for the new school year.
Collaboratively developed by teachers from across the country, media education experts, filmmaker Paul Tom, and the NFB Education team, Media School is available for all educators to use now in preparation for their 2022–23 lesson plans.
Media School is an innovative example of how education experts have taken NFB's 80 years of leadership in audiovisual storytelling and educational resources to bring a robust media-skills program to Canadian youth. This new online workshop is an extension of the in-person filmmaking workshops the NFB used to provide students.
Key features of Media School
Offers step-by-step videos and interactive activities that take students through the stages of media production;
Provides hands-on workshops on a platform that works on desktop and laptop computers;
Breaks down lessons into bite-size activities that students can complete individually or grouped together, so educators can teach at their own pace and spend a period, a week, a month or a whole year with their students in

Media School

;
Teaches students the fundamentals of digital storytelling, including photography, editing, research, writing narration, online ethics, copyright and distribution.
Interesting facts about Media School
Media School

will help students express their personal stories and experiences and explore the issues that matter to them and their communities, just like NFB's award-winning filmmakers;
The workshop was designed to fit within the Canadian curricula for Social Studies, English or French studies, and Media Arts as well as the Digital Action Plans of most provinces;

Media School

will help students build media-literacy skills and encourage digital citizenship.


About the NFB
For more than 80 years, the NFB has been an essential and trusted resource for educators in Canada. It has developed longstanding relationships with Canadian teachers and others in the field of education. The NFB is developing online, media-based and interactive thematic learning programs founded on productions that foster deep learning, creativity and student action. The NFB's new education offer is a learning destination designed to cultivate engagement and inspire creativity through and around storytelling innovation and media arts.



Union Education and Skill Development Minister Shri Dharmendra Pradhan today delivered the keynote address at the India Education Summit 2022, a dialogue platform by Google and Indian Express.




The Minister shared his thoughts on taking education and skilling to every Indian, ways to transform India into a knowledge economy and the spirit of innovation in every pocket of India. He said that an estimated 52.5 crore population are under the age bracket of 3-23 years, out of which around 35 crore have access to education & skilling.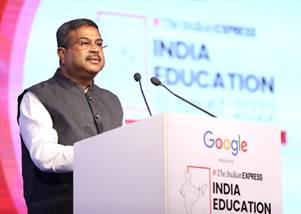 At the India Education Summit 2022 by @IndianExpress. #IES2022 https://t.co/gNAaffNNo9

— Dharmendra Pradhan (@dpradhanbjp) April 6, 2022
On bridging the gap, he said that we must endeavour to bring the remaining 17-18 crore under the umbrella of schooling & skilling. By increasing GER, making skilling aspirational and enhancing the economic productivity of young Indians, we can make India a knowledge superpower, he further added.                               
The Minister expressed his happiness to get a first-hand experience of the spirit of innovation of young students during the Pariksha Pe Charcha 2022. Narrating stories of various students doing innovative work, he said that confidence, skills, creativity and intellectual capacity of our youth has no limits. He said that whether it is Nandini and Niveditha, the siblings from Kerala who are simplifying vedic maths through online workshops, Shubham Majee from Jamtara or Moon Verma from Kapurthala, it is youth like them that will ensure India's big leap in the coming decades. The zest for innovation as displayed by students from Garhwa, Gwalior, Jamtara, Kottayam, Khurda during ParikshaPeCharcha has amazed everyone. He further said that students from tier 2 & 3 cities and from rural backgrounds are choosing the path of innovation and entrepreneurship. Talking about the highly talented youth in the tier-II and III cities as well as in rural areas, education minister highlighted the need for skill development to help these students fly high and choose the path of innovation and entrepreneurship.
Speaking about the importance of local languages and mother tongue, Minister Pradhan said that it is important to learn local languages for critical thinking skills development also which is also one of the key focus areas of the National Education Policy.
The Minister stressed that the next 25 years are the most crucial for India's developmental journey. In line with the NEP 2020, we all need to work collectively to ensure that our students turn into global citizens and lead India and the world to an empowered future, he added.
*****
MJPS/AK


(Release ID: 1814186)
Visitor Counter : 412



The Ministry of Social Justice & Empowerment implements two National Overseas Scholarship (NOS) schemes. One is implemented by the Department of Social Justice & Empowerment under which financial assistance is provided to selected students from Scheduled Castes, Denotified Nomadic and Semi-Nomadic Tribes, Landless Agricultural Labourers and Traditional Artisans for pursuing Masters and Ph.D level courses abroad. The other is implemented by Department of Empowerment of Persons with Disabilities (DoEPwD) under which scholarship is provided to the selected students with disabilities for pursuing Masters and Ph. D level courses abroad. Similarly, Ministry of Tribal Affairs is also implementing NOS Scheme for students belonging to ST communities.
The total expenditure during the last five years under the three National Overseas Scholarship schemes for students from marginalised communities is Rs. 100.62 Crore.
A total of 3244 applications were received over the past five years from students under the three schemes of National Overseas Scholarship mentioned in response to part (a) of the question. Out of these a total of 726 students have been awarded scholarships.
A total of 9794 students have been awarded scholarships under the Top Class Education Scheme for SC students over the last five years, and an expenditure of Rs 179.62 Crores has been incurred under the scheme during the period.
This information was given by Minister of State for Social Justice and Empowerment, Shri. A. Narayanaswamy in a written reply in the Rajya Sabha today.
*****
MG/ RNM/ SB


(Release ID: 1794774)
Visitor Counter : 158



Read this release in:



Urdu