Singapore ETO hosts gala dinner in Vietnam to celebrate 25th anniversary of establishment of HKSAR (with photos)
******************************************************************************************

     The Hong Kong Economic and Trade Office in Singapore (Singapore ETO) hosted a gala dinner in Ho Chi Minh City, Vietnam, today (August 27) to celebrate the 25th anniversary of the establishment of the Hong Kong Special Administrative Region (HKSAR), with around 250 guests attending the event.


     Addressing the gala dinner in a speech via video, the Secretary for Financial Services and the Treasury, Mr Christopher Hui, said that, with the "one country, two systems" principle, Hong Kong has made impressive achievements on different fronts with its robust institutional framework, free movement of capital and a simple and low tax regime. "It has been recognised as the world's freest economy, the world's No. 3 global financial centre and the fifth most competitive economy around the globe," he said, adding that the city also ranks first globally in terms of air cargo throughout and is the world's largest offshore Renminbi business hub.


     He highlighted that despite various challenges in the past years, Hong Kong's business environment remains resilient as ever, with total merchandise trade reaching $10.3 trillion in 2021, exceeding the pre-COVID high in 2018 by more than 15 per cent. There is also a record-breaking number of over 9 000 overseas and Mainland companies in the city.


     "Our financial and professional services adhere to the best global practices and standards, giving confidence to everyone looking to do business in Hong Kong," he remarked, noting Hong Kong businesses have a strong presence in Vietnam and are among the leading investors in the country. Bilateral trade between Hong Kong and Vietnam has grown steadily at an average annual growth rate of 11.8 per cent from 2017 to 2021. Vietnam is now Hong Kong's seventh largest trading partner and second largest trading partner among the Association of Southeast Asian Nations (ASEAN) countries, he added.


     The gala dinner drew attendance from a wide spectrum of the Vietnamese community covering business, political and diplomatic sectors, including the Chinese Consul General in Ho Chi Minh City, Mr Wei Huaxiang; the Chairman of the Hong Kong Business Association Vietnam, Mr Michael Chiu; the Regional Director of Southeast Asia and South Asia of the Hong Kong Trade Development Council, Mr Peter Wong; and senior executives of major chambers of commerce and trade associations and representatives of foreign missions in the city.


     The dinner featured various Hong Kong elements, including a dedicated menu incorporating Hong Kong culinary dishes and a repertoire of classic Cantonese songs performed by Vietnam's Saigon Philharmonic Orchestra. The event also had a folk dance performance by a group of Vietnamese students with hearing impairment and a singing performance by an award-winning Vietnamese opera singer, as part of efforts to demonstrate social inclusion and cultural exchange between Hong Kong and Vietnam.


     The event was the second large-scale gala dinner hosted by the Singapore ETO after the earlier one held in Singapore, and was likewise aimed at strengthening economic, trade and people-to-people ties between Hong Kong and ASEAN countries. It was also the 10th event held by the Singapore ETO this year to celebrate the 25th anniversary of the establishment of the HKSAR.




The 36th global edition of World AI Show was hosted at Marina Bay Sands on 3 – 4 August 2022, as a part of the world tour conceptualized and managed by global business events and consulting firm, Trescon. These events have successfully completed several editions across the world including Dubai, Amsterdam, Mumbai, Moscow, Nairobi, Frankfurt, Mauritius, Kuala Lumpur, Qatar, Thailand, Jakarta, Malaysia, Manila, Riyadh, Australia, to name a few.

Singapore, Aug 16, 2022 – (ACN Newswire) – The 36th edition of World AI Show wrapped with a two-day power-packed conference that acted as a vital driver for Singapore's bold vision of using innovation and technology; to broaden its goals by bringing together government leaders and an inspirational line-up of AI experts and solution providers. Over 50 speakers from all over the world, including important stakeholders in Singapore's digital revolution spoke at the event.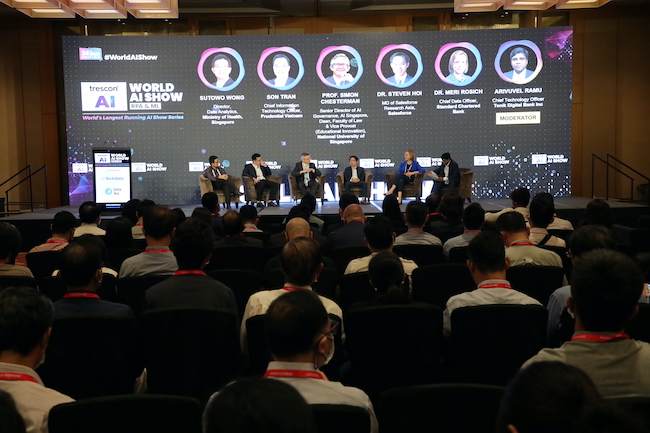 The conference was based on assisting major organisations and enterprises from both the public and private sector in developing and delivering best practices to drive AI innovation and adoption in Singapore. It presented varied insights and points of view from a diverse industry by exchanging ideas, addressing significant learning, and emphasising new developments from the business, government, and professional sectors.

Some of the top speakers who attended World AI Show that took place on the 3rd and 4th of August 2022 included:
Jason See; Senior Director, Data Science & Artificial Intelligence Division (DSAID), GovTech, Singapore

Sutowo Wong; Director, Data Analytics, Ministry of Health, Singapore, Singapore

Dennis Khoo; Director (Port Systems), Maritime and Port Authority of Singapore (MPA), Singapore

Simon Chesterman; Senior Director of AI Governance, AI Singapore, Dean, Faculty of Law & Vice Provost (Educational Innovation), National University of Singapore, Singapore

Miao Song; Global Chief Information Officer, GLP, Singapore

James Ang; Senior Vice President, APAC, Dataiku, Singapore

Alex Aung; Director; Sales Engineering (South Asia), Dataiku, Singapore

Adrian Tan; Solutions Engineer, Alteryx, Singapore

Alex Hoehl; Regional VP, ASEAN & Korea, Denodo, Singapore

Amit Sawarkar; Director of Strategic Partnerships, TigerGraph, Singapore

Steven Hoi; MD of Salesforce Research Asia, Salesforce, Singapore

Ashish Pandey; Advisory Solution Consultant, ServiceNow, Singapore

Serene Keng; Country Manager, Singapore, Channel and Alliance Head APAC, TigerGraph, Singapore

Vidhu Gautam; MD, Easy Data Analytics Pte Ltd, Singapore

Danielle Jiang; Deputy Director – AI Development Office, FinTech Innovation Group, Monetary Authority of Singapore (MAS)

Shivam Bansal; Senior Data Scientist, H2O.ai, Singapore

Vidhu Gautam; MD, Easy Data Analytics Pte Ltd, Singapore

Tauhid Abddul Jalil; Principal Consultant, Southeast Asia, Laiye and more.
Jason See; Senior Director, Data Science & Artificial Intelligence Division (DSAID), GovTech, Singapore, spoke at length on the topic 'Outlining how the government is using AI to enhance government services'. He made strong points and was quoted saying, "By automating government processes and using data analytics, the government is able to improve the quality and efficiency of its services. The government is also using AI to better understand the needs of its citizens and to provide them with personalised services."

Sutowo Wong; Director, Data Analytics, Ministry of Health, Singapore, Singapore on 'Building the Foundation for Resident Centric Health'. He was quoted saying, "AI has the potential to transform and automate the healthcare industry, but it's no silver bullet. AI works most effectively when it's coupled with human experts, who can use its analytical power to refine and augment its results. AI can improve efficiency for providers, but it can't be expected to help providers alone transform a broken health-care system."

While delivering his tech talk on 'How to Formulate a Winning AI Strategy?', Alex Aung, Director, Sales Engineering (South Asia), Dataiku, Singapore, stated, "Try to remove frictions, build resilience, create culture and bet your AI journey and AI models will optimize all your businesses across the board."

One of the most prominent panel discussions witnessed at the event discussed 'AI & Data Strategy: Driving innovation in data science maturity to create value in organizations.' The speakers on the panel included Sutowo Wong, Director, Data Analytics, Ministry of Health, Singapore, Singapore; Son Tran, Chief Information Technology Officer, Prudential Vietnam, Prof. Simon Chesterman, Senior Director of AI Governance, AI Singapore, Dean, Faculty of Law & Vice Provost (Educational Innovation), National University of Singapore, Singapore; Dr. Steven Hoi, Managing Director, Salesforce Research Asia; Dr. Meri Rosich, Chief Data Officer, Standard Chartered Bank and Moderated by Arivuvel Ramu, Group Chief Technology Officer TONIK (Digital Bank).

In this panel discussion, panellists gave their insights on how AI and data strategies help organisations make smarter business decisions and how AI can be used to forecast business outcomes and consumer outcomes which will help organisations improve their products and services, increase customer satisfaction, reduce costs, create new revenue streams, and reduce risk.

Another notable panel discussion during the event covered the topic 'Unlocking the true benefits of AI in the field of customer experience.' The speakers on the panel included Dietmar Bohmer, Chief Analytics Officer, Tyme; Sourabh Chitrachar, Regional VP (Asia) – Technology Strategy & Ops, Liberty Mutual Insurance; Ashish Kulkarni, Director and Product Owner, Standard Chartered Bank; Moderated by Geetha Gopal, Head of Infrastructure Projects Delivery and Digital Transformation, Panasonic Asia Pacific.

The panel addressed how regional digibanks are using AI to compete with well-established market competitors, propelled by the power of data, increased customer satisfaction, and optimization of customer service hours spent by proactive use of sentiment analysis and conversational AI. Industry-specific regulations are driving their applicable AI boundaries, as well as the possibility and need for industry-agnostic AI standards. Changing operating models to use trustworthy data and processes and complement a clearly defined AI business strategy.

Miao Song, Global CIO, GLP, Singapore shared insights on 'AI and Digital Transformation in a changing world.' She was quoted saying, "Digital transformation is the art of understanding today's challenges, building for the future, and capturing today's opportunities. This requires firms to use AI, automation, analytics, and supply chain visibility to achieve a competitive edge. AI is a journey, not a destination."

Adrian Tan; Solutions Engineer, Alteryx, Singapore, while delivering his tech talk on 'The Democratization of Analytics: Scale the impact of analytics across the organization', stated, "We need to make analytics easy. We have to go from data to insights in a matter of seconds and minutes as compared to days and weeks. We need to be able to cover everything right from ELT and data prep, all the way through advanced analytics, spatial analysis, and even automated insights."

"We are happy to close yet another fantastic World AI Show in Singapore. The love and respect this series have received once again is extremely good for not just for Trescon, but the entire tech community in Singapore and beyond. We're sure that we're well on the way to make this event one of Singapore's most important, and well-attended AI conference," stated Mithun Shetty, CEO, Trescon.

The 36th global edition of World AI Show is officially sponsored by:
Lead Sponsor – Dataiku | TechData;

Gold Sponsors – Denodo, Alteryx, Servicenow, Soroco, TigerGraph, ai | H2O.ai;

Silver Sponsors – Laiye & Mulesoft;

Bronze Sponsors – Altair, Vuram, Aerospike & Sitecore.

Exhibitor – Uniphore
About World AI Show

World AI Show is a thought-leadership-driven, business-focused, global series of events that take place in strategic locations across the world. It connects top AI experts, enterprises, government representatives, data scientists, technology leaders, startups, investors, researchers, academicians, and global AI innovators – to discuss the impact of AI on commercial applications and the revolutionary ways it can transform businesses and government functions.

About Trescon

Trescon is a global business events and consulting firm that provide a wide range of business services to a diversified client base that includes corporations, governments and individuals. Trescon is specialized in producing highly focused B2B events that connect businesses with opportunities through conferences, roadshows, expos, demand generation, investor connect and consulting services.

For more information visit: worldaishow.com

For further details about the announcement, please contact:

Jagriti Jaiswal
Marketing Lead, Trescon
media@tresconglobal.com












Topic: Press release summary



Singapore ETO hosts gala dinner to celebrate 25th anniversary of establishment of HKSAR (with photos)

******************************************************************************************


     In celebration of the 25th anniversary of the establishment of the Hong Kong Special Administrative Region (HKSAR), the Hong Kong Economic and Trade Office in Singapore (Singapore ETO) hosted a gala dinner in Singapore today (August 3) with over 300 guests attending the event.

            

     Addressing the gala dinner in a virtual keynote speech, the Secretary for Commerce and Economic Development, Mr Algernon Yau, highlighted that Hong Kong has embarked on an amazing journey over the past quarter century. With the unprecedented principle of "one country, two systems" and strong support by the Central Government, Hong Kong has made impressive achievements on multiple fronts. It has been recognised as the world's freest economy, the world's number three financial centre, the fifth-most competitive economy internationally, the world's largest offshore Renminbi business hub, while holding the world's number one ranking in terms of air cargo throughput.



     He said that although Hong Kong had encountered various challenges over the past 25 years, it has succeeded to overcome each and every hurdle, and has reached new heights. Hong Kong is blessed with immense opportunities, underpinned by the National 14th Five-Year Plan and the development of the Guangdong-Hong Kong-Macao Greater Bay Area.



     Mr Yau added that Hong Kong and Singapore have long enjoyed good relations, with Singapore becoming Hong Kong's fourth-largest trading partner. There is ample room for further co-operation across a wide range of areas including trade and investment, financial services, education, culture, and innovation and technology.



     Guests attending the gala dinner included the Minister for Health of Singapore, Mr Ong Ye Kung, the Chinese Ambassador to Singapore, Ms Sun Haiyan, and representatives from a wide spectrum of sectors including political and business circles, media and academia, as well as government representatives. The Singapore ETO's longstanding contacts in aviation, culture and shipping sectors, and the Hong Kong communities currently staying in Singapore also attended. 



     To share with guests a unique taste of Hong Kong's cuisine, Hong Kong-style milk tea was served at the venue. A group of Hong Kong and Singapore musicians performed at the gala dinner to showcase a successful cultural collaboration of young talents from both places.



     The gala dinner is one of two dinners hosted by the Singapore ETO under the theme "A New Era – Stability • Prosperity • Opportunity" to celebrate the 25th anniversary of the establishment of the HKSAR. The Singapore ETO will host another gala dinner in Vietnam on August 27.

Hong Kong and Singapore decide not to further pursue bilateral Air Travel Bubble

********************************************************************************


     The Governments of the Hong Kong Special Administrative Region (HKSAR) and Singapore announced today (August 19) that taking into account the differences in the anti-epidemic strategies currently adopted by the two places, the two governments have decided not to pursue further discussions on the bilateral Air Travel Bubble (ATB) and will continue to facilitate movements of travellers between the two places under their respective border control measures.

     A spokesman for the HKSAR Government said that the discussions on the ATB, which began in the second half of 2020, had gone through a long period of evolvement of the COVID-19 epidemic situation. All along, it was premised upon similar anti-epidemic strategies adopted by the two places, aiming to reduce local caseloads to a minimum. With Singapore currently moving towards a new strategy of building a "COVID-resilient" nation, the basic premises that underpin the ATB have changed. Take for instance the seven-day moving average of unlinked local cases, which is the criterion for suspending and resuming the ATB as per the agreed framework. The figure may not be kept consistently at the required level in Singapore as a result of its new strategy.

     The spokesman stressed that Hong Kong and Singapore remained committed to facilitating connectivity between the two places and would continue to maintain dialogue and share experiences in this respect. 

     The HKSAR Government welcomes Singapore's announcement to unilaterally allow entry of travellers from Hong Kong into Singapore quarantine-free starting from August 20, 2021, at 11.59pm, considering that it is a step forward in resuming cross-border travel between the two regional aviation hubs and international cities. Regarding travellers from Singapore coming to Hong Kong (including both Hong Kong residents and non-Hong Kong residents), they may refer to the prevailing arrangements for inbound travellers for Group B specified places, under which Singapore is classified, as required by the HKSAR Government.

Core Concepts, the largest private Singapore physiotherapy group for musculoskeletal conditions, announced a partnership with Singapore Cycling Federation (SCF) to provide sports massage therapy. This will support our Singapore national team riders recover more efficiently after a training session and help with performance during the race.

Core Concepts is proud to be the official sports massage provider to 20 national athletes from SCF. They can visit any of our easily accessible 5 clinics for better enhanced Sports Performance and Sports Recovery.

Our Locations:
– RAFFLES PLACE 6 Raffles Quay, #11-01 Singapore 048580
– NOVENA SQUARE 238 Thomson Road #03-32, Novena Square Singapore 307683
– PARKWAY PARADE 80 Marine Parade Road #14-09, Parkway Parade Singapore 449269
– HARBOUR FRONT 1 Maritime Square #09-10, Harbourfront Centre Singapore 099253
– TAMPINES PLAZA 3 Tampines Central 1, #04-02 Tampines Plaza 1, 529540

Due to the long hours and level of intensity of training that SCF national athletes go through, Core Concepts aims to help these athletes rebalance their bodies and get their muscles back to optimal condition so that they can perform better. As cycling is also a sport with very repetitive motions, our physiotherapists' team can also help relieve aches and strains that may arise from overuse or repetitive strain injury.

Improving cycling performance is not just about increasing the number of hours spent cycling in a day. It is also about improving the way you cycle and strengthening other body parts that can help you cycle more efficiently. Apart from treating sports injuries and maintenance via sports massage, our sports physiotherapists can also help to improve cycling performance by assessing biomechanical inefficiencies or muscle weaknesses and developing a training plan to strengthen these muscles to achieve better sports performance.

Core Concepts physiotherapy is also proud to be one of the official sponsors for this year's OCBC Cycle National Championships. National cycling championships are held annually by host nations in each racing discipline. The event is organised to allow for the cycling community and our national athletes the required exposure for high-level competitions.

SCF Facebook post sharing our partnership agreement https://fb.watch/6QWTkY45-0/

Quotes
"It is my pleasure to announce that Core Concepts partnered with Singapore Cycling Federation to support our national team riders and help them recover more efficiently after a workout and help perform better during a race." said Victor Khoo, Managing Director of Core Concepts.

"We thank Core Concepts Physiotherapy Singapore for the sponsorship provided to Singapore Cycling Federation. The sponsorship benefits both our athletes and the greater cycling community through the prizes awarded at SCF national championship races. We look forward to continuing to build a valuable and mutually beneficial relationship.

As we continue to work our way out of this pandemic, our sponsors are vital to the success of SCF and its athletes. Your support is truly appreciated." said Dr Hing Siong Chen, President Singapore Cycling Federation

About Core Concepts Pte Ltd:

As the largest private physiotherapy group in Singapore, Core Concepts has 5 clinics in operation across the island. Since its beginnings in 2003, Core Concepts has successfully diagnosed and treated conditions such as lower back and neck pains, spinal health, sports injuries, stroke and neurological disorders, pregnancy, and women's health, and more. Each case is treated through the lens of differential diagnosis, a systematic method that takes into consideration a spectrum of underlying factors and interlocking causes until the most fitting diagnosis for the client emerges. For more information, visit: www.coreconcepts.com.sg

About Singapore Cycling Federation:

The Singapore Cycling Federation (SCF) was established in 1958 and is registered with the Registry of Societies. It is recognized by Sport Singapore (Singapore Sports Council) as the national governing body for the promotion and development of the sport of cycling (BikeTrial, BMX, MTB, Road and Track) in Singapore, and is affiliated to the Singapore National Olympic Council (SNOC), the Asean Cycling Association (ACA), the Asian Cycling Confederation (ACC) and Union Cycliste Internationale (UCI). The SCF is also a Charity and an Institution of Public Character (IPC). https://www.cycling.org.sg/

Contact Details:
Press Release Contact Details
Organization: Core Concepts Pte Ltd
Name: Felix Chung
Email: marketing@coreconcepts.com.sg
Phone: 62263632
Website URL: www.coreconcepts.com.sg
Address: 6 Raffles Quay, #11-01, Singapore 048580


Topic: Press release summary