SHENZHEN, CHINA, Dec 6, 2022 – (ACN Newswire) – A series of "Overseas Talents' China Visit to Shenzhen" events were successfully held in Guangming district, Shenzhen from November 21 to 22. The events were co-organized by Shenzhen Center for International Exchange of Personnel.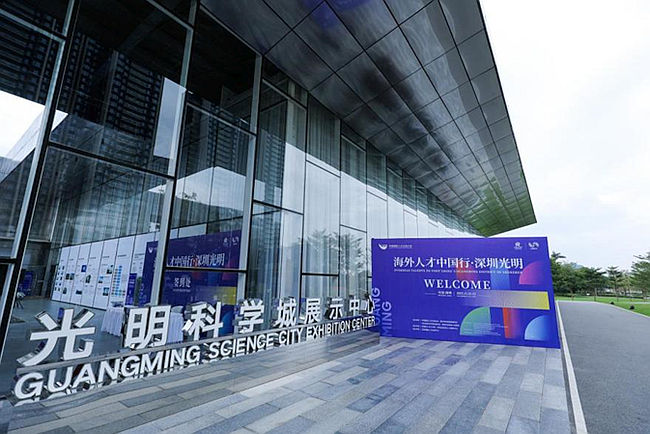 The events are hosted by the China Association for International Exchange of Personnel, the Shenzhen Science and Technology Innovation Commission, the Communist Party of China Guangming District Committee, and the Shenzhen Guangming District People's Government.
Presented by Guangming District Talent Work Bureau and Guangming District High-level Talent Service Center and co-organized by Shenzhen International Personnel Exchange Center, the series of events feature visits and exchanges by foreign experts, a forum for global experts and an exchange activity for Chinese and foreign guests named "The Night of Guangming", to name a few.
The foreign experts symposium under "Overseas Talents' China Visit to Shenzhen" was held via video link in Beijing and Shenzhen on the afternoon of November 21.
Li Xin, Deputy Director-General of the Department of Foreign Expert Services of China's Ministry of Science and Technology, Xia Bing, Deputy Director of China Association for International Exchange of Personnel, Cheng Buyi, Member of the Standing Committee of the CPC Shenzhen Municipal Committee and Minister of the Organization Department, Cai Ying, Secretary of the Guangming District Party Committee, attended the meeting and delivered speeches through online and offline channels. Qiu Haohang, Deputy Secretary of the Guangming District Party Committee and Chief of Guangming District, presided over the meeting.
The events gathered academicians and experts from six countries, including the US, the UK, Italy, Germany, France and Cuba, putting the spotlight on topics such as original innovation breakthroughs, scientific research and economic development, talents opening up, and talent highland construction.
Answering the requirements of "facing the world's scientific and technological frontier, facing the main economic battlefield, facing major national strategic needs and facing people's life and health", the series of activities gave Shenzhen a thorough examination and offered suggestions based on the city's industrial development characteristics and its environment for innovation and entrepreneurship.
Aimed at tapping into the innovation plateau with talents, the events help the Guangming district to speed up the construction of a world-class science city and to become a representative and pioneer for Shenzhen's participation in future technology competitions.
During the events, foreign experts also visited Shenzhen Engineering Biological Industry Innovation Center, Feiyada Museum, Shenzhen Bay Laboratory, Dadingling Greenway — Hongqiao Park and other research institutes and key enterprises. They listened to the introduction of institutions, and exchanged with scientific and technological personnel, laying the foundation for future cooperation.
Media contact

Wang Chan, Shenzhen Center for International Exchange of Personnel

Email: wangchan@ciep.gov.cn

Tel: 0755-81707961; 0755-81773121

Website: http://www.ciep.gov.cn/
Gershwyn Eustache Jnr And Chyna MacQueen Also Star, Production Begins This Week In Jamaica
WEBWIRE – Saturday, May 7, 2022
HBO and Channel 4 co-production of the six-episode drama limited series, GET MILLIE BLACK, has cast Tamara Lawrance to star in the title role, with Tanya Hamilton to direct.

Joe Dempsie, Gershwyn Eustache Jnr And Chyna McQueen also star.  Production begins May 2nd in Jamaica, with additional shooting in London to come.

Logline: Ex Scotland Yard detective Millie-Jean Black returns to Kingston to work missing persons; soon finding herself on a quest to save a sister who won't be saved, to find a boy who can't be found, to solve a case that will blow her world apart and prove almost as tough to crack as Millie Black.

– Tamara Lawrance as Millie-Jean Black, A police detective forced to quit Scotland Yard and return to the country of her birth, Jamaica, to work missing persons cases for the JPF (Jamaican Police Force), Millie is a woman caught between worlds and conflicting versions of herself. Lawrance is represented by Gordon and French and UTA.


– Joe Dempsie as Luke Holborn, a British detective who shows up in Kingston on the trail of a major investigation that's set on a collision course with Millie's.  Bringing all the baggage of Scotland Yard with him, Holborn's presence on Millie's home turf is destined to be triggering in all sorts of ways. Dempsie is represented by B-Side Management in the UK, UTA and Atlas Artists in the US.


– Gershwyn Eustache Jnr as Curtis, As a gay cop, Curtis can go only so far in his own police force; as Millie Black's partner, he's about to have his whole life shattered. Eustache is represented by ARG.


– Chyna McQueen as Hibiscus,  Millie's sister and one of the Sunlight Ladies, a band of Queer outcasts living hand-to-mouth yet exuberantly in the gullies that run throughout Kingston.  Hibiscus is the sister Millie never bargained for.  Millie is the sister Hibiscus never knew she needed. McQueen is represented by RAW Management.
 [p] 

Marlon James, Creator and Executive Producer quote: "This is the first major international TV show to put my home country, Jamaica center stage, so it's beyond awesome to have actual world-class Jamaican talent both in front and behind the camera, with our star Tamara Lawrance and Director Tanya Hamilton."

Simon Maxwell, CEO, Motive Pictures and Executive Producer quote: "We are immensely proud to announce such a stellar line-up of talent on GET MILLIE BLACK – from directors Tanya Hamilton and Annetta Laufer, to writers Theresa Ikoko, Lydia Adetunji and Joshua St Johnston, to a cast that showcases some of the most exciting acting talents from Jamaica and the UK, led by Tamara Lawrence, Joe Dempsie, Gershwyn Eustache Jnr and a debut performance destined to electrify audiences from rising Kingston star, Chyna McQueen."

About Tamara Lawrance: A BAFTA's 'Breakthrough Talent 2020', Tamara's film "Silent Twins," in which she stars and executive produces, debuts in Un Certain Regard at Cannes this year.  Her award winning performance in "The Long Song" for Heyday Films earned her the lead in the independent feature "Kindred," for which she was nominated for Best Actress at BAFTA Scotland. Tamara is also known for several award winning plays in London including leading roles at the National and Royal Court Theatre.

About Tanya Hamilton: Tanya Hamilton, a Sundance Institute writing and directing fellow is the writer/director of the award-winning film "Night Catches Us." Hamilton was also the pilot director and executive producer of the series "Cherish the Day." Among her other small screen directing credits are multiple episodes of HBO's "Winning Time: The Rise of the Lakers Dynasty," Showtime's "The Chi" and Epix's "Berlin Station" and "The Godfather of Harlem." 

Credits: An HBO and Channel 4 co-production; Creator/Executive Producer, Marlon James (represented by The Trident Media Group and Anonymous Content); Lead Director/ Co-Executive Producer, Tanya Hamilton (represented by Michael Lewis and Associates); Executive Producer, Simon Maxwell (CEO Motive Pictures, and Executive Producer); Director (2 episodes), Annetta Laufer (represented by 42 Management); Executive Producer, Leopoldo Gout; Writer/Co-Executive Producer, Joshua St. Johnston (represented by LARK Management); Writer, Theresa Ikoko (represented by Independent Talent Group); Writer, Lydia Adetunji (represented by The Agency); Story Producer,  Pia Furtado (Motive Pictures).


[/p]




The Emmy®-winning series AXIOS on HBO will debut its season finale SUNDAY, DECEMBER 12 (6:00-6:30 p.m. ET/PT). The sharp and insightful news-making series features thought-provoking interviews with top leaders from the worlds of politics, tech, media, science, and business. Directed and produced by Emmy® winners Matthew O'Neill and Perri Peltz, the series features Axios' signature Smart Brevity® analysis, documentary-style reporting, and in-depth conversations on the topics and trends shaping the globe.

 

The series will air on HBO and be available to stream on HBO Max.

 

This week's episode features the following segments: 
Andrew 'Boz' Bosworth, the incoming CTO of Meta (formerly Facebook), joins Axios chief technology correspondent Ina Fried to discuss the company's future, the spread of vaccine misinformation on its platforms, whether the company did enough in the leadup to the January 6 Capitol attack, and how Bosworth envisions the "metaverse," the all-immersive internet of tomorrow. 
House Majority Whip Representative James Clyburn (D-SC) speaks with Axios political reporter Alexi McCammond about President Biden's falling approval ratings, his hopes for election reform, voting rights and the filibuster's future.         
Lucid Motors CEO Peter Rawlinson welcomes Axios transportation correspondent Joann Muller to the company's headquarters in Newark, California, where they discuss the affordability of the high-end electric vehicle market, how startup Lucid stacks up against iconic American car manufacturers like Ford and General Motors, and Rawlinson's thoughts on his competitor and former employer, Tesla CEO Elon Musk.        
The Cherokee Nation Principal Chief Chuck Hoskin, Jr. and Kim Teehee, The Cherokee Nation's first named delegate to Congress, sit down with Axios race and justice reporter Russell Contreras in Tahlequah, Oklahoma, where they discuss their ongoing effort to seat Teehee in the House of Representatives, why a treaty promising the tribe a Congressional seat has gone unfulfilled for nearly 200 years and what impact Teehee could have on tribal and federal government relations. 



 

AXIOS is a co-production of HBO Documentary Films, AXIOS and DCTV; executive produced by Jim VandeHei, Mike Allen & Roy Schwartz; directed and produced by Perri Peltz and Matthew O'Neill. 




VIDEO: Incoming Meta CTO on Facebook's COVID vaccine campaign | Axios on HBO

Marketing Pro Series, an online marketing course and marketing coaching program from Launch Marketing, has announced the ongoing expansion of small business marketing resources designed to educate business owners, entrepreneurs, startup founders and more.

Offering a mix of self-paced online marketing courses and resources, Marketing Pro Series (MPS) provides organizations with strategies and tools to learn marketing fundamentals in weeks and elevate the effectiveness of current marketing efforts. Leveraging marketing playbooks, training exercises and coaching calls, MPS courses provide foundational marketing guidance designed to help organizations implement customized marketing plans and methodologies.

MPS expert small business marketing resources include:
On-demand online marketing courses that range 30-45 minutes each
Online marketing coaching in one-on-one settings
Interactive marketing exercises and templates that can be utilized across an organization
Blogs, eBooks, infographics and more
MPS courses focus on B2B marketing topics such as content marketing strategy and planning, brand messaging and positioning and creating buyer personas. All online marketing courses are self-paced and can be optionally paired with one-on-one coaching calls for customized marketing guidance and additional course context. Templates and worksheets are also included and intended to further drive the understanding of course content and provide a hands-on experience for attendees.

Offering additional small business marketing resources that include blogs and eBooks, MPS continues to expand their educational resources to offer insight into specific marketing topics and provide readers tips and tricks for implementation.

"Marketing Pro Series is an immersive, well-rounded marketing learning experience that goes beyond what other online marketing courses provide," Founder and CEO Christa Tuttle said. "Led by senior-level marketing experts, our high-impact courses and corresponding materials empower business owners to take marketing into their own hands to create customized, ready to execute marketing strategies and plans that will deliver unmatched results."

About Marketing Pro Series
Launch Marketing's Marketing Pro Series quickly empowers business owners, founders or their teams to create customized, actionable marketing strategies that generate revenue and awareness-at a fraction of the cost of outsourcing. The program includes a unique combination of on-demand, online courses, practical exercises, templates and one-on-one coaching from senior marketing experts.

About Launch Marketing
Launch Marketing is an Austin-based, B2B marketing firm that provides turnkey services focused on generating leads and driving revenue, including messaging, positioning, plan development, company and product launches, demand generation, and content creation. The team brings a breadth of senior-level expertise with a full-service approach to help clients maximize the impact of marketing for their businesses. Since 2001, Launch Marketing has helped 200+ clients successfully launch companies, enter new markets, introduce new products and generate more qualified leads. It has been recognized as one of Austin Business Journal's Best Places to Work for three years and received numerous awards for client work.

 In early 2021, Suntech launched ST series weaving machines. This marks Suntech's entry into the loom industry. Suntech has cultivated textile finishing equipment for a long time. The groundbreaking loom also originated from Suntech's internal innovation technology and customers accumulated over the years. The internal connection between textile finishing equipment and looms makes Suntech's entry into the loom industry even more handy. ST series rapier looms and jacquard looms will be the beginning of Suntech letting the world understand China's intelligent manufacturing.

The looms on the market generally have the following problems:
1. The loom does not match the grade of the product. In order to produce low-value-added mid-range or even low-end fabrics, some companies have introduced multiple high-end rapiers looms, which did not perform the functions of high-end looms. The main reason is that imported equipment does not support production capacity.
2. There is no high-end, high-quality yarn. For example, in the silk industry, the silk fabrics produced by developed countries are higher than 3A grade silk, while most developing countries use 2A grade silk to produce similar products because the weft insertion rate is an only 1/2-1/design grade higher than 3A grade. 3A. grade. 3. Production efficiency and product quality are very different from similar looms in developed countries. At the same time, due to the lack of new chemical fiber raw materials and poor quality indicators, defective products are prone to appear in the weaving, dyeing, and finishing links, which also restricts the design and development of products.
3. Lack of product development centers. Many factories mainly deal with incoming materials and samples, and there is no department dedicated to developing textiles. Therefore, their product development capabilities are poor and they can only undertake lower-level businesses. The textile benefit is not good and the market prospect is not good.
4. Low production efficiency. Workers in many small factories have low skills and low standard wages. Advanced companies generally have more than 16 booths per person, and most small companies have about 4 booths. It is not uncommon to see two cars alone. The management level is low, and the machine cannot maintain its best condition. The management of advanced equipment still adopts the traditional management method of shuttle looms, which cannot give full play to the role of high-end looms.

Aiming at the pain points of the textile industry, Suntech has launched ST series looms with 50 years of design experience and technical precipitation, which has the following advantages:
1. High speed and high efficiency: The maximum speed can reach 800 rpm, and the stable speed can reach 550~660 rpm. Intelligent technology improves the efficiency and speed of weaving, improves the rigidity of the weft knitting and warping mechanism, and increases the force of the weft pressing mechanism. Even if the operators are skilled and the management level is limited, the equipment can still complete the most difficult tasks and solve major problems. The problem of low production efficiency in some enterprises.
2. Stable performance: The equipment is driven by a Spanish imported motor, heavy special steel, solid beam, and base. The high quality guarantees the stability of the rapier frame and the rapier belt under high-speed operation, and its wear resistance and service life are 5 times that of traditional aluminum alloy guide rails. The instantaneous torque of the motor reaches 3000 Nm so that the speed ratio speed can be reached immediately after the loom is started, and the motor can run for a long time without being affected by heat.
3. Power saving: Compared with traditional looms, this loom can save 15%-20% of power consumption.
4. Technical support: Suntech, as an old-brand mechanical intelligent manufacturing company, has a strong technical background and can provide loom technical support and after-sales service to ensure the normal installation and operation of the equipment, save customers' installation and commissioning time, and ensure that the equipment matches the product. Let production run normally.

The equipment has a wide range of uses, suitable for the weaving of suitable textiles such as cotton, wool, silk, chemical fiber, and the production of special industrial fibers such as glass fiber, metal fiber, and Wu fiber. Applicable to all kinds of textile enterprises.
Zhejiang Strength Machinery Co., Ltd.
Michael Li
0086 13183015925
https://www.suntech-machine.com/

Contact