WEBWIRE – Thursday, October 26, 2023
What to know
One year in, Nikes Community Climate Resilience Program has already seen meaningful results to help mitigate the impacts of climate change and protect the future of sport.
Leveraging an inaugural $2 million grant, Nikes partner, Trust for Public Land, has helped revitalize more than 117,000 square feet of public park space in New York City, Chicago and Los Angeles, serving nearly 100,000 adults and children.
Transforming concrete playgrounds into inviting urban green spaces, the teams planted more than 1,400 native plants and trees, helping to manage nearly 2.5 million gallons of stormwater runoff a year, among other objectives.
Each day, climate change is impacting athletes* all over the world. Climate change is not only a threat to sport, its also a critical social issue that exacerbates inequity and creates barriers to sport participation.
Knowing this, last year Nike launched the Community Climate Resilience Program to help provide access to urban green spaces and parks and increase sports participation in the communities that need it most. The program began with an inaugural grant of $2 million to Trust for Public Land (TPL) to fund U.S.-based projects in communities disproportionately impacted by climate threats.
One year in, the Community Climate Resilience Program has already seen meaningful results to help mitigate the impacts of climate change and protect the future of sport.
The partnership with TPL has helped revitalize more than 117,000 square feet of schoolyards and public park space in New York City, Chicago and Los Angeles that serve nearly 100,000 adults and children. The sites are all located in low-income neighborhoods that are predominately communities of color, have historically been underserved in park quality and space, and are more prone to flooding than parks in more affluent neighborhoods are. In transforming these sites into inviting urban green spaces, the teams will plant more than 1,400 native plants and trees and build capacity to manage nearly 2.5 million gallons of stormwater runoff a year, among other objectives.
Students can be inspired by being outside in these schoolyards, and they can express that in art, in music, in sports, and in how that outdoor space impacts their ability to succeed in the classroom, says Carla Y. Rivera, Director of Facilities for Camino Nuevo Charter Academy. Her school is located in one of the neighborhoods in which Nike and TPL transformed a public park space, doubling the trees and vegetation on site and providing shade and cooling benefits to protect health and lessen energy demand.
Research shows us that these efforts make a real difference. Green spaces play a critical role in mitigating the climate- and inequity-driven effects of urban heat islands and flooding. Parks, especially those with dense trees and vegetation, can be as much as 17 degrees F (8 degrees C) cooler than the surrounding cityscape. Parks can also help disperse stormwater, minimizing the impact of climate-related natural disasters and improving water quality in communities.
Trust for Public Land and Nike are uniquely positioned to shift the paradigm around climate resiliency and parks. We both believe that access to the outdoors for sport and play is a fundamental human need and essential to our health and well-being, and we know that revitalizing these spaces can help address the effects of climate change, says Ronda Lee Chapman, Associate Vice President of Equity and Belonging, Trust for Public Land. Were working together to transform asphalt-laden schoolyards into places where kids can thrive.
Among the 100 most populous U.S. cities, TPL data reveals that neighborhoods where most residents identify as people of color have access to an average of 43 percent less park space than predominately white neighborhoods do. Residents in low-income neighborhoods have access to 42 percent less park space than residents in high-income neighborhoods do. As climate change continues to increase risks from heat and flood, particularly in communities of color and low-income neighborhoods, purposefully designed green spaces and parks become a powerful driver of inclusion and climate resilience, opening up more access to sport and enhancing community health.
*If you have a body, you are an athlete.
About Trust for Public Land
Trust for Public Land (TPL) is a national nonprofit that works to connect everyone to the benefits and joys of the outdoors. As a leader in equitable access to the outdoors, TPL works with communities to create parks and protect public land where they are needed most. Since 1972, TPL has protected more than 4 million acres of public land, created more than 5,364 parks, trails, schoolyards and iconic outdoor places, raised $93 billion in public funding for parks and public lands, and connected nearly 9.4 million people to the outdoors. To learn more, visit tpl.org.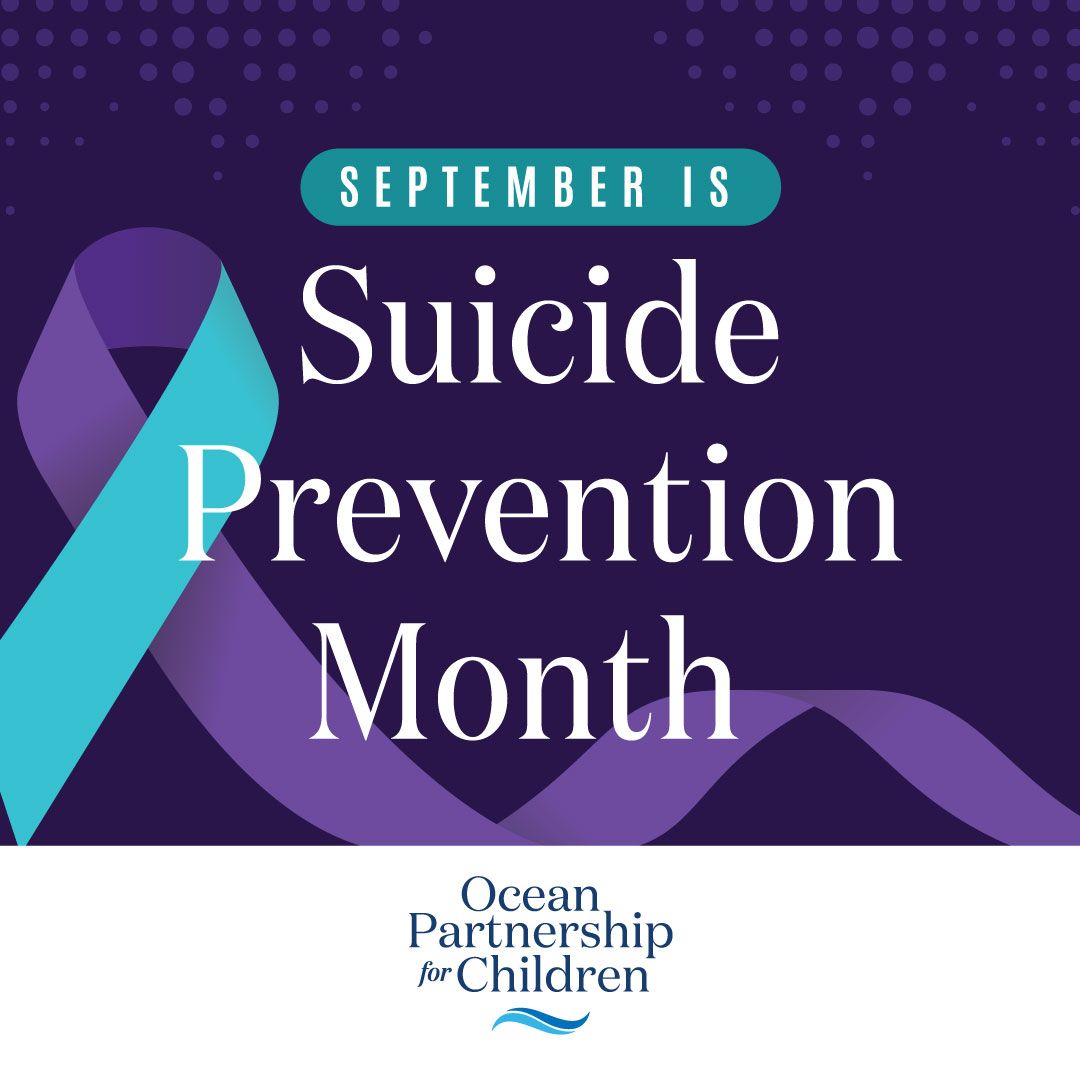 OPC provides awareness for Suicide Prevention

TOMS RIVER, N.J. – Sept. 14, 2023 – PRLog — In 2021, 3.3 million adolescents in the United States had serious suicidal thoughts and suicide was the second-leading cause of death of youth and young adults according to Substance Abuse and Mental Health Services Administration's (SAMHSA) and the Centers for Disease Control and Prevention. During National Suicide Awareness Month we are reminded that suicide is preventable. Through state initiatives and local community outreach, Ocean Partnership for Children (OPC) is equipping their employees, the young people of Ocean County and the greater community with the education and resources needed to help struggling youth and prevent suicide.

In May 2022, the New Jersey Children's System of Care announced its initiative to address the increased number of suicide and suicide attempts amongst our youth in the state. As a result of this initiative, OPC collaborated with the Educational Development Center Zero Suicide Institute. Each Care Management Organization created a team to participate in this 2-year initiative that included training for the implementation of Zero Suicide. Zero Suicide is a framework to wholistically address suicide to provide better outcomes and safer suicide care.

OPC currently serves 378 youth who are at present or historically experiencing suicidal ideation, plan and/or attempt. "The Zero Suicide Initiative created space for us to assess our practice, knowledge and experience with managing youth who are suffering with suicidal thoughts. It also assisted us in reviewing all employees' comfortability with discussing suicide, assessing, and managing risk and knowing what supports are available for youth and adults," stated Liz Menges, MA, LPC, ACS, Assistant Director of Clinical Operations at OPC.

The OPC team brainstormed what they could do to reach the young people in the community during suicide prevention month specifically. "We wanted to stand out and invite our community partners to join us in an event where we would have direct interactions with teens to provide resources not only to help them, but to give them tools to help their peers if they are not comfortable enough to approach an adult in their life," explained Jennifer Liscombe, MA, Lead Care Manager at OPC. Through this, the Dare to Care event was created. "The name, Dare to Care was inspired by our focus on teenagers in our community and encouraging them to care for others, go out of their way to talk to others and be kind and also to promote other alternatives to suicide that teenagers can participate in to promote healthy lifestyle and mindset," continued Liscombe. "We figured it's common for teenagers not to be up for a challenge like this, but if they are dared to do something, chances are they will be more likely to do it. That's the hope."

This year's Dare to Care event will take place on September 19th outside the OPC office in downtown Toms River, closest to Toms River High School South. It will include spreading awareness for suicide prevention, providing resources via hotlines, text lines, agencies to outreach, and phone applications to utilize prior to a crisis. The event will have giveaways with prizes that encourage youth to practice self-care and self-love. Youth will be painting stones with positive or kind messages and hiding them in the community and around downtown Toms River for others to find. "The goal is to have these positive messages brighten the person's day who may find them and also show our youth that small actions can make a large impact," noted Liscombe. "Every year, we hope Dare to Care can spread positivity, encourage people struggling to speak out and get help and above all else, we hope Dare to Care can be a catalyst to prevent suicide for everyone in our community."

In addition to the Dare to Care event, OPC will also be participating in the American Foundation for Suicide Prevention Out of the Darkness Walk in Belmar on September 23rd. The Out of the Darkness Community Walk is a journey of remembrance, hope, and support. It unites communities and provides an opportunity to acknowledge the ways in which suicide and mental health conditions have affected our lives and the lives of those we love and care about.

In the event that someone is having suicidal thoughts, the following resources can help:
988 Suicide & Crisis Lifeline – Dial 988 or call 1-800-273-8255
Crisis Text Line: Text Hello to 741741
American Foundation for Suicide Prevention
Employee Assistance Program (EAP): call 1-800-300-0628
Military/Veterans Crisis Line: Dial 988 and Press 1, text 838255, or chat online at VeteransCrisisLine.net/Chat
New Jersey Suicide Prevention Hopeline: 1-855-654-6735
Peer Recovery Warm Line: 877-292-5588
Post-Partum Support International: 800-944-5773 or text HELP to this number
Trans Lifeline: 1-877-565-8860
The Trevor Project: 1-866-488-7386 or text START to 678678
About Ocean Partnership for Children Inc.
Founded in 2005, Ocean Partnership for Children (OPC) is Ocean County's Care Management Organization (CMO). Its mission is to enhance the well-being of youth and their families through natural and community supports. OPC provides care coordination services for Ocean County youth up the age of 21 years who have mental health, substance use, intellectual and developmental challenges. OPC strives to keep children and adolescents at home, in school, and in the community by connecting them to resources that meet their unique needs and help them achieve their goals.

Ocean Partnership for Children is a non-profit organization available at no cost to all youth and families in Ocean County who meet the eligibility criteria of the New Jersey Children's System of care. To learn more, visit https://www.oceanpartnership.org or www.oceanresourcenet.org.
Traditionally-recognized socially vulnerable groups in Canada bear a disproportionate burden of flood risks
WEBWIRE – Tuesday, August 23, 2022





Socially vulnerable groups are at greater risk from climate-change-caused flooding because of systemic disadvantages, according to a new study.




The study also reveals that neighbourhood-level racial or ethnic, economic, social, and demographic factors play a significant explanatory role in the distribution of flood risk across Canadian neighbourhoods.




The study led by Liton Chakraborty, a researcher at the University of Waterloo's Partners for Action, in collaboration with other Waterloo researchers, found that traditionally-recognized socially vulnerable groups in Canada, such as females, persons living alone, Indigenous, South Asians, the elderly (age 65 and over), other visible minorities, and economically insecure residents bear a disproportionate burden of inland and coastal flood risks.




"This research fills the gap of analyzing and addressing flood-related socio-economic discriminations while considering divisibility aspects of flood hazards and contributes to the emergent and quantitative environmental justice literature on flood-related socio-economic disparities," Chakraborty said.




The study utilized national datasets of flood hazards, residential address points, census of population, and census tract (CT)-level cartographic boundaries to determine flood vulnerable neighbourhoods and the number of residential properties exposed to river, periodic rainfalls, and coastal flooding across 4,458 CTs in Canada.




By examining whether the types of flood hazard zones influence the observed relationships among flood exposure and racial, ethnic, and other socio-demographic characteristics of Canadian residents, the study indicates that the statistical associations between periodic rainfalls-related flood risk exposure and the proportion of Black, Indigenous and other visible minority populations are positive and significant.




"Our research shows how the spatially varying distribution of flood hazards and socio-economic deprivation, or social vulnerability indicators could inform Canada's equitable flood management approach that complements Federal Government's Gender-based Analysis Plus priorities in flood-related disaster and emergency management policies across Canada," Chakraborty said. "Therefore, the paper's findings promote a socially just flood risk management approach emphasizing the need to acknowledge socio-economic heterogeneity within various racial, ethnic, and socio-demographic groups."




The researchers suggest that policymakers must consider the uneven distribution of racial or ethnic and socio-demographic covariates in designing flood risk management strategies that optimize scarce resource allocation.




The study, authored by Waterloo researchers Chakraborty, Horatiu Rus, Daniel Henstra, Jason Thistlethwaite, Andrea Minano, and Daniel Scott, was recently published in the Environmental Research journa.
– With a portion of proceeds from all food and beverage items sold going directly to Ronald McDonald House Charities ® (RMHC ®) and other local children's charities, Canadians proved doing good can be delicious

– Extended by popular demand, Canadians can still purchase exclusive McDonald's Canada x Peace Collective collection featuring nostalgic McDonaldland® characters to support RMHC

TORONTO – WEBWIRE – Friday, May 13, 2022





Canadians from coast to coast to coast united to celebrate the 28th annual McHappy Day®, McDonald's Canada's annual fundraising event aimed at raising donations for Ronald McDonald House Charities® (RMHC®) and other local children's charities.




By purchasing their favourite food and beverage items in-restaurant, at the Drive-Thru, through the McDonald's app, and through McDelivery® via Uber Eats, Skip the Dishes and DoorDash, to buying nostalgic swag from the McDonald's Canada x Peace Collective collection, Canadians stepped up to help raise more than $5.7 million to support families with sick children across Canada.




On Wednesday, McDonald's celebrated its 28th McHappy Day in Canada, raising more than $5.7 million. Representatives from McDonald's Canada and RMHC Canada are joined by the Ford Family, who spent 84 nights at a Ronald McDonald House while their son Tristan was being treated for Griscelli syndrome.




To help get Canadians into the McHappy Day spirit, two of Canada's most notable landmarks, Niagara Falls and the CN Tower were lit up with McDonald's red and yellow to commemorate the day!




"The results from McHappy Day are amazing, and we're pleased to make a difference in the lives of wonderful families across our communities," said Alyssa Buetikofer, Chief Marketing Officer, McDonald's Restaurants of Canada Limited. "Thank you to our incredible guests, franchisees, restaurant teams, crew and supplier partners for participating in McHappy Day, and helping to make a truly meaningful impact for so many."




Across the country, one in four Canadians has either stayed at a Ronald McDonald House or knows someone who has, with the organization supporting up to 527 families every night. The money raised from McHappy Day, along with the continuous funds raised throughout the year, will help families with sick children across Canada stay together during treatment, so they can focus on what truly matters – their child's health.




"My family and I are incredibly thankful for RMHC Alberta for supporting us for over 200 nights while our baby, Ezra, received urgent care at the Alberta Children's Hospital," said the Marfo Family from Lac La Biche, Alberta. "During this difficult time, RMHC allowed us to focus on our child's health while they took care of everything else. Thank you to everyone across Canada who participated in McHappy Day to help families like ours and so many others."




While in an average year, RMHC is able to support more than 26,000 families from over 3,400 Canadian communities, the need is still greater than ever. Yearly, up to 45,000 families in Canada¹ are left without the comfort and support of the RMHC House Program®. The funds raised on McHappy Day will help expand the services provided by RMHC, including building new houses for families in need, like in Winnipeg where a new house is set to open its doors to more than double its support for families across Manitoba and Northern Ontario this summer, increasing the number of beds from 14 to 40.




People across the country can continue supporting the good RMHC does all year-round in the following ways: 
Extended by popular demand, Canadians can purchase a piece from the limited-edition McDonald's Canada x Peace Collective collection of tees, sweatshirts and more, featuring iconic McDonaldland® characters. A portion of the proceeds from every sale supports RMHC and families with sick children across Canada. Visit Peace-Collective.com.
Purchasing Happy Meals and RMHC Cookies, as well as donating through coin box and kiosk donations.
Guests can 'Round up for RMHC' on any order at participating restaurants to support RMHC all year long.
Donating to a local Ronald McDonald House® or setting up a monthly donation any time at https://www.rmhccanada.ca/donate.
Facts:
McHappy Day is McDonald's Canada's largest charity-driven program. Since its inception in 1977, McHappy Day has helped RMHC support more than 436,000 families across Canada. 
The 16 Ronald McDonald Houses and 17 Ronald McDonald Family Rooms in Canada give families a place to stay together when they have to travel for their sick child's treatment. 
Every day, McDonald's Restaurants of Canada Limited, our independent franchisees, and guests, support Ronald McDonald House families by purchasing Happy Meals and RMHC Cookies, as well as through coin box and kiosk donations. 
To learn more about the services provided by RMHC, visit rmhccanada.ca.
About McDonald's Canada 

In 1967, Canadians welcomed the first McDonald's restaurant to Richmond, British Columbia. Today, McDonald's Restaurants of Canada Limited has become part of the Canadian fabric, serving close to three million guests every day. In both franchised and corporate-owned restaurants, nearly 100,000 people are employed from coast-to-coast, and more than 90 per cent of McDonald's 1,400 Canadian restaurants are locally owned and operated by independent franchisees. Of the almost $1 billion spent on food, more than 85 per cent is purchased from suppliers in Canada. For more information on McDonald's Canada, visit mcdonalds.ca. 

 

About Ronald McDonald House Charities® Canada (RMHC® CANADA) 

In Canada, 65 per cent of families live outside a city with a children's hospital and must travel for treatment if their child is seriously ill. In an average year, the RMHC network of programs in Canada helps to keep more than 26,000 families close to their sick child and the care they need. The 16 Ronald McDonald Houses provide out-of-town families with a home to stay at while their child is being treated at a nearby hospital, while the 17 Ronald McDonald Family Rooms provide a comfortable place for families to rest and recharge, right inside hospitals. For more information, please visit rmhccanada.ca. 

 




For more information: Corporate Relations, McDonald's Canada

media.relations@ca.mcd.com




¹ Estimated need using Canadian Institute for Health Information Discharge Abstract Database (DAD) and NACRS data. 2018.




 Fisheries and Aquaculture Sector in the country provides livelihood support to a total 28 million fishers. Out of these, 2.78 million fishers are full-time actively engaged in fisheries and fisheries related activities. State wise details of total number of people engaged in fisheries, aquaculture and its allied activities are at Annexure –I.






to (d): The Department of Fisheries, Ministry of Fisheries, Animal Husbandry and Dairying is implementing a flagship programme of Pradhan Mantri Matsya Sampada Yojana (PMMSY)- a scheme to bring about Blue Revolution through sustainable and responsible development of fisheries sector with a highest ever investment of Rs. 20,050 crore for a period of 5 years with effect from 2020-21 to 2024-25 in all the States/Union Territories. PMMSY inter-alia provides livelihood and nutritional support for socio-economically backward active traditional fisher's families during the fishing ban/lean period under which Governmental financial assistance of Rs. 3000/- per annum is provided to each enrolled beneficiary along with beneficiary contribution of Rs. 1500/- annually. Further, such accumulated amount of Rs. 4500/- is disbursed to each enrolled beneficiary by the respective State/UT at the rate of Rs. 1500/- per month during the fishing ban/lean period for three months annually.






Besides, PMMSY, inter-alia, lays special focus on training, skill development, skill up- gradation and capacity building through trainings, awareness building programmes and exposure visits to stakeholders especially fishers, fish farmers, fish workers, fish vendors, entrepreneurs, officials, fisheries Cooperatives and members of Fish Farmer Producer Organizations. The Training, Awareness, Exposure and Capacity Building programmes are carried out through the National Fisheries Development Board, ICAR institutes, Krishi Vigyan Kendras (KVKs), other organisations and State/UT Fisheries Departments. In addition to these regular programmes, skill development programmes to traditional fishermen through Recognition of Prior Learning (RPL) programme approved by Agriculture Skill Council of India (ASCI) in respect of marine/ inland capture fisheries are also provided.




Annexure-I






Statement referred to in reply of Rajya Sabha Unstarred Question No.2660 put in by Shri Ayodhya Rami Reddy Alla, Honourable Member of Parliament for answer on 25th March, 2022 regarding 'Fishing communities': State-wise details of total number of people engaged in fisheries, aquaculture and its allied activities









Sl. No.





Name of the States/ UTs

Number of people engaged in




fisheries, aquaculture and its allied activities




1

Andhra Pradesh

1,496,688




2

Arunachal Pradesh

24,015




3

Assam

2,524,106




4

Bihar

6,027,375




5

Chhattisgarh

220,355




6

Goa

10,545




7

Gujarat

558,691




8

Haryana

118,455




9

Himachal Pradesh

11,806




10

Jharkhand

140,897




11

Karnataka

974,277




12

Kerala

1,044,361




13

Madhya Pradesh

2,232,822




14

Maharashtra

1,518,228




15

Manipur

47,711




16

Meghalaya

16,567




17

Mizoram

6,289




18

Nagaland

7,958




19

Odisha

1,517,574




20

Punjab

7,591




21

Rajasthan

57,260




22

Sikkim

581




23

Tamil Nadu

1,283,751




24

Telangana

862,221




25

Tripura

7,761




26

Uttarakhand

8,352




27

Uttar Pradesh

3,900,005




28

West Bengal

3,236,261




29

A and N Islands

25,941




30

Chandigarh

524




31

Daman & Diu and Dadra




Nagar Haveli





40,016




32

Delhi

3,346




33

Jammu & Kashmir

17,396




34

Ladakh

22




35

Lakshadweep

6,518




36

Puducherry

107,272







All India total

28,063,538














This information was given by Union Minister for Fisheries, Animal Husbandry & Dairying, Shri Parshottam Rupala in a written reply in Rajya Sabha today.






******




MV/MG








(Release ID: 1809736)
Visitor Counter : 160