The loosening of the real estate market is bringing real estate agents back into the investor role for fix and flips as well as rehabs.
Evergreen, Colorado, USA – WEBWIRE – Saturday, March 19, 2022
The moment real estate agents have been waiting for is starting. Contrary to belief Realtors do not like a market that favors one side or the other. A balanced real estate market is best for everyone. Now that the real estate market is adding a little more inventory and many buyers have just given up the market is ripe for investing.
Since real estate agents like Danny Skelly, the broker-owner for Orson Hill Realty, have their finger on the pulse of the market for a living it is only logical Orson Hill Realty starts their fix and flip division back up. After taking a couple of years off due to very low inventory, pandemic lockdowns and just the unknown of the uncertain conditions in the economy were enough for Orson Hill Realty to focus on residential sales.
The model they are using will be investing in single-family homes under $1,000,000 purchase price. The property can be in any condition except a scrape. As long as the home can stay standing during rehab, Orson Hill Realty will purchase it. Complete the rehab and sell it for market value. 
 Discounted Errors and Omissions insurance coverage is now being made available through the American Association for Medicare Supplement Insurance.

"The discounted coverage can be a huge benefit to the many insurance agents who are joining the business to sell Medicare insurance," states Jesse Slome, director of the Medicare advocacy organization. "While E&O claims do not occur often with the sale of Medicare products, they can and some require this coverage."

The monthly premium for a new agent with less than $75,000 in annual commissions can be $39.40 notes Slome. "The savings are beneficial during the first two years after which the policy can be maintained still at a low price."

The Association offers the E&O coverage to any insurance agent needing the protection. "There are several advantages," Slome cites. "There are five different levels to choose from. An agent can buy and pay for only the level and amount of coverage they need and want."

In addition, no membership fees are required according to Slome. "The Association does not have paid members. This can help an agent save hundreds of dollars a year." Coverage includes Medicare Advantage and Medicare Supplement insurance with levels covering agents selling fixed and indexed annuities as well as variable life and annuity products.

To learn more about the discounted E&O insurance for new agents go to www.medicaresupp.org/eo-new/. The coverage is from Fireman's Fund Insurance Company, an Allianz Global Corporation and Specialty Company. Limits of liability range from $500,000 to $3,000,000.

The American Association for Medicare Supplement Insurance advocates for the importance of educated planning and supports insurance professionals who market Medicare insurance solutions. For more information, visit the organization's website at www.medicaresupp.org/eo-for-new-agents/.
American Association for Medicare Supplement Insurance
Jesse R. Slome
818-597-3205
www.medicaresupp.org

Contact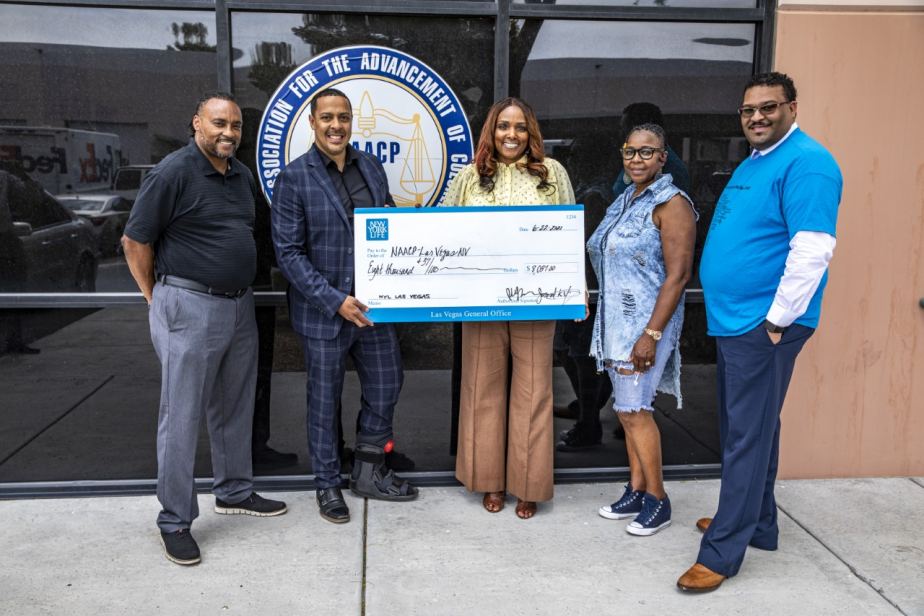 Las Vegas NAACP Receives Donation
LAS VEGAS – July 19, 2021 – PRLog — – A multi-cultural group of New York Life insurance agents recently participated in the Stepping Forward Walkathon from May 10 – June 13. The group raised $8037 to educate the community about the importance of health and wellness. Proceeds from the fundraiser were donated to NAACP Las Vegas, an organization that works to ensure the political, educational, social, and economic equality of rights for all persons and to eliminate racial hatred and discrimination.
"Agents from the African American Market Unit of New York Life committed to walking thirty minutes every day in observance of Stroke Awareness Month," said Jemond White, the organizer of the Walkathon who is also a New York Life insurance agent. "We also walked to honor Cirilio McSween the first black life  insurance agent from a major carrier in the United States. He is an inspiration to us all because of his extraordinary accomplishments as a New York Life agent and the tremendous contributions he made in the pursuit of racial equality."
"The African American Market Unit collaborated with the New York Life Foundation to sponsor the Walkathon. We decided to donate to NAACP Las Vegas to help teach our people the importance of health and wellness. Education is extremely important because it helps us make better choices."
Roxann McCoy, the President of NAACP Branch #1111, Las Vegas said she is "truly humbled" by the support of New York Life.
"Their donation today of $8,037 will be earmarked to support our Health Committee; thereby allowing extraordinary outreach to our community members who are in need.  Their further commitment to serve as active members in our organization does not go unnoticed by members of our Executive Board.  We look forward to what the future holds for this partnership and move forward with the expectation that this is simply the beginning."
White said that he and his fellow agents want more opportunities to educate people within marginalized communities about financial matters.
"Members of the AAMU like myself, and various agents of New York Life's other cultural markets, are actively seeking to have more financially relevant conversations with individuals, families, business owners and professionals of Color and Culture in our varied markets. I want those who identify with communities of people who are routinely marginalized, in NAACP's case, People of Color, to learn, benefit from, and pass along these potentially life changing, legacy building financial strategies. In this way, we can infuse vitamins and nourishment into the places where we live, work, play and call home."
"Insurance is the most efficient financial tool to pass on generational wealth, but it isn't the whole story.  We are committed to educating our people about the strategies they can utilize to build financial legacies."
To contact Jemond White, call (702) 900-7825 or (702) 796-2000. You can also email him at jkwhite@ft.newyorklife.com   http://newyorklife.com/agent/jkwhite