The memorable 6-2 victory for the Three Lions also pulled in a peak TV audience of 8.1 million and over 70% of the share of available viewers
WEBWIRE – Tuesday, November 22, 2022
England's World Cup 2022 opener against Iran was streamed a record 8 million times on BBC iPlayer and BBC Sport online, making it the largest live streamed event on the BBC over a 24 hour period.
The memorable 6-2 victory for the Three Lions also pulled in a peak TV audience of 8.1 million and over 70% of the share of available viewers.
Sunday's opening game, Qatar v Ecuador, had a peak audience of 7.9m on BBC One. By comparison, in 2018, the Peru & Denmark match which started at a similar time had a peak of 6.6m on the BBC.
Later today, BBC One and BBC iPlayer will air live coverage of Mexico v Poland (4pm) and France v Australia (7pm). Coverage of all games continues on BBC Radio 5 Live, BBC Sounds and BBC Sport online.
Focus Financial Partners Inc. (NASDAQ:FOCS) ("Focus"), a leading partnership of independent, fiduciary wealth management firms, announced today that it has entered into a definitive agreement under which New England Investment & Retirement Group, Inc. ("NEIRG"), a registered investment adviser headquartered in North Andover, MA, will join Connectus Wealth Advisers ("Connectus"). The transaction is expected to close in the fourth quarter of 2021, subject to customary closing conditions.

Founded in 1995, NEIRG provides holistic wealth management services to high-net-worth individuals and families, trusts, estates, endowments and retirement plans. Through sophisticated financial planning and a differentiated investment management approach, including access to proprietary alternative investment solutions, NEIRG provides its clients with highly personalized services to help them attain their objectives.

"Joining Connectus will position us to achieve the next phase of our firm's evolution and growth while maintaining our boutique service approach and culture. Connectus will equip us with a very attractive suite of tools and resources, which will further enhance our ability to meet each of our client's unique needs," said Nick Giacoumakis, NEIRG's President and Founder. "Leveraging these capabilities to both expand our business and deepen our relationships with clients will make this an ideal partnership."

"The NEIRG team is a highly experienced group and an impressive new member of the Connectus family," said Rajini Kodialam, Co-Founder and Chief Operating Officer of Focus. "This transaction is evidence of Connectus' continued strong momentum in the United States. Connectus' ability to empower advisers, through access to deep resources and state-of-the-art client service capabilities, provides a unique balance of scale and expertise with a vital emphasis on the client relationship. We are confident that NEIRG will benefit from all that Connectus has to offer to drive its continued growth."

About Focus Financial Partners Inc.

Focus Financial Partners Inc. is a leading partnership of independent, fiduciary wealth management firms. Focus provides access to best practices, resources, and continuity planning for its partner firms who serve individuals, families, employers and institutions with comprehensive wealth management services. Focus partner firms maintain their operational independence, while they benefit from the synergies, scale, economics and best practices offered by Focus to achieve their business objectives. For more information about Focus, please visit www.focusfinancialpartners.com.

About Connectus Wealth Advisers

Connectus is a global consortium of client-centric advisers that deliver comprehensive wealth management advice through access to expanded services, shared resources and best practices. Connectus exemplifies the spirit of partnership and collaboration yet celebrates the entrepreneurial mind-set of its advisers. Connectus is designed for founders and teams who want to continue to manage their client relationships and maintain their boutique cultures, while gaining the operational efficiencies of shared infrastructure and access to expanded client service capabilities.

Through Focus, Connectus advisers gain a strategic growth partner with specialized expertise. They benefit from Focus' scale and extensive network, continuity planning, insights and best practices. Focus is also a source of permanent capital to accelerate growth and enhance business and client outcomes. For more information, please visit www.connectuswealth.com.

Cautionary Note Concerning Forward-Looking Statements

This release contains certain forward-looking statements that reflect Focus' current views with respect to certain current and future events. These forward-looking statements are and will be, subject to many risks, uncertainties and factors relating to Focus' operations and business environment, including, without limitation, uncertainty surrounding the current COVID-19 pandemic, which may cause future events to be materially different from these forward-looking statements or anything implied therein. Any forward-looking statements in this release are based upon information available to Focus on the date of this release. Focus does not undertake to publicly update or revise its forward-looking statements even if experience or future changes make it clear that any statements expressed or implied therein will not be realized. Additional information on risk factors that could affect Focus may be found in Focus' filings with the Securities and Exchange Commission.

Investor and Media Contacts
Tina Madon
Senior Vice President
Head of Investor Relations & Corporate Communications
Focus Financial Partners
P: +1-646-813-2909
tmadon@focuspartners.com

Charlie Arestia
Vice President
Investor Relations & Corporate Communications
Focus Financial Partners
P: +1-646-560-3999
carestia@focuspartners.com

Desiri Okobia up against hundreds of authors worldwide for prestigious 2021 Author Elite Award

LONDON – Sept. 13, 2021 – PRLog — "Kitsu's Diay," written by London, UK resident, Desiri Okobia, has been nominated for a 2021 Author Elite Award, an honor bestowed for literary merit and publishing excellence in the writing and publishing industry.

Desiri Okobia's book is up for an award in the Young Adult Fiction category, which is a classic retelling of 'good girl meeting bad boy,' written from the angle of Kitsu's Diary recollections. It gives insight into the mind of a teenage girl and why they fall for guys who for all intents and purposes should be avoided.

"Four years ago we launched an experiment called the annual Author Elite Awards. In the process we've attracted many of the best authors in the world," said Kary Oberbrunner, founder of Igniting Souls Publishing Agency and the Author Elite Awards. "Our goal is to celebrate a force that creates life change in our society—books and the authors who write them. In our noisy world, books offer a unique appeal—the ability to lose ourselves in a story. Nothing else provides such transcendence."

Authors of all kinds—indie (self-published), traditional, or collaborative published—are being considered for the award in one of twelve categories. Entries are being reviewed and evaluated on popular vote, social contribution, and overall presentation (cover, content, flow, and originality).

If interested in supporting Desiri Okobia and participating in the popular vote portion of the award evaluation, visit AuthorEliteAwards.com and click the "Vote Now" button. Once there, click through the poll to view the Young Adult Fiction category, then find and click on "Kitsu's Diary – The Things I wish I knew when I was Fifteen."

The top ten finalists in each category will be invited to present their book synopsis at an Author Elite Awards Red Carpet Session on October 22, 2021 in Columbus, Ohio. Winners will be announced later that evening at the Author Elite Awards Ceremony where they will be invited to give an acceptance speech. Winners will also receive:

●          The Elite Boon of Merit Award.

●          Press release and media story written for national press by a professional PR firm.

●          Traditional media and social media press including features on select podcasts, shows, vlogs, blogs, and articles.

●          Lifetime access to the 30 Days to a Bigger Stage Experience©, an online program helping authors get publicity for their book.

●          The opportunity to have a 90-second book synopsis video shared to a global audience.

About the Author Elite Awards

The Author Elite Awards is an award bestowed for literary merit and publishing excellence in the writing and publishing industry. It is presented annually by Author Academy Elite, a premium service provider for authors, at the Author Elite Awards Ceremony. For more information on the awards, visit AuthorEliteAwards.com.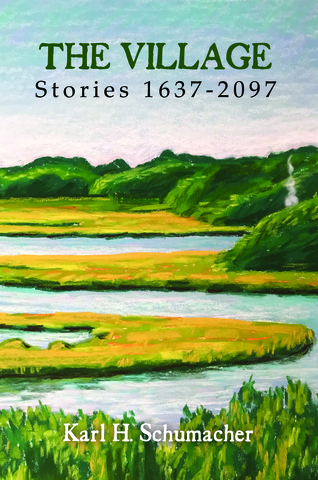 The Village: Stories 1637-2097, a new book by Karl H. Schumacher, has been released by Dorrance Publishing Co., Inc.

The brief yet passionate experiences of its citizens serve to show how humanity is shaped by common struggles, romances, and reveries. From the ancient to the futuristic, The Village creates a historical microcosm of the evolution of humanity. Told through the experiences of the young, the old, and the unborn, each character is created to feel timeless in their common intensities of life.

The Village is used as a stage, community, and a link to its residents across generations. It is where we all came from, and people have been brave, quirky, doubtful, and persistent since its very beginning.

Advanced praise for The Village: Stories 1637-2097:
"Schumacher's foray into historical fiction could not be more timely as acknowledgment of the Pilgrim's New World 400 years later is under examination and commemoration across the region. His inventive imagery and historic tone transport you to a time when the world was new and possibilities were endless. A remarkable tribute to the history upon which the Cape and the country as a whole have been built."
– Brian Shortsleeve, Publisher of Cape Cod LIFE

"The Village, Karl Schumacher's boldly imagined book of stories, does what collections are meant to do – provoke you to think. It also happens to be very well written, funny where it needs to be, and always clever. But it is the book's premise that leaps out – one bit of earth, a village, is seen through the arc of time, from the landing of the first English settlers on Cape Cod to a not too distant future. We see repeated patterns of love, frailty, greed, intelligence, and stupidity unfold on an unchanging spit of land, telling us, in a very gentle way, that as much as things change, they stay the same. "
– Paul Vidich, acclaimed author of The Coldest Warrior, An Honorable Man, The Good Assassin and works of non-fiction.

About the Author:
Karl H. Schumacher is a retired executive living in Connecticut and writing on topics of his passion.

The Village: Stories 1637-2097 is a 202-page paperback with a retail price of $16.00. The ISBN is 978-1-6470-2291-4. It was published by Dorrance Publishing Co., Inc of Pittsburgh, Pennsylvania. For members of the press, to request a review copy, visit our virtual pressroom at http://dorrancepressroom.com/the-village/ or to buy the book visit our online bookstore at http://bookstore.dorrancepublishing.com/the-village-stories-1637-2097/