Yadea, the world's leading electric two-wheel mobility brand, was again making waves at EUROBIKE 2023 (June 21-25), following its first participation last year. EUROBIKE, the global trendsetter in the cycling industry, attracts buyers, manufacturers, agents, retailers, professional visitors and cycling enthusiasts from around the world to visit, interact, and discuss global cycling trends and the future, helping drive development in the global cycling industry.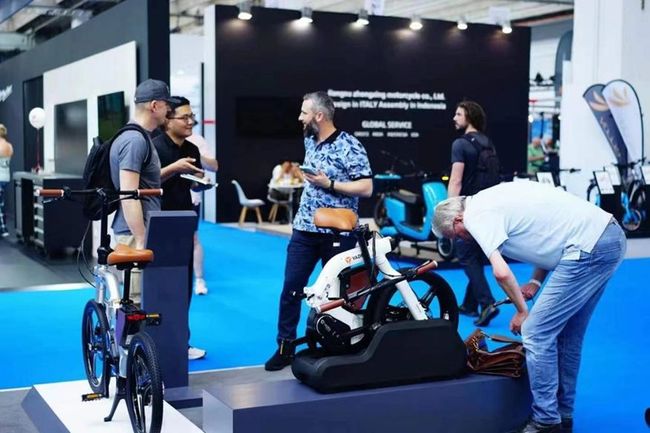 Yadea at EUROBIKE 2023
Throughout the growth of the green commuter market, the global demand for e-bikes has grown significantly. In 2022, the European e-bike market exceeded 5.5 million units sold, a y/y increase of around 20%. And Yadea has a leading position on the e-bike circuit. With its relentless pursuit of innovation, quality, and sustainability, Yadea is now the world's number one in sales of electric two-wheelers.
At this year's EUROBIKE, Yadea showcased the Yadea Trooper 01, Yadea Innovator and Yadea Camper e-bikes, all well received by dealers and the media, with especially positive reactions from the global e-mobility, technology, and new consumer sectors. With engaging interaction and fruitful discussions, Yadea further consolidated its position as the industry front runner.
Innovation Never Stops: Yadea Provides All-scenario E-transportation Solutions for Global Users
The e-bikes on display were user-centric and covered multiple scenarios of daily commuting with their functional features.
The retro-style Yadea Trooper 01 is designed for young riders who love competition and exploration. The Yadea Trooper 01 is available in two versions, with a 750W single motor and with a 1000W twin motor. Both are controlled by the ELSD system, which guarantees safety with the bike's powerful drive. Its 20×4-inch wide tires and full suspension system enhance stability and maintainability, ensuring a smooth and enjoyable ride on various terrains. Trooper 01 leaves plenty of room for modification, allowing users to explore new adventures with a DIY e-bike.
For riders who are keen on the "4+2" (4-wheeler + 2-wheeler) travel mode, Yadea also provides an ideal solution. The Yadea Innovator Foldable Electric Bike adopts a single-arm front and rear design and has a folded volume of only 0.27 cubic meters. The Yadea Innovator features an intelligent mid-mounted high-torque motor and a high-sensitivity torque sensor for a premium and stable driving experience. Its one-piece bird-shaped frame design won the IDEA (International Design Excellence Award).
Mastering Technological Innovation and Quality, Yadea Creates a New International Commuting Lifestyle
Technology is the cornerstone of Yadea's ability to achieve a full coverage of its customers' mobility scenarios. According to its financial report, Yadea's R&D expenditure during 2022 increased by 31.1% year-on-year. To date, Yadea has established 2 national CNAS laboratories, 6 technology R&D centers and a professional R&D team of more than 1,000 people, and has obtained more than 1,890 national patents.
In the field of electric bicycles, Yadea had already laid out 5 years ago, continuously injecting top talents and experts. 90% of the motors of Yadea electric bicycle products come from independent R&D and are equipped with industry-leading configurations such as LG21700 power lithium battery and large TFT display to empower them. The motors of all products are covered by a 5-year warranty. What's more, all products are CE certified to ensure high quality and safety of each product.
Yadea provides quality products and services to 70 million customers worldwide and has a presence in more than 100 countries and regions, creating a brand that is "localised and deeply cultivated in overseas markets". Its internationalisation is also progressing at an impressive pace. Yadea will continue to create high-performance, high-end, international products to meet the diverse travel and entertainment needs of global customers, not only further expanding the boundaries of e-mobility solutions, but also giving rise to a new kind of happy travel providing a sustainable commuting lifestyle for the world.
About Yadea
Yadea (01585.HK) is the world's leading electric two-wheeler brand, with a product range covering high-performance electric motorcycles, electric mopeds, electric bicycles, and electric kick scooters. Yadea has provided products and services to 70 million riders in 100 countries and has built a network of 40,000+ retailers worldwide. With a mission to help "Electrify Your Life", Yadea will continue focusing on green technology innovation to deliver superior electric mobility solutions and creating a new generation with a low-carbon lifestyle while building a shared and sustainable future for mankind. Visit https://yadea.com and https://store.yadea.com.
Media Contact
Shirley, Yadea Group Holdings
PR: media@yadea.com; E-bike: ebike@yadea.com
Website: https://store.yadea.com

Topic: Trade Show or Conference