Rice is one of the most cultivated grain crops in India; it is also the staple diet of a major part of the North East. The traditional hand method of cultivation and harvesting is still practiced. They range from low-lying lake areas to sloppy land of high hills in different rice growing seasons by adopting their age-old indigenous rice growing methods and practices for their food and livelihood.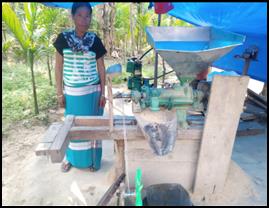 Smt. Arjun Pudi Chakma, D/o of Shri Chitra Bahu Chakma, Ujebong NaRMG, Village Jyotsnapur II, Diyun, Arunachal Pradesh. Due to family issues became homeless. The economic status of the family was inseparable. Without any hope for a better life, her life was in jeopardy. After one month, her relatives helped her build a small house.
Being a single mother and the sole breadwinner, she has endured a lot of hardship to support her family. She started working as a daily wage, earning a meagre amount of Rs 100/- or Rs 150/-only per day. With such an acute amount of money, she was unable to take care of her family's basic needs.
When NERCRMS came to light in the village in the year 2018, all the NaRMG members from Ujebong NaRMG agreed to support her with a rice mill (small scale) under NERCRMS activity at a cost of Rs. 38000/-.
Her monthly income from the rice mill is Rs 6,000/-per month. She supports her two daughters for their schooling and family livelihood. She now has a decent standard of living and is continuously looking for ways to expand her business.
*********
MG/DP/RK


(Release ID: 1810617)
Visitor Counter : 131