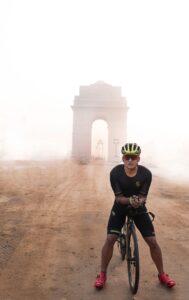 Amit Samarth, Scott Ambassador rode the cycle from India Gate, New Delhi to Zero Mile, Nagpur. He covered 1,035km in 39.01 hrs without a sleep break. He commenced from India Gate and passed through Mathura, Agra, Gwalior, Jhansi, Lalitpur, Sagar, Narshingpur, Lakhnadon, Seoni and concluded at his home town Zero Mile.
Amit came across many difficulties, challenges due to road conditions and unexpected traffic and after Gwalior, he faced massive climbs on the Satpuda mountain range. He finished his first 300km using the Scott Plasma RC inside 10 hours and created a great head start for himself. Later, he used the Scott Addict RC, for the remaining 700kms, in the hills, to get through the climbs quickly.
Amit Samarth, Scott Ambassador said, "It was great, although very intense having to keep head-on focus for nonstop 1035 kms till I reached the endpoint, Zero Mile of Nagpur. Thanks to the crew for working non-stop for 39 hrs. Apart from that, they were also diligently working on making all the arrangements for the ride."
Jaymin Shah, Country Manager at Scott Sports India said "We at SCOTT are elated with Amit pushing boundaries and breaking records like he always does. We are proud to provide him with equipment and bikes that help him achieve his targets. Our bikes are built for the toughest athletes across the world and Amit is definitely one of the elite few. I wish him the best and millions of miles on SCOTT Products.
Amit Samarth and his team have to share the necessary details with World UltraCycling Association Record (WUCA) to get it ratified for the record. Once it gets ratified Samarth will be officially declared as the world ultra-cycling record holder.