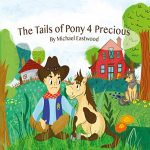 Prescott, AZ, September 26, 2020 — Do you know a child who loves horses or ponies? Watch their eyes light up as they read the pages of the new children's book The Tails of Pony 4 Precious, featuring Winston, a miniature pony, and his owner, Cowboy Mike! This children's book is now available for purchase on Amazon.
Pony 4 Precious 501(c) 3 non-profit, has launched a new children's book, starring everybody's favorite pony, Winston! Follow along as Cowboy Mike takes care of Winston and his brothers, Blue, Bones, and Buckle.
This book is a perfect gift for birthdays or for the upcoming 2020 holiday season!
Pony 4 Precious is a platinum level charity with Guidestar, founded by Michael Eastwood, who started the foundation based on his own animals, to create a scholarship program. All proceeds of this children's book will be towards the Pony 4 Precious scholarship fund.
Cowboy Mike is Michael Eastwood, CEO and Chairman of the board for Pony 4 Precious & Bello Sol Inc. Cowboy Mike rescued Winston a miniature pony in 2016 and has since developed this amazing charity Pony 4 Precious. This charity was developed for one reason: To educate children on miniature ponies and horses through free online education and training programs. Cowboy Mike and Winston launch a children's book on Amazon. https://www.amazon.com/dp/B08FF5443V
The Tails of Pony 4 Precious. 100% of the proceeds are donated to the Pony 4 Precious charity. To learn more about the charity go to www.pony4precious.org This is a fun book for kids to see what it is like to raise a pony, how much work it takes on a daily basis. Winston is a fun-loving pony that Cowboy Mike plays with every day and takes care of him and his other brother horses.
If you would like more information about this book or Pony 4 Precious, please contact pony4precious@gmail.com. You can visit the website www.ceo-stories.com or www.bellosol.com
Media Contact:
Pony 4 Precious
pony4precious@gmail.com
http://www.pony4precious.org