WEBWIRE – Friday, April 7, 2023
Two years ago, we introduced Spotify to listeners in Pakistan. Since the launch, weve worked with the countrys artists to expand their reach and share their music with new fans worldwideand now were taking things to a new level.
March marked the first anniversary of our EQUAL womens empowerment program in Pakistan, with singer Tina Sani as the Ambassador of the Month. RADAR, which highlights emerging artists from all around the world, also recently made its debut in Pakistan, featuring Taha G up first. Hes at the top of the RADAR Pakistan playlist, and Spotify worked with the singer to create a mini-documentary that spotlights his life and career.
In addition to bringing these programs to the region, were finding unique waysfrom Masterclasses to cricket campaigns to local playliststo connect with artists.
Lending artists support with a Masterclass in Lahore
Our music industry experts were ready to share their knowledge during a Spotify for Artists Masterclass event in Lahore, PK. We hosted at the historical Haveli Barood Khana mansion, and used this opportunity to educate and share information on music streaming trends and new product features with the burgeoning music industry in the region, shared Khan FM, Artist and Label Partnerships Manager for Pakistan, Sri Lanka, and Bangladesh. Renowned Coke Studio music producer, curator and artist Zulfiqar Jabbar Khan shared his perspective on the Pakistani music industry with an audience that included more than 150 artists and their teams.
Spotify gets in the cricket spirit
Cricket is huge in Pakistan, and Spotify highlighted the nations love for the game by launching a cricket marketing campaign and digging into the data* of the popular Cricket Fever playlist, shared Talha Hashim, Marketing Manager for Pakistan, Sri Lanka, and Bangladesh. The curated collection has seen a staggering 611% increase in streams since the beginning of Pakistan Super League 08 (PSL) this year. Among other trends, we noticed:
Karachi is the top city streaming the playlist.
Tuesdays and evenings are when the playlist sees the most streams.
Top songs include Groove Mera Pakistan Super League by Aima Baig, Naseebo Lal, and Young Stunners and Agay Dekh (Pakistan Super League) by Atif Aslam and Aima Baig.
Celebrating local artists with Pakka Hit Hai
The Pakka Hit Hai playlist is the go-to Spotify destination for Pakistans top hits. The playlist first launched in 2022 and has seen incredible growth and popularity since its inception. To celebrate, Spotify partnered with COLABS for a concert series called Pakka Hit Hai Live, said Rutaba Yaqub, Senior Editor for Pakistan, Sri Lanka, and Bangladesh. The first show featured Fresh Finds success Abdul Hannan and Taha G, two of the best-performing artists on the playlist. Bringing the playlist to more fans through live events is one way were expanding its reach.
State-owned energy company PT Pertamina has prepared some strategies to balance climate resilience and energy security, which include the development of nature-based solutions.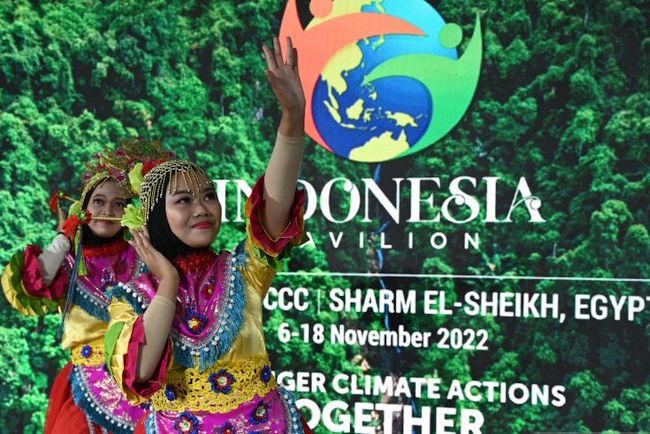 Pavilion Indonesia at COP27 UNFCCC, Sharm El Sheikh, Egypt (7/11/2022) (ANTARA FOTO/Saptono/aww)

Senior Vice President of Research Technology and Innovation at Pertamina Oki Muraza conveyed this information during a discussion at the Indonesian Pavilion on the sidelines of COP27 in Sharm el-Sheikh, Egypt, on Wednesday (November 9, 2022).

During the discussion, Muraza said that Pertamina has declared its commitment to achieving net-zero emissions by 2060, and the commitment is in line with the emission reduction policy promoted by the Indonesian government.

As part of the commitment, Pertamina is implementing two main strategies: decarbonizing all of its current businesses and building new businesses based on green and sustainable principles.

The decarbonization measures taken by the company have included pushing energy efficiency, zero-flare oil and gas activities, and carbon capture and utilization.

"Some other measures include increasing green electricity in Indonesia, building the electric vehicle ecosystem, and developing nature-based solutions," Muraza added.

He further explained that the nature-based solution policy itself is not something new to Pertamina. However, synergy is needed between nature-based solutions and the energy sector, and both should go hand-in-hand.

Nature-based solutions involve short- and medium-term policies that can support the acceleration of climate technology implementation, which is a long-term policy.

According to Pertamina, those solutions need to be considered while designing carbon mitigation strategies.

"So, we have to not only be able to capture carbon dioxide with natural plants, but also produce something… including rubber and renewable hydrocarbon products. In the end, we expect to have other products from nature-based solutions," Muraza said.

He highlighted three pillars that need to be considered in the development of nature-based solutions for realizing business resilience amid the challenges posed by climate change. The three pillars are community involvement, biodiversity and conservation, and sustainable economy.

In line with these, some vegetations that have potential as nature-based solutions, such as Calophyllum inophyllum and Pongamia pinnata, have been developed since they are beneficial for biofuel development.

In addition, the company believes that the development of the mangrove ecosystem can also be a nature-based solution because it could help absorb 264 tons of CO2 per hectare.

"We have conducted several studies with universities and government institutions on how to promote crops that can provide raw material stocks for green refineries," Muraza said.

He also outlined several initiatives, for instance, capturing methane gas, which can be used for power generation and other purposes, for example, as compressed natural gas.

In addition, the energy company is also developing other initiatives, including processing liquid waste into biomethane and solid biomass waste into ethanol.

Some more initiatives undertaken by Pertamina are the establishment of Carbon Capture and Storage (CCS) centers on the islands of Java, Sumatra, and Kalimantan as well as the development of geothermal utilization in Indonesia.

Contact: Brahmantya Satyamurti Poerwadi, Corporate Secretary, PT Pertamina (Persero)
Email: pcc135@pertamina.com, URL: https://www.pertamina.com
Written by: Yuni Arisandy Sinaga, Editor: Fardah Assegaf (c) ANTARA 2022








Topic: Press release summary




 Sackett-Waconia, the U.S.-based designer and manufacturer of fertilizer equipment systems, is entering its 125th year. The company was founded in 1897 as The A.J. Sackett & Sons company, acquiring a controlling interest in Waconia Mfg. Inc. in 1994. In 2006, Sackett do Brasil was formed with a Brazilian company to serve Brazil's fertilizer industry. In 2016, the companies came together under the banner of Sackett-Waconia and have continued their mission of providing high quality design, engineering, fabrication, and customer support to the Fertilizer Industry.

Larry Taylor, CEO Sackett-Waconia says, "We have seen an evolution over these many years from the early days of crushing and mixing organic fertilizers to the development of high analysis granular fertilizers. Modern agriculture has taken recent advancements a step further to a soil specific model, where accurate blends of high analysis macro and micro fertilizers, soil amendments, and biologicals are required to maximize plant and soil health and improve Nutrient Use Efficiency on every acre. Our mission, over the past 125 years, is to provide customers with products and services that offer state-of-the-art fertilizer production equipment solutions. We take this opportunity to offer our gratitude to the fertilizer industry for supporting our success!"
Sackett-Waconia
Jeff Coon
410-276-4466
www.sackettwaconia.com

Contact

Categories
Agriculture
Engineering
Industrial Technology
Manufacturing