SINGAPORE, Oct 5, 2023 – (ACN Newswire) – The Asia Travel Technology Industry Association (ATTIA) and Web in Travel (WiT) are delighted to announce the winners of the inaugural Travel Changemakers Awards 2023.
From over 100 entries, 10 were selected as representing best practice. The Awards seek to recognise innovators who have harnessed technology to usher in a brighter future for the Asia Pacific region. The winners were revealed at the WiT Singapore Conference held on 3 October 2023.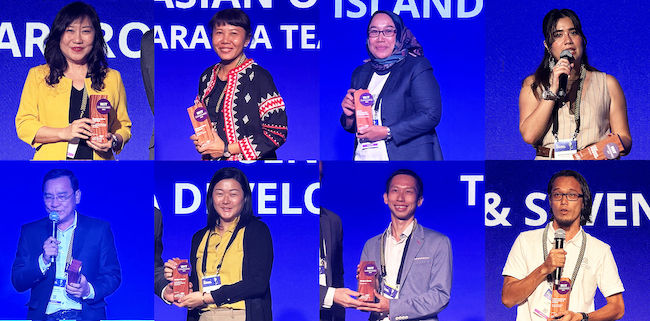 The Travel Changemakers Awards 2023 are organised by WiT in conjunction with ATTIA to celebrate innovators in the Asia Pacific who seized the opportunity to introduce new initiatives and programs to transform their organisations and impact the entire industry.
"Bringing action to our thoughts, we focused on common elements – the environment, empowering local communities, nurturing talent – which led to the creation of the Travel Changemakers Awards 2023. We are thrilled to have the Asia Travel & Tech Industry Association's support for this inaugural event. As I read through all the entries, I was inspired by the creativity, innovation, and the remarkable individuals making positive changes in the world," said Yeoh Siew Hoon, founder of Web in Travel.
These changes are marked by the imaginative and clever use of technology at their core.
Chris Kerin, Managing Director of Asia Travel Technology Industry Association (ATTIA), shared, "ATTIA is primarily trying to drive collaborative relationships between members, governments and the rest of the industry. We want to promote the good work that is being done by everyone – government departments, NGOs, not-for-profit enterprises, and the private sector. If we can highlight all the good that is happening, it is a clear way for us to strengthen relationships and demonstrate our support for the industry."
The 11 esteemed judges are recognisable leaders in their field and represented all aspects of the industry from tourism to hospitality, aviation to ground transportation.
Honours List
Comprising five distinct categories, Environmental Awareness and Action, Local Community Engagement, Hidden Gems, Regenerative Tourism, and Diversity & Inclusion, those honoured for each category are listed as follows. Many of the programs used technology to communicate their message and reach new audiences.
1. Environmental Awareness & Action Award
Cempedak Island Seven Clean Seas, for clearing over 780 tonnes of plastic on Bintan island inIndonesia while at the same time creating formalised jobs for local communities.
All Dreams Cambodia, for its #ONESTEPNOPLASTIC grassroots initiative, in which it teamed up with the country's leading social media platform to combat plastic pollution in Cambodia and raise awarenessamong youths. About 15,000 kg of plastic was collected across five cities.
2. Local Community Engagement
The Island Foundation, for their Learning for Sustainability Framework, which is inclusive of the values, experiences and languages of children who live in remote small island and coastal communities, and isdelivered by people brought up in the communities they serve.
Khiri Reach for its #OpenThailandSafely campaign to address the pressing needs of Thailand's economically tourism-dependent communities. The campaign rejuvenated the inbound tourism economyin Thailand and saw the collaboration of 60 Thailand-based inbound organisations working together.
3. Hidden Gems
Sentosa Development Corporation for SentoSights, a wide-ranging nature and heritage guided tour where participants explore Sentosa's hidden gems as they discover the island's natural and historicalheritage.
Tribe Tours, for their gamification and storytelling product, Chinatown Murders, a new form of game tour, where participants are thrown into a scenario to solve puzzles.
JOALI Maldives, for their JOALI Reef Restoration Programme (JRRP), which aims to restore the reef ecosystem by using coral nurseries that are later transplanted to the existing house reef using innovative Mineral Accretion Technology (MAT) to enhance coral growth with low-voltage direct current.
4. Regenerative Tourism
Pan Pacific Hotels Group, for repurposing the Parkroyal Collection Marina Bay's 1985 architecture into a "garden-in-a-hotel" with regenerative features like an Urban Farm with over 60 types of greens.
Asian Oasis, for leading the regeneration of an abandoned tea plantation into the Araksa Tea Garden to a thriving, experience-based destination with tea-based workshops.
5. Diversity & Inclusion
JOALI Being, for a program that has empowered over 310 women, 65 school girls, and 11 artists in theMaldives.
Message from the Judges
The distinguished judges who supported the inaugural awards have honoured as visionaries those applicants whoturned their ideas into action. The judges were impressed with how the travel, tourism, and hospitality industries leveraged the lessons learned from the pandemic to map out a more promising journey for all travellers in thefuture.
Kenneth Lim, Assistant Chief Executive of Marketing Group at Singapore Tourism Board: "Being part of the judging panel for the WiT Travel Changemakers Awards has been an eye-opening experience. The entrants showcased remarkable innovation and dedication, and their impact on the industry is tangible. As we move forward, I anticipate even more transformative initiatives, as these awards inspire continuous growth and a future where travel remains dynamic, sustainable, and accessible for all. I am also proud to recognise these creative and meaningful innovations here in Singapore, where we bring together forward-thinking partners to meet, exchange ideas, and forge global connections."
Loic Dujardin, Head of ESG at Traveloka: "We have seen some impressive submissions at the inaugural WiT Travel Changemakers Awards that comprise innovative, tech-driven programs that deliver a positive and tangible impact on the ground. With today's consumers seeking more green experiences, Traveloka is heartened to see the industry embed sustainability in all that we do as we strive for a more equitable future."
Rod Cuthbert, Chairperson at Jayride and Board Member of Veltra (Tokyo) and Tourism Tasmania; Founder of Viator: "The Hidden gems category was just that: some really surprising and thoughtful projects that have not only been very successful, they'll definitely serve as examples for similar communities and businesses throughout the region."
Aya Aso, CEO of SAVVY Collective: "I am honoured to have had the opportunity to learn about many of your initiatives, and at the same time, I am impressed by your energy. I know that many initiatives are still halfway to the success goal you may have set, but it is wonderful to see your powerful initiatives that start from small things and with something you are facing in front of you. A real changemaker is someone who does not stop here, but keeps going until the world is acting spontaneously. Good luck with your continued journey."
For further information about the Awards, please kindly access this link.
Indonesia's path toward a prosperous future hinges on its ability to leverage the digital economy. In Indonesia, digital transformation has transcended its role as a mere economic enabler; it has now become a cornerstone of the nation's economic advancement. The advancement of a country's digital sector is intricately interwoven with its economic foundation and can be envisioned as an unceasing cycle of growth that mutually reinforces and accumulates over time.
Consequently, Indonesia stands at a critical juncture where calibrated digital integration promises unprecedented growth, but a mismanaged approach could deepen inequalities and stall progress. Thus, a comprehensive and considerate strategy is vital to fully harness the digital realm's potential for the nation's enduring welfare and growth.
Amid Jakarta's vibrant landscape, the 24th Digital Transformation Summit gathers distinguished businesses, institutions, and government bodies. An exclusive invitation-only event, it offers pivotal IT decision-makers a unique opportunity for face-to-face interactions. Anchored in the theme "Unlocking DX Strategies to Meet the Digital Age," the summit fosters collaboration, addresses challenges, and shapes Indonesia's path. With a dynamic 2-stage program, it draws 750+ C-Level Executives and thought leaders.
The conference features two vibrant stages: InfoTech and MarTech, offering immersive journeys into technology and marketing realms. InfoTech guides through the evolving IT landscape, with thought leaders exploring trends in software, AI, cybersecurity, and cloud computing. MarTech illuminates the fusion of marketing and technology, revealing strategies that amplify customer engagement via digital tools, analytics, social media, and automation. Attendees gain rich insights, connections, and inspiration across these stages, transcending field boundaries. This dynamic experience fuels innovation and networking, fostering a deeper understanding of the ever-evolving tech and marketing landscapes.
What is InfoTech?
The conference covers diverse themes, from enhancing citizen-state interactions through digital tech to stressing pragmatic strategies for effective digital transformations. It highlights balanced approaches in strategy and execution. Discussions spotlight how edge computing can enhance 5G potential in Indonesia. Emphasizing security integration into organizational DNA mitigates risks in an interconnected landscape. Overall, the conference underscores digitalization as pivotal for a sustainable future, driving efficiency, inclusivity, and innovation.
In-depth discussions on topics like:
DAY-1
– Using Digital Technologies to Upgrade Citizen – State Interaction.
– How is Pragmatic Approach the key to a successful digital transformation?
– Beyond Human Imagination: The Power of Generative AI
DAY-2
– Embedding Security into Organizaon's DNA.
– Is digitalization the key to a sustainable future?
What is MarTech?
The MarTech stage delves into diverse marketing technology aspects, offering insights into optimising tech stacks for maximum impact. The emerging metaverse's transformative potential for marketing's future is showcased. Discussions spotlight customers' pivotal role in digital transformation strategies. Omnichannel experiences are explored for seamless platform interactions. Generative AI's power in upscaling businesses is highlighted, fostering innovation. Collectively, these topics shape a dynamic narrative, underscoring marketing technology's evolving landscape and profound influence on strategies and customer engagement.
Insightful talks on:
DAY-1
– Who is truly in the driving seat of your Digital Transformation Strategy?
– How will Metaverse shape the future of Marketing?
– Are You Getting the Most from Your Marketing Tech Stack?
DAY-2
– Why Focus on Omnichannel Customer Experience?
– Role of Generative AI in up-scalingFireSide Chat Businesses.
Who will attend?
The Digital Transformation Summit, Indonesia will be attended by top executives and leaders like CIO, CTO, CDO, CISO, CMO, Heads of Customer Experience, Head of Customer Relation Management, Heads Of IT ,Product & Brand Heads and Head UI/UX & Design from a variety of industries including BFSI & Fintech, Manufacturing, Cloud Ecommerce & Retails, Government, Energy & Utilities, Healthcare, Telecom, Pharma & Life sciences and Education
For more information on Digital Transformation Summit, Indonesia, you can visit
https://digitransformationsummit.com/indonesia/
About Exito:
Exito, which means success in Spanish, embodies our commitment to the success of our customers. Each year, we host over 240 virtual and in-person conferences globally, bringing together audiences with world-class thought leaders and C-level executives across industries. Our meticulously crafted agendas, based on extensive research and valuable industry insights, facilitate business, knowledge transfer, deal flow, and impactful messaging for brands.
Contact: Mithun Gopinath,
Manager-Projects,
Exito Media Concepts
mithun.gopinath@exito-e.com

Topic: Press release summary
SMEStreet in association with Staqo embarks into the journey showcasing the best roadmap for Digital Transformation to Indian MSMEs. The initiative will be called as 'Digital Transformation & Future Readiness Series for MSMEs'. This collaboration will showcase the power of efficient digital transformation and guide Indian MSMEs to make the best use of contemporary digital automation for bringing busines process efficiency.
In this campaign, Staqo will come as the tech knowledge and tech skill partner for educating the MSME sector to become Future Ready through best possible digital technologies. This initiative will also facilitate a fare evaluation of utilizing best in class technologies that can bring positive transformation of business processes like HR, Payroll, Attendance management, Reporting etc.
Commenting on this campaign of 'Digital Transformation & Future Readiness Series for MSMEs' Faiz Askari, Founder Editor of SMEStreet and Secretary General of SMEStreet Foundation commented, "We realise the impoirtance of technollogy for MSMEs. We also know that having correct knowledge towards digital technologies for respective businesses can be a great asset for every entrepreneur. Through this campaign, we aim to educate entrepreneurs and CXOs towards best practices of digital transformation and also try to create hand holding mechanism as well for those who wish to take a stronger and guided route towards digital transformation. I am thankful to Staqo's team and specially Presence 360 for coming forward as a support for such initiative."
"Indian MSMEs are at a threshold of capitalizing great opportunity. Technology have become the most important enabler for business growth. At Staqo we understand that people-management dilemmas and business imperatives acts as challenge and hindrances for contributing towards business growth. Having served a big swathe of small and medium enterprises from various verticals, we understand all the challenges and constraints that a SME organization confronts. This experience is getting utilized in developing some strong and comprehensive solutions which comes as an answer for every business who wish to explore growth," stated spokesperson of Presence360 by Staqo.
Key Components of this campaign will be series of articles, blogs , webinars and podcasts in which various aspects of MSME/SME focused digital transformation will get discussed. The expected outreach of this initiative is to cover almost every industry sector with One Lakh (100 Thousand) MSMEs in next few months.
Staqo is clear and confident, and is a name that customers rely on. We create advantages, while being transparent, cost-savvy and futuristic. Armed with a 200+ team of unparalleled experts, in all domains of Enterprise Technology, we set out on an unstoppable streak of transforming over 5000 entities – in and out of India!
About Staqo
Staqo is an offshoot of a billion-rupee conglomerate – Sheela Foam Limited (SFL). It all began with a question – 'What can we bring here that no one else has?' And, the answer lay in our decades of SFL lineage – the ability to be simple and relevant; and to take responsibility.
About SMEStreet
SMEStreet.in is a dynamic knowledge ecosystem for Indian MSMEs. A beyond media platform- which acts as a trusted knowldge partner for entrepreneurs who wish to expand, grow and evolve from their existing level. The content inflow for this portal not only includes news, analysis, interviews and success stories but it also have a window of opportunity to enhance the profitability of business, personalized networking with subject matter experts and insightful market research data.
About SMEStreet Foundation
After over 6 years of the online presence of SMEStreet.in and after engaging with over One Million CXOs from MSMEs, SMEStreet Foundation comes into reality as a 'Section 8' Company registered from Haryana, India to serve the potential rich Indian MSME segment and it's vast ecosystem.
For more information, contact:
Faiz Askari
Faiz@smestreet.in
9871762630

Topic: Press release summary
 For all those people who wish to increase their potential and give the best of themselves in every area of their life, Claudia Vece's book, "Neuro-Emotional Transformation. How Neuro-Emotional Education Enables You to Enrich and Empower Your Thoughts and Emotions to Transform Your Reality!" (Bruno Editore) comes out today. Inside, the author shares the very same information with her readers that will enable them to understand and apply internal strategies in order to implement those changes that are useful for improving their lives through the transformation of thoughts and emotions.
"In 236 pages, the book engages the reader on an inner journey to discover how thoughts and emotions can be used to their advantage to improve their reality," says Claudia Vece, the book's author. "Chapter after chapter, I accompany the reader through a process of understanding their potential. In addition, I help them weaken those limiting beliefs that keep them from expressing their personal potential. Finally, I explain what Neuro-Emotional Education is and how to integrate internal strategies to transform and improve their life."
According to Claudia Vece, if the reader immediately puts into practice the teachings shared throughout the book, they will be able to truly acquire greater wellbeing and fully experience their own happiness. After all, Neuro-Emotional Education is a practical and multidisciplinary teaching that enables people to implement internal changes that enhance and facilitate the creation of their own life and wellbeing.
"With her book, the author aims to explain to her readers how to improve their lives through the participants that affect the construction of their personal reality," urges Giacomo Bruno, the book's publisher, "Inside, there are in fact really effective Neuro-Emotional Education strategies, which enable you to improve and head quickly towards your goals."
"The reason I chose Bruno Editore is because of the fact that we are talking about an innovative publishing house in the publishing field, capable of giving the author online visibility," concludes the author. "Its team gave me the support I needed to accomplish the not so simple task of publishing my first book."
The book is available on Amazon at: https://amzn.to/3Cbok82
Claudia Vece, entrepreneur and Coach, expert in Cybernetic Science and Neuro-Emotional Coaching, was the manager of the most important modelling agency in Paris. Throughout the course of her career, she has specialized in human development and enhancement, founding her company Quantasia SA in 2017, to support people and companies in transforming their own reality into success. Her coaching and training courses have a practical and transformative approach based on the principles of neuroscience and quantum physics. Claudia works internationally, in Portugal she managed the Social and Emotional Learning training of over three hundred teachers in the field of school reform. Website: www.quantasia.ch
Giacomo Bruno, born in 1977, electrical engineer, was named by the press "the father of ebooks" for having brought ebooks to Italy in 2002 with his publishing house Bruno Editore, 9 years before Amazon and other publishers. He is the author of 27 bestsellers on personal growth and the publisher of 600 books on the topics of personal and professional development. He is considered the best-known Italian "book influencer" because every book he promotes or publishes becomes a No. 1 Bestseller on Amazon in just a few hours. He is followed by TV, the news and the national press. www.brunoeditore.it
Bruno Editore
Giacomo Bruno
+393390000000
https://www.brunoeditore.it

Contact

Categories
Arts & Entertainment
Books
Education
Lifestyle
Medical & Health
Neurology
Publishing
Self Help