Düsseldorf – WEBWIRE – Friday, May 6, 2022
Statkraft, Europe's largest producer of renewable energy, supplies ZF with a total of 250 gigawatt hours of wind power for its plants and office locations in Germany. The wind power purchase agreement (PPA) supports the automotive supplier on its way to switching all locations to 100 percent green power by 2030.
As part of a full supply contract for the years 2022 and 2023, ZF and Statkraft have agreed on a green PPA supply concept. Based on a cross-border PPA, Statkraft will deliver 100 gigawatt hours of wind power from wind farms in Zaragoza, Spain to ZF sites in Germany in 2022 and 150 gigawatt hours in 2023. The integration of the green power quantities into the full supply takes place in the form of a baseload delivery.
The supplied wind power corresponds to the power consumption of approx. 72,000 German households and reduces ZF's CO2 emissions by 80,000 tonnes annually.
"We are very pleased to support ZF in achieving its sustainability goals with this cross-border renewable PPA," says Patrick Koch, Head of Origination for Statkraft in Germany. "We see it as part of our task to accompany industrial companies in Germany with high-quality green power solutions on their way to climate neutrality."
With the supply agreement, we are underpinning our ambitions to sustainably drive the expansion of renewable energies. The focus on green power fits in with our corporate culture and our technology leadership as a globally active manufacturer of gearboxes for wind turbines", says Dr Michael Karrer Senior Vice President Sustainability & EHS at ZF.
Statkraft – Green power solutions for German industry
Statkraft develops, operates and markets hydropower plants, solar parks and wind farms in Germany and numerous other markets in Europe, which make it possible to develop tailor-made green power solutions for industrial companies. PPAs enable the financing of new solar and wind farms and the continued operation of renewable energy plants whose subsidies have expired. These green PPAs support Statkraft's industrial customers in achieving their sustainability and climate goals
According to preliminary data, Gazprom produced 23.1 billion cubic meters of gas between January 1 and 15, 2022, which is 2.1 per cent (or 0.5 billion cubic meters) more than in the same period of last year.
WEBWIRE – Monday, January 17, 2022





Gazprom ramped up its domestic supplies from the gas transmission system by 3.7 per cent (or by 0.6 billion cubic meters) over said period of 2022.




The Company's gas exports to the countries beyond the FSU amounted to 5.4 billion cubic meters, which is lower than the figure for the same period of 2021 by 41.1 per cent (or by 3.7 billion cubic meters). At the same time, Gazprom increased its supplies to Bulgaria (by 48.6 per cent), Turkey (by 0.3 per cent), and Bosnia and Herzegovina (by 7.3 per cent). The Company's gas deliveries are carried out as requested by consumers in line with contractual obligations.




Gas supplies to China via the Power of Siberia pipeline keep growing. In the first half of January 2022, their amount was 1.5 times higher than the figure for the same period of last year.




According to Gas Infrastructure Europe, working gas inventories in Europe's underground gas storage facilities were lagging behind last year's level by 25 per cent (or by 15.6 billion cubic meters) as of January 15. As much as 62.6 per cent of the gas injected during the summer period is already withdrawn from the facilities. The total amount of working gas inventories in European UGS facilities was as low as 46.9 billion cubic meters on January 15, falling by 1.091 billion cubic meters below the historical minimum for this date.




The inventories in Ukraine's UGS facilities have dropped to 12.6 billion cubic meters and are now 44.2 per cent (or 10 billion cubic meters) below the level of last year and 2.7 billion cubic meters below the level observed at the start of the injection period in April 2021.

. The inventories in Ukraine's UGS facilities are 10.1 billion cubic meters below the level of 2020.

Mitsubishi Heavy Industries Environmental & Chemical Engineering Co., Ltd. (MHIEC), a part of Mitsubishi Heavy Industries (MHI) Group, has delivered two state-of-the-art stoker furnaces* for a large-scale waste-to-energy (WtE) plant in Xiaogan, Hubei Province, China. This facility has capacity to process approximately 1,500 tonnes of waste per day, along with the capability to utilize waste heat from combustion to generate electricity. This is the first WtE plant in Xiaogan, and since the start of commercial operation in January 2021, has played a vital role in the life of the city as part of the environmental infrastructure.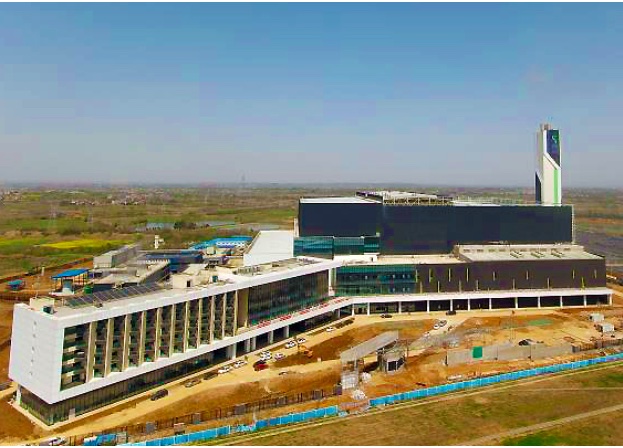 Xiaogan Waste-to-Energy Plant

MHIEC is a leading company in the waste management industry, having supplied more than 300 waste treatment facilities in Japan and around the world, with more than 50 incinerators delivered to China since the 1980s. The advanced incinerators provided for this plant have enhanced combustion efficiency to allow for stable treatment of waste with high moisture content. Going forward, MHIEC will utilize its capabilities for technical development in the environmental facilities field accumulated over many years to support the creation of eco-friendly cities in China.

MHIEC, through construction and operation of WtE plants and other facilities that contribute to lowering the environmental load by means of the effective utilization of energy, will continue to work toward achieving the UN Sustainable Development Goals (SDGs), and resolving global environmental issues.

* A stoker furnace is an incinerator in which waste is placed on a bed of heat-resistant metal castings (a stoker) to be dried, heated, and incinerated while being stirred.

Project Summary
Client: Xiaogan City, Hubei Province, China
Operator: Grandblue (Xiaogan) Solid Waste Treatment Co., Ltd.
Construction Contractor: Grandblue Engineering Technology Co., Ltd.
Project Name: Xiaogan Garbage Incinerating Power Plant Project
Capacity: Stoker furnace 1,500 tonnes per day (750 t/day x 2) , power generation capacity 35 megawatts (MW)
Start of Operations: January 2021
Tags: waste to energy plant,energy saving,MHIEC

About MHI Group

Mitsubishi Heavy Industries (MHI) Group is one of the world's leading industrial groups, spanning energy, logistics & infrastructure, industrial machinery, aerospace and defense. MHI Group combines cutting-edge technology with deep experience to deliver innovative, integrated solutions that help to realize a carbon neutral world, improve the quality of life and ensure a safer world. For more information, please visit www.mhi.com or follow our insights and stories on www.spectra.mhi.com.

Copyright ©2021 JCN Newswire. All rights reserved. A division of Japan Corporate News Network.