Raleigh, NC – WEBWIRE – Monday, May 15, 2023
John O. Otis new book Seeing Through the Eyes of the Spirit is a powerful guide to help anyone overcome demonic influence and live a victorious life. The book is a must-read for believers who desire to have a deeper understanding of the devils strategies, tactics, and schemes. It is designed to help Christians overcome the devils lies, deceptions, and schemes by understanding the Bibles teachings on spiritual warfare and the authority believers have in Christ.
John Oti has written an inspirational, God-inspired book that encourages readers to live victoriously despite the devils attacks and schemes. It is written in an easy-to-understand and accessible way, with clear explanations and illustrations of the Biblical teachings. The books primary focus is on helping readers understand the devils tactics and schemes, so they can be aware of them and respond effectively. He also highlights the power of Gods Word and how believers can use it to gain victory over the devil.
John Oti also encourages readers to trust in Gods power and authority and to be vigilant against the schemes of the devil. He emphasizes the importance of prayer and faith in the face of spiritual warfare, and how to use these tools to gain the victory.
Seeing Through the Eyes of the Spirit is a powerful and inspiring book that will help readers gain a deeper understanding of the devil and his strategies, and how to overcome them through the power of faith. It is a must-read for anyone who desires to live a life of victory and freedom in Christ.
Get your copy at www.bookbyjohnoti.com
Seeing Through the Eyes of the Spirit
Author: John O. Oti
Publisher: Your Online Publicist
Publication Date: March 2023
Genre: Religion & Spirituality
Target Audience: Christians and None Christians
Paperback ISBN:
About the Author
John Oti is an evangelist, a Bishop, a motivational speaker, and a preacher with a prophetic and apostolic anointing. His humble beginnings started as a high school student at Saint Johns College in Jos, Nigeria. He was called into the ministry while a freshman at the University of Jos (Nigeria).
Afterward, he attended ECWA Theological Seminary (Bachelors) at Heritage Bible College in Dunn, North Carolina, and earned (M.Div.) at Shaw University Divinity School in Raleigh, North Carolina. He further did a doctor in-ministry program at Drew University in Madison, New Jersey. A Ph.D. in Organizational Leadership at Regent University, Virginia Beach (incomplete) and earned (D. min) doctorate program at Virginia, International Miracle Institutes IMI), Pensacola, Florida. He also earned Clinical Pastoral Education (CPE) from Rex UNC Healthcare, Raleigh, NC. He was elected to the Alpha Chi National College Scholarship Society. He graduated from t h e 1987 Morris Cerullo Washington DC School of Ministry, an associate with Global Revival Ministry Pensacola, Florida; he was also licensed and ordained by Dr. Christian Harfouche.
Dr. John Oti is married to Rev. Grace Oti. God has blessed them with four children: Isaac Oti (an optometrist), Richard Oti (a pastor and biochemist), Daisy Oti (a biologist from UNC, Chapel Hill, now a nurse from Kent University, and John Oti Jr. (UNC, Charlotte, NC; a musician). John Oti and his wife, Grace, are the senior pastors of Oasis of Peace Community Church in Raleigh, North Carolina. He is also the president of John Oti Evangelistic Ministry, an international world outreach ministry.
Dr. John Oti is available to preach, teach, conduct seminars, teach in leadership /mentorship programs, conduct crusades, and preach on radio and television when the opportunity arises. Moreover, he is available to preach in churches and conferences, and revival meetings.
All correspondences should go to Dr. John O. Oti
P. 0 Box 41673, Raleigh, NC 27673. Tel: 919-675-8289.
In developing its sports tourism potential, Indonesia holds many championships or sports events, and one of the closest is the F1 Powerboat (F1H2O) World Championship in Lake Toba, North Sumatra, on February 24-26. Lake Toba, one of the most spacious lakes in the world, offers a great destination for athletes to compete, and tourists to enjoy the scenic view.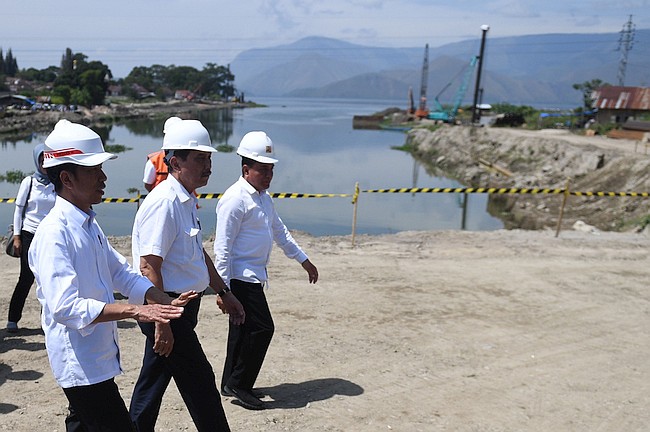 President Joko Widodo (L) inspects the road expansion and a bridge development in Tano Ponggol, Samosir, North Sumatera as a part of preparing the Toba Lake in North Sumatera as a world class tourism destination in Indonesia.

Assistant Deputy for Sustainable Tourism Development at the Coordinating Ministry for Maritime Affairs and Investment, Kosmas Harefa, stated that the preparation for the F1H2O World Championship in Lake Toba reached 70 percent as of January 24. "It is expected that the preparations are in accordance with the target and all the main gates will have been completed by February 10," Harefa said in a virtual gathering.

The F1 Powerboat is the world's largest motorboat racing competition for powerboats, on par with Formula 1 or MotoGP. Harefa revealed that one of the facilities' constructions, which is a centralized parking location, can accommodate three thousand to four thousand cars. "Currently, the Toba District Government, supported by the North Sumatra Provincial Public Works Office, has prepared a vast parking lot," he added. According to him, the number of visitors is targeted to reach 20 thousand to 25 thousand, by promoting the event intensively.

Meanwhile, Minister of Youth and Sports Zainudin Amali said Lake Toba as the host of F1H20 is very ready to organize this activity, as proven by the venue readiness and other supporting facilities. "The government has prepared many F1 Powerboat post events, to support the economy of the Toba people," Amali, who serves as the Chairperson of the F1H2O National Committee, said.

Lake Toba Cooler

He also ensured that the F1 Powerboat at Lake Toba will pamper the visitors, as he claimed the location is cooler than Sharjah, United Arab Emirates (UAE), where the previous F1 Powerboat event was held on December 16, 2022. "In Sharjah, the venue was an artificial lake and the weather was very hot. This is very different from Lake Toba where the air is cool and not artificial," he explained. He emphasized, the government has been preparing this event very seriously and hoping for support from various parties to make F1 Powerboat 2023 a success.

Moreover, he expressed hope that the F1 Powerboat implementation can result in the emergence of new water sports racing athletes in Indonesia. "We hope that this international event at Lake Toba can find new athletes and hopefully, they can excel," Amali said. He added, the event can promote local micro, small, and medium enterprises and show the world's trust in Indonesia in holding international events.

Unique to the world

State-owned tourism holding firm InJourney said that the F1H20 circuit in Lake Toba is the most unique in the world. "This circuit is quite unique because the track is on the lake. We have carried out the homologation (verification of the track's safety), and the circuit length is 2.2 km. Its shape is unique because Lake Toba is a volcanic lake," InJourney's Marketing and Consumer Experience Director Maya Watono said on Wednesday.

Furthermore, InJourney President Director Dony Oskaria said that the F1H20 will involve the local communities. Oskaria explained, the shores of Lake Toba can serve as places for the spectators and local people are allowed to collect fees as long as they are registered as InJourney official partners. InJourney also involved 500 students as event organizers and will give them certificates.

Minister Amali said the F1H20 event can encourage Lake Toba as one of Indonesia's super-priority tourism destinations, just as Lake Toba has gained the trust of the F1 Committee to host F1H2O for the next five years or until 2027.

By Kenzu Tandiah,
Ed: Rahmad Nasution
COPYRIGHT (c) ANTARA 2023


Topic: Press release summary

WEBWIRE – Saturday, January 22, 2022





We see companies in the world moving in two directions: those that are steadfastly clinging to the hope that a post-pandemic future will allow them to go back to what they were successfully doing in the past; and those that are building and strengthening their corporate DNA with strands of optimism and adaptability. Lineage is decidedly in the latter category.




There is significant opportunity in 2022, but significant actions also need to take place to realize those opportunities. Here are four potential business scenarios for 2022, and the actions we are taking to address them.





The Potential of a Better Supply Chain.




The global supply chain continues to move through challenging times – a condition we expect to continue through mid-2022. As in so many of today's global challenges, there are things outside of our control, and those within which we can positively impact. Since some of the most critical links in any company's supply chain are their people and their technology, we are taking decisive action in both areas.




First, we are investing in our most valuable resources – our people – to satisfy customer needs, which includes paying higher than industry standard wages in competitive markets and stepping up our recruiting efforts to alleviate the work-strain on our current employees.  Second, we are steadfastly focused on deploying industry-leading technology and solutions to ensure our customers' products are safely and efficiently moved via our leading warehouse network, diverse transportation suite (across truck, rail and reefer) and direct-to-consumer capabilities.




While we recognize these actions are not the silver bullet for all that ails the global supply chain, they are strategically focused on sending powerful messages to two valuable constituents: our employees and our customers.





The Potential of More Empathetic Automation.




To many people, the word "automation" brings uncertainty front and center – and with it, layoffs. Yet to the contrary, the World Economic Forum predicts that automation will result in a net increase of 58 million jobs.[1]




At Lineage, we are determined to help speed processes while simultaneously reinforcing safety and bringing comfort to their jobs. If that sounds like "corporate speak," think about the effects automation had on accounting and banking. When accounting software first came out in 1979, there were about 299,000 people working as accountants, bookkeepers and auditors. Then Excel came out. Rather than replacing people, the industry grew 75% in ten years. Today, there are 1.29 million people in those roles, and that number is expected to keep growing through 2029. The same dynamic happened when ATMs, were introduced. Although the number of tellers per branch dropped, the number of branches ATMs made possible increased. The end result: an industry where tellers act less like cashiers and more like financial advisors.




That type of empathetic automation is what we see on the horizon. And we want to lead the way, giving new and existing team members unique opportunities to develop valuable skills and build their careers.





The Potential of More Sustainable Solutions.




As the world's largest warehousing and logistics provider, we recognize – and welcome – our responsibility to lead the industry in sustainability. Last year, we signed the Climate Pledge, co-founded by Amazon and Global Optimism, and we're taking actions to show the depth of our commitment to that pledge.




Among several new sustainability milestones that we will announce in 2022, we are on our way to power the world's first net-zero cold-storage facility (meaning it will produce 100% of the energy it consumes) on-site in Colton, California. You will soon hear more about our plans to expand our solar footprint in Europe, as well as other notable solar panel installations that will become a reality at several Lineage facilities as we continue to become a more sustainable global company.





The Potential of a More Inclusive and Diverse Workforce.




Diversity, equity and inclusion are buzz words today. At Lineage, however, they're much more than that. In fact, we have made diversity, equity and inclusion a priority in our business plans as well as a cultural initiative in our hiring practices.




This past year, in celebration of our diverse backgrounds, we welcomed a number of prominent individuals to speak to our community about a wide range of important topics – and set the table for important conversations to come.




As we move forward, we will continue to find ways to celebrate our differences, honor our unique heritages, and empower diversity of both thought and representation. We have created an organizational DEI Council consisting of 13 members who represent the Lineage footprint around the globe, and have identified four DEI Strategy Pillars: Global Culture of Inclusion & Engagement, Local Community Engagement & Reputation, Global Brand & Market Expectations, and Workforce Representation.




So far, we have established three Employee Resource Groups – African Ancestry, Hispanic/LatinX and WILL (Women in Lineage Logistics) – with plans to launch additional ERGs in the coming months, including LGBTQIA, Veterans, Young Professionals, Asian Ancestry, and Special Abilities. These groups provide a safe space for team members to speak candidly about their challenges and concerns in the workplace, and offer solutions to correcting them to ensure that each and every Lineage team member feels comfortable bringing his/her full selves to work each day.





The Potential of What's to Come.




As the past two years have all-too-dramatically demonstrated, it's impossible to predict the future. But it's critically important to plan for it. 




Our plans are unapologetically optimistic, filled with stretch goals that raise the bar for both our company and the industry at large. They are also realistic, embracing the need to pivot to accommodate unforeseen events. The reason for our optimism is based on our leadership, our technology and our people. From a better supply chain, to more empathetic automation, to sustainable actions and a culture that embraces everyone, the potential is there. Our task, in this new year, is to realize that potential, build on it, and then lead the way to what's next.




The way to accomplish that task is to do what all good leaders do: take heed of the lessons learned from the past to constructively plan for the future. A great way to do that is to visit (or revisit) Lehmkuhl's Top Ten. Regardless of who you are, or how you contribute to Lineage as a team member, there are lessons worth taking note of. Lessons that go beyond our company – or even industry – and present a valuable perspective on the world at large. Celebrate all we, together, accomplished in 2021. Let these accomplishments inspire you. And let's make 2022 all that it can be.




[1] Here's Why Robots Are Actually Going to Increase Human Employment, https://www.weforum.org/agenda/2021/02/world-economic-forum-automation-create-jobs-employment-robots