Local premiere of FDF-financed film "YUM Investigation" to be held tonight
************************************************************************************

The following is issued on behalf of the Hong Kong Film Development Council:
 
     The local premiere of a new film partly financed by the Film Production Financing Scheme under the Film Development Fund (FDF), "YUM Investigation", will be held this evening (August 9).
      
     "YUM Investigation" is produced by Jason Siu and Tai Pak-ho, directed by Dickson Leung, and written by Ling Wai-chun and Jolyon Cheung. The film stars Leung Yip, Ho Kai-wa, Kwok Ka-chun and Ng Po-ki, co-stars Catherine Chau, Mandy Tam and Suey Kwok. The film is about a battle between a detective agency specialising in handling supernatural cases and spirit refiners who have the power to create evil spirits.
      
     The Chairman of the Hong Kong Film Development Council, Dr Wilfred Wong, said, "Featuring elements of exaggeration and humour common to classic Hong Kong films, 'YUM Investigation' conveys a positive message, which is to encourage young people to overcome fears and discover their own value, in a relaxed and fun way."
      
     He added, "The Government will keep enhancing the quality and diversity of Hong Kong films. The Hong Kong Film Development Council will continue to advise the Government on the use of the FDF to support more projects that are conducive to the long-term development of the film industry in Hong Kong."
      
     Since 2005, the Government has injected a total of $1.54 billion into the FDF to support a number of film production projects and other film-related projects. Since 2007, the FDF has financed 62 film projects, involving a total funding of about $233.34 million. The production budget for "YUM Investigation" was around $11 million, with government financing amounting to about $2.75 million.
Presented until August 20th, under the iconic Big Top on the Jacques-Cartier pier, in the Old Port of Montreal
MONTREAL – WEBWIRE – Friday, April 28, 2023

This new show is Cirque du Soleils 20th creation under the Big Top. ECHO is distinguished by its bold visuals and contemporary aesthetic that highlight spectacular acts performed by artists at the top of their game.

About ECHO
As determined as ever to dazzle us, Cirque du Soleil once again manages to surprise us with a show that combines poetry, performing arts and high-flying acrobatics, exploring the precious balance between humans, animals and the world they share.

Future, the protagonist, invites us into a fantasy world where she meets animal and human characters. Driven by the spirit of collaboration, they join forces to rebuild their planet little by little and create a better world.

ECHO is a show that plunges the audience into a universe of a thousand and one colors, wonders and possibilities on the themes of inventiveness, hope of youth and the importance of empathy.

Environmental initiative in St-Michel
Cirque du Soleil wants to make a positive contribution to the ever-changing world by implementing projects that have a direct impact on the environment and the communities where its shows are performed. For the premiere of ECHO, the leader in live entertainment is proposing a tree-planting initiative in collaboration with a Montreal-based urban forestry company. More than 40 trees will be planted on May 30 in the Saint-Michel district, where the companys head office is located. This measure aims to improve the quality of life of the residents and help the community better manage heat waves and pollution from nearby industrial activities. In addition, all guests of the world premiere received a plantable card allowing them to join the movement for change.

Box Office
Cirque du Soleils new show is presented under the Big Top in the Old Port of Montreal until August 20, 2023. Tickets online www.cirquedusoleil.com/echo.

Follow #ECHOCirque and #cirquedusoleil on social media: Facebook | Twitter | Instagram | YouTube | TikTok

ECHO is presented by Sun Life, principal partner of the Canadian tour. Cirque du Soleil also wishes to thank its official partners Air Canada and Mastercard.

About Cirque du Soleil Entertainment Group
Cirque du Soleil has reinvented the way the circus arts are perceived, from a local troupe of performers to a world-renowned company. Headquartered in Montreal, QC, the Canadian organization has become a leader in the live entertainment industry by creating immersive and iconic world-class experiences on six continents. Cirque du Soleil connects with its fans in an authentic, human and inclusive way. Privileged to collaborate with artisans of 90 different nationalities to bring their creativity to life on stages around the world, the company aims to positively impact people, communities and the planet using what sets it apart: creativity and art. Over the years, more than 215 million people have been inspired in over 70 countries around the world. To learn more, visit https://www.cirquedusoleil.com/.

PRESS KIT, PHOTOS AND VIDEOS

www.media.cirquedusoleil.com/portals/ftd89loj/ECHOPRPortal

Local premiere of FFFI-funded project "A Light Never Goes Out"

************************************************************************


The following is issued on behalf of the Hong Kong Film Development Council:
      
     The local premiere of a winning film project in the Professional Group of the 5th First Feature Film Initiative (FFFI), "A Light Never Goes Out", will be held this evening (April 3). The film will be officially released on April 13.
      
     "A Light Never Goes Out" is produced by Saville Chan and directed by Anastasia Tsang, with a screenplay co-written by Tsoi So-man and Tsang. The film stars Sylvia Chang, Simon Yam, Cecilia Choi and Henick Chou. The story is about a wife, being devastated by the loss of her skilled neon sign-making husband, decides to carry on his unfulfilled dream of making neon signs.
      
     The Chairman of the Hong Kong Film Development Council, Dr Wilfred Wong, said, "'A Light Never Goes Out' offers a passionate exploration of the beauty and struggles behind keeping Hong Kong's distinctive neon signs alive."
      
     He added, "The seven editions of FFFI launched so far have funded a total of 24 winning teams to make their films and have incubated 26 new directors. I hope the Government will continue to support the FFFI through the Film Development Fund (FDF) for nurturing more potential talent in order to help the industry thrive."
      
     The FFFI is one of the Government's initiatives to support the film industry. It takes the form of a competition in two groups, the Higher Education Institution Group and the Professional Group. The director of each participating team shall not have previously shot any commercial film of 80 minutes or above. The FDF will provide funding for the winning teams to implement their film proposals and make their first commercial feature films. The winning teams are required to complete the whole film production and sales process, which involve planning, shooting, distribution, and more, in order to acquire knowledge from creation to practical application in making a feature film.

TOYOTA has unveiled the all new Crown for the first time in the world, and will release the Crown (Crossover type) as the first model around the fall of this year(1).

The Crown made its initial debut in 1955 as Toyota's first mass production passenger vehicle created with Toyota's own domestic technology. The DNA of "innovation and limit-pushing" that led to the creation of the first independently developed luxury car in the early postwar period has been passed down to successive models of Crowns for the past 67 years, always pursuing new values that are one step ahead of the times and loved by many customers. However, the times have changed even faster, and the Crown has become unable to fully meet the diversifying needs of its customers, and its presence as a flagship vehicle has become less significant.

In designing the new Crown, the development team thoroughly reexamined what "Crown" is, and as a result of their pursuit of a "Crown for a new era," they have created four completely new models. In addition to the Crossover type, a new style that combines a sedan and an SUV, the Sport offers a sporty driving experience with an enticing atmosphere and an easy-to-drive package. The Sedan is a new formal design that meets the needs of chauffeurs, and the Estate is a functional SUV with a mature atmosphere and ample driving space. The new series will be rolled out in about 40 countries and regions.

(1) The grades other than CROSSOVER RS "Advanced," CROSSOVER G "Advanced/Leather Package," and CROSSOVER G "Advanced" are scheduled to be produced after January 2023.

The details of the new Crown (Crossover type) are available at this link: https://global.toyota/en/newsroom/toyota/37540641.html

Copyright ©2023 JCN Newswire. All rights reserved. A division of Japan Corporate News Network.

On January 31 local time, Mazda North American Operations, which oversees operations of Mazda Motor Corporation in North America, unveiled the Mazda CX-90, the company's new mid-size crossover SUV.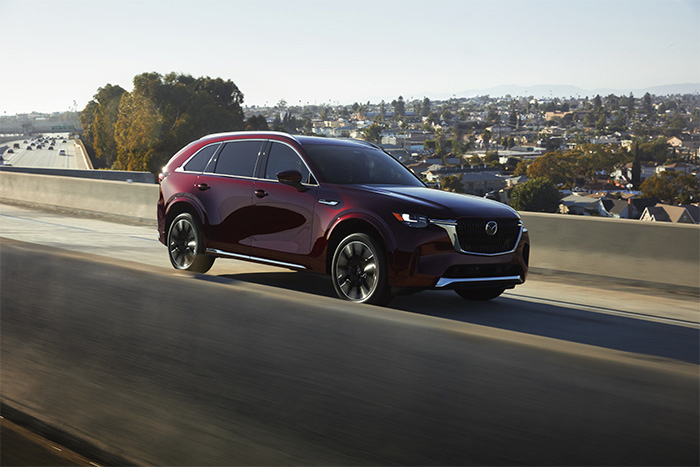 MAZDA CX-90 (US model)

Mazda plans to introduce four models from its Large Product Group(1) by the end of 2023 to the global market where demand for SUVs is strong. Following the CX-60 released last year, the CX-90 is the second model in Mazda's Large Product Group and offers a significant evolution in environmental and safety performance and greater joy of driving. The CX-90's launch enhances Mazda's SUV lineup, enabling the company to meet customer needs and the particularities of each market. The CX-90 also gives a further boost to Mazda's business and brand.

The CX-90 is a crossover SUV newly developed in light of features that customers in the important North American market demand. Based on the "For the Voyage of Your Life" concept, this wide-body three-row SUV offers greater comfort, functionality, and safety performance, making driving more enjoyable and travel with several friends and family more pleasant. This new flagship model makes its debut in the United States this spring.

The CX-90 design expresses a feeling of vitality rooted in Mazda's KODO or "Soul of Motion" design theme. The aesthetic of subtraction or "less is more" produces a simple shape and realizes dynamic and majestic proportions. The interior is an expression of Japanese aesthetic throughout, incorporating the dynamism of light and natural materials in an orderly elegant space.

For the powertrain, Mazda will offer a new turbocharged 3.3-liter inline six-cylinder gasoline engine augmented by a 48-volt mild hybrid system as well as a plug-in hybrid system e-SKYACTIV PHEV comprising a 2.5-liter in-line four-cylinder gasoline engine. In combination with the new rear-biased AWD architecture, the CX-90 offers superior environmental performance while honoring the driver's intentions.

Mazda also focused meticulous attention on creating a comfortable environment for all on board. The interior space has been enlarged around all seats. The third row is designed to seat three(2) and equipped with its own air conditioning vents. In addition, the CX-90's enhanced configuration reinforces towing performance, which together other amenities boosts its functionality, enabling the driver and passengers to enjoy a variety of settings and experiences during the drive.

Furthermore, inclusion of See-Through View(2), capable of intuitively discerning information necessary for vehicle operation, as well as a large active driving display(2) support safe vehicle operation and enhance the driver's peace of mind.

In moving toward 2030, Mazda will continue research based on the company's human-centered philosophy, create more moving experiences for people to enjoy as they move about in their daily life, and deliver greater enjoyment to everyday life, uplifting and energizing people.

(1) The primary markets where the Mazda CX-60 and CX-80 will be introduced are Europe, Japan, and other regions. The Mazda CX-70 and CX-90 will mainly be launched in North America and other regions.
(2) Configuration varies according to vehicle grade.

Copyright ©2023 JCN Newswire. All rights reserved. A division of Japan Corporate News Network.