The Time is Now. We need to address the root cause…
Live Webinar – WEBWIRE – Wednesday, July 20, 2022
Be Trained and Equipped to Save Lives. Sign-up today.
America is in Crisis. We are on the brink of losing all we once held dear. Gun Violence, Domestic Violence, and Mass Shootings ravish our Schools, Families, and Cities. 90% of all crimes are committed by the fatherless.


So many warning signs are overlooked and manifest in the lives of each mass shooter before their heinous act. If we can only prevent the death of one person, this training would have been worth it.


There is Hope. Join International Speaker, Consultant, and Author of the Book "No Child Without A Dad." Paul Benjamin Sr. for the Gun Violence Prevention Webinar where:

• Attendees will be Trained and Equipped to Identify the Critical Warning Signs before the next mass shooting or violent crime occurs. The life they may learn to save … could be their own…


Some of the topics covered include:
The Root Cause for this Pandemic of Crime & Violence in the USA
What is The Father Fracture Syndrome and its Ramifications?
What is

The Glory Code

and its impact on mental health?
How to Identify Key Warning Signs before it's too Late
Learn the four (4) principles of engagement.
Questions and Answers (

Submit questions in the live chat

)
Who should attend this important webinar?
Parents, Teachers, School Counselors
Coaches, Pastors, Social Workers
Police Officers, Political Leaders
Single Moms, Blended Families
Divorce Couples, Media Outlets
Business Leaders and all other concerned citizens who are willing to make a positive impact on our nation.
Mr. Benjamin will reach out to Senator Ted Cruz, Governor Greg Abbot, and Governor Ron DeSantis to offer his assistance in training and empowering concerned people in their States. This training will be made available in all states. The Mass Shootings, like the ones in Parkland, Florida, New York, and Chicago, have to stop.


When: Wednesday August 3, 2022

Time: 1:00PM – 3:00PM (Eastern Time)

Cost: $199.00 (Partial Scholarships and Group Discounts Available)

Register at: www.GunViolencePreventionWebinar.com

Promo Video: https://youtu.be/mlhHoMDYWvU


Contact & Interviews: Author, Paul Benjamin Sr.

Email: team@LifeCentersGlobal.com

Phone: 828-237-7555
Unique to the current climate crisis, is a global opportunity to preserve the world's pre-existing crop of mature evergreen trees.

Mature evergreen trees are FOUR TIMES more efficient at capturing carbon dioxide, than newly planted trees, which take up to 25 years to reach maturity.

SAM-Tree.com has developed a sponsorship model which aspires to pay tree farmers and tree owners in the public and private sectors, to preserve their mature trees as opposed to reaping the rewards of felling them for profit.

Many small farmers around the world, have been incentivized over the past number of decades, to plant some of their land in fast-growing evergreen trees, millions of which are now at a mature stage of development, and are actively awaiting the attention of chainsaws, at a time when our global climate emergency needs their advanced carbon capturing efficiencies as a matter of existential urgency.

The economic model which incentivized small farmers to plant a portion of their land in conifer trees several decades ago, has delivered a crucial modern day climate stabilization opportunity to preserve a global canopy which is now so vital to carbon capture, and the revitalization of atmospheric oxygen.

The SAM-Tree.com business model empowers a unique and powerful opportunity for individuals and corporations to "Say 'No' to Extinction", by sponsoring the preservation of mature evergreen trees.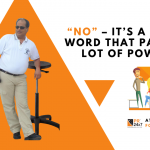 As we look ahead into the next century, leaders will be those who Empower others.
—Bill Gates
The tragedy of the disempowered life extends to all aspects of work. Unless you change it.
Tina reports to you. And one of the things she reports to you is that she is stressed and incapable of doing all of her work.
After a long talk about her life on the job, it becomes clear that Tina has no goals, plans, or commitments. It is no wonder, therefore, that people feel free to waste Tina's time. People that Tina doesn't even care about are taking all her time. She can't say no to them only because she hasn't said yes to anything else.
You talk to her.
"The greatest value of planning and goal-setting is that it gives you your own life to live. It puts you back in charge. It allows you to focus on what's most important to you. So you won't walk around all week singing the Broadway song, 'I'm Just A Girl Who Can't Say No'."
You begin to sing that song to her. She begs you to stop.
"Okay, how do I turn it around?" Tina asks you. "How do I learn to say no?"
"Ask yourself these questions: 'What goals are most important to me? And how much time do I give them? What people are most important to me? And how much time do I give them?'"
We hear many complaints from people in business that are going through the same kind of scattered lives. It's as if they're dying from a thousand tiny distractions. They report a life of being constantly drained by other people's requests. People poking their heads in all day saying, "Gotta minute? Gotta minute?"
Slam the door on those poking heads. Those incessant talking heads give you a life in which you have not learned to say no.
Once you learn it, teach it to your people, too. Make it an honorable thing.
Your people's access to focused work will depend on their willingness to develop a little-used muscle that we call the No Muscle. If they never use this muscle, it won't perform for them when the chips are down. It will be too weak to work. Any request by any co-worker or relative will pull them from your mission.
The key to teaching your people to develop the No muscle is to first develop their Yes Muscle. If they will say yes to the things that are important to them, then saying no to what's not important will get easier and easier. Help them verbalize what they want. Make them say it out loud.
"Tina, you need to know what you want, know it in advance, and chances are you'll get it. Know what you want from your career, know it in advance, and chances are you'll get it. It's easy to say no to something if you've already said yes to something better."