Movie Tram to launch additional tours to address overwhelming response (with photo)
***********************************************************************************

     The Movie Tram activity under the Hong Kong Pop Culture Festival 2023, organised by the Leisure and Cultural Services Department (LCSD), received overwhelming response since its launch. To allow more local public and tourists to experience this unique cultural journey, 26 additional tours will be held in May and June. Tickets for the additional tours for May and June priced at $100 per person will be available at URBTIX starting tomorrow (May 12) and on May 19 respectively.
      
     The additional tours of the Movie Tram will be held on the afternoons of weekends from May 20 to June 11. There are two routes, eastbound or westbound, covering the same attractions. Led by docents, participants will take a stroll on the streets in Central and Western District to explore classic film locations in Hong Kong and listen to film specialists' sharing of behind-the-scene stories and inspirations for cinematic creativity on board a thematic tram. With 15 participants per tour, the tour, conducted in Cantonese, will run for approximately two hours.
          
     Spots to be visited during the tour include Kau U Fong, Mee Lun Street, PMQ, Tank Lane and Western Market, allowing participants to explore the shooting locations of movies "Rouge", "Arrest the Restless", "In the Mood for Love", "Infernal Affairs", "Three: Going Home" and "The Way We Dance". Guests joining the tram ride include directors and producers Stanley Kwan and Ann Hui, producer and screenwriter Mani Man, and directors and screenwriters Jacky Ng and Jun Li.
                
     The Movie Tram, presented by the LCSD, is one of the programmes under the Hong Kong Pop Culture Festival 2023. Walk In Hong Kong is the collaborative organisation of this programme. For programme and ticketing details, please call 5511 4839 or visit the website www.pcf.gov.hk/en/movietram.html or walkin.hk/public-tour/movie-tram.
          
     The first Hong Kong Pop Culture Festival organised by the LCSD aims to offer an array of programmes from pop concerts and performances to thematic exhibitions, film screenings, outdoor and outreach activities, showcasing Hong Kong's unique cultural creativity and vibrancy. For more information on other fascinating programmes of the Hong Kong Pop Culture Festival, please visit www.pcf.gov.hk/en.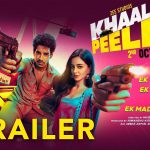 Get ready for an Ekdam Tapori style bindaas thriller in on the cards with this sleek cut preview of this Maqbool Khan movie. Ishan seems to pack in a punch with an all-round show while Ananya looks rock solid in a tailormade role of a Mumbaiyya damsel in distress. Jaideep Ahlawat looks menacing and seems to be at ease playing out the role of a villain.

The movie looks fresh and has been stylishly shot with some chic action and greatly choreographed songs. The lead pair seems to have a great bond and are entirely lovable in this short but fast paced trailer that promises a fun and edgy ride through the streets of Mumbai with some pulsating background score.

The two-minute trailer is full of dhamaal, jhol and bawaal – as we are introduced to the ladka and ladki and the ensuing lafda in their lives as they seem to be running from the law makers as well as breakers in this taut presentation

This wholesome entertainer has been produced by Ali Abbas Zafar and written by Yash Keswani/Sima Aggarwal and set to release on Zee Multiplex.

About ZeePlex:

This is India ka Naya Multiplex – a premium pay per view channel where one can see unreleased and new blockbuster movies in multiple languages. They would be following the principle of dynamic pricing for the films making it affordable to the masses at large to experience the magic of cinemas in the comfort of their homes.

The film Khaali Peeli will be priced at Rs.299/-inclusive of all taxes while the Makkal Selvan Vijay Sethupathi starrer Ka Pae Ranasingam is being priced at Rs.199/- all inclusive. Both are making their digital debut on October 2nd.

Ab har ghar banega cinema ghar!

ZeePlex will be available on Zee5, DishTV, d2h, TataSky and Airtel Digital TV.

Trailer Link – https://youtu.be/lB_nEHhqq3U