Hamburg, Germany, Dec 4, 2021 – (ACN Newswire) – Paycer, a Hamburg-based financial services firm specialized in cryptocurrencies and Decentralized Finance (DeFi), is currently developing a bridge protocol that will aggregate DeFi and cross-chain crypto services and combine them with traditional banking services. Expected to come online in early 2022, the protocol will feature a range of novel financial products designed to help retail clients reap the rewards of the DeFi market.
"Using DeFi can be pretty difficult, even for those in the IT industry. Our mission is to bring high DeFi yields to retail clients who aren't invested in cryptocurrency yet," Paycer's CTO Nils Gregersen says. "We're also targeting investors who are already in crypto, but who still haven't jumped on the DeFi bandwagon."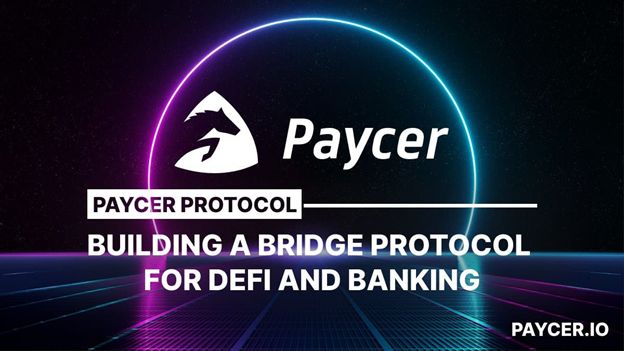 Providing full interoperability across multiple blockchains, the protocol and platform will feature the full range of financial services, including crypto wallets, bank accounts, lending, liquidity pools and – most importantly – streamlined access to the lucrative DeFi market.
High Interest Rates in a Low-Interest World
One of the platform's most attractive features is that it promises to offer exceptionally high rates of interest. In today's low-interest financial environment, this will come as a relief to many retail investors, who will be able to use the Paycer protocol to tap into DeFi and thereby generate viable passive incomes.
"Many people today are seeing their savings gradually diminish because they aren't earning any interest on it. In fact, they're losing about 2 to 5 percent of their wealth every year to inflation," Gregersen explains. "Decentralized Finance, by contrast, offers excellent interest-rate opportunities, while having the added advantage of not being dependent on banks."
Because cryptocurrencies are notoriously volatile, some investors may have reservations about dipping into the DeFi market, which is still a relatively new phenomenon. The Paycer Platform, however, will help users mitigate risk by assessing the viability of new DeFi products before investing in them. It will also conduct multiple checks in advance, automatically shifting users' assets away from any investments deemed to be overly risky.
Enter PCR: Paycer's Utility Token
As part of the rollout of its DeFi protocol, Paycer will also be offering a utility token (PCR), which will generate real value for users of the platform, where token-holders will enjoy voting rights. Four percent of these tokens are available for pre-sale (at a discount), and another 5 percent will be offered in a subsequent public sale.
By staking PCR tokens on the Paycer DeFi platform users can earn staking rewards. What's more, Paycer will use some of the profits it earns for token buybacks, thus ensuring steady demand – and stable prices – for its flagship cryptocurrency.
"Since Paycer believes in a regulated implementation, the PCR utility token was designed in accordance with the applicable German financial laws in cooperation with a specialized blockchain law firm. The token was also sent to the German Federal Financial Supervisory Authority (BaFin) for review", says Gregersen.
How you can participate in Paycer's pre-sale
To participate in the PCR token pre-sale you need to visit Paycer's website: https://www.paycer.io/token-sale there you can apply for the sale and process your KYC via Blockpass. The KYC is required because Paycer is a legal German company and follows money laundering and anti-terror laws. After the KYC is processed users will receive an email with further instructions from Paycer.
Why CeDeFi and regulation is needed for mass DeFi adoption?
Experienced crypto investors are used to accepting higher risks with their investments. They are also used to investing large amounts in new platforms and anonymous teams. The use of their own wallet and various blockchain networks is also no problem for experienced crypto users. But for retail customers all this will not work, when the first private keys are lost the anger will be big. Retail clients will also not invest much money in hidden DeFi platforms, because they probably think crypto is a scam anyway. Therefore, for mass adoption fiat on-ramp and crypto custody are needed to reduce complexity. Regulation will be needed as a trust builder for the retail clients to gain faith in the new decentralized financial products.
Why Paycer's approach will be successful?
Paycer focuses on ease of use and regulation when developing its products from day one. The Paycer team is thus following its long-term vision for the company and will be able to build up the trust of investors and customers. We are convinced that CeDeFi will establish itself in the mid to long term and that Paycer will then already have secured a good position in the market.
What is the difference between Paycer and other DeFi products?
Many DeFi products are run by anonymous teams from somewhere in the world. For these platforms rapid development and high interest rates are more important than the long-term success of the platform. Paycer is working to establish itself as a reliable and secure DeFi and CeDeFi brand in the long run. The Paycer team takes the more difficult route in order to work in compliance with the law. But it will be this way that can open the DeFi market to the majority of people.
Social Links:

Twitter: https://twitter.com/paycerprotocol

Telegram: https://t.me/paycerprotocol

Instagram: https://www.instagram.com/paycer_protocol/

Linkedin: https://www.linkedin.com/company/paycer
This October, Canada celebrates German Heritage Month and Oktoberfest.
OTTAWA, October 1, 2021
Canadians of German descent have made remarkable contributions to Canada's success, with their heritage shaping our social and economic fabric. In October, Canadians celebrate German Heritage Month and Oktoberfest, a nine-day celebration beginning on the Friday before Thanksgiving.
With more than 3 million people, the German community is one of Canada's biggest cultural communities. In the arts, sciences, sports and business, German Canadians are active members of society, and Canada has adopted a wide range of German traditions and influences, including Oktoberfest. This famous festival celebrates German culture and heritage, with traditional Bavarian outfits, delicious beers and dishes, as well as dance and German songs.
Throughout October, we encourage Canadians across the country to learn more about the vibrant German language and culture. We wish you all a happy German Heritage Month and Oktoberfest! Enjoy the celebrations and stay safe. Prost!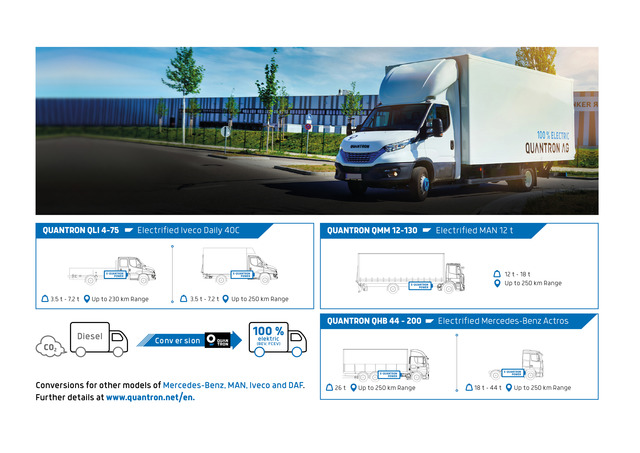 German Federal Ministry of Transport announces funding of 6.6 billion euro for change to electromobility – With a production capacity of 8,000 vehicles Quantron AG offers broad portfolio of electrified commercial vehicles
Quantron AG offers both new electric vehicles and conversions of used and existing vehicles at attractive conditions
The range of products offered by the e-mobility specialist includes vans, trucks and waste disposal vehicles from numerous makes such as Mercedes-Benz, IVECO, MAN and DAF
The German Federal Ministry of Transport has announced a subsidy for the change to electric mobility with up to 80% of the additional expenditure compared to diesel vehicles
Quantron AG has a comprehensive service network of 700 partners in Europe.
In view of the ambitious climate targets, a comprehensive transformation of freight transport is unavoidable to reduce emissions. To support companies on this path, the German Federal Ministry of Transport and Infrastructure has announced that it will promote the change to commercial vehicles with alternative drive systems. Specifically, this involves up to 80% of the additional investment costs compared to diesel vehicles. As a full-range supplier of climate-friendly commercial vehicles from 3.49 to 44 tons, Quantron AG is the ideal contact for new e-vehicles and for the electrification of existing vehicles.
Quantron AG is well prepared: The company draws on decades of experience in the commercial vehicle industry and has a total capacity of 8,000 vehicles. It offers a wide range of electric vehicles such as vans, trucks and waste disposal vehicles. Its comprehensive range includes, for example, the electrified QUANTRON QMM 12-130 based on a MAN chassis from €1,100*/month and the QUANTRON QHB 44-200 with electric drive based on the Mercedes-Benz Actros from €1,770*/month. In the e-transporter segment, there is, among others, the QUANTRON QLI 4-75 based on the Iveco Daily 40 C from €649*/month and the QUANTRON QLI 7-115 based on the Iveco Daily 70 C from €749*/month. The commercial vehicles from the e-mobility specialist have already been operating successfully for months.
Promoting the change from diesel to commercial vehicles with environmentally friendly and quiet electric drives is an important measure for decarbonizing freight transport. A total of approximately 6.6 billion euros will be made available for this purpose. The German Federal Ministry of Transport and Digital Infrastructure has announced that the funding program will cover both the purchase of new zero-emission commercial vehicles in classes N1, N2 and N3 and conversions to alternative drives in classes N2 and N3, at a rate of 80% of the additional costs compared with conventional diesel vehicles. Support is also provided for the expansion of the charging infrastructure required for e-vehicles in conjunction with vehicle purchase or conversion, also at 80% of the expenditure. Feasibility studies on the possible use of commercial vehicles with alternative drives are supported with up to 50% of the project-related costs.
Quantron AG accompanies its customers from the needs analysis and consultations through the conversion and delivery of the vehicles to maintenance and service offers with a comprehensive, Europe-wide service network. For more information, visit the company website at www.quantron.net or feel free to contact the e-mobility specialists at Quantron AG via sales@quantron.net.
*Offers plus VAT for lease-purchase with a term of 72 months and for chassis without bodywork / without special equipment and based on the announced BMVI subsidy exclusively within Germany. Residual value 15 %.
You can find the original photo in low and high resolution here: Press releases from Quantron AG (https://www.quantron.net/en/q-news/pr-berichte/)
About Quantron AG
Quantron AG is a system provider of clean battery and hydrogen-powered e-mobility for commercial vehicles such as trucks, buses and vans. In addition to new electric vehicles, the wide range of services offered by the innovation forge includes the electrification of used and existing vehicles, the creation of individual overall concepts including the appropriate charging infrastructure as well as rental, financing and leasing offers and driver training. Quantron AG also sells batteries and integrated customised electrification concepts to manufacturers of commercial vehicles, machinery and intralogistics vehicles. The German company from Augsburg in Bavaria is a pioneer and innovation driver for e-mobility in passenger, transport and freight traffic. It has a network of 700 service partners and the comprehensive knowledge of qualified experts in the fields of power electronics and battery technology, through its cooperation with CATL, the world's largest battery producer. Quantron AG, as a high-tech spin-off of the renowned Haller GmbH, combines 138 years of commercial vehicle experience with state-of-the-art e-mobility know-how.