WEBWIRE – Wednesday, July 20, 2022
The press briefing planned at the Royal Institute in London on July 20 at 16:00 BEST (17:00 CEST) has been cancelled. Further discussions on the Mars exploration programme will take place in the context of the Ministerial in November 2022, where a full statement will be presented.



EXOMARS

ESA Council has mandated the Director General to terminate cooperation with Roscosmos on the ExoMars rover and surface platform. During ESA's next Ministerial Council taking place in Paris in November 2022 all ESA Member States will discuss the way forward for the project.




MARS SAMPLE RETURN

ESA and NASA are continuing to work to refine the architecture of the Mars Sample Return programme and agree on the next steps.


About the European Space Agency

The European Space Agency (ESA) provides Europe's gateway to space.
ESA is an intergovernmental organisation, created in 1975, with the mission to shape the development of Europe's space capability and ensure that investment in space delivers benefits to the citizens of Europe and the world.
ESA has 22 Member States: Austria, Belgium, the Czech Republic, Denmark, Estonia, Finland, France, Germany, Greece, Hungary, Ireland, Italy, Luxembourg, the Netherlands, Norway, Poland, Portugal, Romania, Spain, Sweden, Switzerland and the United Kingdom. Slovenia, Latvia and Lithuania are Associate Members.
ESA has established formal cooperation with six Member States of the EU. Canada takes part in some ESA programmes under a Cooperation Agreement.
By coordinating the financial and intellectual resources of its members, ESA can undertake programmes and activities far beyond the scope of any single European country. It is working in particular with the EU on implementing the Galileo and Copernicus programmes as well as with Eumetsat for the development of meteorological missions.
Learn more about ESA at www.esa.int
WEBWIRE – Saturday, June 11, 2022





When a conflict is on the verge of erupting–will you make the ultimate sacrifice and admit to stealing weapons-grade uranium even though you know you'll almost certainly be executed? That is Mac Daniels' dilemma as a member of the CIA's top echelon in a suspense and action story that will have you on the edge of your seat.



Join Gene Boffa and Mac Daniels as they take you behind the scenes of a super agent's life, filled with perils and thrills.



"Deception: A Mac Daniels Novel," by Gene Boffa, will take you inside the dangerous world of Mac Daniels, a super spy for the Central Intelligence Agency. He took weapons-grade uranium from North Korea, one of the country's most destructive weapons. Mac Daniels must come out, acknowledge his role in the crime, and avert conflict. He enlists the help of his girlfriend, Astrid, to establish a chance of escaping North Korea.



Will they, however, be successful? Will Mac Daniels live to see his legacy carried on?



Gene will have you on the edge of your seat throughout the movie. If you enjoy narrative twists, suspense, thrill, critical thinking, last-minute miracles, and adrenaline, this book is for you. Gene's literary prowess is on full show. When it comes to story setup and twists, he is always one step ahead of the readers. A great work, deserving praise from Forward Clarion Reviews, Kirkus Reviews, and Blue Ink Reviews. The Forward Clarion event even went so far as to compare Gene to Tom Clancy, which is a tall order but well-deserved.



The book adds a lot to the discussion and is one that you can recommend to others.



"Deception: A Mac Daniels Novel"

Author: Gene Boffa

Publisher: Your Online Publicist

Publication Date: December 2020

Genre: Thriller, Action Adventure



About the Author

Gene Boffa loves fishing, boating and flying — hobbies which has done all over the world. He is a lawyer with one of the oldest law firms in New Jersey, Shuman Hanlon Margulies where he specializes in transactional law. Gene is married to Patricia and they live in the small town of Green Brook, New Jersey. They have four grown children who often bring the grandchildren by so enjoy their summer house at the jersey shore. Gene's first novel "The Deed" is available at geneboffa.com and Your Online Publicist

Retailer of fashion apparel of international brands Forward Fashion (International) Holdings Company Limited ("Forward Fashion" or the "Group"; Stock Code: 2528) is pleased to announce that it will introduce six major brands to "YOHO Treasure Island Resort World Hotel" ("Treasure Island Hotel Macau") in Macau, including Galeries Lafayette, the internationally renowned French premium department store that will enter Macau for the first time; UFC Gym, the world's top high-end fitness center; POP MART, a trendy toy store; Under Armour, a leading global sports brand; Beebeeland, a large-scale comprehensive game center; and Five Guys, the world-renowned burger brand.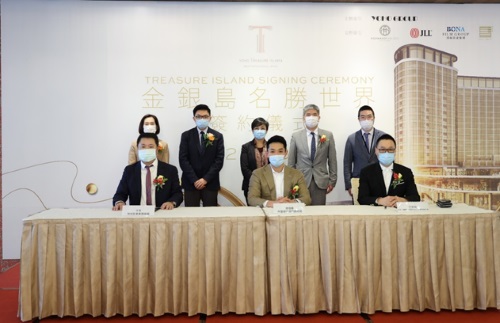 Forward Fashion collaborates with Treasure Island Resort World Hotel to build new luxury shopping and entertainment center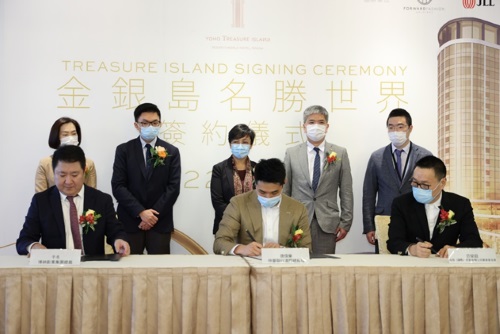 Mr. Patrick Fan, Founder, Chairman of the Board and Executive Director of Forward Fashion (first from the right) and Mr. Yu Dong, CEO of Bona Film Group (first from the left) signed the cooperation agreement with YOHO on Treasure Island Resort World Hotel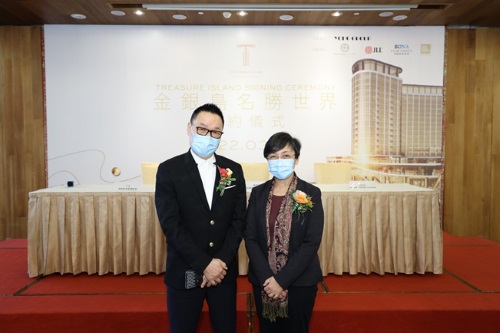 Mr. Patrick Fan, Founder, Chairman of the Board and Executive Director of Forward Fashion (Left) and Ms. Maria Helena de Senna Fernandes, Director of the Macao SAR Government Tourism Office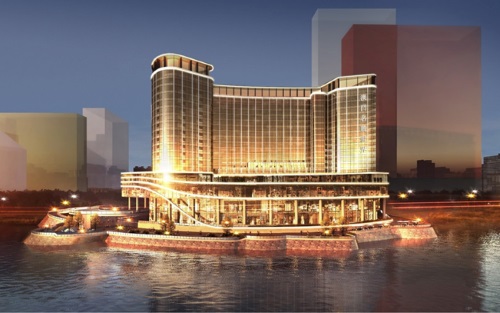 Treasure Island Hotel Macau is a place for shopping, food, entertainment, sight-seeing and holiday leisure, and is set to become a new Macau landmark

Treasure Island Hotel Macau is a new integrated five-star hotel-cum-tourism development plan. It is located at the central intersection of the Macau Peninsula and Cotai, covering an area of 8,100 square meters and providing a total of 600 hotel rooms. It also has a five-storey shopping mall, outdoor swimming pool and hot spring, fitness room, playground, restaurants and cinema, outdoor running trail and art-themed park, as well as other amenities, thus a place for shopping, food, entertainment, sight-seeing, and holiday leisure, and is set to become a new Macau landmark.

In light of the development potential of Treasure Island Hotel Macau and its unique advantages in the city, Forward Fashion will bring the prestigious Galeries Lafayette to Macau; introducing an unprecedented luxury shopping experience to the enclave and further promoting Macau as the global capital of tourism and leisure. Galeries Lafayette, with 65 stores around the world, has been a leader in the fashion retail industry and trendy lifestyle for 128 years. Macau's first Galeries Lafayette is expected to open in the fourth quarter of 2022 – marking the fourth branch in Greater China, and will occupy a GFA of approximately 45,000 square feet; integrating international designer names, luxury and vanguard fashion brands, trendy footwear, and accessories, high-end beauty, fashion cafe and more, bringing French elegance and European Art Nouveau to the city. Unlike other Galeries Lafayette stores in mainland China, Galeries Lafayette Macau occupies the sole location in Macau that brings the outdoor and indoor together. Incorporating pop-up art elements with meticulous and pampered services will certainly create unique shopping experiences for each and every customer.

The Group will also introduce five other brands that cover fashion, sports, entertainment and catering, to meet the increasing shopping and consumption demand of tourists from around the world. This includes UFC Gym, a high-end fitness center, an international fitness experience brand founded by top professional mixed martial arts (MMA) tournament Ultimate Fighting Championship (UFC), hence providing first-class instructors, advanced equipment, and diverse fitness courses. Also debuting is Five Guys, the world-famous burger restaurant that insists on offering freshly grilled burgers made by hand, which will bring American cuisine to Macau and mouthwatering food to tourists. In addition, the group will introduce POP MART, a trendy toy giant that will open a flagship store in Macau Peninsula, targeting the premium, trendy cultural segment, being a pioneer of fashionable glamour; Under Armour, a world-renowned sports brand that will offer high-quality personalized sportswear to customers; and Beebeeland, an integrated entertainment center set to meet the entertainment needs of different customers and allow parents, children, couples and friends to have fun-filled leisure opportunities.

Mr. Patrick Fan, Founder, Chairman of the Board and Executive Director of forwarding Fashion (International) Holdings Company Limited, said, "Treasure Island Hotel Macau will serve as a benchmark for a new era in Macau. We are excited to introduce top international brands to the hotel, which will demonstrate our advantages in international branded fashion retailing and our success in business diversification, and thus further strengthen our internal business ecosystem. The cooperative arrangement will not only create greater room for development and more market opportunities for both parties but will also play an important role in fostering the development of Macau's tourism and retail industries. Looking ahead, we will actively explore more cooperation opportunities, continue to introduce high-quality fashion brands and further enrich the number and types of brands under the Group so as to offer unique and impressive experiences to consumers."

About Forward Fashion (International) Holdings Company Limited
Forward Fashion (International) Holdings Company Limited principally engages in a highly diversified business model. The Group currently operates over 200 self-operated retail stores of internationally renowned, globally popular and up-and-coming brands in Greater China, including Stella McCartney, MARNI, Palm Angels, Moschino, La Maison du Chocolat, Bose, Under Armour, Officine Universelle Buly, POP MART and BE RBRICK.

Mr. Fan Wing Ting, Patrick, is the founder, Chairman and Executive Director of Forward Fashion. In 2005, he founded the first operating company of the Group in Hong Kong. Since then, the Group has committed to expanding its fashion apparel and trendy lifestyle merchandise retail business in Greater China. Following the Group's listing on the main board of The Stock Exchange of Hong Kong Limited in 2020, Forward Fashion has taken a step forward on the development of eCommerce business on different media platforms, along with the introduction to various international, fashion, and artistic brands and collectible art toys to the local retail industry. The Group strives to cater the preferences and needs of the domestic young generation, so as to promote their diversified development in the Greater China retail market.








Topic: Press release summary



As part of its digitization strategy, Porsche is consistently tapping into new business areas and target audiences. Forward31, the company builder by Porsche Digital, is expanding its portfolio in the area of future living with the start-up The Embassies. The Swiss company is developing a digital platform and a habitat that provides tailored, premium living in retirement. The aim is to establish a global network of around 30 embassies in cities with a high quality of living – including San Francisco, New York, London, Zürich, Copenhagen and Berlin. The first location is due to open in Europe in 2022.

"With The Embassies, we're making it possible for the aging global community to retain their sophisticated lifestyles in retirement. We see the time after working life as a journey that you can look forward to," said Christian Knörle, Head of Company Building at Porsche Digital. Forward31, together with the founding team of The Embassies – comprised of Jan Garde, Henning Weiss and James Bryan Graves – is further developing the business model and guiding the company into the future as a strategic partner.

Global and digital network
The Embassies is centered around social interactions and inspiring experiences. The concept of the individual embassies is built on three pillars. Residents and visitors can make use of public restaurants and leisure facilities. A membership provides access to curated events, as well as to gym and spa programmes. In addition, residents can rent an apartment in one of the buildings on a permanent basis. And as a highlight of the global network, members have the opportunity to travel to different locations. The journey begins with the digital platform, where residents can tailor services, activities, foreign travel and day-to-day preferences to their own lifestyle.

"We've developed our offer for people that want to lead a fulfilling and healthy life on their terms and for as long as possible," said Jan Garde, founder of The Embassies. "Together with our partners at Forward31, we want to provide our residents with an innovative living experience that fits their lifestyle and standards."

The start-up ecosystem by Porsche
The systematic setup and expansion in the start-up ecosystem is a central and strategic component of Porsche 's innovative power. As well as independently establishing businesses via the Forward31 company builder, the sports car manufacturer makes use of a variety of other instruments. Through its investment business unit, Porsche Ventures, the company participates directly with start-ups with potential. With the accelerator program APX, a joint venture between Porsche and the media company Axel Springer, Porsche focuses on the further development of businesses still in the early stages. In addition, Porsche is a partner in the open innovation platform Startup Autobahn.

About Forward31
The company builder Forward31 is a business unit of Porsche Digital. Its focus is on building up a portfolio of digital platform business models. These are founded, accompanied and sustainably developed together with entrepreneurs as independent companies. The Berlin-based global team includes experts from design, product, software and business development. Further information can be found at the following link: www.forward31.com