Out Front the Following Sea, wins the Best Historical Fiction Award in the Reader Views Literary Awards for its depiction of a strong female protagonist unwilling to settle for the stifling rules of Puritan New England.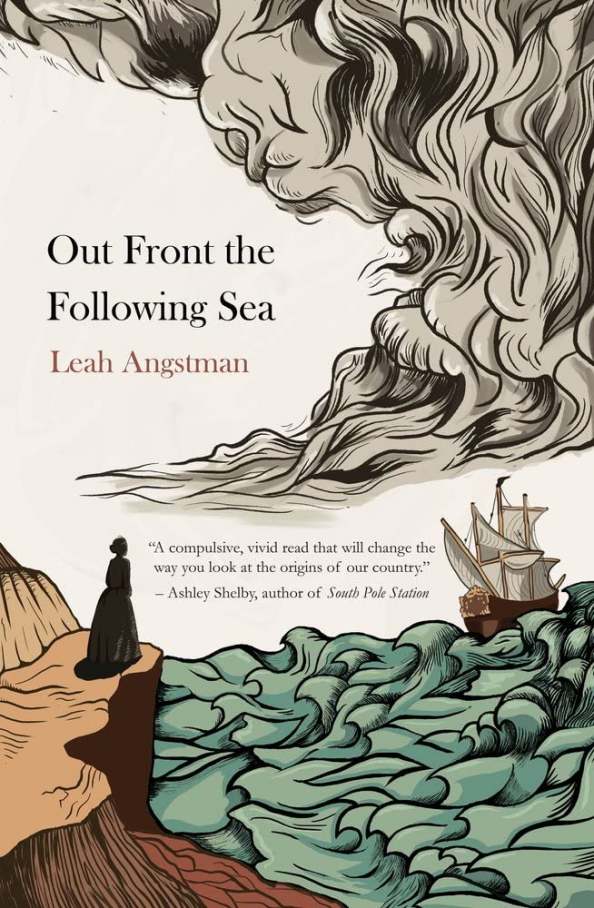 Out Front the Following Sea
LOUISVILLE, Colo. – April 17, 2023 – PRLog — Witchcraft, King William's War, a wild wilderness, and a wicked sea voyage are just a few of the powerful elements that bring to life Leah Angstman's new novel "Out Front the Following Sea."
Leah Angstman's debut novel "Out Front the Following Sea," has won the Tyler R. Tichelaar Award for Best Historical Fiction in this year's Reader Views Literary Awards. The story is set in New England in 1689 during King William's War, a time when the Puritan colonists feared invasion by the French, believed in witchcraft, and just surviving day to day amid times of sickness and starvation a true challenge. Ruth Miner is a young woman who raises all the possible concerns the Puritans can have about a woman. Convinced she is a witch, they refuse to help her when her grandmother is dying, then drive her from town. Ruth finds a new home in Connecticut, but as soon as she arrives, she realizes despite people not knowing about her past, life there won't be any better than in the last place she lived.
Owen Townsend, a childhood friend and a sailor, is the only one Ruth can depend on, but as romance develops between them, so do their problems since Owen is part-French, putting him at odds with his English captain. When Owen is away at sea, Ruth finds herself unwillingly being courted by a widower twice her age. Samuel Whitlock is boring, but when Ruth discovers she has a secret she can't hide for long, Samuel might be the only solution to her problem.
Tyler R. Tichelaar, winner of the 2009 Reader Views Best Historical Fiction Award for his novel "Narrow Lives" and the award sponsor since 2010, says of "Out Front the Following Sea," "Being descended from the Puritans, I felt like this novel was written just for me. I loved the setting and how the characters fought against the social limitations of the day. The entire book is full of unexpected surprises and fascinating characters from Pequot Indians and Quakers to highwaymen, plus the two main characters, Owen and Ruth, whom you won't likely forget."
Reader Views reviews thousands of books per year by self-published and small press authors. Its Annual Literary Awards recognize the very best of these up-and-coming authors. "Out Front the Following Sea" joins a series of previous historical fiction winners on such diverse topics as eighteenth-century pirates, opera composers, the Civil War, World War II, the Vietnam War, and the founding of Louisiana.
Readers are singing the praises of "Out Front the Following Sea." Michael Coffino of Reader Views states, "Each sentence reflects tireless and finite writer dedication, offering morsels of literary pleasure that exhibit an admirable commitment to the craft of writing." Rilla Askew, author of "Fire in Beulah" says the book is "Steeped in lush prose, authentic period detail, and edge-of-your-seat action." With such praise, it's not surprising the novel has also been a finalist for the Chaucer Book Award, National Indie Excellence Award, Da Vinci Eye Award, and Eric Hoffer Book Award.
Leah Angstman spent years living in New England soaking up its myths and history, which inspired her debut novel "Out Front the Following Sea." Her writing has been a finalist in many award programs and has been published in "Publishers Weekly," "L.A. Review of Books," "Electric Literature," and "Nashville Review." She serves as editor-in-chief for Alternating Current and vice chair for a Colorado historical commission. Her next book will be released later this year.
Out Front the Following Sea" (ISBN: 978-1-64603-194-8, Regal House Publishing, 2022) can be purchased through local and online bookstores. For more information, visit www.LeahAngstman.com. Publicity contact: www.ReaderViews.com.