– Gobi returns to Jeep® Gladiator exterior color palette and joins Jeep Wrangler palette for the first time


– Now open for orders, the newest special-run color straight from the factory is available on all Gladiator and Wrangler models for a limited time


– Gobi is the fifth special-run color available on current generations of Gladiator and Wrangler, following such standout shades as Tuscadero, Gecko and Nacho
Auburn Hills, Mich. – WEBWIRE – Friday, March 11, 2022
Appealing to all sand lovers, the Jeep® brand is adding the Gobi paint color as an available exterior color option on the 2022 Jeep Gladiator and Wrangler models. 
Deriving its name from the desert in Asia, Gobi joins the unique lineup of special-run colors that bring customization and charisma to the Jeep Gladiator and Wrangler lineups. 
Gobi first debuted on the Jeep Gladiator for the 2020 model year and now makes an anticipated return to the Gladiator exterior palette. The 2022 model year marks the first time Gobi is available on the Jeep Wrangler. 
"Customization is at the core of both Jeep Gladiator and Jeep Wrangler," said Jim Morrison, senior vice president and head of Jeep brand North America. "Gobi is the fifth special-edition color the Jeep brand has offered on the current generations of Gladiator and Wrangler, in addition to Tuscadero, Gecko, Nacho and Chief, all of which strengthen the enthusiastic identity of our loyal and avid Jeep community."
Priced at a U.S. manufacturer's suggested retail price (MSRP) of $495, the Gobi exterior paint option can be ordered now through June 2022 and is available on all Gladiator and Wrangler models, including Sport, Sahara, Mojave, Rubicon, 4xe and 392. 
Jeep Wave customer care program

The Jeep Wave customer service program is available to the entire Jeep brand lineup, including all trims of the 2022 Jeep Gladiator and Wrangler. The premium owner loyalty program is filled with exciting benefits and exclusive perks, including:  
Three years of worry-free maintenance at Jeep dealerships
24/7 support via phone or online chat
Vehicle protection including 24/7 roadside assistance and first-day loaner coverage
VIP access to select, exclusive Jeep brand events

Jeep Brand

Built on 80 years of legendary heritage, Jeep is the authentic SUV brand that brings capability, craftsmanship and versatility to people who seek extraordinary journeys. The Jeep brand delivers an open invitation to live life to the fullest by offering a broad portfolio of vehicles that continues to provide owners with a sense of safety and security to handle any journey with confidence. The Jeep vehicle range consists of the Cherokee, Compass, Gladiator, Grand Cherokee, Grand Cherokee 4xe, Renegade and Wrangler and Wrangler 4xe. Jeep Wave, a premium owner loyalty and customer care program that is available to the entire Jeep 4×4 lineup, is filled with benefits and exclusive perks to deliver Jeep brand owners the utmost care and dedicated 24/7 support. The legendary Jeep brand's off-road capability is enhanced by a global electrification initiative that is transforming 4xe into new 4×4 in pursuit of the brand's vision of accomplishing Zero Emission Freedom. All Jeep brand SUVs will offer an electrified variant by 2025.
Follow Jeep and company news and video on:

Company blog: http://blog.stellantisnorthamerica.com

Media website: http://media.stellantisnorthamerica.com

Jeep brand: www.jeep.com

Facebook: www.facebook.com/jeep 

Instagram: www.instagram.com/jeep 

Twitter: www.twitter.com/jeep

YouTube: www.youtube.com/thejeepchannel or https://www.youtube.com/StellantisNA
 Michael Davidson, Ph.D., joins Desert Control as CEO of Desert Control Americas Inc.

Desert Control was founded in Norway to specialize in climate-smart Agri-tech solutions to combat desertification, soil degradation and water scarcity. Its patented Liquid Natural Clay (LNC) enables sustainable ecosystem management by restoring and protecting soil's ability to preserve water and increase yields for agriculture, forests and green landscapes.

In December 2021, Desert Control Americas was established to bring LNC to the U.S. to combat water scarcity and enable climate-resilient agriculture and sustainable ecosystem management in states like California, Arizona, Nevada, New Mexico and Texas. Michael Davidson joins to spearhead the company's mission in the U.S. as of January 6, 2022. His first weeks are spent at the group headquarters in Norway and visiting the company's operation in the United Arab Emirates.

Michael Davidson has 30 years of experience within the agriculture sector in the U.S. with a track record that includes senior leadership positions for start-up companies as well as growing established organizations in the agricultural industry with a focus on irrigation solutions and water management. He also built a consultancy firm specializing in Climate-Smart Agriculture and has served as a consultant and advisor to organizations such as the International Finance Corporation (IFC) of the World Bank, the Sustainable Trade Initiative, the Inter-American Development Bank and a host of NGOs.

Davidson's educational background includes a B.A. in Business, a Master of Public Administration focused on Water Resource Management from California State University and a Ph.D. in Public Policy focused on Climate-Smart Agriculture from Claremont Graduate University in California.

Michael spent 16 years as a field crop and irrigation manager at a 1,200-acre farm at a young age. This sparked his passion for agriculture. His career has since been motivated by a desire to help farmers achieve long-term prosperity in harmony with nature.

Desert Control's vision: Making Earth Green Again is a perfect match for Michael's experience, passion and vision, says Ole Kristian Sivertsen, President and Group CEO of Desert Control.

For more information, please contact:

Ole Kristian Sivertsen
President and Group CEO

Email: oks@desertcontrol.com
Tel (NOR): +47 957 77 777
Tel (UAE): +971 52 521 7049

About Desert Control:

Desert Control specializes in climate-smart Agri-tech solutions to combat desertification, soil degradation and water scarcity. Its patented Liquid Natural Clay (LNC) enables sustainable ecosystem management by restoring and protecting soil's ability to preserve water and increase yields for agriculture, forests and green landscapes.

LNC enables sand and degraded soil to retain water and nutrients, thus increasing crop yields and ecosystem resilience while preserving water resources by up to 50%.

Agriculture and food production already consume more than 70% of all available freshwater. Desertification and soil degradation further increases water consumption in a negative spiral. Our growing global population will require more food in the next 40 years than was produced over the last 500 years, putting even more pressure on vital resources such as water. This is the problem Desert Control is determined to solve. According to the United Nations, twelve million hectares of fertile land perish to desertification, representing an annual $490 billion loss to the global economy.

Desert Control's vision is making earth green again.

https://www.desertcontrol.com
Desert Control
Ole Kristian Sivertsen
+ 479-577-7777
www.desertcontrol.com

Contact

Categories
Agriculture
Business
Environment
Food & Beverage
Green Products & Services
Manufacturing
Personnel Announcements
Exercise Desert Flag –VI successfully culminated today with de-induction of the Indian contingent from UAE. Ex Desert Flag is an annual multi-lateral large force employment exercise hosted by UAE. The sixth edition of the exercise was conducted from 04 Mar to 27 Mar 21 at Air Force Base Al Dhafra, UAE.
IAF participated in the exercise for the first time, fielding Su-30MKI fighter aircraft. Six countries; UAE, USA, France, Saudi Arabia and Bahrain apart from India participated with aerial assets. Jordan, Greece, Qatar, Egypt and South Korea participated as observer forces.
The objectives for the exercise were to expose coalition participating forces to large force employment, sharpen tactical capabilities, and enhance interoperability along with fostering closer relations between the participating forces. The aim for the participating crew and specialist observers was to expose them to operational environment in scenarios requiring multinational forces working together. Timely and seamless induction and de-induction was facilitated by IAF C-17 Globe master aircraft.
During the exercise IAF flew Large Force Engagement (LFE) missions in near realistic environment involving many aircraft of varied types. IAF successfully undertook all the planned missions, both by day and night, without any mission abort.  All possible assistance was provided by UAE Air Force ensuring that all planned activities were completed in time.
IAF has been actively participating in operational international exercises, wherein collaborative engagements are enhanced. A multinational Exercise in UAE with friendly forces afforded a unique opportunity to gain valuable learning to all the participating forces. The knowledge gained, lessons learnt and bonds made during the course of Ex Desert Flag-VI will go a long way in bolstering professional capabilities of the participating forces.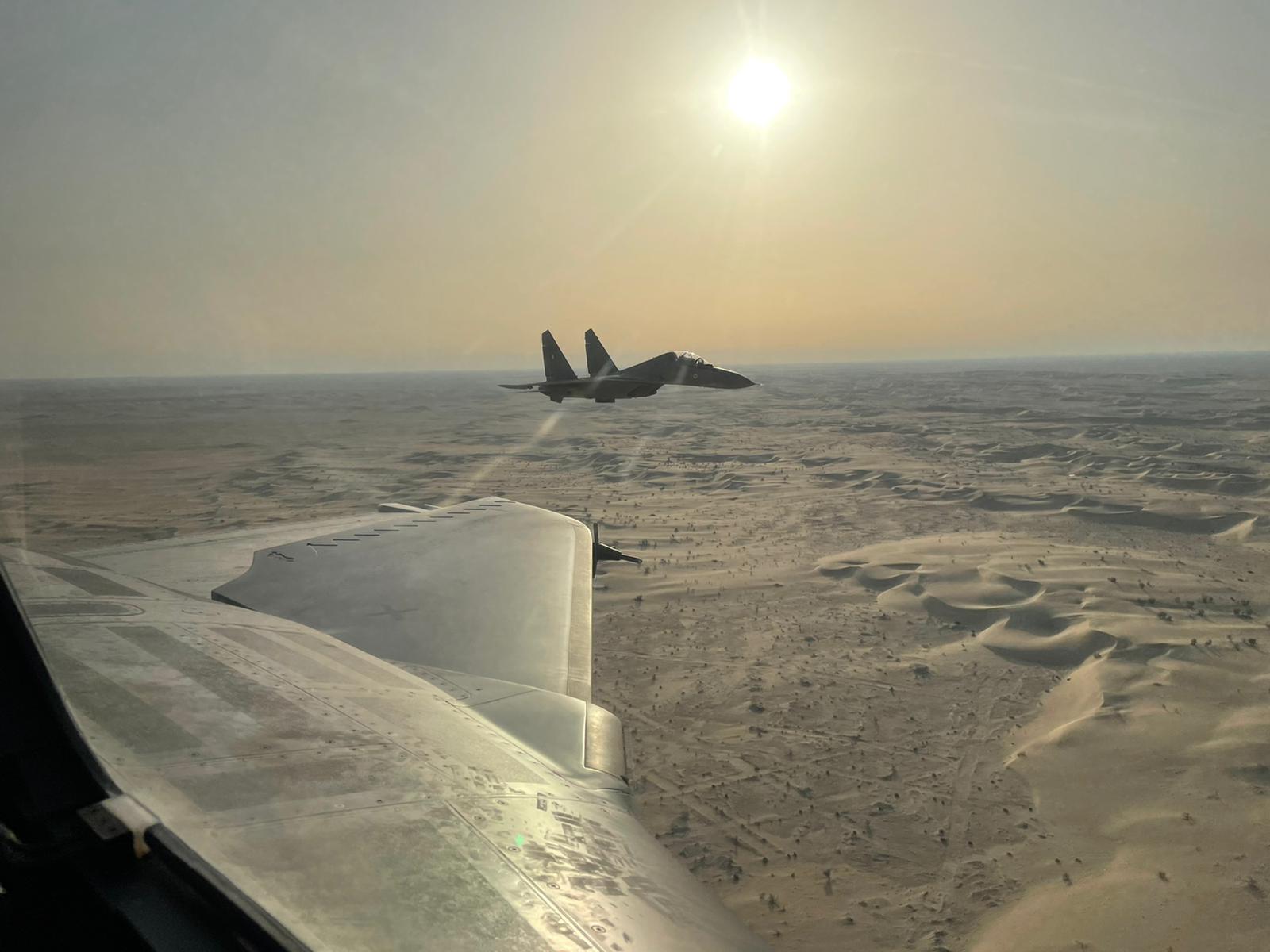 ***
ABB/AM/JP
(Release ID: 1708130)
Visitor Counter : 1