The 60th anniversary of the SantAgata Bolognese-based companys foundation falls on 7 May 2023
SantAgata Bolognese – WEBWIRE – Friday, May 5, 2023
Sixty years ago on 7 May 1963, Automobili Ferruccio Lamborghini S.a.s. was founded. It was the initial name of an industrial venture that, starting from scratch, has revolutionized the automotive industry: it has created style icons, evolving to become todays world-famous company Automobili Lamborghini S.p.A. with over2000 employees and delivering 9233 cars in 2022.
Automobili Lamborghini has planned a number of international events to celebrate its 60th anniversary. Each event is different, but they all share the aims of involving owners and their Lamborghinis, the official Lamborghini Clubs, the dealerships and fans around the world.
The international program of celebrations began in January with the inauguration of the newly renovated Lamborghini Museum in SantAgata Bolognese and the exhibition The Future Began In 1963. Two important events followed: Lamborghini Day Japan 60th Anniversary in Suzuka and Lamborghini Day UK – 60th Anniversary, which saw over 380 Lamborghinis gathered at Silverstone circuit on 29 April.
On 24 May the 60th Anniversary Giro tour will be held in Italy, ending on 28 May in Piazza Maggiore in Bologna with a Concours dElegance open to the public, where more than 150 Lamborghinis are expected to participate.
New York, NY, Feb 9, 2023 – (ACN Newswire) – FBS, a licensed world Forex broker, is excited to invite its traders to join in the celebration of its 14th birthday with the FBS Ultimate Trading Birthday promo. The event offers the chance to win big prizes, including the grand prize of a luxury car.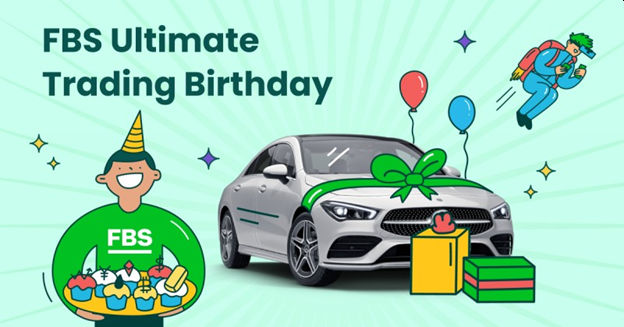 Open to all traders

FBS, a world-trusted fintech company, turns 14 this year. To celebrate another great year, the broker is running the FBS Ultimate Trading Birthday promotion, turning the event into a true traders' party. Whether users are a new trader or an FBS Partner, a scalper or a swing trader, everyone is welcome to join the celebration.

The promo is available in the FBS Personal Area app and desktop version, or the FBS Trader app.

FBS Ultimate Trading Birthday will run from February 9 to March 9 to ensure that every trader of the FBS diverse and large trading community has enough time to get their reward.

Earning guaranteed rewards

FBS is making sure that no one leaves the celebration empty-handed. To get the guaranteed prize, a trader needs to collect five trading tickets, one per traded lot. Once five trading tickets are gathered, traders can choose from a variety of prizes, including cash rewards, VIP analytics, or one-on-one consultation with FBS financial analysts.

FBS Ultimate Trading Birthday can offer even more. Each of the collected tickets is a chance to win bigger rewards.

Raffle prizes for everyone

In addition to the guaranteed rewards, participants will also have the chance to win amazing prizes in the raffle. The grand prize is a LA-Class car, but there are also other valuable prizes up for grabs, including a MacBook Air 13, iPad Pro 11, and various smartphones and laptops.

The raffle winners will be randomly selected and announced on March 17, 2023, at 13:00 GMT+2. The results will be posted on the FBS website.

Don't miss out on the chance to celebrate FBS 14th birthday and win big with FBS Ultimate Trading Birthday.

About FBS

FBS is an international brand present in over 150 countries. Independent companies united by the FBS brand are devoted to their clients and offer them opportunities to trade Margin FX and ᏟᖴᎠs.
FBS Markets Inc. – license IFSC/000102/310
Tradestone Ltd. – CySEC license number 331/17, FCA temporary permit 808276
Intelligent Financial Markets Pty Ltd – ASIC Licence number 426359
Social Links
Facebook: https://www.facebook.com/financefreedomsuccess
YouTube: https://www.youtube.com/user/FBSforex
Instagram: https://www.instagram.com/FBS_forex/
Telegram: https://t.me/fbsanalytics

Media Contact
Media team, FBS
Email: support@fbs.com
Website: https://fbs.com/

SOURCE: FBS


Topic: Press release summary
– Renault is launching reinvent Twingo, inviting the public to use artificial intelligence to imagine their own version of the Twingo
– In a digital-to-real transformation, Renault will then bring to life a show car that is directly based on their creations

WEBWIRE – Friday, January 20, 2023

EVERYONE CAN CREATE THEIR OWN TWINGO…

The Twingo is agile, compact and accessible, perfectly embodying Renaults concept of voitures vivre or cars for living. Entertaining, fun, colourful, practical and versatile, everyone has their own vision of the Twingo as expressed by the famous slogan, vous dinventer la vie qui va avec (create the life that goes with it).

Renault is now inviting the community to reinvent the Twingo through artificial intelligence. In a digital-to-real transformation, Renault will then bring to life a show car that is directly based on the creations that are submitted by the public.

Once solely available for the elites in tech, artificial intelligence is now open to everyone in just threeclicks. This newly accessible technology enables everyone to unlock the power of their imagination. We wanted to pay homage to the iconic Twingo by giving everyone the opportunity to take part in the creative process. We are going to present the first show car produced using artificial and human intelligence, directly generated from the designs that we will receive, said Arnaud Belloni, Global Chief Marketing Officer.

FREE TOOLS AVAILABLE ONLINE

In flight, under water, in space, made of chocolate… The possibilities are endless! From 1February to 31March2023, the general public will be able to create, imagine and reinvent the Twingo as they please using generative AI tools such as Midjourney, Stable Diffusion and Dall‑E. By simply entering a few keywords, users can harness these highly effective and easily accessible image generators to create incredible visuals.

They can then submit their designs by posting their creations on their preferred social media platform with this hashtag:

#ReinventTwingo

RENAULT LAUNCHES REINVENT TWINGO

Digital technology is a real asset for the automotive industry, and Renault is pioneering in this new field in a number of ways; for example, by incorporating AI into visual checks as part of the production line, enabling greater reactivity and enhanced quality at plants, as well as predictive maintenance and the optimisation and control of energy consumption.

With this new operation, the company confirms its position as the first automotive manufacturer to combine artificial and human intelligence in the design of a show car yet another Renaulution.

About Renault

Renault, a historic mobility brand and pioneer of electric vehicles in Europe, has always developed innovative vehicles. With the Renaulution strategic plan, Renault has embarked on an ambitious, value-generating transformation moving towards a more competitive, balanced and electrified range. Its ambition is to embody modernity and innovation in technology, energy and mobility services in the automotive industry and beyond.

Damon Batiste of Nola's Royal Family of Music & Nosaconn-New Orleans South Africa Connection Salutes International Nelson Mandela Day, July 18, 2022 On Televidz.

NEW ORLEANS – July 18, 2022 – PRLog — Posted Courtesy of Wright Enterprises San Francisco~Dallas Community Spotlight~~~

Following a successful week of Celebrate Africa 'Essence of Africa' NOLA Edition, the NOSACONN  Founder highlights homage to Mandela via film screenings on the new platform "Televidz" and the New York South African Consulate screening of "Mandela in America."

Damon Batiste of NOLA's Royal Family of Music, an invited guest of the New York South Africa Consulate General  celebration of the birthday of the late South African President Nelson Mandela honors the late great leader with a special tribute screening of his films NOSACONN In South Africa" Produced in collaboration with the South African Broadcasting System; and "New Orleans Arts in Education" in Partnership, Aulnay, France with United Way of NOLA & the Urban League on the new streaming platform Televidz (https://tellevidz.com/live-stream/). Today's screening on South African President Nelson Mandela's actual birthday, July 18, continues the celebration that was held yesterday in New York, City.

As an added note Batiste's films were also screened during "Celebrate Africa Week, 'The Essence of Africa' NOLA Edition on July 4th & July 5th.  The City of New Orleans presented proclamations to  representatives from Senegal, Tanzania, Mozambique, South Africa and business delegates such as entertainment iconic leader Ernie Singleton and industrialist Lloyd Ward of Ward Holdings International founded with Martin W. Johnson.

"Having had the honor of meeting President Mandela at his 80th Birthday Celebration July 18,1998, who gave himself a gift by marrying Grace Machel, the former Mozambique First Lady on his birthday, I am inspired and encouraged by the celebration that was held yesterday in New York City  and humbled by the invitation to yesterday's event from Motumisi Tawana, Ph.D.

In celebration of Nelson Mandela International Day, the South African Consulate General in New York presented a special screening Sunday, July 17th of "Mandela in America" at St. Mark's Church-in-the-Bowery, 131 East 10th Street, New York, NY 1003.  The Nelson Mandela International Day  call to action is to "Take Action, Inspire Change, Make Every Day a Mandela Day with the theme: "Do what you can, with what you have, wherever you are."   For those who may have missed yesterday's event follow the links promoted by Batiste on Twitter.

"Mandela in America"

https://youtu.be/xMZ8l6jOanA

The work of NOSACONN and Damon Batiste has resulted in an array of celebrities, politicians and business people becoming educated about Africa and dispelling negative myths.  From festivals to businesses to artists here are just a few connections of NOSACONN-New Orleans South Africa Connection as Batiste continues to orchestrate the idea of idea of Cultural Synergy and Social Cohesion: Steve Harvey; Kirk Franklin; Ruben Studdard; Yolanda Adams; Music Soulchild; Jon Batiste; Trombone Shorty Andrews; Christian Scott; Batiste Family; Batiste Fathers & Sons; Shaka Zulu of New Orleans; Donald Harrison; Glenn. David Andrews; Chaka Chan; Tamia; Angie Stone; Flotrey; O'Jays; Gabrielle Union; Migueal Nunez; City of New Orleans; City of Durban; Time Warner Inc; Essence Music Festival. South African Airways; Danno Peterson; Lion King Cast; Umjao; African Footprint; Jonathan Butler; Hugh Masakela and Mother Africa – Mariam Makeba; Ladysmith Black Mambazo; South African Embassy; City of Johannesburg; Standard Bank; Sisol Oil Company among others.

See more about the culture, arts, and business development nonprofit NOSACONN at www.nosaconn.com.

https://tellevidz.com/live-stream/

https://twitter.com/wrightenternow/status/1548794247293403138.

Background:

NOSACONN's "Celebrate Africa Week, 'Essence of Africa' NOLA Edition, kicked off Tuesday, June 28th at the New Orleans Jazz Museum with a news conference and a performance by Louisiana Hall of Famer & David Batiste, Founder of the legendary "David and the Gladiators"  and concluded on Tuesday, July 5th at First Pilgrim Baptist Church in the community.  Ward was a key delegate at "Celebrate Africa Week"  that connected New Orleans with dignitaries in Africa from Senegal, Cote d' Ivoire,  Tanzania, Mozambique and South Africa. (https://www.prlog.org/12922870-nosaconn-celebrate-africa-week-essence-of-africa-nola-edition-kicks-off-week-of-celebration-during-the-essence-of-culture-festival.html# (http:///12922870-nosaconn-celebrate-africa-week-essence-of-africa-nola-edition-kicks-off-week-of-celebration-during-the-essence-of-culture-festival.html))

Highlights of  NOSACONN's "Celebrate Africa Week, 'Essence of Africa' NOLA Edition" videotaped moments were captured by Bryant Johnson of LyfePULSE, inc.:

See more of NOSACONN's at ThePULSE New Orleans:

https://www.youtube.com/channel/UC3Cu03_SkEmxaUbxFzG3JvQ/videos?view=0&sort=dd&shelf_id=0

https://www.prlog.org/12923754-batistes-nosaconn-live-streams-films-july-4th-business-in-africa-prosperity-panel-july-5th.html (http:///12923754-batistes-nosaconn-live-streams-films-july-4th-business-in-africa-prosperity-panel-july-5th.html)

-30-

 Bunny Flower's, in partnership with God's Love We Deliver, launch a birthday bake sale fundraiser to honor the life and legacy of Ricelle "Bunny" Grossinger, through the Bunny's Wish Program where funds will be raised with a goal to provide 1,000 birthday cakes to God's Love clients in her remembrance. The Bunny's Wish Program has so many exciting surprises coming up but here's a taste of what's to come this holiday season.

Bunny loved her birthday and she loved making others' birthdays even more special than her own… she really loved helping people above all whenever and however she could.

Bunny also proudly continued a legacy of community development at the Grossinger's Resort Hotel near the village of Liberty, New York which became one of the most renowned communities in New York's history. Bunny was a pillar of New York City as a lifelong activist and a professor at New York University.

So, join Bunny's Flowers and God's Love We Deliver in serving up a slice of love for the God's Love We Deliver community with a Bunny's Flowers' supported birthday cake.

For $10, you can help a New Yorker living with serious illness feel celebrated on their birthday. There will also be a personalized message on the frosting for each client.

Please help support this initiative by donating to this campaign today. Donate Now.

Note to Media:

Bunny's Flowers
Bunny's Flowers is a 501(c)3 non-profit that offers all aspects of environmental and wellness education programs that center on community development and public education for children, adults, and families. Bunny's Flowers is managed and led by all volunteers.

http://bunnysflowers.org

God's Love We Deliver
The mission of God's Love We Deliver is to improve the health and well-being of men, women, and children living with HIV/AIDS, cancer, and other serious illnesses by alleviating hunger and malnutrition. They prepare and deliver nutritious, high-quality meals to people who, because of their illness, are unable to provide or prepare meals for themselves. All services are provided free to clients without regard to income. God's Love We Deliver is a non-sectarian organization.
http://glwd.org

Bunny's Flowers
Joy Macko
(917) 238-8363
bunnysflowers.org

Contact