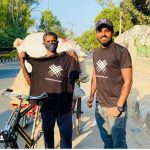 The ruthless world that we live in calls for aid and assistance for the helpless older adults, children, Trans lives, and all those who are continually mistreated and abandoned by the society. Thus, India's homegrown e-commerce brand The Black Lover has launched the Angel of the Nations segment on their website today to help those in need.
The Black Lover has decided to come forward and raise funds for a cause. The Angels of the Nations will showcase the champion of our country, wearing the brand's customized products. The same will be available to the customers at reasonable prices. The funds that will be accumulated through these purchases will be directly handed over to various NGOs that the brand has collaborated with. Currently, the brand is working with Umeed and Feed Back Foundation to provide financial assistance for those in dire need of it. The customers will also be able to keep a track of the utilization of the funds through the website.
Commenting on the occasion Akshay, the CEO and Founder said, "Since a very young age I had the realization that the marginalized sections of our society are abandoned and mistreated. As the Black Lover started growing, we decided to do something special for those who make our nation a better place to live in. We will do everything possible to make sure that we are helping those who are in need as our sole focus is not making monetary profit only."
With the launch of The Angels of the Nations, The Black Lover envisages becoming a helping hand for thousands of lives who are deprived of their basic necessities.
About Black Lover
Black Lover Pvt. Ltd. is an e-commerce company founded in 2020 by Akshay Kumar. The Black lover has launched its product range under the name 'TBL apparels & merchandise' with categories including men in black, women in black, men's casual, women's casual, Blackstone & seasons special. It has a unique store for all your fashion & lifestyle needs being the first e-commerce Store for Black lovers. We aim to provide a hassle-free & enjoyable shopping experience to shoppers across India, Italy & Australia with the widest range of products on its portal. The brand is making a conscious effort to bring the power of fashion to shoppers with the latest & trendiest products available in black color.
Website:-https://www.theblacklover.com/about/