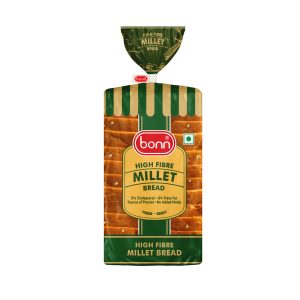 Bonn Group of Industries, one of India's leading manufacturers of FMCG Food products, has launched Millet Bread and other bakery products under its category like Millet Pizza and Millet Burger. Packed with the goodness of Jowar, Bajra, and Ragi, Bonn Millet bakery products are a beneficial superfood and an excellent source of essential nutrients.
With their brand tagline "Go Healthy With Millets" Bonn Group of Industry has taken this initiative to support the International Millets Year and the Indian government's Millet Mission to promote millet and provide Indians with a nutrient-rich diet by introducing a range of millet-based bread and bakery products.
Speaking on the launch, Amrinder Singh, Director, Bonn Group of Industries said, "Our brand's objective has always been to provide naturally healthy bread and bakery products that have multiple health benefits. The year being declared as International Millet Year by WHO has given brands like us yet another opportunity to introduce something healthy like Millet bread for our consumers that is cholesterol-free, trans-fat-free, a source of protein, is good for digestion, contains high fiber and helps people achieve and maintain a healthy weight, low in GI. The launch gives a fresh perception of the values and character represented by our products. The product has been developed after extensive consumer research and we are confident that it will soon be the preferred choice in its category amongst all healthy snack lovers."
Dawinder Pal, Marketing Head, Bonn Group said, "The launch of Millet bread and bakery products is in conjunction with Bonn's Mission Millet initiative. With Mission Millet, we have embarked on a journey to build a culture of millet consumption through an exciting range of product portfolio. The new millet products are an integral step towards that mission. We believe that these millet bakery items will not only satisfy the taste buds of our consumers but also have nutrients."
Bonn Millet Bread will be available in 300gms pack and is priced at INR 50. Bonn Millets Pizza base and burger will come in 200gms pack and 160gms pack, priced at INR 50 and INR 30 respectively. The products will be available in selected leading outlets in Delhi NCR, Punjab and Chandigarh.
As one of India's largest segments in the food processing sector, the bakery industry offers huge opportunities for growth, innovation, and job generation, which are also a few of the brand's key objectives.