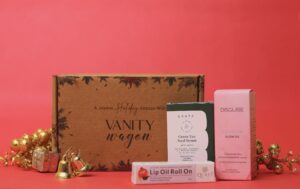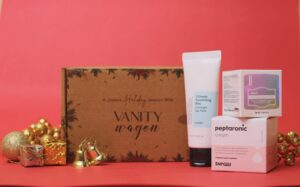 The Night Before Christmas Box – INR 2312
Availability:
This Christmas Gift Box is perfect to prep your skin up before the night of Xmas! Get glass-glowing skin and look as fresh & luminous as possible, on the day of Christmas. Be the Secret Santa this year and gift this specially curated box filled with our K-Beauty Bestsellers to your loved ones!
BEST FOR:
Dry, Combination Skin Type.
What's In The Box?
1. SNP prep Peptaronic Cream
This cream provides sufficient moisture and maintains the skin's oil and moisture balance.
This moisturizing cream is designed to absorb quickly and embrace rough and dry skin to create a moisture barrier for flawless looking skin.
2. Dear, Klairs Freshly Juiced Vitamin E Mask
This multifunctional product can be used as a mask, sleeping pack or daily moisturizer. Vitamin E, Niacinamide, and Adenosine are three main ingredients in this mask that help keep the skin bright and healthy. The pudding-like "memory foam" texture transforms into a rich essence when in contact with the skin, maintaining moisture for at least 8 hours, even for dry skin. And helps reveal brighter, firmer, and more hydrated skin overnight.
3. COSRX Ultimate Nourishing Rice Overnight Spa Mask
A 3-in-1 hydrating mask can be used as an overnight mask, a cream or as a wash off mask .
Enriched with more than 65% of rice extract, which contains a variety of vitamins and minerals. This mask provides intensive nourishment and deep miniaturization to help make the skin clearer and softer. It can also be used as a sleeping mask, as a wash-off mask and even as a cream!
The Slay Day Christmas Gift Box – INR 1379
Availability:
DESCRIPTION:
Add a dewy dash to your skin and get that radiant on the D-Day, i.e, the day of Christmas! Be the Secret Santa this year and gift this box full of goodness to your loved ones and surprise them with our specially curated box of clean skincare essentials!
BEST FOR
All Skin Types.
What's In The Box?
1. Arata Green Tea Seed Serum
This enriching serum is a soothing formula that gives you dewy, radiant skin with pure botanical ingredients. A light, antioxidant-rich serum that absorbs effortlessly into your skin, and gives your skin the nourishment it needs.
2. Qurez Lip Oil Roll On with Almond, Pomegranate & Carrot Seed
Make sure you take care of your lips and provide them with nourishment with lip oil roll-on, which gives your lips the nourishment it needs thereby keeping them healthy and plump.
3. Disguise Cosmetics Rainbow Glow Oil with Pomegranate Extracts
An ultra-light, nutrient-packed facial oil for unbelievably healthy and glowing skin, which can also be used under makeup for a dewy base. It can also be added to any of the products in the current regime for an added boost.