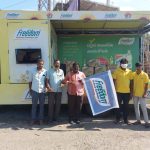 Freedom Healthy Cooking Oils Flags off Freedom Education Van
Aims to bring awareness among the consumers about the adulteration in edible oils
Gemini Edibles and Fats India Pvt Ltd, the makers of Freedom Healthy Cooking Oils flags off Freedom Education Van to bring awareness among the consumers about the safety measures adopted by Freedom Healthy cooking oils and the perils of the adulterated edibles oils in the market. K. Ramesh, Area Sales Manager, Freedom Healthy Cooking Oils flags off the Freedom Education Van in Telangana covering Warangal and Nizamabad districts.
The mission of the Freedom Education Van is to educate and protect our consumers from counterfeit and unhealthy adulterated edible oils, Freedom Healthy Cooking Oils has introduced Education Vans to spread the awareness about adulteration in edible oils in the rural and tier II cities. The Vans will travel to the designated location in the districts, educate consumers on the importance of identifying the original brands of edible oils and the benefits of choosing unadulterated cooking oils. They will also showcase the safety measure being taken by Freedom Healthy Cooking Oils at their state-of-the-art manufacturing facility at Kakinada & Krishnapatnam.
Consumers need to be made AWARE on how to identify the brand, by virtue of its brand name, packaging, design etc. It has been observed that, some manufacturers sell adulterated edible oils, intending to make money. This is done when some manufacturers of edible oils collude with the vendors and resort to supplying the adulterated products and pack them in counterfeit designs, colours, logos, and letters resembling the standard brand packs of some popular companies. Though the text 'Refined Sunflower Oil' is written on these packs, mostly inferior quality oil is placed inside. Nowadays in India, Sunflower oil is replacing the other oils due to its health benefits and ability to cook more food with less oil. However, as the price for Sunflower oil is higher, some unscrupulous players mix it with other cheap oils such as palm oil, castor oil and other in edible oils, retain the image of Sunflower oil on the pack and sell it at a lower price. As a consumer-oriented brand, Freedom took it upon themselves to reach-out to the consumers and educate them.
Speaking about the seriousness of this issue, Mr. P Chandrashekhara Reddy, Vice President Sales & Marketing, Freedom Healthy Cooking Oils said, "Freedom has always emphasised on consistency in quality of the edible oil. It has been observed of late that some players mix the more expensive Sunflower oil with cheaper variants to make unjustified profits putting the health of the consumers at risk. We urge the customers, not to be fooled by the image of sunflower oil on the pack, we should carefully read the brand name before purchasing the edible oil. The consumers should not be lured by lower price of the oil, as all standard brands that emphasise of consistency and quality may be available at a higher price as compared to adulterated oils. The Freedom Education Van is our effort to reach out to the customers to make them aware on how to identify their pack of Freedom, educate them on the safety measures maintained by Freedom Healthy Cooking Oils. Freedom Refined Sunflower Oil is manufactured hygienically in a state-of-art plant. Each batch undergoes 100 periodic and 24 batch level quality checks to ensure quality assurance and maintain your trust. So, we urge the consumers to choose right, choose only Freedom Refined Sunflower oil – a brand you trust and be safe or any other standard brand of Sunflower Oil."